We Promise That You'll Never Find Costumes Like These Taylor Swift "Me!" Looks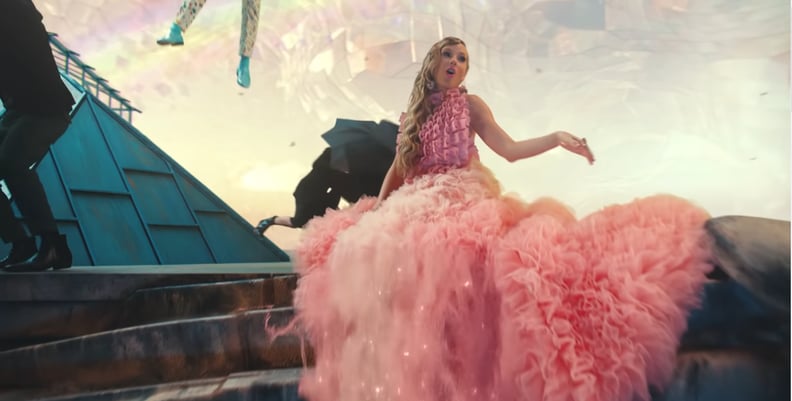 YouTube | Taylor Swift
Opening with a snake bursting into butterflies, the "Me!" music video ushered in a new Taylor Swift era of pastel-colored affirmations and is, undoubtedly a gold mine for Halloween costumes. In its dreamy fantasy world, we get a generous doling of Easter eggs, including references to pop culture favorites such as The Wizard of Oz and Singin' in the Rain. This emphasis on classic cinema introduces a whimsical and extravagant lineup of Halloween-worthy looks. For example, we see Taylor in a pastel waterfall gown sitting on a building Moulin Rouge-style and her collaborator Brendon Urie in a dapper floral suit hanging from a Mary Poppins-esque umbrella!
If you're looking for a costume with a pop, you'll never find another like any of these colorful getups from Taylor's "Me!" music video. Scroll ahead to see how you can put together these iconic outfits!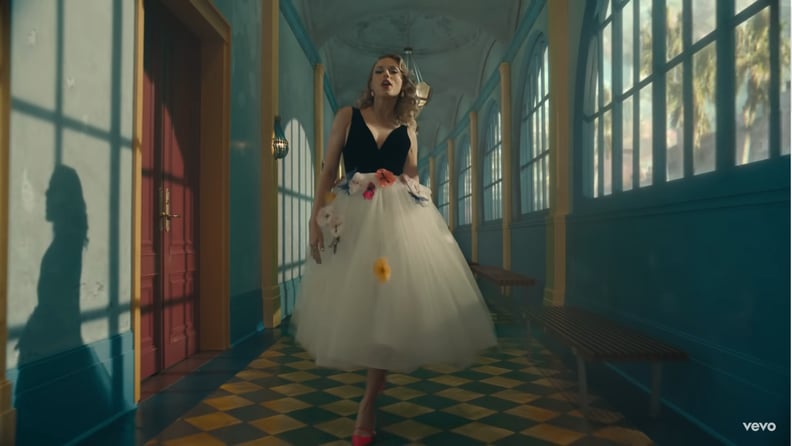 Taylor's Floral Embroidered Dress
The video opens with Taylor skipping in this lovely floral embroidered Monique Lhuillier dress after she bickers with her lover (aka Brendon Urie). It's potentially a nod to Grace Kelly in Rear Window as well as a more flowery take on a dress that she wore on her Red tour.
What to wear: A deep-v black tank top and a white tulle skirt appliquéd with colorful flowers.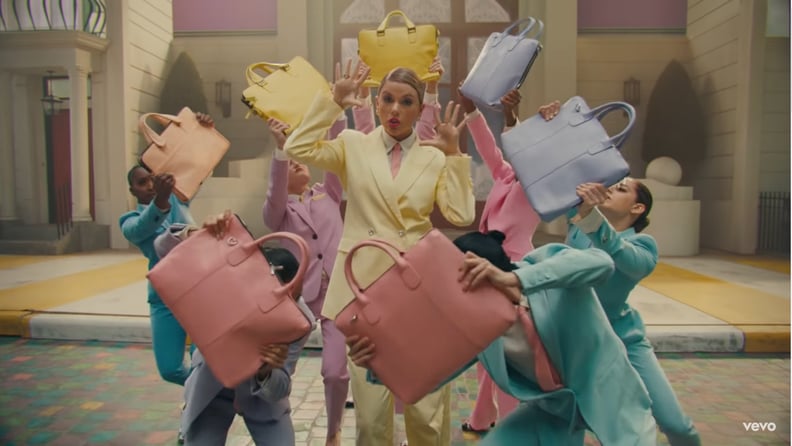 Taylor's Yellow Pantsuit
Taylor has worn so many pretty dresses over the years, so it's refreshing to see her taking a cue from Cate Blanchett in this awesome pastel yellow power suit.
What to wear: A yellow pantsuit, dress shirt, and pink tie. The purse-wielding entourage is optional, but slicking your hair back definitely adds a sleek touch.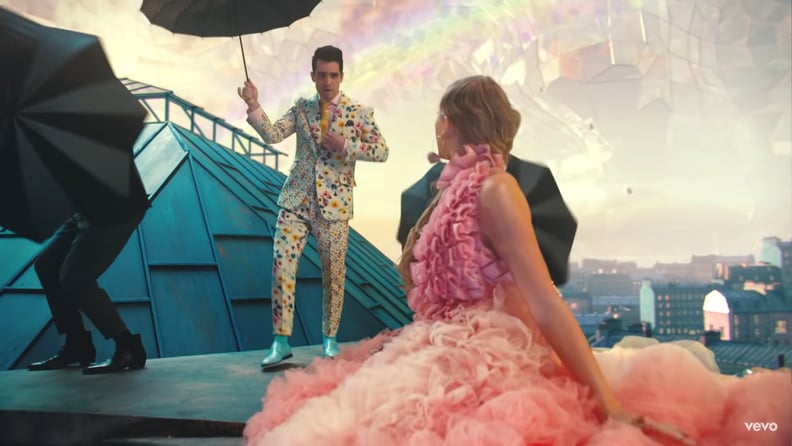 Brendon's Floral Suit
Taylor has a lot of cute looks in this video, but we have to give credit where credit is due. Brendon literally flies down from the sky in this wonderfully outlandish outfit that borrows from Mary Poppins while adding a colorful punch.
What to wear: A floral-print suit, pink dress shirt, yellow tie, and pair of bright blue shoes. Make sure to have a dapper black umbrella as well!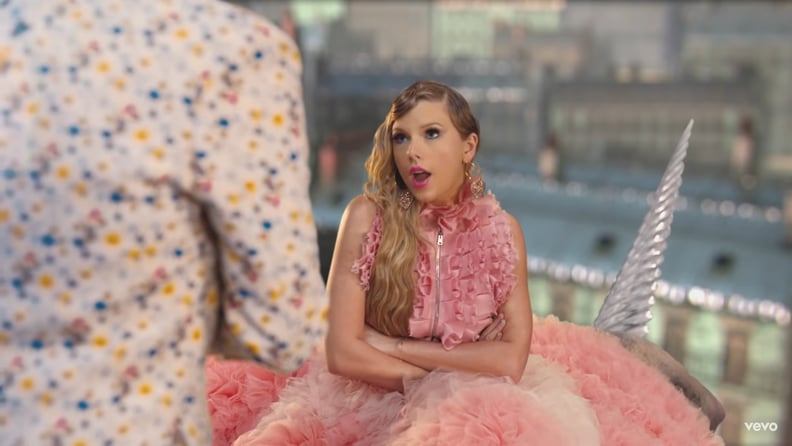 Taylor's Pink Ruffle Top and Skirt
Well, this outfit brings a whole new meaning to pretty in pink. The ruffle top and skirt combination has to be the standout look of the music video, complete with a literal waterfall cascading from it as Taylor sits atop a building.
What to wear: A pink ruffle top and pink tulle skirt. A cute kitty (real or fake) will also really help people get the costume, since, well, Taylor's obsessed with cats.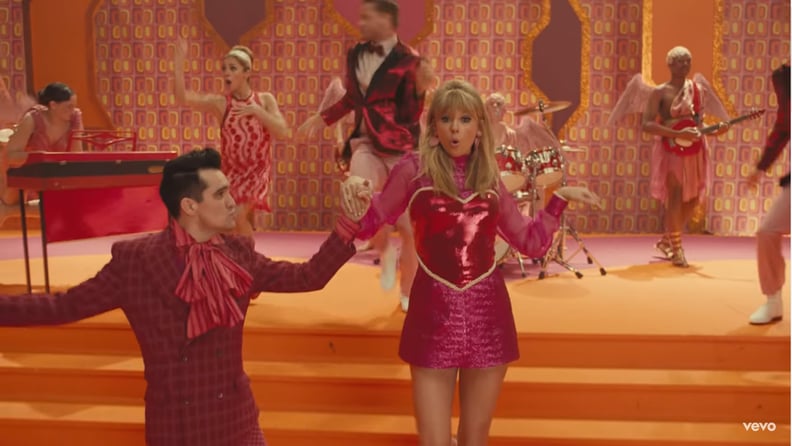 Taylor and Brendon's '60s Outfits
In this scene, Taylor and Brendon shake it off with cupids jamming behind them. We love the whole '60s mod vibe, especially their coordinated pink and red outfits.
What to wear: For Taylor's outfit, grab a pink dress and apply dark pink sequins in the shape of a heart. Don't forget those cute pink heart earrings either! For Brendan's look, wear a red plaid suit and a ruffle pink top.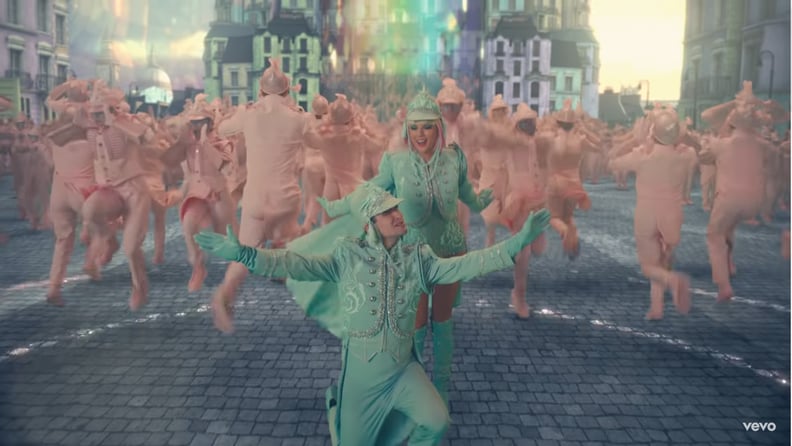 Taylor's Green Marching Band Look
In this candy-colored pink and green sequence, we see Brendon and Taylor dance in marching band clothes (à la "You Belong With Me") in what looks like a Wizard of Oz-inspired setting. There's no other way to learn that you can't spell "awesome" without "me"!
What to wear: A green newsboy cap, blazer, romper, cape, and pair of boots in addition to a blush pink wig!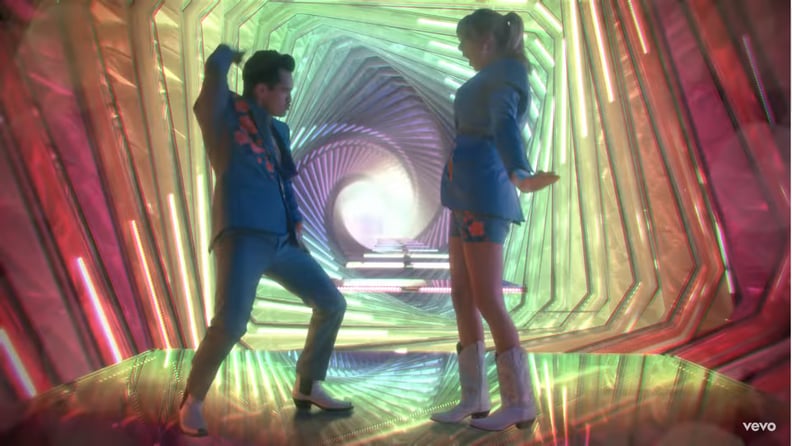 Taylor's Floral Shorts Suit Look
In truly one of the trippiest parts of the video, Taylor and Brendon don floral suits and get groovy on a floating platform with a swirly rainbow backdrop behind them.
What to wear: A blue blazer and pair of shorts with flower appliques — don't forget the white cowboy boots either!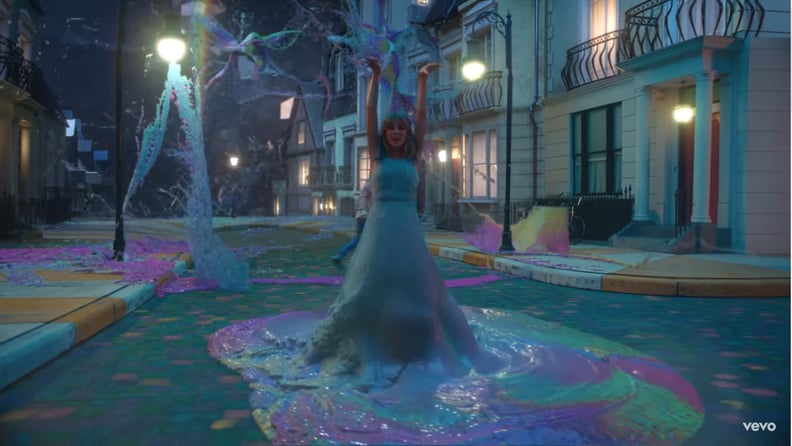 Taylor's Melting Blue Dress
The chrysalis begins to break in this ending scene, during which we get a moment reminiscent of Singin' in the Rain — if Gene Kelly got soaked in rainbow juice. Taylor wears a lovely Cinderella dress that starts melting into a multicolor puddle.
What to wear: A sleeveless blue dress with spray-on blue hair dye on your tips. To re-create the puddle, you can add tie-dyed fabric at the bottom of the dress or attach different color layers of tulle.