The Fresh Prince of Bel-Air Cast Is Virtually Reunited, So It's Time to Do the Carlton Dance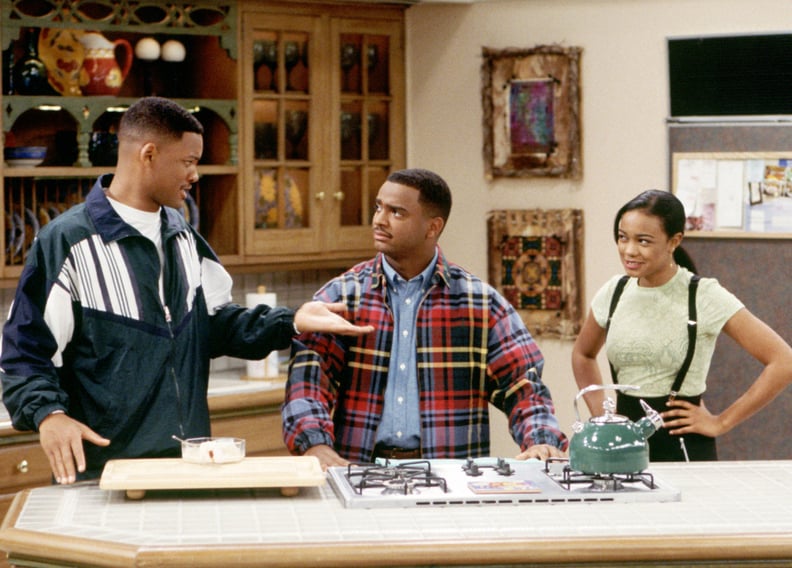 Now, this is a story all about how our self-isolated lives got flipped, turned upside down. And I'd like to take a minute, just sit right there — I'll tell you why we're talking about The Fresh Prince of Bel-Air. OK, but, seriously, the costars of the hit '90s sitcom have reunited, and we couldn't be more excited. As part of his Snapchat series, Will From Home, Will Smith is catching up with his former castmates Alfonso Ribeiro (Carlton Banks), Tatyana Ali (Ashley Banks), Karyn Parsons (Hilary Banks), Daphne Maxwell Reid (Vivian Banks), Joseph Marcell (Geoffrey Butler), and DJ Jazzy Jeff (Jazz).
The virtual meeting was released as two episodes on Snapchat's Discover page on April 29 and April 30, and in a couple of first-look teasers, Smith reminisces about the cast's hit series, which ran from 1990 to 1996. He reveals that it was Ribeiro's idea to keep Smith's real name for his character. "The reason that my character's name is Will Smith is because of you, do you remember that?" Smith asks Ribeiro in the clip. "It was such a deep insight that you had. You said, 'Because people are going to call you that for the rest of your life!'"
The reunion featured a tribute to the late James Avery (Phillip Banks), who died from open heart surgery complications at age 68 in 2014. Watch the sneak peeks of the Will From Home episodes ahead, then read up on everything we know about the Fresh Prince reboot.
Watch the Fresh Prince of Bel-Air Cast Reunite on Will From Home Teaser 1
Watch the Fresh Prince of Bel-Air Cast Reunite on Will From Home Teaser 2
Watch the Fresh Prince of Bel-Air Cast Reunite on Will From Home Teaser 3
Watch the Fresh Prince of Bel-Air Cast Reunite on Will From Home Teaser 4