Louis Tomlinson Is "So Nervous" in This Unseen "X Factor" Footage
Twelve years after Simon Cowell made the fateful decision to band a group of X-factor hopefuls together, officially forming One Direction, more unseen footage from the boys's original auditions has been released. This time, it's Louis Tomlinson's turn to face the music. In the new edit, his nervousness is palpable. Prior to this footage, all fans had ever seen of Tomlinson's audition was video of him singing a short snippet of "Hey There Delilah" by the Plain White T's. But this clip shows that he originally started with a different song and — like some of his future bandmates — was asked to switch it up halfway through.
"I love singing, and this means so much to me — I just want to give it my best," an anxious 18-year-old Tomlinson tells judges Cowell, Louis Walsh and Nicole Scherzinger in the video. He names James Morrison as a musical inspiration of his, and then starts his audition off with the Scouting for Girls song "Elvis Ain't Dead," making it through the first chorus before Cowell stops him and asks, "What other songs?"
This is the moment Tomlinson picks "Hey There Delilah," which Cowell calls "a much better song" with a shrug of his shoulders. "I know, but I'm so nervous," Tomlinson responds.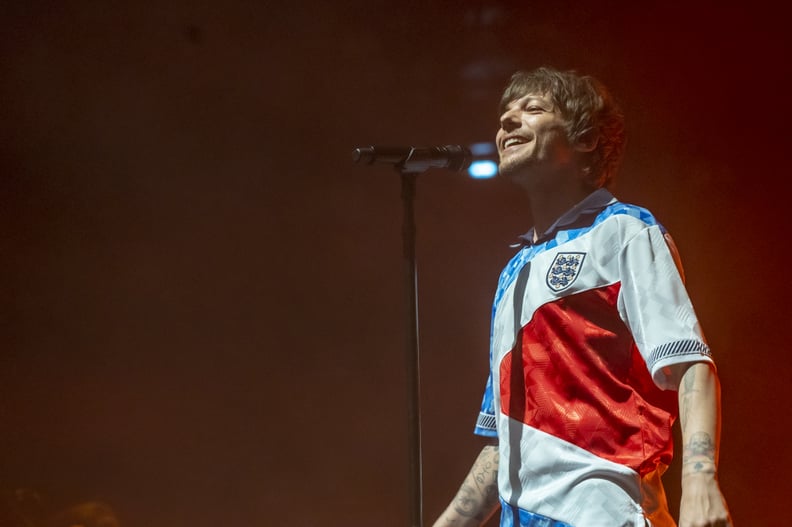 "Look, you know what? You're actually doing well, which is why we asked you to do a second song, right? So this is a better song for you," Cowell tells the singer.
This seems to be the encouragement Tomlinson needs, and he takes off with the audition most Directioners are already familiar with. But after finishing his second song, he still doesn't seem too enthused about his own performance, asking the judges to "please just give me a chance."
In the final moments of the clip, Scherzinger gives Tomlinson a big thumbs up and says he looks a little defeated. "I can do so much better than that, honestly," he tells her, prompting Scherzinger to explain what she sees in him. "Honestly, Louis, I really do believe you when you're singing, and I think that you have an amazing connection with music. So I just want you to stand there and to sing for us. But you know, I'm really happy I got to hear that second song because I really like you," the former Pussycat Doll explains.
In the end, Tomlinson makes it through with three yeses, with Cowell and Walsh noting his originality, style, and likability. Although he was eventually eliminated from the competition series as a solo artist, he later returned as a part of One Direction and went on to dominate the pop scene along with Harry Styles, Niall Horan, Zayn Malik, and Liam Payne. The "X Factor UK" has slowly been releasing unseen footage from all of the boys's auditions, starting with Styles and recently posting Horan as well. Tomlinson is the latest victim, but stay tuned to see which member will be next.