TikTok Has Some Convincing Evermore Theories, and Some Downright Bonkers Ones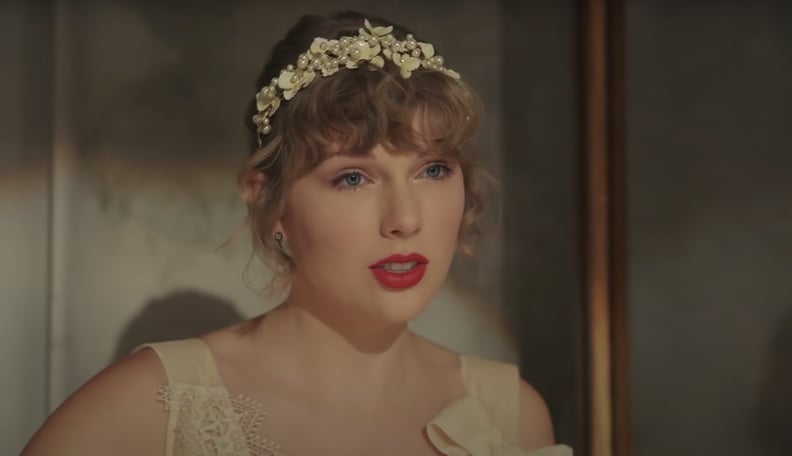 YouTube | Taylor Swift
If you're a self-proclaimed Swiftie, then we're assuming that the past week of your life has been dedicated to analyzing, decoding, and crying to Taylor Swift's ninth studio album, Evermore. We all know that Taylor is a big fan of Easter eggs, so can you really blame her fans for turning into private investigators whenever she releases something new, posts on social media, or even breathes? Thanks to dedicated fans around the world, TikTok is already filled with conspiracy theories about all things Evermore, including a possible tenth album release date. Although we can't promise the accuracy of any of these theories, one thing is certain: no one works harder than the Taylor Swift fandom.
01
The Triplet Album Theory
If Taylor Swift really plans on releasing a third album in less than a year, then we are definitely not complaining.
02
Taylor Swift Is Retiring
While we would love a third album to complete the trilogy, it would be even more heartbreaking than James cheating on Betty to see Taylor retire.
03
Taylor Swift's Phone Call Reveals Potential Tenth Album Release Date
So, you're telling us that the phone just happened to ring exactly at 31 (Taylor's favorite number in reverse) minutes and 13 seconds just by chance? We think that the Easter egg queen is definitely up to something.
04
"Cowboy Like Me" Lyric Video Conspiracies
Since there's so much math involved, this theory has to be accurate . . . right?
05
"Gold Rush" Is From Joe Alwyn's POV
This theory about "Gold Rush" being from Taylor's boyfriend Joe Alwyn's point of view is just so cute, we can't help but hope that it's true.
06
"Gold Rush" Is About Harry Styles
OK, we know we just gave you a theory about how "Gold Rush" is written from our beloved stepdad Joe's point of view, but this theory about Harry Styles is also pretty convincing.
07
The Trilogy Albums Represent Phases of Life
If only we could have epiphanies this brilliant while walking down the beach and theorizing about Taylor's potential tenth album . . .
08
"Long Story Short" Is the "Getaway Car" Sequel
Honestly, we hope the tumultuous "Getaway Car" narrative never ends. There's love, drama, and betrayal — what more could you ask for?
09
The Triplet Albums Represent the Three Trimesters of Pregnancy
This intricate conspiracy theory about Taylor and pregnancy seems a little far-fetched, if you ask us.
10
"Closure" Is About a British Ex
If "Closure" really is about one of Taylor's British ex-boyfriends, then we have a few ideas about who she could be mocking. Do the names Harry Styles or Tom Hiddleston ring a bell?
11
"Champagne Problems" Was Inspired by Karlie Kloss
Although Kaylor conspiracy theories have been swarming the internet for years, many fans believe that "Champagne Problems" was without a doubt inspired by Karlie Kloss.
12
"Coney Island" Is About All of Taylor Swift's Ex-Boyfriends
We just have one question: did Joe know that Taylor was writing about all of her exes while he helped create "Coney Island?"
14
Are Harry Styles and Taylor Swift Trying to One-Up Each Other?
Harry Styles released Fine Line on Taylor's 30th birthday. Taylor released Folklore on One Direction's 10th anniversary. Harry performed for Jingle Ball on the same night Taylor released Evermore. They have to be doing this on purpose, right?
15
All of the Taylor Swift Theories We Know So Far
In case you want a full summary of all of the potential Easter eggs Taylor has been leaving recently, this video is your go-to. Maybe all of these hints and clues actually mean something, or maybe Taylor really does just like messing with us.
16
Watch Taylor Swift's "Willow" Video