I Just Rewatched the Hunger Games Movies, and They're . . . Not Great, You Guys
Like any antisocial, dystopian-loving bookworm, I was a huge fan of The Hunger Games in high school. I was sucked into the high-stakes excitement of the games and deeply invested in the love triangle. I related to Katniss's independence and stubborn grit and off screen appreciated how Jennifer Lawrence keeps it real. But more than that, it is a series that explores 21st-century issues like political corruption, propaganda, and war through the eyes of its 17-year-old protagonist. The Hunger Games is a rare YA story that doesn't condescend to its audience, and I soaked it up. So when I heard that a Hunger Games prequel book, The Ballad of Songbirds and Snakes, was being released on May 19, I decided to go back and rewatch the films so I was fully up to speed. Here's what I found revisiting the series as an adult.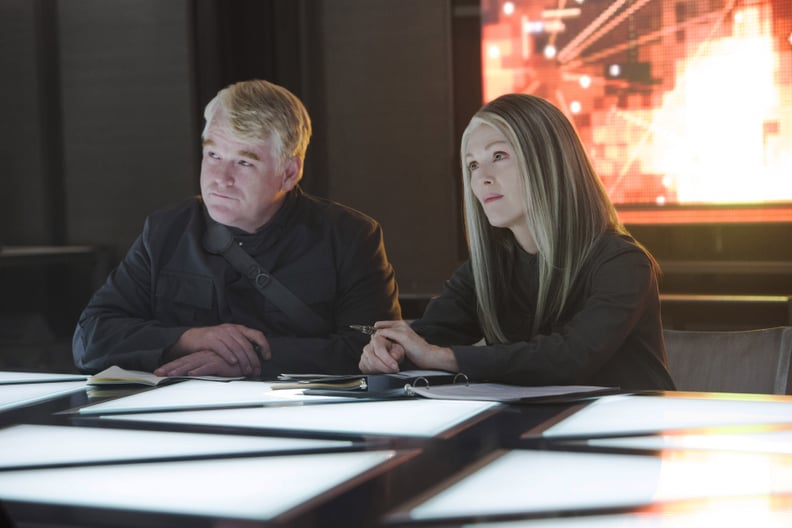 First of All, the Cast IS Incredible
Before The Hunger Games made Jennifer Lawrence one of the biggest stars on the planet, she already had an Oscar nomination for her role in 2010's Winter's Bone. (She went on to win in 2013 for Silver Linings Playbook, released the same year as the first Hunger Games film.) While it's easy to say Lawrence carried the films, it's not true.
Who could forget Amandla Stenberg breaking everyone's heart as little Rue? Or Sam Claflin bringing the charm as Finnick Odair before he went on to rebreak everyone's hearts in Me Before You? Going back, it was also wonderful to see established industry veterans like Julianne Moore and the late, great Philip Seymour Hoffman add layers of depth to President Alma Coin and head Gamemaker Plutarch Heavensbee.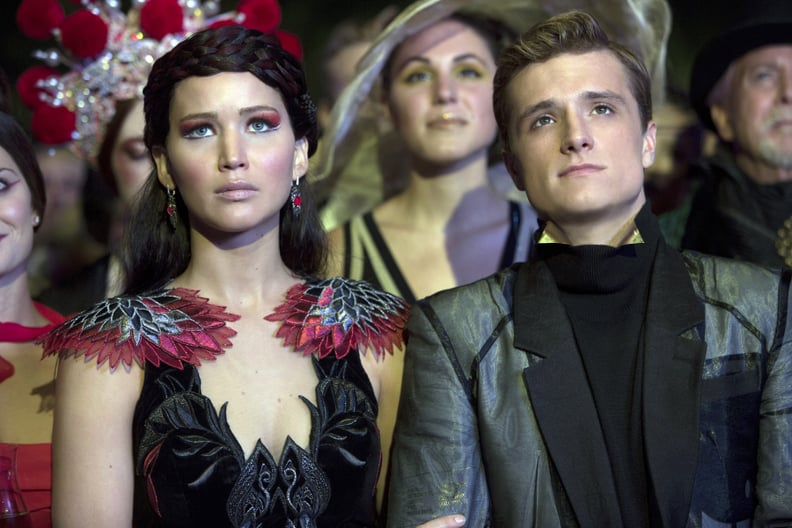 Sorry, but There's Zero Romantic Chemistry Between the Leads
The love triangle, however, does not hold up. Peeta spends the majority of the first film filthy and feverish in a cave waiting for Katniss to save him, and Katniss looks at him more like a lost puppy than a potential lover. Sure, Peeta's a skilled baker and artist and does sweet things like risk his life for her, but the chemistry is hardly as sizzling as it seems in the books. Gale, on the other hand, is extremely hot, but he ends up accidentally being responsible for Prim's death, which is unfortunate. He's more high school boyfriend material than star-crossed soulmate.
Then again, a love triangle has never been the focus of The Hunger Games. Katniss isn't defined by the males in her life. She has more important things to do, like being the face of the resistance and trying to free Panem from a heartless dictator. From beginning to end, it's the Mockingjay's story. The boys are just living in it.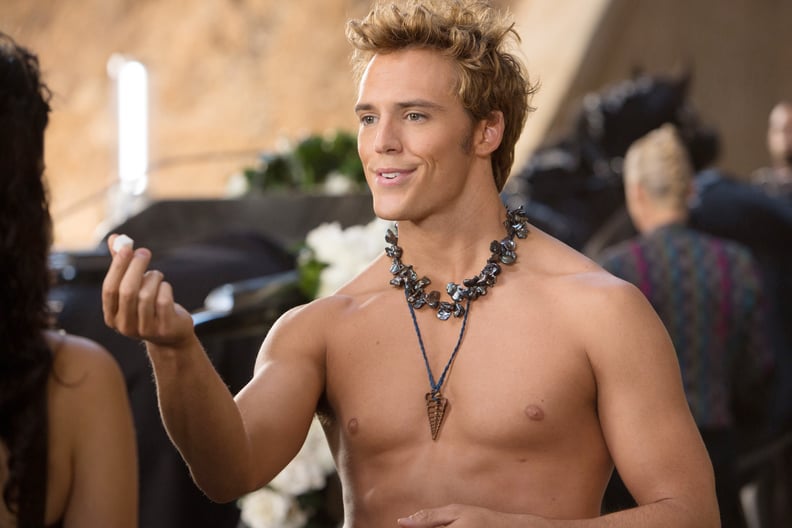 Finnick Odair Is Actually the Most Compelling Character
While Katniss is a bow-and-arrow-slinging hothead from the beginning to the end, Finnick Odair is a cornucopia of contradictions. He's first introduced as the sugar-cube-loving, scantily clad darling of the Capitol. But once he's in the arena, he quickly proves himself to be an ally, and his actions are heroic. He expertly fends off enemies with his trident and saves Peeta's life when he hits a forcefield.
When Finnick's rescued and brought to District 13, he's distraught that his childhood sweetheart, Annie, has been captured, and he's a shell of his former self. When she's rescued, the two are quickly married, and it turns out he's the opposite of the gorgeous womanizer he was presented as. OK, maybe not the exact opposite — he's gorgeous in every iteration — but there are a lot of layers to Finnick Odair. Which leaves me with one question: why isn't he starring in his own spinoff? Oh, right, because he's a hero and he sacrifices himself to save Katniss. We never deserved him.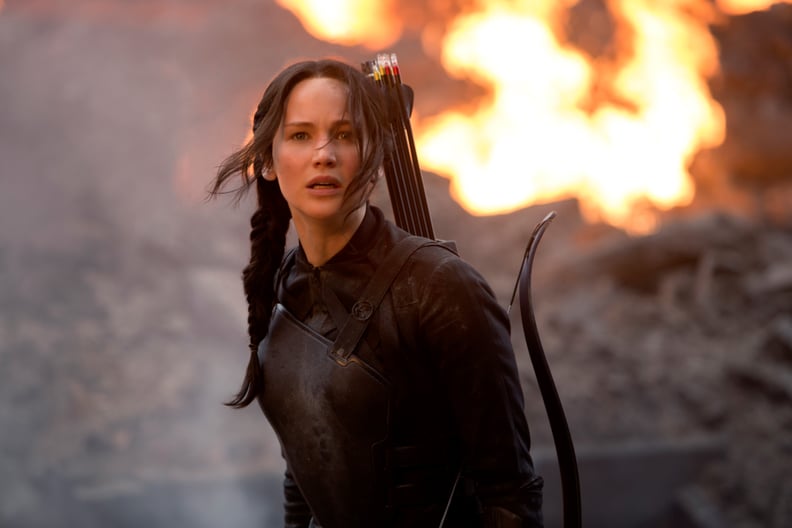 There Are Some Glaring Plot Holes
Panem is filled with rich details, questionable fashion choices, and the use of its angsty teenage protagonists to explore 21st-century problems. I am, however, left with some logistical questions. How does Katniss get a bow and arrow powerful enough to explode a fighter plane hundreds of feet in the air? How exactly can Gamemakers design a pack of wild CGI dogs and instantly transport them into the arena without literal magic? And how do genetically engineered jabberjays mate with real-life mockingbirds to create mockingjays? Isn't that, like, not how genetics work? Is it speculative fiction, science fiction, or some combination of both? The Hunger Games is truly a dystopia that defies categorization.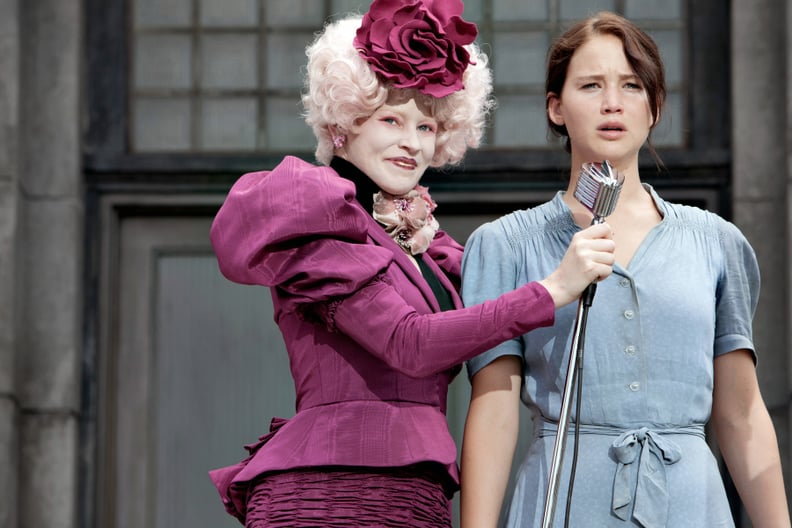 The Adults Are Really Unhelpful
As a teenager, I was enthralled with Katniss's bravery, archery skills, and all-around badassery. But as an adult, I see how her keen resourcefulness is the result of complete incompetence from the adults in her life. Katniss's mother is a skilled nurse but doesn't offer much in the way of parenting advice or personality in general. Haymitch brings a certain kind of swaggering charm, but he's also a barely functioning alcoholic whose best piece of advice is "don't die," while Effie Trinket is more concerned with good hair and manners than the morality of the games.
The adults in power are no better. President Coin spends the first half of the Mockingjay installment livid that she can't control the Mockingjay and the second half trying to get her killed to further the resistance. Honestly, with adults like these in charge, it's no wonder a teenager leads the resistance.