Lara Jean Makes a Big Decision in P.S. I Still Love You — Here's What Happens

It's safe to say that we all need a breather after experiencing the emotional roller coaster that is Netflix's To All the Boys: P.S. I Still Love You. The sequel adaptation of Jenny Han's novel follows the push-and-pull romance of Lara Jean Covey (Lana Condor) and Peter Kavinsky (Noah Centineo) that officially blossomed at the end of 2018's To All the Boys I've Loved Before. They seem to be happy, but Lara becomes increasingly self-conscious about her lack of dating experience. To make matters worse, she continuously compares herself to Peter's ex, Gen (Emilija Baranac), who's also Lara's best friend-turned-enemy. Despite Peter picking her over Gen, Lara can't help but think the former lovers still share a special bond that keeps her from being good enough for Peter.
In comes John Ambrose, one of Lara's love letter recipients. After replying to Lara's message with a heartfelt note, he reunites with her by happenstance when they sign up for the same volunteering opportunity at Belleview, a local nursing home. They reconnect, and it's clear there are sparks between them. After John opens up about living in Peter's shadow when they were all friends in middle school, Lara decides not to tell him about her relationship with the jock.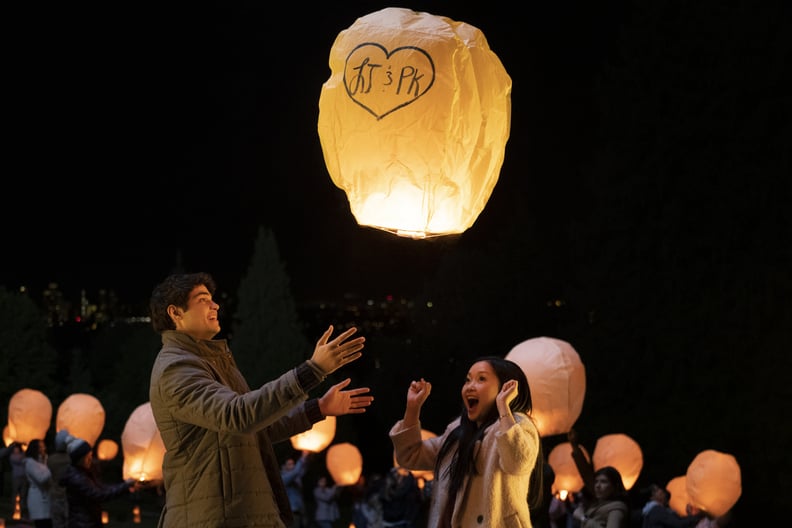 However, the truth comes out when Lara, Peter, John, Gen, Trevor (Ross Butler), and Chris (Madeleine Arthur) meet at an old treehouse to unearth items from a time capsule they hid years prior. After the sweet and tense gathering, John insists on helping Lara clean up until Peter snipes that he's more than capable of assisting "my girlfriend." Realizing Lara withheld that important tidbit of her life, John leaves feeling embarrassed. Lara and Peter then get into an argument — which ripped us to shreds — and things intensify when Chris shows Lara a photo of Peter and Gen looking cozy together outside the latter's house.
She confronts Peter about it, and he reveals that Gen was confiding in him after learning that her parents are getting a divorce. But as the couple continues to go back and forth, Peter accidentally confirms that he knew all along Gen was the one who posted the video of him and Lara making out in the hot tub in the first movie. Lara puts two and two together, realizing the only reason Gen recorded them was because she was initially going to meet Peter at the hot tub. When she saw Lara there, she immediately went into revenge mode and sent the scandalous video out to all their peers. Disheartened by the revelation, Lara breaks up with Peter.
She then takes some time to reflect and reconcile with Gen in an incredibly potent scene. Afterward, she gets back in the good graces of John, and they share a romantic Cinderella-esque moment at a ball they host for the Belleview senior citizens. But once they kiss, Lara realizes that her heart truly lies with Peter. She decides to leave the event early to look for Peter, only to find him outside waiting for her. They make amends before declaring their love for each other. (It's OK, we also squealed when they said, "I love you.")
Unfortunately, John doesn't get much closure, and we don't know how he reacts to Lara's choice, but we'll see what happens in the third and final installment, To All the Boys: Always and Forever, Lara Jean. We can only hope that our favorite intellectual hottie with an impressive sweater collection finds happiness. Justice for John!