The Cast of And Just Like That on Willie Garson's Death
The Cast of "And Just Like That" Recall Their Final Moments With Willie Garson
Watch out! This post contains spoilers.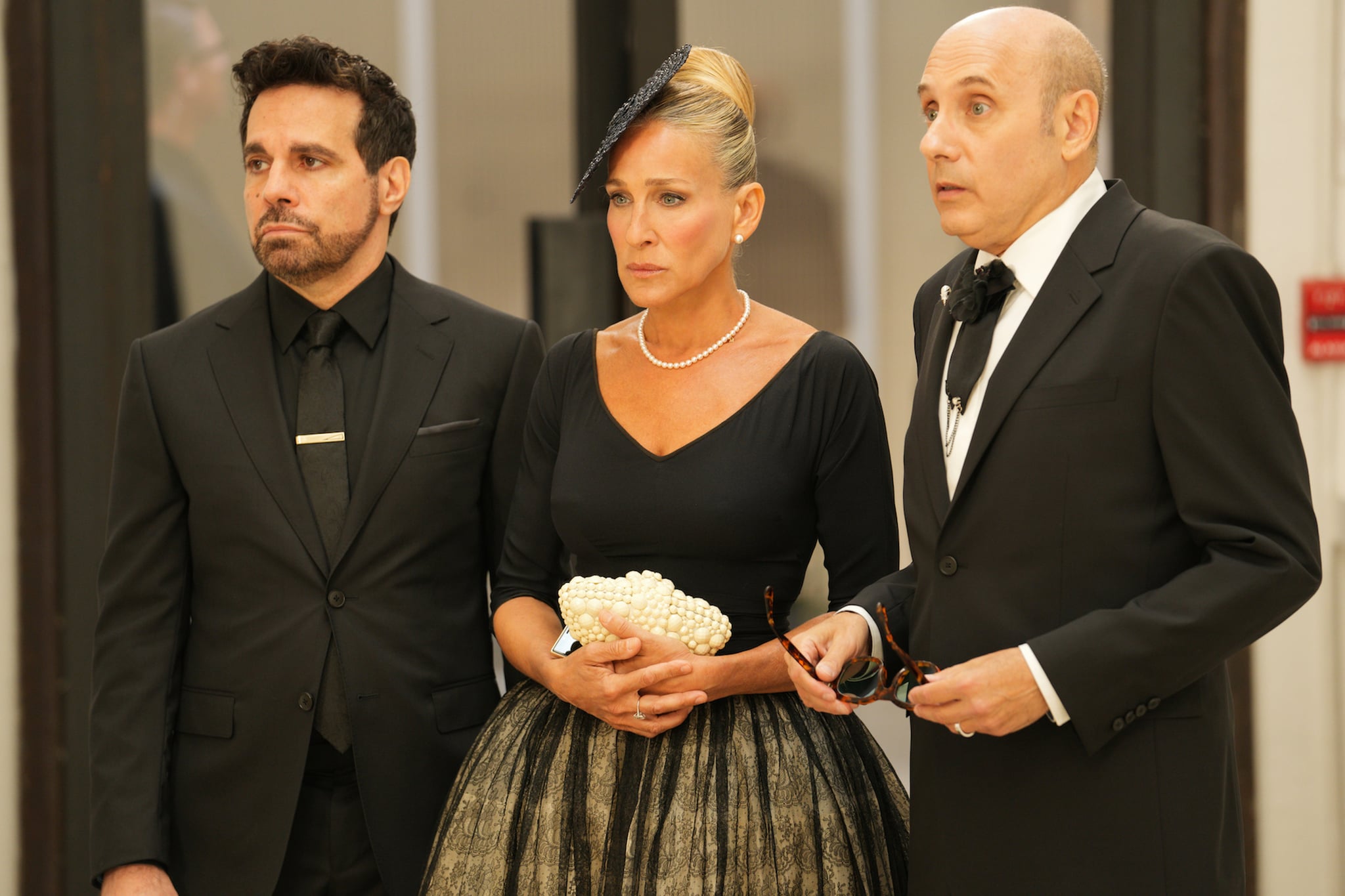 Sept. 21, 2021, was a sad day for "Sex and the City" fans when we learned of Willie Garson's (who played talent agent Stanford Blatch) death. Knowing that the actor reprised his role in the reboot series, "And Just Like That," fans wondered how his story would play out since his death occurred while the show was still filming. The good news is Stanford does appear in the first three episodes of the reboot, but those are the only times he shows up.
During episode four, Carrie (Sarah Jessica Parker) discovers a "dramatic note" Stanford leaves in her old apartment, and it reveals some shocking news about his whereabouts. "Dearest Carrie, by the time you read this I'll be in Tokyo," the letter begins. Carrie then calls Stanford's husband, Anthony (played by Mario Cantone), to shed light on her discovery. Apparently, the agent is off in Japan managing Ashley — a 17-year-old Long Island TikTok star who's "huge in Asia" — and accompanying her on tour. When Carrie asks why he couldn't relay the message of his sudden travels in person, Anthony says, "He couldn't bring himself to tell you he was leaving face to face after Big died."
Stanford's trip to Tokyo could've been the end-all solution to address Garson's unexpected death, but it seems the show's writers found another way to end his story. In addition to leaving for Japan, Stanford also asked Anthony for a divorce (coincidentally in a letter as well), closing the book on his character.
Cantone opened up about Garson's death on Gilbert Gottfried's "Amazing Colossal Podcast" on Dec. 14. "It was a real shock," Cantone said. "None of us knew, and it was just, it was terrible. It was very sad." Garson was reportedly set to have a "very significant storyline" in the reboot, according to Parker, but his illness only allowed him to film for three out of the 10 episodes in season one.
"He would always tell me that he was the most popular character on the show . . ."
In HBO Max's "And Just Like That The Documentary," several members of the cast open up about their final moments filming with Garson before his untimely death. "The last time I saw Willie, and most of us saw Willie, maybe all of us saw Willie, was at Mr. Big's funeral," Cynthia Nixon shares. As stated in previous reports, as well as the documentary, Parker was the only person from the cast who knew how ill Garson was. "If he could've stayed one more day, two more hours, three more weeks, he would've summoned the strength and pushed away the terrible pain that he was in," Parker says.
Executive producer/showrunner Michael Patrick King also spoke on Garson's death in the documentary, calling it a "shock" that "was unexpected." Nixon even recalls spending "hours and hours" filming with Garson during one particular scene in Carrie's apartment, noting that "he was so funny and silly and full of energy." Parker added to the somber reflections, saying, "I can't believe I can't call Willie . . . I cannot believe it. He would always tell me that he was the most popular character on the show, and he was not making a joke, he was quite serious . . . turned out, he might've been right."
Garson died of a short illness after suffering from a battle with pancreatic cancer. He was 57 years old. Since his death, Garson's "Sex and the City" costars have kept his memory alive by honoring his life with their own heartfelt tributes.