Bridgerton Has Been Renewed For Season 2, and It Will Be All About Lord Anthony
Get ready for even more drama, because Netflix's Bridgerton is officially returning for season two. On Thursday, the streaming service confirmed the renewal alongside a letter from Lady Whistledown herself, noting that production is set to begin in the spring. The letter also adds that "Lord Anthony Bridgerton intends to dominate the social season," hinting that the upcoming season will follow the second book from Julia Quinn's series, which is titled The Viscount Who Loved Me.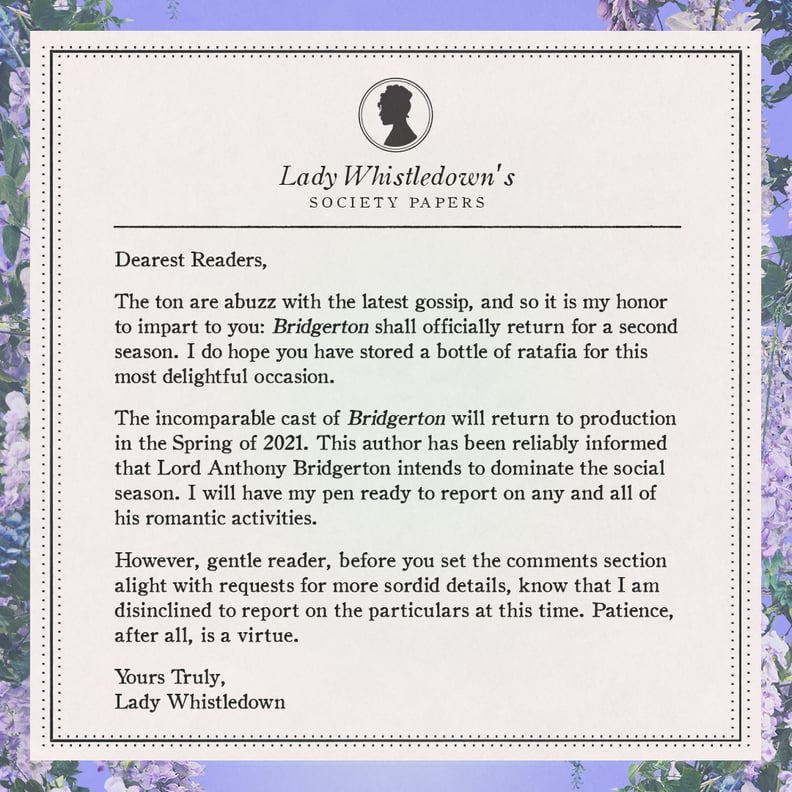 While season one is a wild journey with countless scandalous moments, it's the ending that left us with many questions: how will Daphne and Simon's relationship progress? Will Penelope be revealed as Lady Whistledown? And better yet, what will go down after Penelope is revealed as the gossip queen? Needless to say, with so many intertwining relationships and stories, there's a lot to be figured out. Not to mention the fact that Netflix and Shonda Rhimes have nine books to work with for source material.
When POPSUGAR talked with the cast last year, they were excited to continue the story. "I loved the ending, I think it sort of finishes it off quite nicely. Daphne's always so desperate for children and that's her wish. The ending so perfectly sort of finalizes their relationship in a way, it's a happy ending. But there's so much more," Phoebe Dynevor (Daphne Bridgerton) said. "They're so young when they marry, so there's so many more places that their relationship can go. And as we know, love is not easy. It's a long journey. And so who knows where the next ten years or so could take them."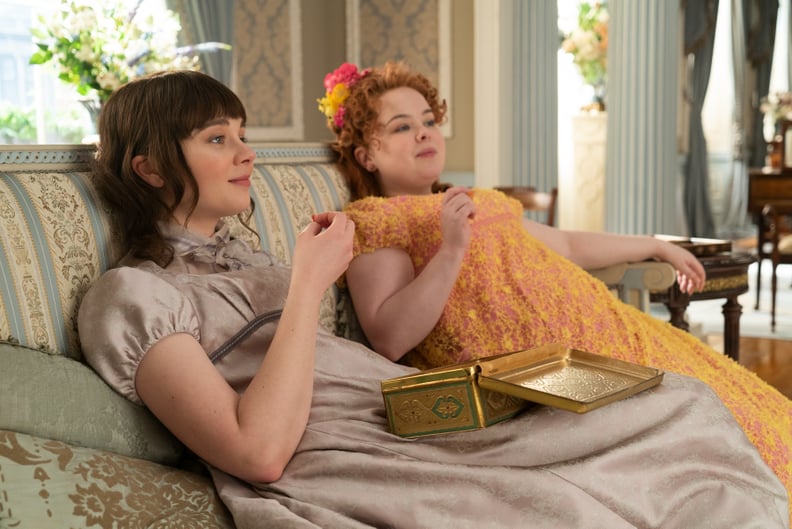 As for the major Lady Whistledown reveal, Nicola Coughlan (Penelope Featherington) is ready to see the aftermath of that dramatic unveiling. "The Whistledown fall out — all of it!," she said. There's also Penelope and Eloise's friendship that will most definitely be interesting to explore, alongside their debut. "It's quite lovely to see [Eloise's] relationship with Penelope, because obviously that's different now, that's massive," Claudia Jessie (Eloise Bridgerton) shared. "They're so young, but now it's this pivotal age where they're entering this bizarre ritual. And yeah, I think that's gonna be exciting to see them do that together. Seeing Eloise's debut, in sort of Eloise's manner, I think can't be anything but entertaining. 'Cause I reckon she'll shake things up."
— Additional reporting by Kelsie Gibson