Wu-Tang: An American Saga Creators Talk Ending the Series
"Wu-Tang: An American Saga" Creators Reveal "the Plan Wasn't to End at 3 Seasons"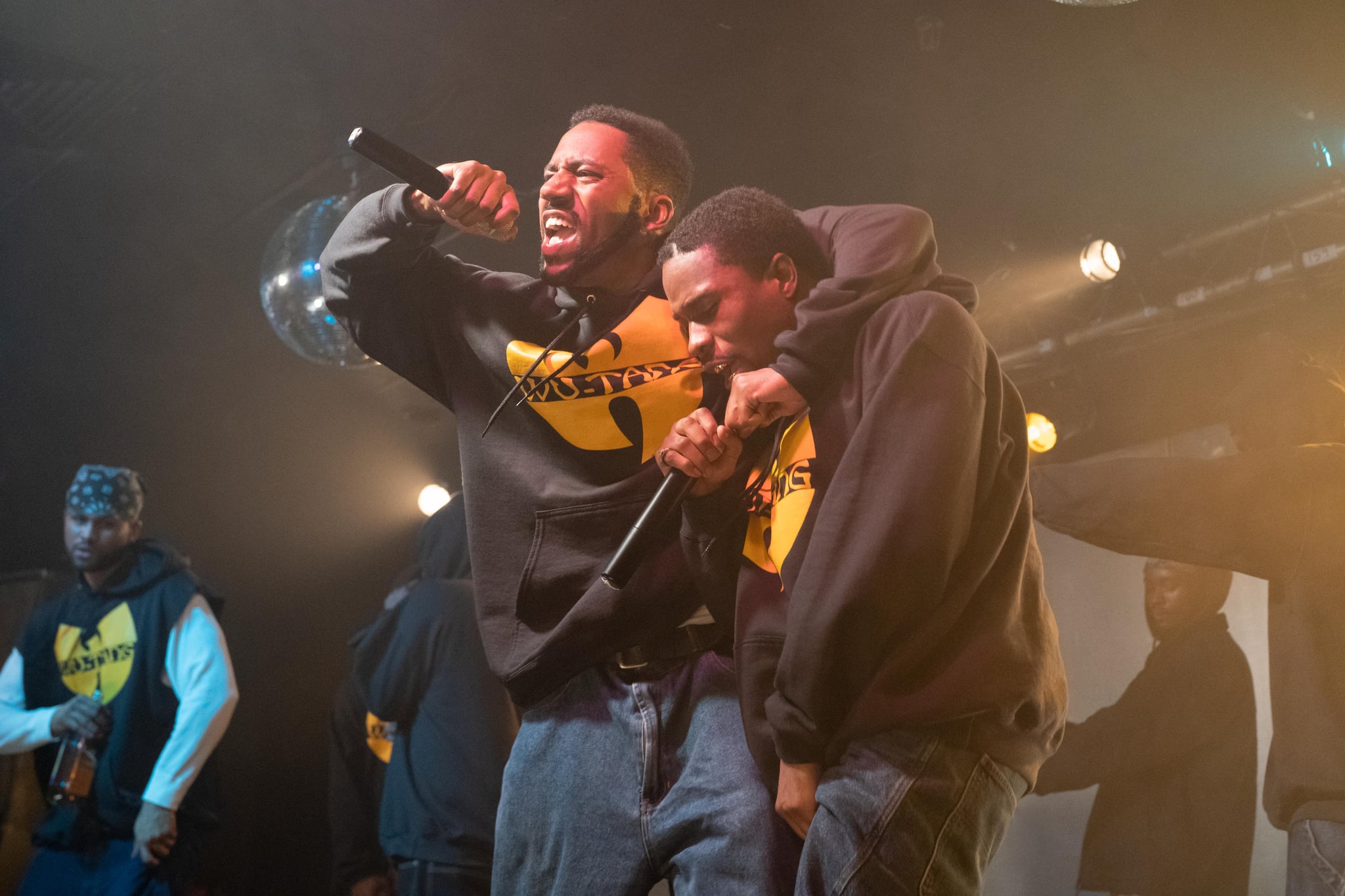 It's a bittersweet moment for "Wu-Tang: An American Saga" fans and rap-lovers alike, as the hit Hulu biopic drama about the iconic Wu-Tang Clan is winding down with its third and final season, which kicks off on Feb. 15. Since 2019, the imaginative series — which stars Ashton Sanders (Bobby Diggs/RZA), Shameik Moore (Sha Raider/Raekwon), Siddiq Saunderson (Dennis Coles/Ghostface Killah), TJ Atoms (Ol' Dirty Bastard), Dave East (Method Man), Johnell Young (GZA), Uyoata Udi (Inspectah Deck), Damani Sease (U-God), Zolee Griggs (Shurrie Diggs), Julian Elijah Martinez (Divine), and Marcus Callender (Power) — has recalled the impactful story of one of hip-hop's most successful collectives. To bring it to a close, season three's plot focuses on the group's success years as they course through their strategic five-year plan, which isn't without its share of threats, obstacles, and challenges.
"This is a Hollywood business, and it's tough to get TV shows."
As many fans know, Wu-Tang Clan's peak success in the '90s was just the tip of the iceberg, because each member went on to pursue their own solo path, so of course, "Wu-Tang: An American Saga" could've continued on for more seasons with years of real-life material to pull from. However, cocreators RZA (also a founding member of Wu-Tang Clan) and Alex Tse tell POPSUGAR the show's three-season timeline wasn't entirely up to them.
"Well, the plan wasn't to end at three seasons," RZA reveals candidly. "This is a Hollywood business, and it's tough to get TV shows, so we could have done [the series] in one season because . . . we don't know. You never know." Tse adds, "I think when we found out this would be the final season, there was sort of a natural off-ramp that we were headed to that like, 'OK, this kind of coincides with this part of the timeline. We just have to pivot the tone of it to feel like a series finale.' So I didn't feel like that transition was necessarily super hard."
"Wu-Tang: An American Saga" was a slow-burn success when it first hit our TV screens in the fall of 2019, with its enthralling storytelling methods unlike anything we'd ever seen from a biographical series. Rather than take a linear approach to a familiar tale, the series followed every turn of the group's musical journey, going from the trappings of drugs, poverty, and crime to their golden era at the top of the industry — and it paid off immensely.
RZA admits, "It took us a long time to get a green light for season two" of what he calls a "very challenging show," but when they did, the series made more ambitious moves, with everything from music-making montages of the legendary "Enter the Wu-Tang (36 Chambers)" recording process to a captivating visual representation of RZA's renowned sampling methods. Fans couldn't get enough of what "Wu-Tang: An American Saga" delivered, so Hulu responded accordingly by renewing the show once more in late 2021, just a week after season two's explosive finale.
"I will honestly say one of the greatest joys is to see these actors actually grow as I saw my Wu-Tang brothers grow in their process."
Though RZA and Tse didn't anticipate season three being "Wu-Tang: An American Saga"'s last lap, they still prepared for it way in advance. As Tse notes, "A lot of the ideas that you see in season three are the ones that we thought about in season one and are kind of pretty much in the same place."
On a lighter note, RZA says it's been "incredible" to watch his talented cast evolve and modernize the iconic era he lived through with his group mates. "We've watched them grow as people, as talent," he says, "and I will honestly say one of the greatest joys is to see these actors actually grow as I saw my Wu-Tang brothers grow in their process, from coming from the first album to their big successful albums." Tse echoes the famed producer. "We have a whole mix of talent, some of whom had established careers and some of them who had not yet. So that's been pretty gratifying," he says. "I think one of the biggest kicks for me in this season when you talk about actor growth is seeing different actors play different roles and [saying], 'Oh, I didn't know they had that in their bag.' That's been a real fun part of this particular season that's been different than the other two for me."
The cocreators say the real reward for them has been getting the chance to revisit a critical part of hip-hop history with a new generation of fans, as well as reaffirm Wu-Tang Clan's worldwide cultural impact — an opportunity they're deeply grateful for in this day and age. "I feel like we definitely completed our journey. We feel like we captured a lot of the things we talked about in the beginning process," RZA says. "Is there more? Of course. There's always more, right? The saga continues, but we feel very proud and pleased and grateful that we were able to present these 30 hours to TV so that people could watch and enjoy."
The first three episodes of "Wu-Tang: An American Saga" season three premiere on Hulu on Feb. 15.