Arie Luyendyk Jr. Pregnancy April Fools' Day Joke
Bachelor Arie, King of Bad Judgment, Made the Most Insensitive April Fools' Day "Joke"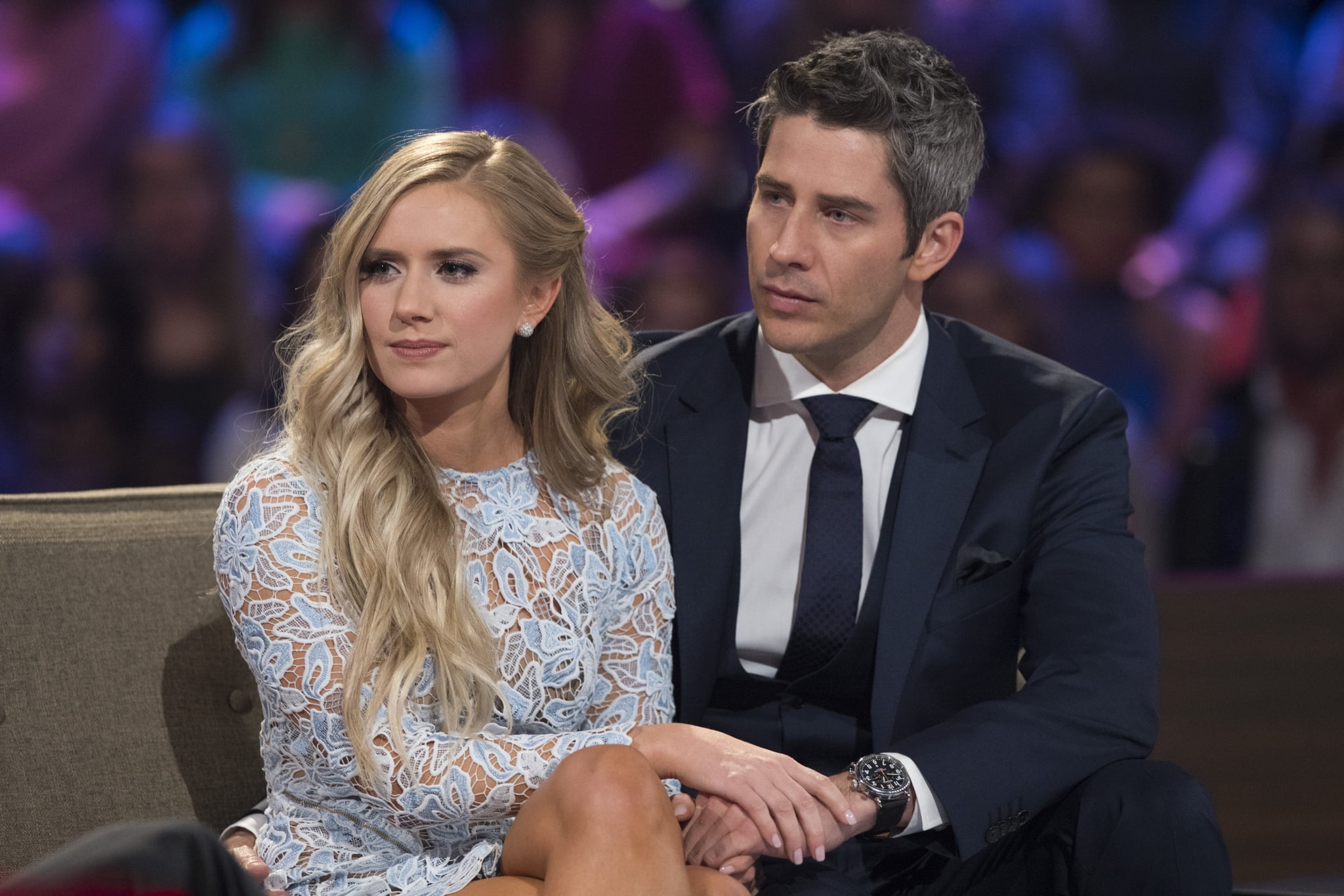 Of all the things you could rightfully call The Bachelor's Arie Luyendyk Jr., "sensitive" is not one of them. The race car driver and reality show star earned widespread scorn after dumping his original fiancée on live TV, then promptly proposing to the runner-up from his season of The Bachelor. But as if that special brand of bad judgment wasn't enough to land him at the top of America's sh*t-list, Arie opted to play a seriously thoughtless April Fools' Day "joke" on his followers: a fake pregnancy announcement.
Secrets finally out, we have a bunny in the oven! @laurenburnham91 pic.twitter.com/Mmx50ePDaB

— Arie Luyendyk Jr. (@ariejr) April 1, 2018
Arie tweeted a photo of fiancée Lauren Burnham cradling a "baby bump" on April 1, writing: "Secrets [sic] finally out, we have a bunny in the oven!"
A few hours later, the reality star followed up with another tweet, letting followers know that the faux pregnancy was, in fact, a "joke."
APRIL FOOLS!

— Arie Luyendyk Jr. (@ariejr) April 1, 2018
What the couple likely didn't anticipate, though, was the massive number of responses calling them out for their insensitivity in faking a pregnancy. Offended followers flooded Arie's replies, calling the pair "selfish" for poking fun when so many people struggle with infertility and miscarriage.
1 in 8 women struggle infertility. I really and truly hope that if this is a joke, when you do try to conceive you aren't met with the harsh reality that so many face.

— Heather Lang (@heather_flang) April 1, 2018
Love you guys but hopefully this isn't a joke. A lot of people struggle with getting pregnant or loosing babies and that would be F'ed up and selfish. Just an odd day to share it is all. Hopefully a congrats will be in order. 💛

— GI💛NA (@GinaMara) April 1, 2018
That is THE worst thing to joke about when so many people are unable to conceive or have miscarried.

— Katie (@K8te28) April 1, 2018
Many people know that staging a pregnancy for the sake of a cheap laugh can be deeply hurtful to the often-silent masses who struggle to conceive, or have lost a child of their own — but apparently, Arie is not one of them.
As if it could somehow excuse his careless joke, the reality star posted a snap of a pancake recipe on his Instagram story, writing: "Sorry if you were offended, but we really are making a Dutch baby." Sorry, bud — but it's not an apology if you aren't saying sorry for your actions, only that people took offense.
A day after playing the insensitive prank on his followers, Arie finally followed up with a tweet addressing the controversy.
I do have sympathy for women struggling from infertility. My April Fools prank was in no way meant to offend women who struggle with that. I apologize if you were effected personally by my post.

— Arie Luyendyk Jr. (@ariejr) April 2, 2018
Disappointingly, though, the Bachelor again skirted responsibility and opted for language placing the blame on others, not himself: "I'm sorry if you were effected [sic] by my post." We're not sure what we expected from him, though.
Well, at least we can look forward to Arie's jilted ex Becca Kufrin kicking ass on her own season of The Bachelorette, and hopefully NOT making terrible decisions (joking or otherwise!) after the final rose.