Arielle Charnas on Postpartum Panic Attacks
After Some "Weird" Symptoms, This Blogger Diagnosed Herself With Postpartum Anxiety
Arielle Charnas is known and loved by her 1.1 million followers for her stylish outfits, her adorable footage of her daughters, and her honesty about the blogging industry. But in the spirit of keeping it real with her loyal followers, Arielle is opening up about her struggle with postpartum anxiety — and while it's not quite the content she's used to posting, it's raw and it's real. On Friday, the new mom of two shared a message in her Instagram Stories detailing her "weird" postpartum symptoms.
"I've officially diagnosed myself with postpartum panic attacks and anxiety. The last week I've been experiencing some weird symptoms like shakiness, nervousness, heart racing, sometimes it gets to a point where I feel like I might be suffering from a serious disease and the fear of dying only heightens my anxiety," she wrote, explaining that it even got so bad one night that she thought she was having a heart attack.
The 31-year-old blogger added, "I wanted to share this because while I'm loving this time and my pictures are perfect, I am trying to deal with this on the other side." As much as any new mom wants to, it can be incredibly difficult to put on a smiling face when deep down you're struggling, but Arielle is doing more than she knows simply by opening up about it.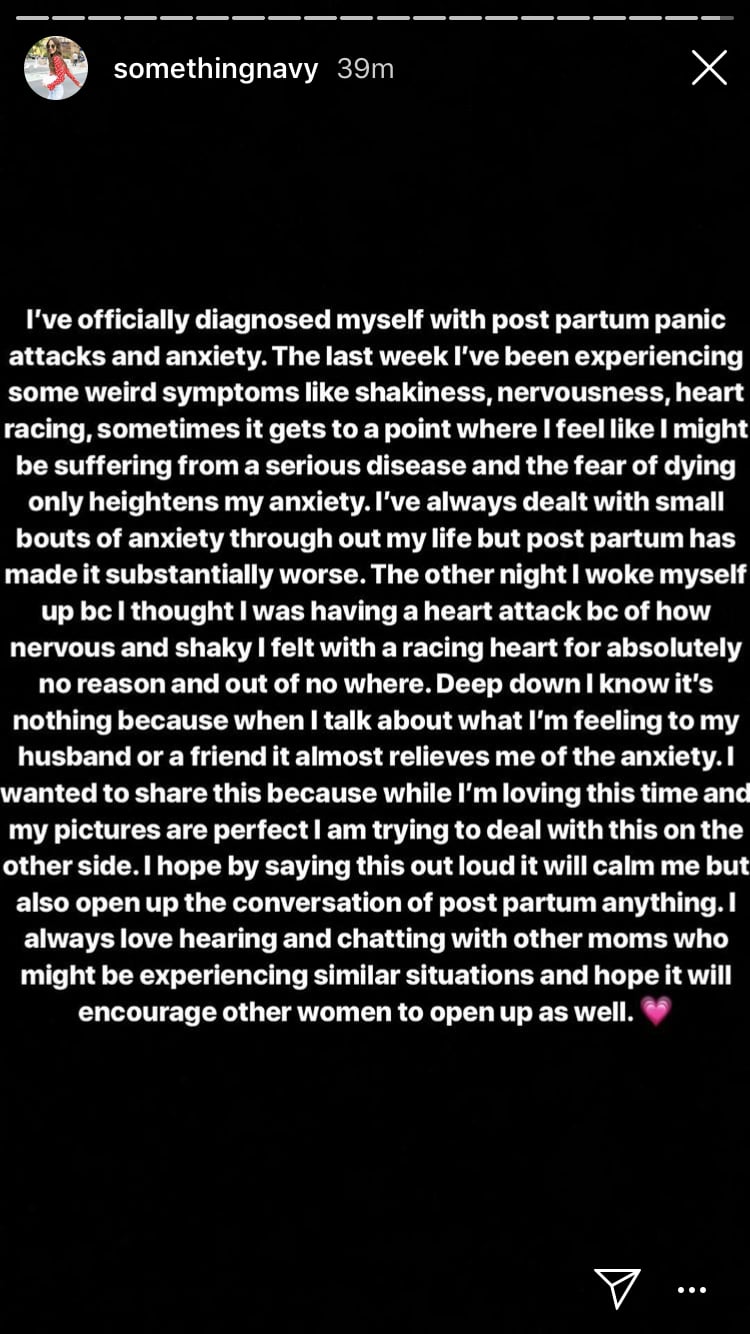 Since posting her feelings on her Instagram Stories, the comments on Arielle's photos are flowing with positive messages, some thanking her for expressing the things that they are also going through, and others sharing their tips for coping. "Sending loads of love @somethingnavy you probably already are but magnesium is hugely helpful and epsom salt baths and acupuncture," one user wrote, with another suggesting listening to uplifting podcasts or to try CBD from Lord Jones.
It's important for all new moms to listen to their bodies and be open about the things they are experiencing emotionally, because they should not have to suffer alone. Dr. Jennifer Gentile, PsyD, previously told POPSUGAR that "there is not a formal diagnosis for postpartum anxiety, but there is definitely anxiety that occurs in the postpartum period. On average, 16 percent of new moms experience anxiety during the postpartum period."
The symptoms of postpartum depression and postpartum anxiety are different, but like anyone who has struggled with either understands, they can strike at the most unexpected moments. Just like Arielle said in her post, talk about it, confide in your partner, and know that you are not alone.