Is Facing a Car Seat Forward Before 2 Illegal?
Is Facing a Car Seat Forward Before Age 2 Actually Illegal in Your State?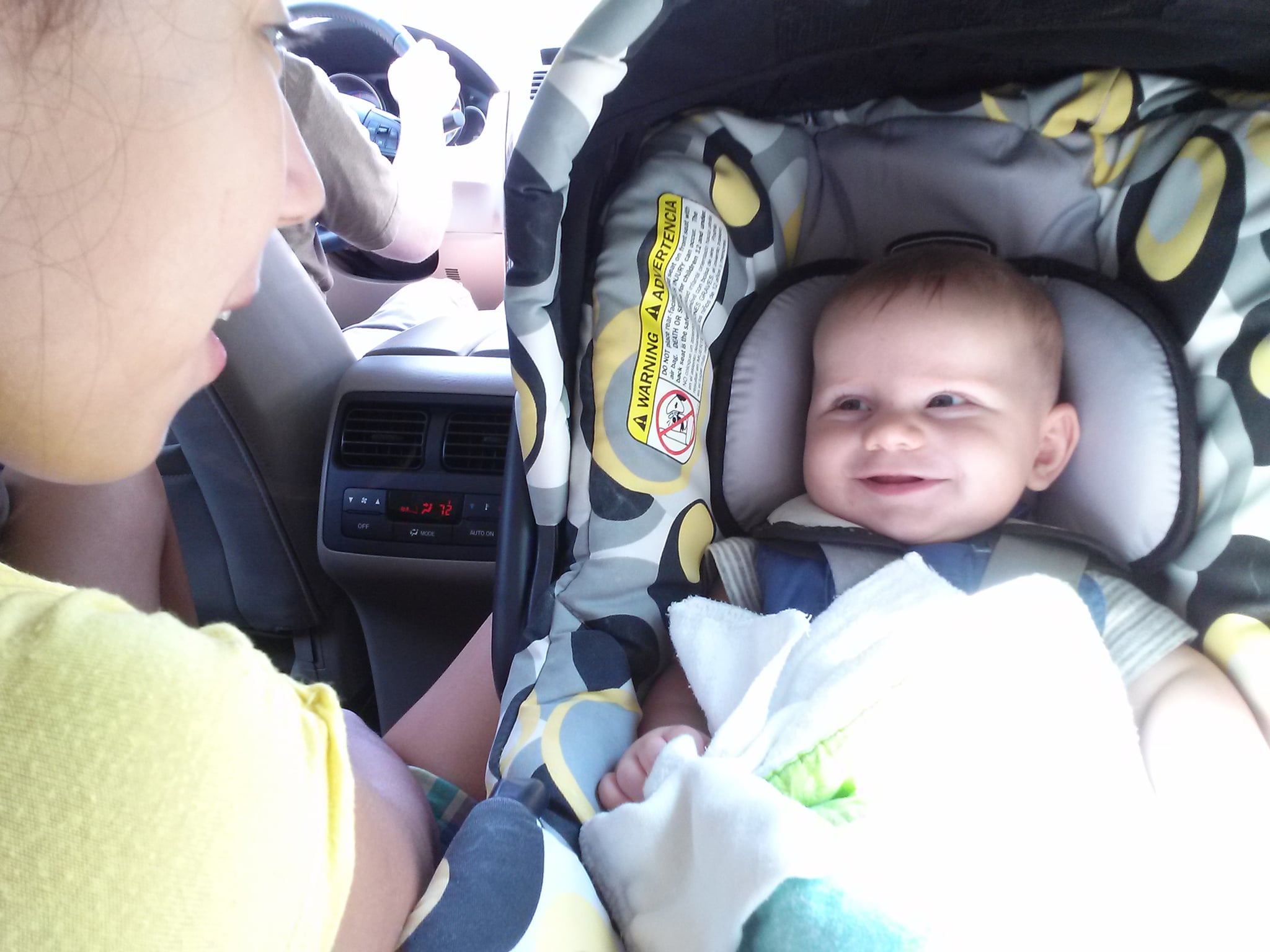 Let's face it, rear-facing car seats are a big pain. You can't see your child's face (except through a cleverly aligned plastic mirror). It's impossible to hand them anything without feeling like you might be dropping it on their heads. Then, as they get closer to the age of 2, their legs get so long that they can actually touch the backseat headrest with their feet.
If you are like most other parents, when it gets to this point, you start to wonder if rear-facing is really the best way for your child to ride in the car. Is this really the safest position for them? You've heard that it's best if they stay rear-facing until they turn 2, but is that a recommendation or is it the law?
Eight states have taken the guess work out of this parenting dilemma and have made rear-facing until 2 not just the recommendation, but the law.
California, New Jersey, Oklahoma, Pennsylvania, South Carolina, Rhode Island, Oregon, and Connecticut all now have legislation that makes turning your child's car seat forward-facing before the age of 2 illegal.
Five more states — Texas, Nebraska, New York, Massachusetts, and Washington — have been working on passing similar legislation.
I talked with Dr. Benjamin Hoffman, a pediatrician and car seat safety expert. I wanted to know if the rear-facing position posed a risk to children with long legs, since this is a common reason that parents want to turn their children forward-facing before the age of 2.
"Parents are often inclined to switch their kids to face forward as they get older. They like to see their children's faces, and they worry about their child's comfort, especially the legs," he told me. "Many parents worry if their child's feet are touching the seat or that their legs appear squished that it automatically means their child is uncomfortable, or that they may injure their legs. Our experience is that kids will do what it takes to find a way to be comfortable. As far as injuries, it turns out that arms and legs are almost never inured when rear-facing, so there is really nothing to worry about!"
I also spoke with Daphne Oz, former cohost for The Chew, who has recently partnered with Chicco for its TurnAfter2 campaign. The campaign is working to raise awareness about the importance of rear-facing until 2. The idea is to use social media in a positive way to educate other parents by posting pictures of your own kids riding rear-facing until 2 with the hashtag #TurnAfter2.
Daphne has a 1-year-old and a 3-year-old and is pregnant with her third child. She explained how she, like many other parents, turned her first child forward-facing before the age of 2 because she was worried about her child's legs.
"I didn't realize that kids weren't supposed to be forward-facing until the age of 2," she said. "Philomena was so tall for her age. I did what a lot of parents do and looked at her legs and they seemed cramped to me. She was kicking the back of the seat all of the time. So at about 20 months, I turned her forward-facing. Her legs looked so uncomfortable. What if she crunched her legs?"
The mom continued, sharing the frightening realities of making this change before the child is old enough despite her own initial concerns with her daughter's legs.
"But the scary reality is that getting your legs crunched in an accident is not nearly as potentially life threatening as a brain stem injury or a head injury or a neck injury. These car seats are designed to keep kids as safe as possible in a rear-facing position because it is the most effective way to protect these absolutely vital elements of their head, neck, shoulders, and back. You don't even want to think about that, but that is the reality. The reality is if you are looking to keep your child safe in a car seat, research shows that, God forbid you were to be in an accident, rear-facing is absolutely the safest way to keep your child out of harm.

Luckily, my son John, who is not 2 yet, is still rear-facing. That is in a large part because I've become so well acquainted with the research around why kids should stay rear-facing until at least the age of 2. It's also part of being a partner of Chicco's in this TurnAfter2 campaign that they are doing.

That's why I'm so excited to be a part of the TurnAfter2 campaign because I know that as a parent, when I'm scrolling through Instagram, I do get good ideas. I get great recommendations for toys and I get good recommendations for cute outfits. I look at my mom friends that I follow to see what fun activities they've been doing. I love the idea that as part of that conversation we could infuse a bit of very accessible, very actionable, positive parenting information in a totally nonjudgmental way."
If you've been thinking about turning your child to forward-facing before 2, first make sure that you are abiding by your state laws. Even if it is not yet the law in your state, consider the benefits of keeping your child rear-facing until 2. Take a look at the #TurnAfter2 campaign on Instagram or Facebook to get inspiration from other parents, and to help raise awareness, post a picture of your own child riding rear-facing.