I'm Never Going to Tell My Kids That Santa Isn't Real
I'm Never Going to Tell My Kids the Truth About Santa, Because Why Take Away the Magic?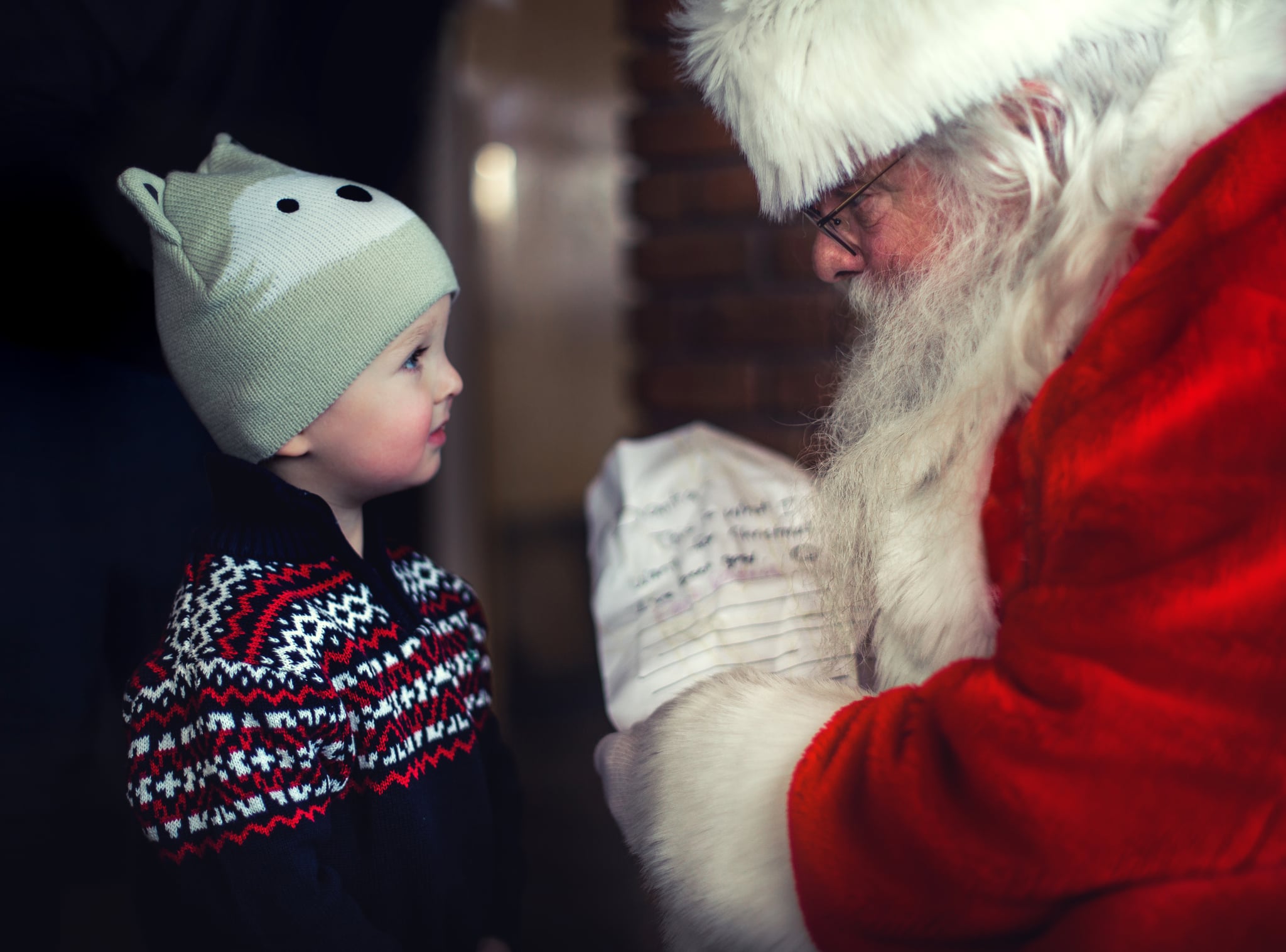 My family loves Christmas. Like, really, really, really loves Christmas. Once Halloween is over (I'd skip it if my husband would let me), it's full-on North Pole in our house. I love everything about it: the music, the decorations, the lights, the smells, and the movies. Sure, presents are great, but the thing I love most, and have always loved most, about Christmas is the magic that it brings.
I was in sixth or seventh grade when [my parents] told me that Santa [isn't] real. It was soul crushing. The magic was gone. And in spite of my Christmas-crazy family, it never really came back.
When I was a kid, I would lay awake in bed listening for sleigh bells and the sound of reindeer hooves on the roof. Falling asleep seemed impossible, and when it finally happened, it was short-lived. My eyes would pop open in the middle of the night, and I'd quickly and quietly tiptoe down the stairs to our den. The big, colorful bulbs on our freshly cut tree lit up the room, revealing perfectly wrapped packages in shiny, festive paper. The whole room seemed to sparkle, and I was awestruck by the magic of it all. My excitement hit its peak when I would see that Santa ate the cookies we left for him. After that, I would wrap myself up on the couch. There was no going back to sleep, so I watched Nick at Nite, which, at the time, would play the Christmas episodes of The Mary Tyler Moore Show and The Dick Van Dyke Show, until it seemed like a reasonable enough hour to go and announce to the rest of my family that Santa had come.
This was what Christmas was for me every year. Then, one year, my parents decided that I was "ready" to know the truth. I think I was in sixth or seventh grade when they told me that Santa is real, but only in our hearts. Or something like that. It hit me like a ton of bricks, because in spite of what they thought, I really wasn't ready to stop believing. It was soul crushing. The magic was gone. And in spite of my Christmas crazy family, it never really came back. That is, until my children came along. That excitement and magic I felt growing up is exactly what I want my children to feel, and I will never, ever, take that away from them, no matter how old they get.
So, I will order personalized, hand-written letters from the North Pole, we'll take them to see Santa, and we'll bake him an obscene amount of cookies. My husband and I will dangle out of our attic window so that our children hear sleigh bells as they're getting into bed, and if our kids believe in Santa until they're in their 20s, then so be it. I mean, there are worse things, right?
Looking back, no matter how many Christmas carols we sang, how many movies we watched, or how many presents we opened, it's the excitement of knowing that Santa had come that I remember most. I remember the youthful magic, and the devastating moment when my parents ruined it for me. So you know what? I'm going to keep my kids' Christmases as magical as I can for as long as I can.