Military Moms Breastfeeding in Uniform
This Is the Photo of Military Moms Breastfeeding in Uniform That's Going Viral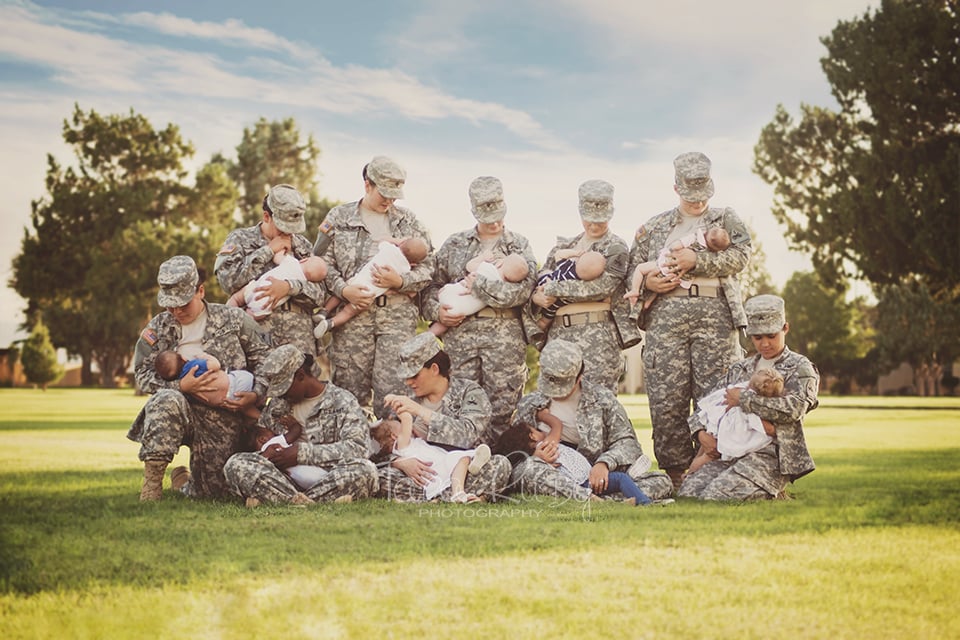 A groundbreaking photo of 10 active-duty military moms breastfeeding their infant babies has gone viral after it was posted to Facebook.
The image, shot by photographer Tara Ruby, was inspired by news that the first-ever nursing room opened at Fort Bliss in El Paso, TX. Ruby, a former Air Force servicewoman from 1997 to 2001, offered to provide photos to brighten up the bare walls in the room.
And one such snapshot is already doing more than taking up some wall space. It's being shared across the globe and helping to normalize breastfeeding in some of the strictest, most masculine of environments — like the military itself.
"I was active duty a long time ago when support for breastfeeding moms wasn't even an option or a consideration," Ruby wrote on her Facebook page. "We have come so far. Breastfeeding their babies doesn't make them less of a soldier, I believe it makes them a better one. Juggling the tasks and expectations of a soldier, plus providing for their own in the best way they possibly can, makes these ladies even stronger for it."