Mom's Photo Reminds Parents About Car Seat Safety
This Mom's Photo Is a Grim Reminder to Parents About Putting Kids in Car Seats Correctly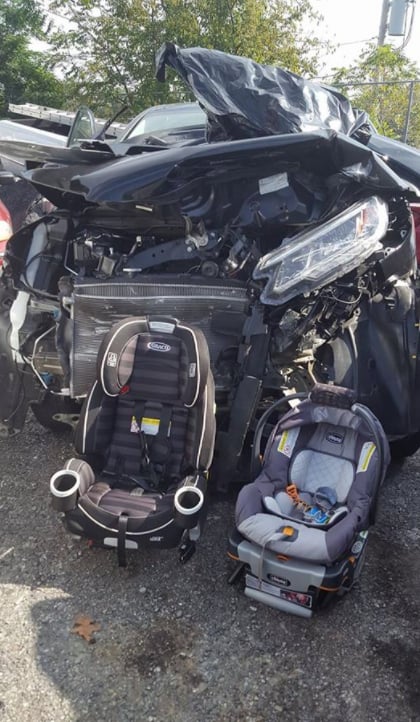 Jenna Casado Rabberman, a mom from Pennsylvania, has an important PSA for parents everywhere: put your damn kids in their car seats the right way, no matter how much they kick, scream, or fight.
She shared her message alongside a scary-looking photo of what was once a Honda CRV on her Facebook page on Sept. 26:
I'm not one to post anything too heavy or personal on Facebook but guys . . . THIS is why you buckle your kids into their car seats correctly every SINGLE time. Even when they scream because the straps are tight. Even when they complain about the chest clip or being rear facing. We stopped for milk on the way home from preschool yesterday. We were minutes from home. Someone sped through a red light and slammed into us. You never think it will happen to you.
The grateful mama says that the situation could've been made worse, much worse in fact, had her kids not been strapped in properly. "My boys escaped without a scratch but the paramedics told me it could have been very different had I not taken the extra two minutes to be sure they were buckled correctly. I will be fine, my kids are fine, everything else can be replaced. Sending thanks to God for keeping us safe (along with Honda, Graco and Chicco)," she wrote.
So even if you follow the rules most of the time, a little parent-to-parent cautionary tale definitely doesn't hurt, right?