Selfie of Mom Who's Never Loved Herself More
We're Applauding 1 Mom Who's "Never Felt More Feminine" After Being Pregnant 10 Times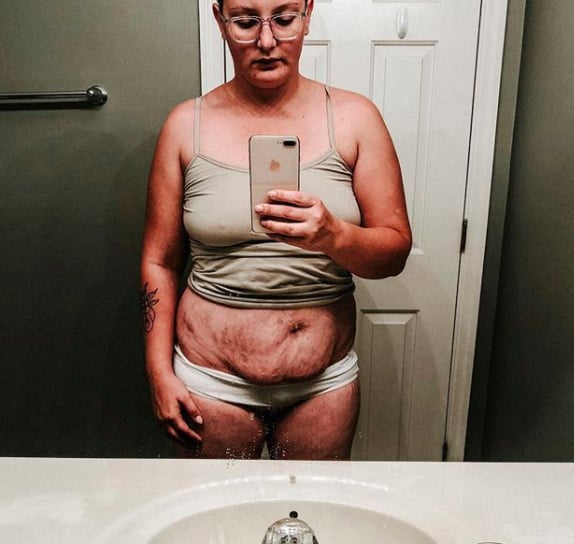 Whether you've had a baby or not, consistently feeling 100 percent confident when you look in the mirror wearing only your skivvies is sadly an experience very few women can truly own. Enter Emily Frigo, a mother of four who's definitely not shy when it comes to showing a little skin or sharing the exact reasons she's never been prouder of her body in an inspiring selfie on Instagram on Nov. 22.
Emily explains that a woman's body is truly powerful and something that should be appreciated rather than hidden — and her reasoning is a serious mix of heartbreaking and heartwarming. "In my womb, I've grown 10 babies. Only four were born alive, but how f*cking miraculous nonetheless. And I've never loved myself more. I've never felt more feminine. Shaved head. Stretch mark stomach. Deflated breasts. Thighs that touch. Society does not defy me. My inner self does. ⚡️⚡️"
She also gave POPSUGAR the inside scoop on why she uploaded the photo in the first place, and it's just as touching as you think it'd be:
I posted it a couple days past my son's tenth birth and loss day (he passed away during labor). The entire week surrounding that anniversary is especially hard. But I walked past the mirror and saw my motherly body and just felt so much appreciation for what my body has done. For six of my babies, my womb was the only place they knew! I shared the picture to celebrate that and to normalize a woman's body because we need that. We need to see more honest images of bodies.
So the next time you feel less than perfect, take a page out of Emily's book and be proud. After all, having the power to bring life into the world is a pretty amazing thing.