What to Do During Pregnancy to Feel Like Yourself
5 Steps I Took During Pregnancy to Make Sure I Felt Like Myself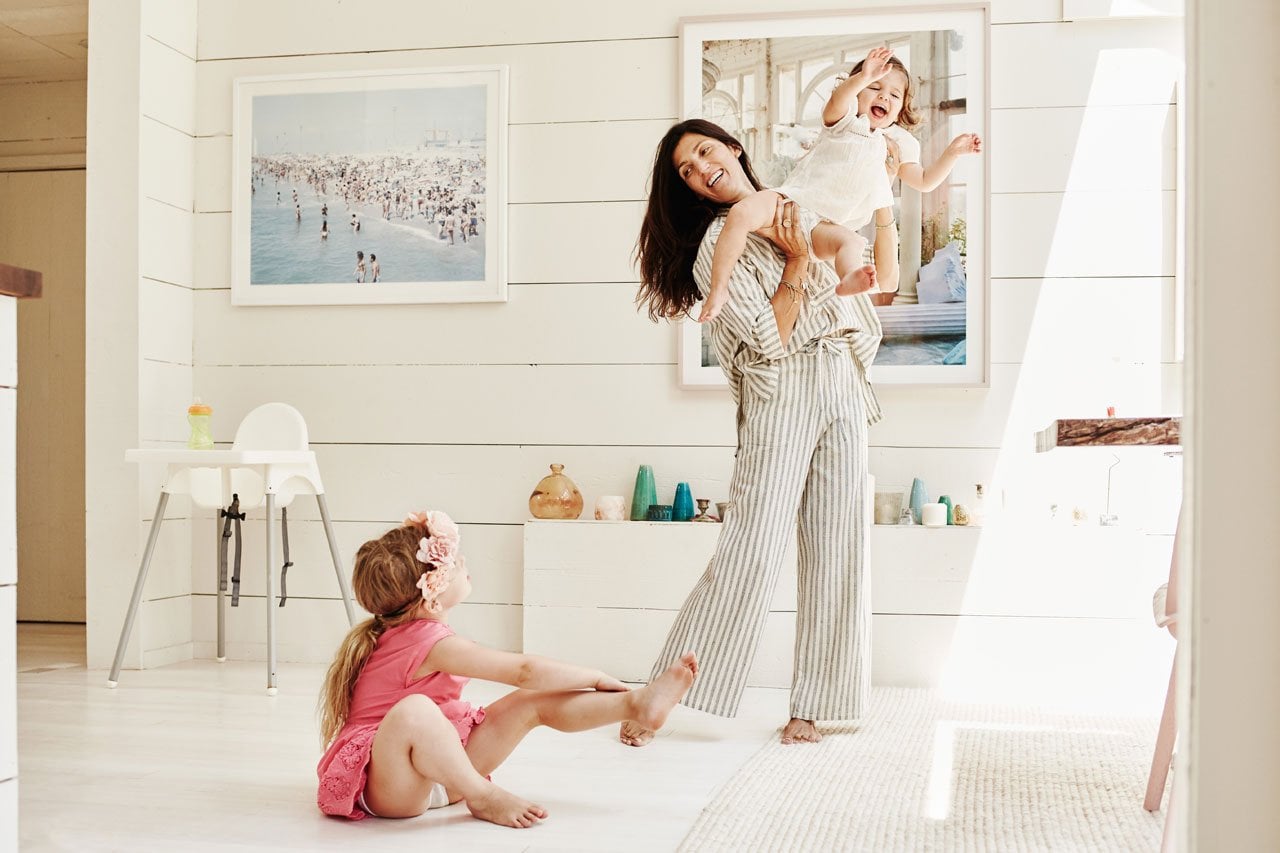 This content was created in partnership with Peanut. Ariane Goldman is the founder and CEO of HATCH Collection, a line of timeless maternity clothing and beauty products, and a member of Peanut, the app for modern moms to make new friends, chat, and be a part of a community of supportive, like-minded women.
Being pregnant can be stressful, energy-sucking, and totally magical, but if you let it, it's also a chance to focus on yourself and the amazing transformation taking place inside your body. During my pregnancies (I have an 8-year-old and 4-year-old), I was able to be totally consumed with myself for the first time ever.
It's not always our first instinct as women to prioritize ourselves when we're juggling hundreds of other balls, but giving myself the permission and the freedom to do whatever the eff I wanted for 40 weeks — whether it was giving into an odd craving, napping in the middle of the day, or taking 20 minutes out of my evening for a belly facial — was a worthwhile investment that made a difference in my pregnancy and beyond.
These are the simple steps I took to invest in myself during pregnancy that allowed me to feel relaxed, restored, and ready to take on motherhood:
1. Learn that self-care equals self-love.
When I was pregnant with my first daughter, Charlie, I'd lock myself in my bathroom and take a 30-minute bath every night. I'm talking candles, bath oils, the works. It was my chance to get super zenned out and take a little time out from the rest of the world.
I gave myself the gift of self-care often during my pregnancies, whether it was taking the time for a prenatal massage or a long dinner with girlfriends or using our hydrating Nipple + Lip Balm that looked chic on my nightstand. Enjoying the chance to indulge my body, my belly, and myself was priceless.
2. Rely on easy-draping, flattering clothes to feel like yourself.
When I was pregnant with my first daughter, I felt frustrated by the lack of stylish wardrobe options available for pregnant women. My body was going through so many changes, and I wanted to celebrate that, not hide behind frumpy clothing, so I decided to create a brand that could help women feel confident, beautiful, and stylish during this special time.
I believe that a mama-to-be is at her happiest when she feels the most like herself. That's the premise behind HATCH and what continues to drive us today. I believe women should celebrate their bodies with time-honored wardrobe essentials that can be worn during and after pregnancy. Our Everyday Essentials are seasonless classics, like perfect-fitting tees, jumpers and black dresses, and go-to wardrobe staples that will have you out the door in minutes. When it comes to getting dressed while pregnant or as a new mom, we try to do all the work for you so you can focus on what's really important.
3. Embrace a mind, body, and spirit connection.
When I was pregnant with my second daughter, Georgie, my life was moving a million miles a minute. I had launched a company, had a 4-year-old, and was hustling every second of the day. But I always made it a point to take a meditative moment to connect with my baby through breathwork and stillness. I also loved prenatal yoga and meditation, but simply sending love to my bump before bedtime, making the spiritual connection with my daughter, was a wonderful opportunity. Not only is it relaxing and sweet, but it also helps make room for the immense bonding to come.
4. A mama-safe beauty routine can change your day.
There are few things more stressful during pregnancy than navigating the world of beauty. One minute your favorite skin cream is a no-no, and the next minute it's totally fine. How's a mama to know? Fortunately, our collection HATCH MAMA is a line of mama-safe skincare and beauty products to target the challenges unique to pregnancy, each designed to be a moment of ahhhh in your day. I love our Belly Fix, a facial for your belly in the form of a weekly mask. It's the perfect excuse to take a chill moment during your Netflix binge and pamper your bump. I'm also partial to our Down, Girl Soothing Leg + Foot Relief lotion, an effervescent lift first thing in the morning that helps relieve swelling, because I'll never forget walking around New York City in my third trimester and feeling the swell!
5. Don't be afraid to play the pregnancy card.
So your bestie wants to do her birthday dinner at 10 p.m.? Your husband's work happy hour is at a gnarly dive bar you'd never step foot in sober? Let your bump be the ultimate "opt out" when it comes to anything you don't want to do. This is your time to put yourself first. Saying no is the ultimate indulgence, so invest in your precious free time the way you want to — while you still have it!