Why Making Mom Friends Is Hard When You Work Full Time
I Met My Best Mom Friends on an App — and It Was Just What I Needed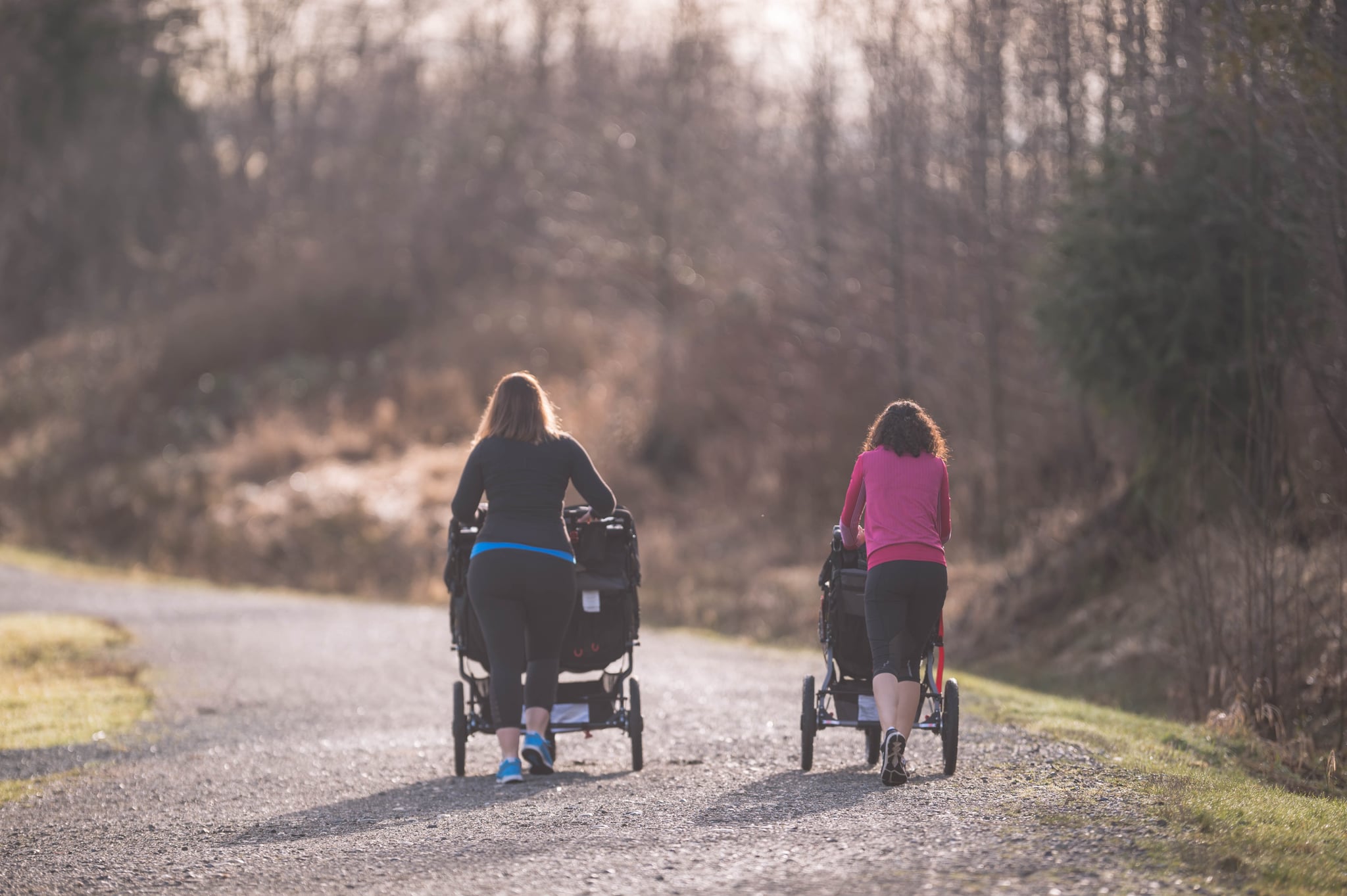 Kristin Juchnevicius is mom to 20-month-old daughter, and a member of Peanut, the app for modern moms to make new friends, chat, and be a part of a community of supportive, like-minded women. This content was created in partnership with Peanut.
It's Monday, Nov. 6, 2017 at 4:45 a.m. and my alarm goes off. The moment I had been dreading for 12 weeks has finally come. My maternity leave is officially over and it's time to go back to work.
After the adjustment of becoming a parent for the first time, going back to working full time with a baby at home was the hardest thing I've ever had to do. Forget about the complications of figuring out how to take care of a newborn, now my husband and I would have so many more obstacles to navigate — who is taking off work for the next doctor's appointment or when she is sick? Who will be watching her when daycare is closed but work is not?
To make things more complicated. We had recently moved to a new house in the same state but further away from family — I found out three weeks after moving that I was five weeks pregnant. Being in a new home with a new baby and far away from family and friends was (and still is) rough.
We were lucky to have family occasionally come over to visit after our daughter was born, but there was still an empty space since I didn't get to see them every day. I also had friends with children, but the distance was too far for us to make that trip often, so I couldn't rely on them every day like I used to.
Since that day in November, since she was 12 weeks old, our daughter has attended daycare. My husband and I both work full time, and I do the majority of dropoffs and pickups. I was hoping that it'd lead me to meet some new moms, but parents are so quick that it is hard to start a conversation with any of them. Everyone is in a rush to get to work on time or get home for dinner.
After a few weeks of this routine, I realized what I really needed was a mom friend (or a few). I needed to find someone local to meet for playdates, walks, and even go out for drinks. I wanted to find someone with a child the same age as my daughter so she could have a friend with whom to play.
Only being available on the weekends is rough when trying to plan playdates.
Only being available on the weekends is rough when trying to plan playdates. Most mommy-and-me classes and activities for kids take place during work hours. I wanted to sign our daughter up for an activity, but the few classes offered on the weekends, the only two days when my husband and I don't work, were either 45 or more minutes away or out of our price range. I want to be able to give my daughter those opportunities to socialize with other kids, and give us the opportunity to socialize with other parents. But it was hard — almost impossible.
When my daughter was about 6 months old, I found myself scrolling through the app store on my phone while she was napping, looking for a fun and resourceful parenting app to download; that's when I discovered Peanut. This was the app that I had been looking for all along and didn't even know it. It let me find moms with common interests in my area, so I found myself looking through profiles and swiping through local moms with similar interests that have kids around the same age as my daughter, trying to make a connection.
It took me a while, but I finally matched with a few moms and put together a mom's night out. After that fun time chatting about our pregnancies and our little ones we became close, and now we chat almost every day through the app. We are in group chats with roughly fifteen other local moms, we talk freely about anything and everything, and we're always trying to figure out a good time to see each other in person as well. We go to parks in the Summer and indoor play zones in the Winter. We talk about motherhood and give each other advice. We have each other and our kids do, too.