Why You Shouldn't Ask Newlyweds When They're Having a Baby
Please Stop Asking Women When They're Going to Start a Family the Second They Get Married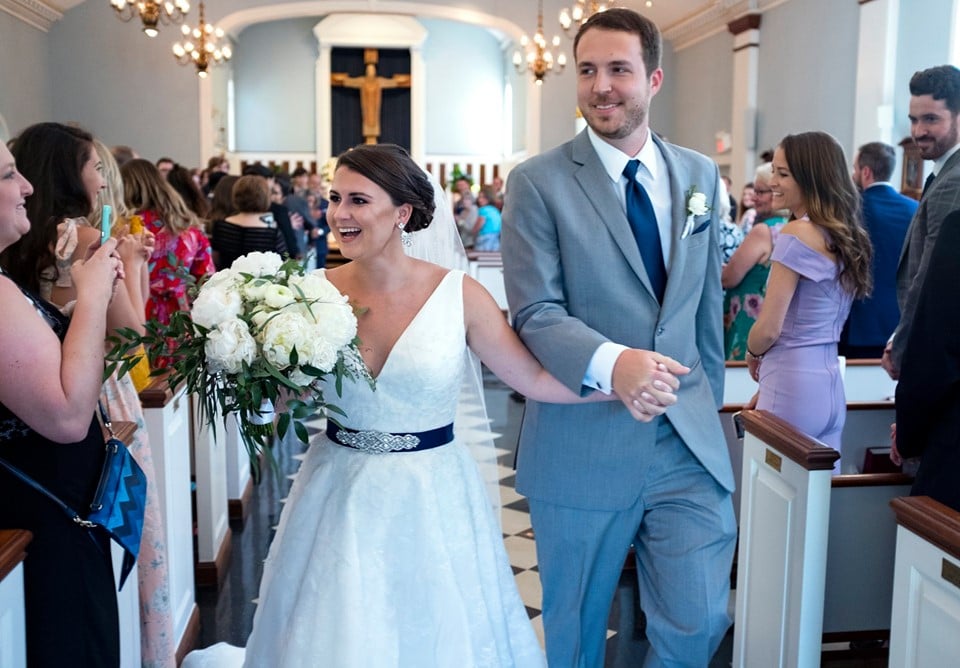 As a newly 27-year-old who just got married two weeks ago, I'm truly living on cloud nine. I'm officially my husband's wife — which is still pretty cool to say out loud — and I couldn't have asked for a better day surrounded by family and friends. While I'm counting down the days until my honeymoon and have been having a grand old time with the love of my life, ever since we got hitched, I've been fielding the same question over and over again: "So, when do you two plan on having kids?!" While it's mostly from well-meaning people in our lives, I really wish with every fiber of my being that people would stop asking it. Here's why.
I truly have no idea.
When I say I have absolutely no clue when I want to have children, I'm not exaggerating. It's not some secret I'm trying to keep from those who matter to me most, I swear. Some couples — many of whom I'm friends with! — want to start a family right out of the gate. That's amazing, and I am free to babysit whenever. However, I don't have that undeniable yearning to bring a baby into the world just yet. While I absolutely adore kids — heck, I'm a parenting editor after all — I just don't have a hard-and-fast timeline. As far as I know, there's no checklist to see if you're ready, so I plan to just go with my gut.
And let me be clear, it's not like I'm turned off by the thought of children. (Though if you are, that's OK, too!). As an Irish Catholic who married an Irish Catholic, I stood up on the altar and literally vowed to not only produce offspring, but also raise them to be mini God-fearing versions of myself. The Catholic church loves big families, so as long as they have my number, I'm good on my word.
Being unintentionally reduced to a uterus is a little . . . degrading.
While I totally understand people want us to start a family for all the right reasons — like how the child would be born out of love and have pretty cool parents, dare I say! — I can't help but feel reduced to a human baby-maker. As the person with the uterus, it makes me feel like now that I'm married, my primary goal should be to create other human beings. Having these conversations often reminds me of June in The Handmaid's Tale, and while it comes from a good place, it can be disheartening.
I've heard people say that getting married isn't necessarily an accomplishment, but rather just an important milestone in life. Just because I'm wed doesn't mean I'm ready to throw in the towel on all the other goals I want to achieve, whether it be going back to school, traveling, or hey, maybe writing a book one day. And while it's certainly possible to do all those things with a child in tow, I'd love to knock a few things off my list before I dive into motherhood.
I'm the one who gets asked, not my husband.
After consulting my husband this morning, I unsurprisingly confirmed that no one's ever approached him privately about when he wants to have kids. So my question is . . . what gives? While I'm, of course, the one who's going to have to do the heavy lifting in the pregnancy department (see above), having a baby is a two-person decision. We both need to agree that we're ready before taking the irreversible plunge.
For what it's worth, he's not exactly clamoring to have children right this second, either. We're both doing well in our careers, have a lot of other facets of life to explore, and frankly would love to spend some time just as us. And while some members of the older generation seem to forget that millennials have crippling student loan debt, it's never far from the front of our minds! It'd be great to pay off more of our education before worrying about paying for our offspring's, if you catch my drift.
You never know what someone's going through.
As a parenting editor going on six years, I've gotten a deep, personal look at hundreds of women's fertility struggles and journeys. Even celebrities have them! Take Gabrielle Union, for example, who, despite going through multiple of rounds of IVF, still couldn't get pregnant due to an adenomyosis diagnosis. While I haven't taken any fertility tests just yet, you never know what women are going through. Your loved one could very well be trying to start a family and meeting roadblocks along the way, and bombarding her with questions won't do anything to fix it. In fact, it will probably make her even more stressed out.
When I'm ready to start a family, I'll let you know — trust me.
While I do plan to have kids someday — I'd love to both have biological kids and adopt! — I don't think it's a decision you enter into lightly. As soon as my husband and I accomplish a few goals we have laid out, save up a bit, and generally become more settled in life, we'll start thinking about babies. And don't worry, most inquiring minds will find out eventually — if not after the first few weeks. It turns out growing a human is pretty hard to cover up after a while!