Women at a Doctor's Office Are Pregnant at the Same Time
"Don't Drink the Water!" Says 1 of the 5 Pregnant Women Who Work in the Same Doctor's Office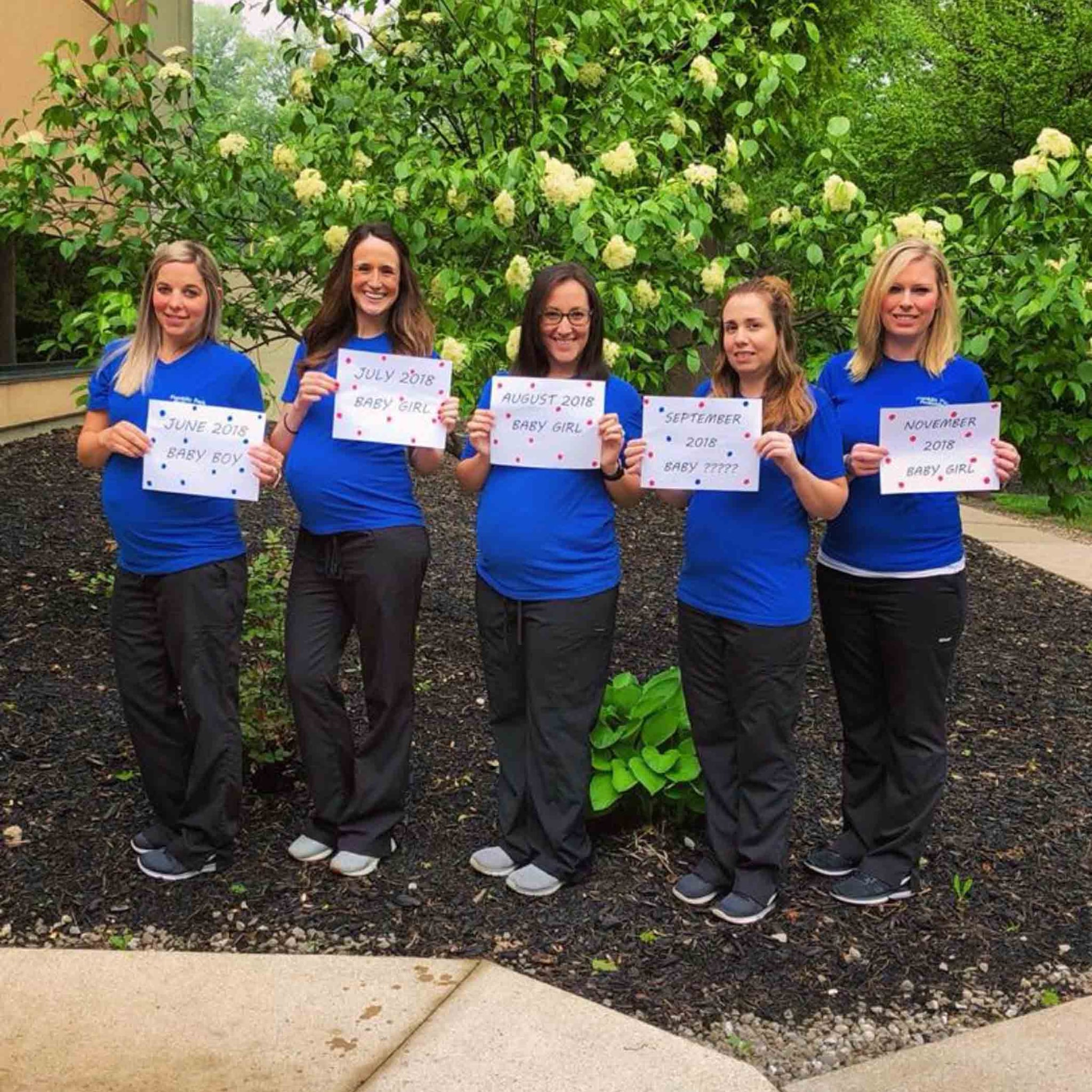 The concept of baby fever is nothing to take lightly for those who work at Franklin Park Pediatrics in Toledo, OH. Of the 23 staff members, five women — Jessica Mielcarek, Anni Portocarrero, Meghan Keil, Kathy Krueger, and Stephanie Holt — are all having babies within six months of each other.
Jen Matuszewski, a spokesperson for the office, told POPSUGAR that the pregnancy news just kept rolling in.
"Well, Jess was pregnant first so she told everybody. Then Anni was like, 'Ah! I'm pregnant, too!' The third person to get pregnant was Meghan, who had been trying to have a baby forever. The fourth woman, Kathy, had gone through IVF and all of a sudden she found out she was pregnant. And Stephanie, the fifth soon-to-be mom, was just kind of quiet and waiting to tell us. . . she's due in November!"
Jess — who was originally due on June 12 — welcomed her son early on June 2. And Anni, who is second in line, said that she's gone into overdrive since learning about Jess's delivery.
"We always joke around and say, 'Don't drink the water!'"
"It's been so fun. I'm due in July and I think I've been in denial about having a second baby," joked Anni. "As soon as Jess had her baby I've been frantically trying to get things ready. I have to make all my lists and start thinking about what to pack in my [hospital] bag. Her pregnancy kicked me into gear, so I'm like, 'OK, it's real now!'"
There are also benefits to being surrounded by other pregnant women — especially when it comes to questions or concerns. "It's nice to share everything and go through things together. You can just pull someone aside and say, 'OK, this might sound weird or gross, but is this normal? Has it happened to you?'" explained Anni. "We save each other calls to our doctors all the time."
Meghan is expecting her first daughter on Aug. 12 and says that being right smack in the middle of the pack means fielding a lot of questions from her patients. "It's been really fun! Patients come in and they'll be like: 'Wow, there's another woman pregnant here? And another one? How many are there now?'" she said. "We always joke around and say, 'Don't drink the water!' and we always bring snacks in for each other."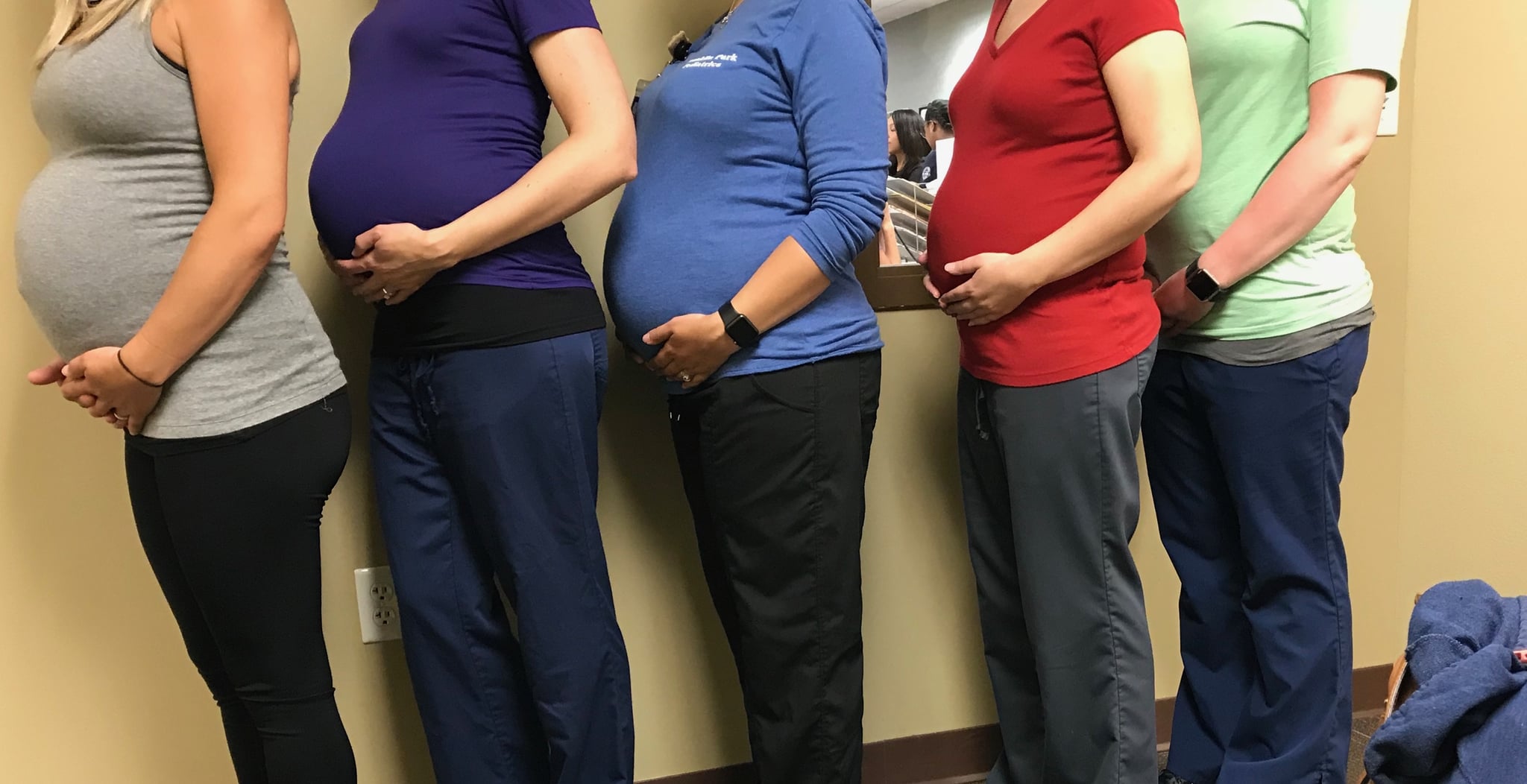 Stephanie, who's expecting her first child on Nov. 15, says that having an in-office support system has been beyond helpful. "It's going really well because I have all of them," she said. "We talk about pretty much everything. [Working in a doctor's office] has also helped because I know what to expect even though I haven't gone through having a baby yet."
As for the rest of the office? They simply can't wait to meet all the newborns.
"We've hired two temporary new staffers to help out while the women are on maternity leave. We're totally excited for all of them. The doctors have been fantastic," said Jen. "They walk around and every time one of the pregnant women put their hands on their bellies, the doctors are like, 'Oh my god! Are you OK?' We're all looking forward to meeting the little ones. You know we treat babies all day long so when it's your coworkers we all drop everything. We can't wait to meet them and take care of them."