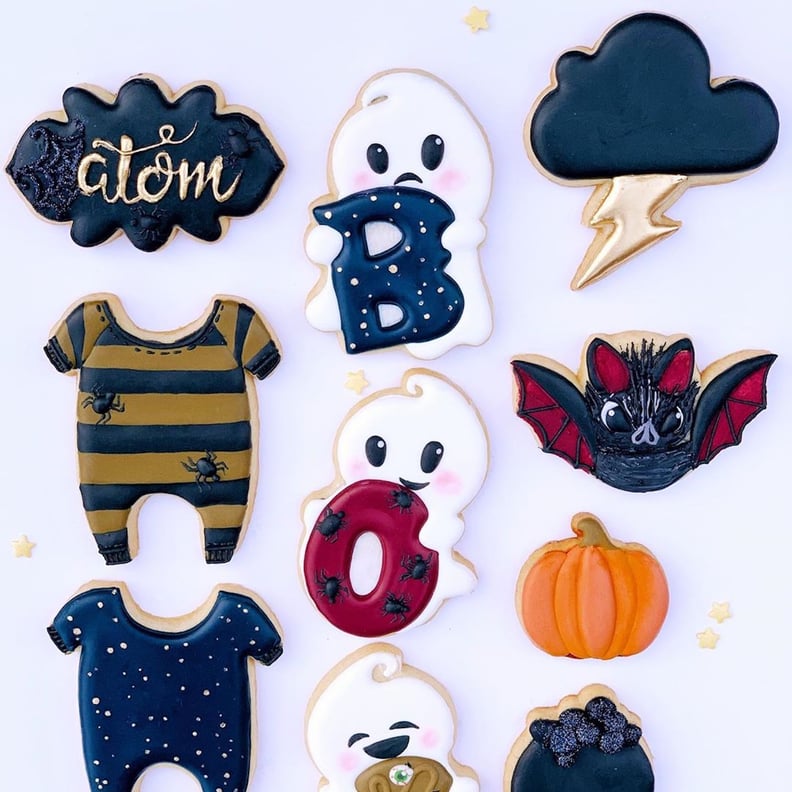 With Halloween just around the corner, what better idea than to kill two birds with one stone (or carve two pumpkins with one knife?) than to make your upcoming baby shower All Hallows' Eve-themed? They might seem like opposing styles, but it's surprising how cute Halloween decorations can be, especially when pared down with pastel colors, baby ghosts, and boo-tiful, delicious baked goods. Of course, all parties should follow individual state guidelines for social distancing, but if it's doable, a Halloween baby shower might just put the pep in your ghostly step. Get extra-inspired with fun activities such as pin the stem on the jack-o'-lantern, skull face painting, and even a mini "haunted house" if you want to go all out! Keep scrolling to get inspired.
Cute & Creepy Halloween Inspired Baby Cookie Set
Start off your baby shower with these adorable Halloween-inspired cookies, or give them to your guests as an amazing goodie bag addition. Cute Casper-like baby ghosts, little onesies, pumpkins, bats, and storm clouds make up this gender neutral cookie batch to create terrifyingly lovable treats.
Spooktacular Baby Shower Cake Pops
In the mood for cake pops instead of the typical cookies or cupcakes? Try these on for size, including iced Frankenstein, bat, jack-o'-lantern, and mummy heads on printed Halloween straws. Spooky and delicious!
Peek-A-Boo Halloween Baby Shower
This treat table sets the tone for welcoming the baby, while also being very much a Halloween celebration. With candy corn, cake pops, pumpkins, and stripes, this orange set up is punchy, bright, and positively ghostly.
Halloween Themed Baby Shower Cake
For the cake, opting for a layered one like this one in purple, orange, yellow, gray, and black is a perfectly spooky idea. With a yellow moon topper and pink glittery pumpkins surrounding it, this baby shower cake is one of most unique we've seen.
Baby Boo Cookies
These baby shower cookies are extremely delicate and cute while still being Halloween-y, incorporating polka dots, a spider-adorned carriage, and smiling ghost onesies. Bonus points if they're pumpkin flavored!
Halloween Themed Baby Shower Setup
For those of you into a pastel-colored theme, try this pink and silver style, adorned with details like metallic balloons, a cursive "boo," and a pink and white classically adorned cake with jack-o'-lanterns.
Sequin Halloween Baby Shower
Another sparkly addition, this "Baby Boo" shower setup includes pink feathers, a rose gold sequin tablecloth, rainbow candy in glass bowls, and metallic-painted pumpkins. Super glam, while still being pretty ghostly!
The Nightmare Before Christmas Baby Shower Cake
Calling all fans of The Nightmare Before Christmas! Make like Jack Skellington and try this intricate harvest moon carriage cake, labeled with "Little Nightmare." Stripes and a purple, black, and lime green theme are complemented by a Nightmare-style baby rattle in fondant.
Halloween Baby Shower Centerpiece
A perfect chance for more atypical decor, try a this baby block-inspired centerpiece with tiny pumpkins. Spooky black flowers, a raven, and a black cate cute-ify what would normally look slightly eerie, striking an effective balance.
Jack and Sally Cake Topper
If you prefer to keep it simple with the cake, consider a fun cake topper. This Jack and Sally cutout is an adorable option, especially with candy corn sprinkled on the top of the cake.
"A Baby Is Brewing" Cake Topper
This cake topper is another fun option, with the hilarious "A Baby is Brewing" text in glitter block letters. Complemented by a witch caught in her cauldron and a lacy heart, it's truly perfect for your Halloween baby shower.
Jack-O'-Lantern Wooden Toys
These jack-o'-lantern wooden toys are beautiful, natural decorations for your tables, or a great inclusion for your goodie bags. Hand-carved and detailed with beads and crochet, these toys will welcome the baby in a hauntingly cute way.
Pink Halloween Confetti
Did someone say confetti? This pink, black, and white confetti in ghost, spider, and circle shapes is a spine-chilling addition to your tables, while still being muted and baby-like with the pale pink shade.
Welcome Little Nightmare Cake
Just the fact this cake has a baby Jack Skellington on it is reason enough to have it at your Halloween-themed baby shower, complete with a purple pacifier, little baby onsie, mini bottle, and hilariously charming "Welcome Little Nightmare" signage.
Spooky Baby Shower Invitation
This is a delightful idea for your spooky baby shower invites, strewn with baby ghosts and a "peek a boo" opener. In orange, black, white, and green, these invitations still manage to be delicate and super endearing.
Halloween Baby Shower Dessert Table
Is there anything better than a dessert table? A Halloween-themed dessert table, obviously. With a spooky mummy cake, bloody caramel apples, and orange and brown macaroons, this is a little on the scarier side — but still delightful!
Halloween Cookies
These cookies are such a captivating design, with muted tones that make them Halloween-like, without being too on the nose. With white and gray pumpkins, dark gray roses, with pops of green and orange, these cookies are Halloween cute.
Spooky Sunset Cake
This cake, inspired by Halloween eve, is an artistic take, with a bare tree, and sweet ghosts. Plus, there's a pumpkin and black cat for good measure!
Ghost-White Caramel Apples
Caramel apples are such a fall favorite, and these apples dipped for a second time in white chocolate give them a ghostly appearance. Use the white chocolate base to decorate them even further with cobwebs, pumpkins, or mummy details, if you'd like!
Cauldron Cupcakes
If in the mood for cupcakes with a twist, try this cauldron variety. Mini cauldrons filled with foam-like green icing will be witchy and cute for your upcoming shower.
Mini Halloween Baby Shower Cookies
These Halloween baby shower cookies are heart-stoppingly adorable, with baby Frankensteins, vampires, jack-o'-lanterns, mummies, witches, bats, and ghosts. Who knew terrifying things can be so cute when they're in baby cookie form?
Halloween Dessert Table
This cute dessert table features all sorts of themed-treats, like pumpkin cookies, ghost cake pops, and a cobweb table cloth. It's the bets balance of spooky and sweet.
Sweet and Spooky Confetti
Any surface will look festive with this confetti sprinkled on top! With sparkly boos, silly ghosts, and pastel pacifiers, you'll set the mood in just the right way.
Mummy Cake
Giving a whole new meaning to "mummy," this mummy cake is shaped like a pregnant body with a black bow, and has a baby Frankenstein coming out of it! Slightly creepy, but definitely funny.
Sparkly Jack-O'-Lantern Baby Rattle Cookie
Baby rattle cookies are a shower classic, so why not set them out for your guests with a Halloween twist? With jack-o'-lantern heads, purple bow ties and a glittery base, these rattles are otherworldly.
Baby Shower Jack-O'-Lanterns
Change up the traditional jack-o'-lanterns with this ingenious idea: mommy, daddy, and baby pumpkins! With a tiny baby pumpkin inside a mommy pumpkin, these can also be embellished and decorated in different ways, with paint, sparkle, or cobwebs. The options are endless!
Halloween Baby Shower Games
With a unique All Hallows' Eve baby shower, comes a whole new parade of games with it. Try crossword puzzles with a Halloween theme, or instead of a "how big is the baby" game with fruit, use Halloween inspired objects such as pumpkins and other fall bounty!
Pastel Crochet Pumpkin
For a more delicate baby shower that still keeps with a Halloween theme, try decorating with pastel crochet pumpkins. These unexpected decor pieces add sumptuous texture and gorgeous colors, and you can even try much larger ones for variety.
Witches Hat Rattle andTeething Ring
These Halloween-themed teething rings are great baby shower favors, decorated with crochet witch hats. You can also use them as extra decor tossed across your shower's tables along with glittering confetti.
Bootiful Girl Shot Glasses
Who said we can't have a bit of *ahem* fun? Bring on the shots with these Halloween-themed baby shower shot glasses (which don't have to be filled with liquor, of course), decorated with "Bootiful Girl" and a baby ghost with an orange bow!
Little Boo Photo Booth Signs
Photo booth time! No shower is complete without a handmade "photo booth" corner, with signs like these that your guests can pose with. Try a metallic backdrop to accent your photos further!
Halloween Themed Baby Shower
Not for the faint of heart, this dark, hair-raising baby shower theme is creepy in a gorgeous, refined way. Using black, white, and orange in a way that is chilling yet elegant, this take is one of the most unique shower ideas we've seen.