How to Talk to Kids About Miscarriage
It Isn't Just Moms Who Grieve Pregnancy Loss — Kids and Partners Do Too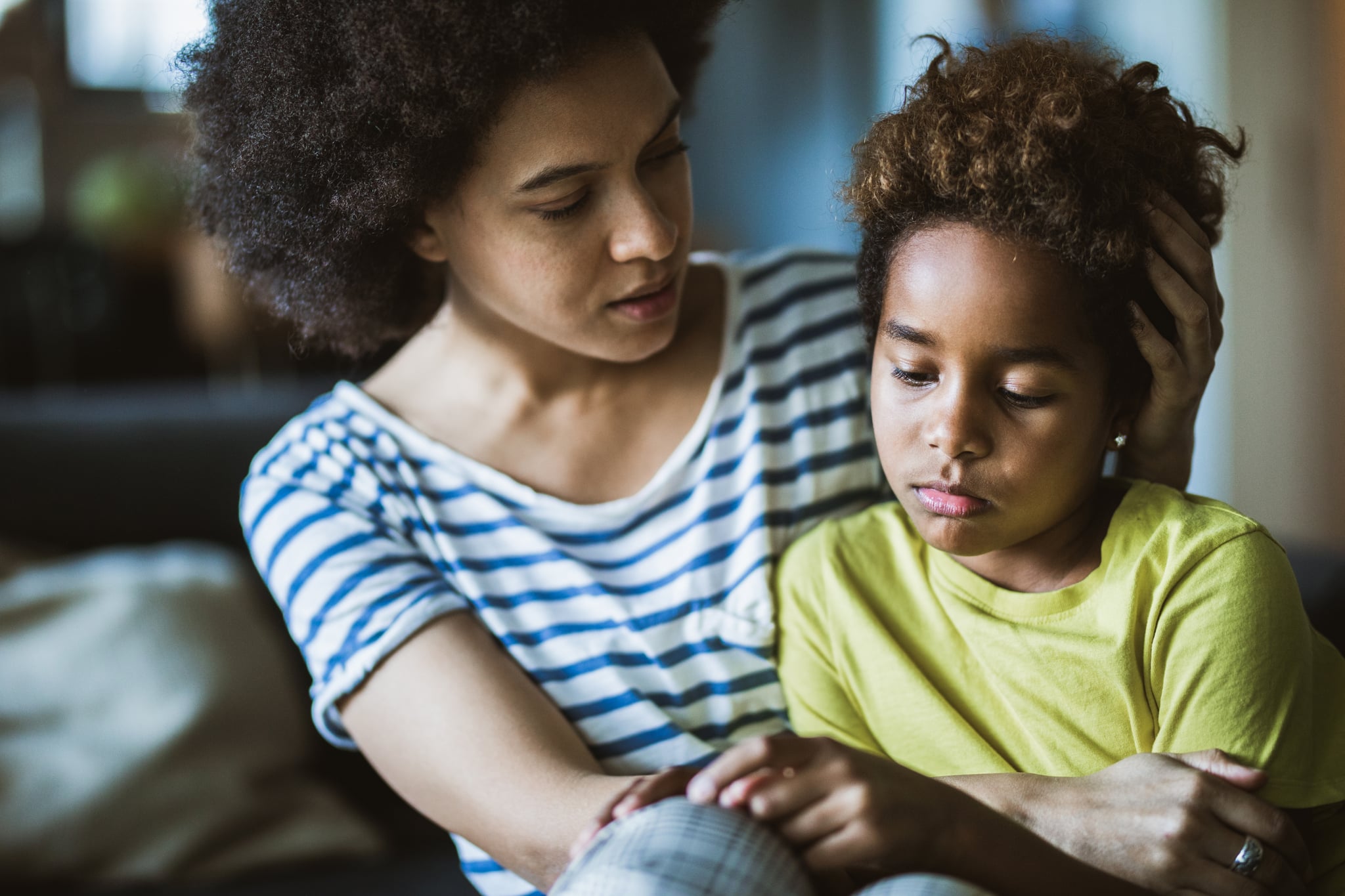 It was two weeks after we lost our pregnancy when my oldest daughter — then 7 years old — asked me a heart-shattering question: "Does the baby feel alone in heaven?" It was one of many difficult moments I tried to navigate with my children and husband as my own grief blanketed my every thought and movement in the wake of my pregnancy loss at 22 weeks. It was also one of the many stark reminders that the impact of pregnancy loss is felt by the entire family.
My instincts told me to be honest with our kids, the other two of whom were 5 and 3 at the time. My husband and I held each other, and I cried, as we considered how to explain to them that our baby wasn't going to get to be with us; at least, not in the way we'd planned. That conversation wasn't the only painful experience grief had in store for us. I struggled to connect with my husband. While I openly despaired — I cried in the car, the kitchen, in front of the kids — his grief was far less out in the open. There were days I wanted to walk away from my marriage because I felt so resentful my husband wasn't sobbing in the shower, too. Luckily, we realized we needed help, and found a great therapist, who walked with our entire family as we journeyed through our grief.
How to Talk to Kids About Pregnancy Loss
Tamar Gur, a maternal-fetal psychiatrist specializing in pre-conception, pregnancy, and the postpartum period at the Ohio State University Wexner Medical Center, confirmed that parents do children a disservice if they don't talk about pregnancy loss. "Secrets can be damaging," Gur, who is also a mom and lost a child at birth, told POPSUGAR Family. "Kids are very perceptive," she said, so if they see their parents crying or acting differently, they pick up on that. Pretending everything is fine teaches kids there are things that are so scary and upsetting, we shouldn't even talk about them. Instead, parents should give children more credit. "Kids are incredibly resilient," Gur said. She explained it's all about approaching the subject of loss in an age-appropriate way: "Meet them where they are."
When a parent is transparent with their grief, Gur says, children learn you don't need to hide your feelings, and that no subject is too taboo to discuss as a family.
For us, that meant allowing our kids to ask any and all questions about what happened with our baby, no matter how difficult they were to hear. It also meant reassuring the kids it was OK to cry and feel sad — or to play, and not think about sad things all the time. When a parent is transparent with their grief, Gur says, children learn you don't need to hide your feelings, and that no subject is too taboo to discuss as a family. "Kids also see that it's OK to reach out and ask for help when your feelings are too big, and that grief is survivable," she said.
At times, I didn't feel I'd get through the pain, let alone successfully lead my family through it. Especially since I didn't know other families who had confronted a pregnancy loss — or at least any families who openly discussed it. Statistics tell us pregnancy loss is relatively common, but still treated as taboo. I felt I was supposed to just get over it and move on because just weeks after the loss, friends stopped asking if I was OK. Julie G. Kays, MS, LCPC, NCC, manager and clinical counselor for The Counseling Center at Stella Maris, told POPSUGAR, "A pregnancy loss should be treated as any other loss." This is especially true for the woman who carried the baby, but also for all members of the family. "Whether they met the baby or not, the baby was anticipated and hoped for, and their spirit is part of the family," she said.
Saying something like, "The baby went to sleep," will only serve to heighten their fear, and may confuse them.
Kays says kids will often exhibit their grief through changes in behavior, like acting out at home or at school. She reminds parents of something my therapist told me early on in our grief journey: "Kids don't have the same tools as adult to express their grief." In other words, just because my 3-year-old couldn't tell me exactly why she was feeling sad, didn't mean she wasn't grieving in her own way. And just because my 5-year-old was crying one minute, and then wanted to go swimming the next, didn't mean she wasn't scared. That's right; scared.
Kays explained sometimes children will worry they could pass away, too. It's another reason it's so important to keep an open dialogue with kids. "Be truthful," Kays encouraged parents. Saying something like, "The baby went to sleep," will only serve to heighten their fear, and may confuse them. "Kids have magical thinking," she explained, so if we as parents aren't sharing real information, children may make assumptions about what happened, or even blame themselves.
How to Grieve as a Family
Gur says in addition to being truthful, another way to support kids in their grief is to channel those feelings into something positive, as finding meaningful ways to commemorate the loss can act as an outlet for anyone who is grieving. For example, our family decided to do something to honor our baby every day for 100 days. We made cookies, planted a tree, took a walk, went to the beach, and made a donation to a charity in the baby's name. I also got each of our kids a necklace with the baby's name on it, so they could feel close to her when they were sad. Every family's needs and desires around coping with grief will be different, but for us, these were healing. Gur emphasized that finding meaningful ways to commemorate the loss of a baby acts as an outlet for anyone who is grieving.
How to Cope With Loss Alongside Your Partner
Pregnancy loss can be particularly hard on couples, no matter their gender. But men, especially, are often socialized to be silent grievers. Gur says a drop in affection, or sudden anger, can be signs that a man is struggling to cope. I didn't notice either of those red flags with my husband. Instead, I saw him trying to do everything in his power to keep it together as I fell, quite spectacularly, apart.
Gur said it's common for the partner who didn't carry the baby to feel there is no room for their grief. But Kays cautions that suppressing feelings isn't actually beneficial for anyone. "Pushing feelings aside to be strong can be detrimental," she said. "Studies show those emotions can be intensified later." A person can even become physically ill as a result of suppressed grief. The takeaway? We must encourage men to get professional help for their grief, too.
There are ebbs and flows with grief, and, as I can most certainly attest to, there is no end to the pain of loss.
Ultimately, everyone in the family needs support following a pregnancy loss. And since people are each wired in their own unique way, that support may look different for the mom, dad, and kids — something my therapist was quick to point out. "Everyone is dealing with this at different speeds," Gur told us. She added that there are ebbs and flows with grief, and, as I can most certainly attest to, there is no end to the pain of loss. It simply changes over time, and as Kays noted, you can develop new insights along the way.
As for our family, my children have proven to be incredibly resilient. My husband and I made it through a tough couple of years and figured out how to communicate about our grief (with the help of our therapist). That's not to say there aren't still very difficult days; I don't think those will ever go away. Our loss changed us. It damaged us, but our beloved angel gave us so many gifts. We appreciate the small things more, feel more empathy toward each other, and know there is nothing we can't handle as long as we talk openly and honestly about our feelings.
That being said, there is no idealizing pregnancy loss. Grief is messy, painful, and quite simply, changes everything, forever. If you are experiencing a pregnancy loss, be kind to yourself. Be patient. There's no way around grief. You have to go through it. If you, or another member of your family, needs help, ask. There is zero shame in getting support, today, tomorrow, or for a lifetime.