Maya Wiley Is Running For Mayor of NYC, and Her Family-Focused Policies Are Unparalleled
New York City mayor hopeful Maya Wiley has an impressive résumé. A lawyer, racial-justice activist, and former professor at The New School, she has served as counsel to Bill de Blasio and worked as a contributor for NBC News and MSNBC. Determined to become the city's first woman mayor, the 57-year-old mother of two has made helping American families the cornerstone of her platform through her universal community care model.
Comprehensive in nature, Wiley's universal community care plan was crafted as a response to the COVID-19 pandemic, which has disproportionately affected mothers, particularly women of color. "We have to confront [the fact] that women have been hit harder," Wiley told POPSUGAR. "If we want to recover our economy, we have to recognize that while women have grown to well over 40 percent of the workforce, they have lost a decade [of progress due to the pandemic]. Women have either been pushed out of the job market to take care of their family in a challenging and traumatizing time, are struggling to help kids do online learning, or helping their elderly parents."
To illustrate just how much stress parents are under, Wiley reflected on a recent conversation she had with a woman who works as a home health aid in New York City.
"She was an essential worker during COVID with a family at home that she was caring for," Wiley explained. "She had a job that required her to take two buses, two hours each way, to take care of her client, a man in a wheelchair. She was earning $15 an hour, which is minimum wage, but she had to pull [money] out of her own pocket. Money to buy her personal protective equipment, gloves, and hand sanitizer. Because she was only earning $15 an hour, she had to stand in a food-pantry line twice a week. This is the story of so many women."
"Care is one of the top three costs that make it so expensive for families."
She continued, noting that working parents simply need more support. "Think about the women who are working so hard to care for their families and can't care for themselves," Wiley said. "We have to ask, 'What fixes that?' We are going to start with a universal care plan that recognizes that care is one of the top three costs that make it so expensive for families. It's also a critical part of our economy that we have to stimulate for our workers."
Read on to learn about the main components of Wiley's universal community care model, a program designed to make life easier for families and caregivers.
Create Community Care Centers
If elected, Wiley intends to build community care centers (CCC) in each borough of the city using an executive order. "CCCs will add necessary services including elder care by licensed home health aides, benefits counseling through partnerships with community-based organizations, food pantries, and adult education classes," Wiley's website reads. "They will act as a neighborhood gathering center, a multi-generational convening space, and a place where neighbors can organize community meetings and volunteer activities."
Meant to be convenient "holistic wraparound care" for families, Wiley estimates that each CCC will serve 300,000 New Yorkers annually. "Imagine each community having a center with high-quality child care, elder care, and care for family members with disabilities," Wiley said. "When you have a work emergency but your babysitter didn't show or you had to get to the doctor, you have a place you can drop your child or elderly parent off and know that they're going to get quality care."
She also described some of the government services that will also be available to families. "What if you're a woman who's suffering from domestic violence at home?" she asked. "Imagine being able to bring your child to a drop-off community care center and go over to a different part of the building and seek government help and support around the domestic abuse that you're facing, safely and knowing your child is being taken care of."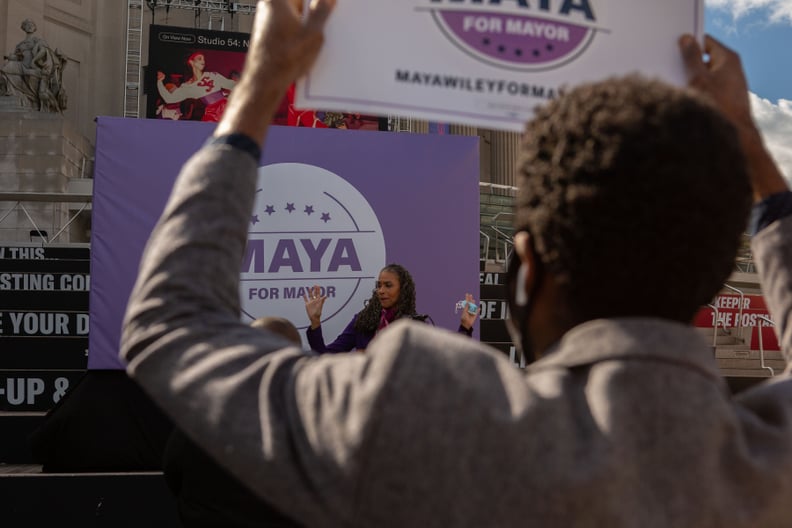 Introduce an Annual Caregiving Grant For Low-Income Families
The second faction of Wiley's universal community care model involves providing low-income families with a grant to use specifically for informal caregiving expenses. "We are going to put $5,000 a year into the pockets of 100,000 of the neediest families in this city," Wiley explained. "It doesn't matter whether you are documented or not, because so many of our family members were essential [workers]. We'll start with 100,000 families and grow from there. We think we can eventually get up to 200,000 families, but we need to start with the resources we know are available. "
If women were compensated for their unpaid labor, they would earn nearly $40,000 a year.
Wiley is hoping the grants will create a domino effect, which will further stimulate the local economy. "New York City is home to an estimated 900,000 to 1.3 million caregivers, or around 15 percent of the population," Wiley's website states. "Many of these caregivers are women of color, or older adults, who provide at least 30 hours of care each week to their loved ones in their homes, and have formal jobs."
Determined to show that caregiving is essential work, Wiley hopes this grant will finally compensate family members who have traditionally worked in the home for free. According to the Economic Policy Institute, the average American made $19.33 per hour in 2019. Therefore, if women were compensated for their unpaid labor, they would earn nearly $40,000 a year.
"A care income would make clear that New Yorkers see caring for others as essential to the wellbeing of our communities, and should be valued as essential work," Wiley's website explains. "Part of valuing this work involves remunerating caregivers in ways that allow them to live with dignity. Families should be able to choose an avenue that works best for them, either by paying for care or administering it themselves. New York City can be a leader by building a program that adequately supports caregivers and recognizes their role in our city's economy."
Advocate For Care Workers
For parents with families to support, $15 an hour is not enough to make ends meet. Because caregiving jobs are the lifeblood of the city, she intends to fight for higher wages and more protection for these individuals. To achieve this, Wiley hopes to reform the Consumer Directed Personal Assistance Program (CDPAP) — a Medicaid program that provides services to chronically ill or physically disabled individuals — with help from other elected officials and leaders in the community. According to her website, Wiley will further support families by:
Granting more enforcement authority to the paid care division of the NYC Department of Consumer Affairs
Expanding the definition of "care workers" covered by paid care division enforcement to include case managers, early-childhood education workers, and other direct service providers employed by nonprofit organizations
Allocating resources to expand the paid care division of the NYC Department of Consumer Affairs
Prioritizing direct service workers — including nonprofit case managers — in COVID-19 vaccination efforts
Ensuring adequate PPE for all frontline care workers
Supporting the Invest in Quality Care campaign and fighting for a minimum staffing requirement in New York nursing homes
Advocating for fair pay for home care workers at the state level
Investing in a portable benefits program for domestic workers
Ultimately, Wiley believes that her family-focused legislation will give New York City the jump-start it needs after the pandemic. "Implementing a care income builds on what global feminist organizations have been advocating for decades," she said. "The care income, based on the recognition of the necessity of caring activities, often undervalued or invisible and overwhelmingly performed by women, would provide social and financial recognition to carers."