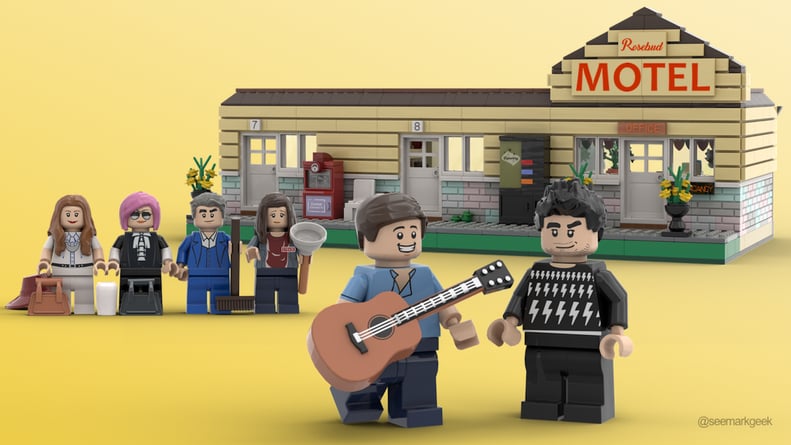 Mark Fitzpatrick
Pshh, you think you're the biggest Schitt's Creek fan out there? Mark Fitzpatrick just might have you beat. A marketing manager by day and Lego enthusiast by night, Mark spent his surplus of time at home the past few months meticulously designing a Lego set that looks just like the Rosebud Motel — complete with the entire Rose family and their small-town friends in minifigure form. This most definitely calls for a "Yay, David!"
The shrunken-down version of the charming roadside lodging features three main areas: the guest check-in office, Moira and Johnny's room, and Alexis and David's room. Each space is decorated with all the quirky details you'd expect, including Moira's famous wig wall, David's cedar chest and fancy bed sheets, and even those random fish stuck to the wall next to the motel office desk. I mean, seriously — it deserves a spot in one of David's former art galleries in New York.
"[Schitt's Creek is] a bright balm at the end of sometimes dreary winter days."
Mark, who lives in Australia, told POPSUGAR how both the show and this project have been an entertaining outlet while spending more time at home lately. "I'm rewatching Schitt's Creek through again during a renewed lockdown in Melbourne, and it's a bright balm at the end of sometimes dreary winter days," he said. "I appreciate the show's central message about belonging somewhere, why that's important, and how acceptance of difference is necessary to help others and ourselves find this in our lives." Mark added that he spent a total of around 90 hours building the model virtually in a software called BrickLink and then touching it up in Photoshop. Now that is dedication, folks.
So, how on earth can you get your hands on this adorable Lego set, you ask? Well, it is actually not on shelves just yet and may take a while before becoming a reality. The fan-made model recently reached 10,000 votes from bébés of the public on ideas.lego.com, meaning that now, Lego will consider it for production up against various other models. It's unclear how long that process typically takes, but as far as we're concerned, the fact that Dan Levy gave it his seal of approval on Twitter is a huge win. Take a closer look inside the Lego-fied Rosebud Motel ahead, and join us in crossing our fingers that Lego officially moves forward with production in the meantime!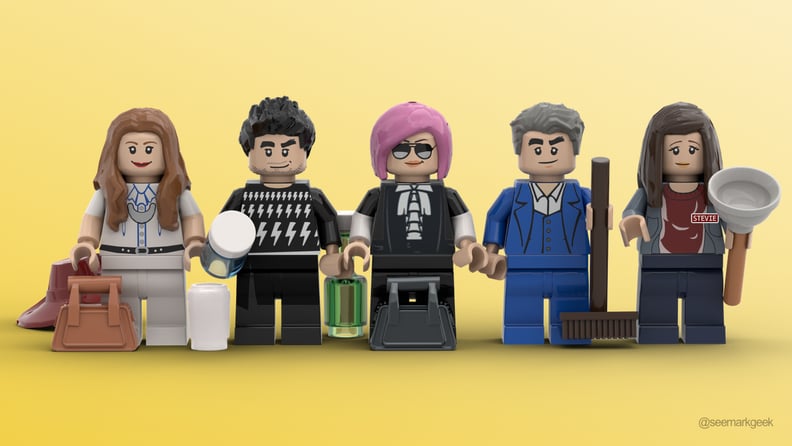 The Rose Family and Stevie Budd Minifigures
The Alexis figure comes with a hat and purse, David is wearing his signature lightning-bolt sweatshirt, Moira dons a bright-pink wig, Johnny wears a blue suit and carries a broom, and Stevie is rocking a name tag and toting around a plunger. Also included in the set but not pictured here is a Patrick Brewer minifigure holding a guitar.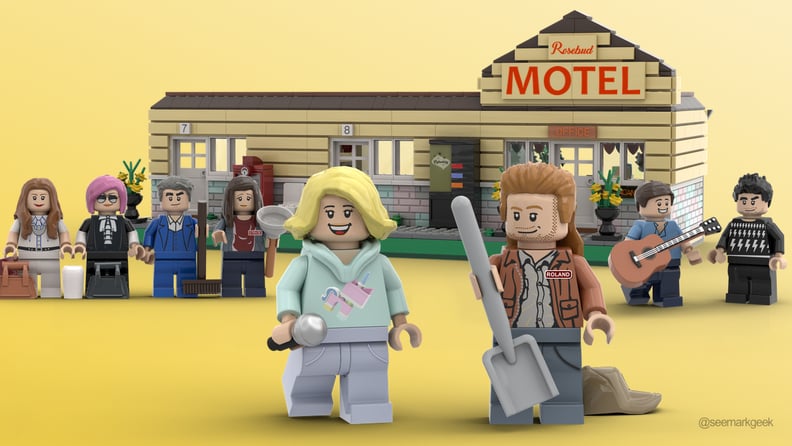 The Schitt Family Minifigures
Jocelyn is wearing a pastel-colored unicorn sweater and holding a microphone, while Roland is clutching a shovel and sporting his finest leather jacket. And yep, that's a lil' mullet you see!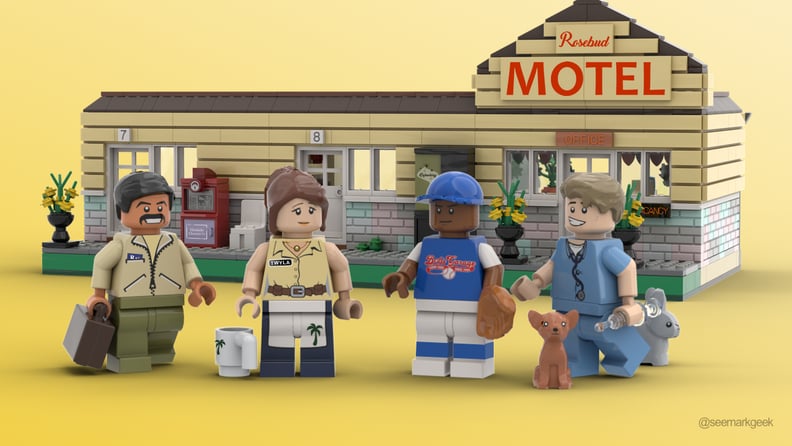 Other Minifigures
With a briefcase in hand and business cards in his pocket, Ray is ready for some serious wheeling and dealing. Twyla has her Cafe Tropical apron on and a cup of joe nearby. Ronnie has her Bob's Garage baseball jersey on for a game of baseball. And lastly, Ted's got his blue veterinary scrubs on and two furry friends sit at his side.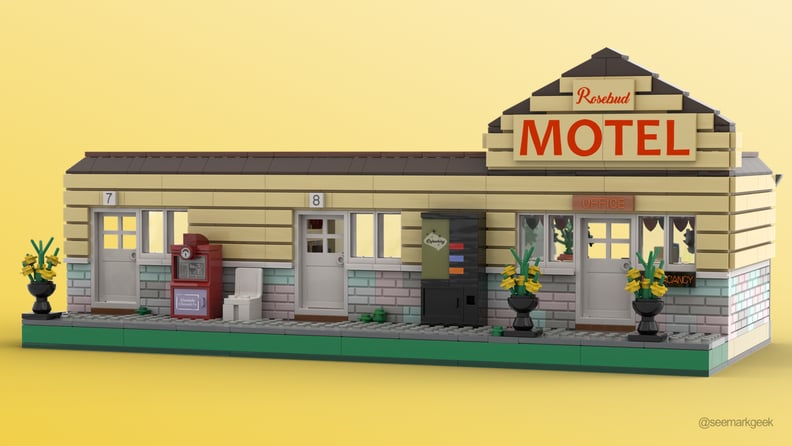 The Rosebud Motel Exterior
Just like on the show, there's an old soda machine and a newspaper stand holding the Elmdale Chronicle. And there are those flowers that Moira and Johnny so proudly planted themselves to spruce things up!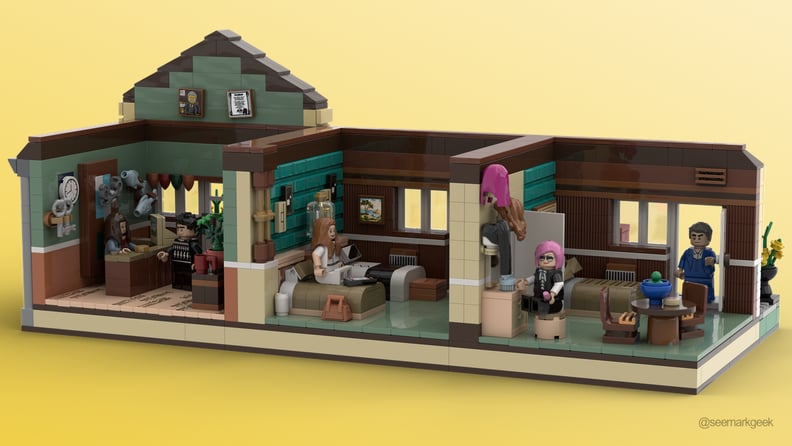 The Rosebud Motel Interior
Do yourself a favor and zoom in to see all the fun details hidden inside: the keys hanging on the wall in the office, the tropical painting hanging on Alexis and David's wall, Moira's tube of bright-pink lipstick. It's all just so darn on point.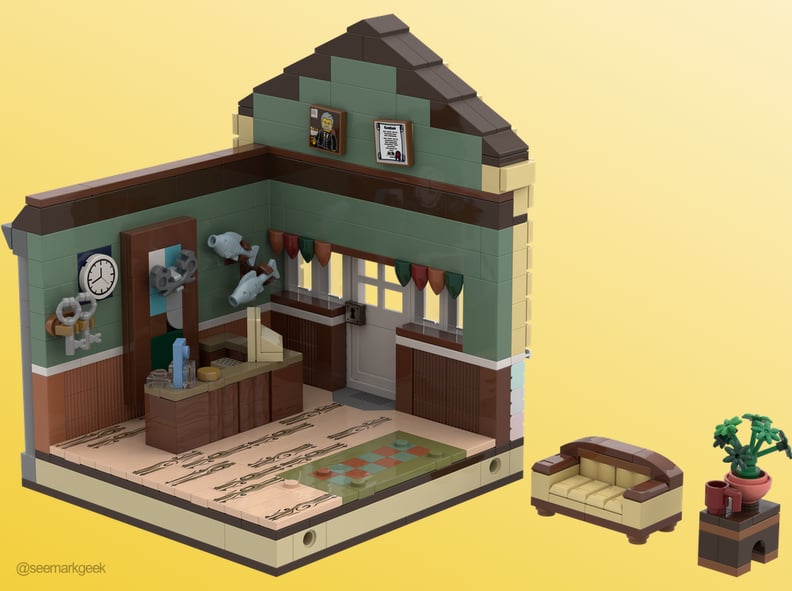 Inside the Rosebud Motel Office
Here's a closer look at the guest check-in office. It's got the couch, old-school computer monitor, tacky patterned carpet, and everything.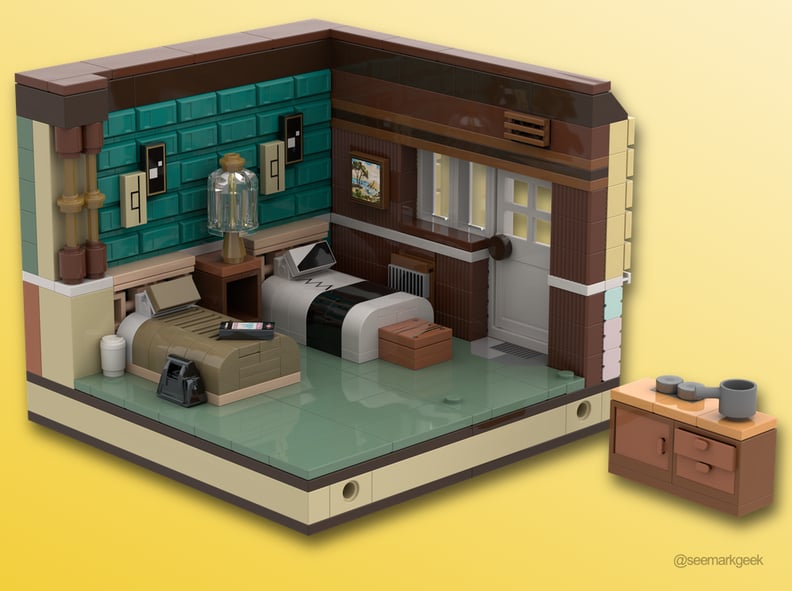 Inside Alexis and David's Room
Seriously, how cute is that lil' cedar chest for David's precious sweaters?
Inside Moira and Johnny's Room
Gosh, that wall of wigs is just *chef's kiss.* And in case you were wondering what's on their table, it's a fruit bowl and doughnut, which Mark used to add a touch of color to the room.