Teacher's Hack For Showing Students Documents at Home
This Teacher's Hack For Sharing Documents With Students Is Easy and Affordable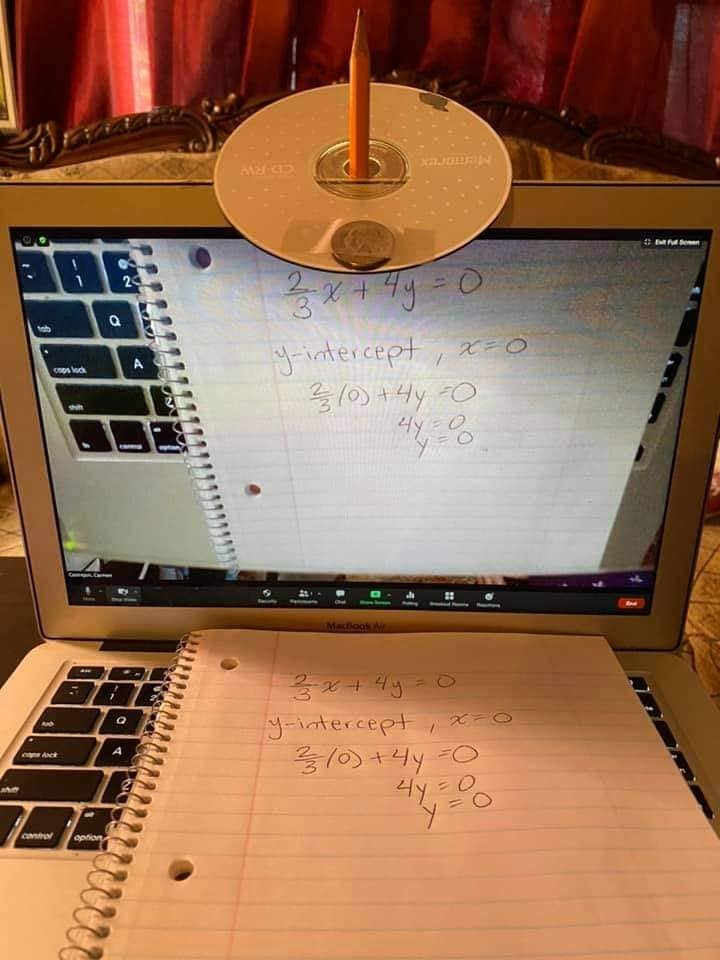 With virtual learning in full swing for many school districts, educators and parents alike are taking to social media to share some helpful workarounds that make at-home learning easier. Recently, a teacher named Carmen Castrejon posted a hack for educators who don't have access to a document camera. Because it's both easy and affordable, Carmen's idea understandably took off on Facebook. After all, showing students what you're actually doing on paper is often a big part of teaching!
"It may help some teachers who don't have a document camera. This is my little creation, hope it helps someone," Carmen wrote on Sept. 2. "All you need is a cd, pencil, tape and a quarter. The pencil is taped on the back just so it can hold the cd. The quarter is to weigh the cd down so it can pick up the [images] from the keyboard."
By putting the CD on a pencil, it will balance the mirrored disc to reflect whatever is on your keyboard, rather than the camera showing kids your smiling face. Once you're done teaching your students how to properly work out a math problem, for example, simply move the CD so they can see you again. "When you want them to look at you again pick up the cd," explained Carmen. "[It] may also help students show their work to a teacher while on camera." Additionally, Carmen shared that she uses Apple's software application, Photo Booth, to share her notes right side up by using the "auto flip" setting before beginning to write, but you can use any program that flips your camera, like ManyCam.
Here's a look at what the back of your laptop should look like, for those eager to try Carmen's hack.