Woman Coparents With the Mother of Her Ex's Children
This Woman Is Grateful the Mother of Her Ex-Boyfriend's Kids Still Lets Her Be a Coparent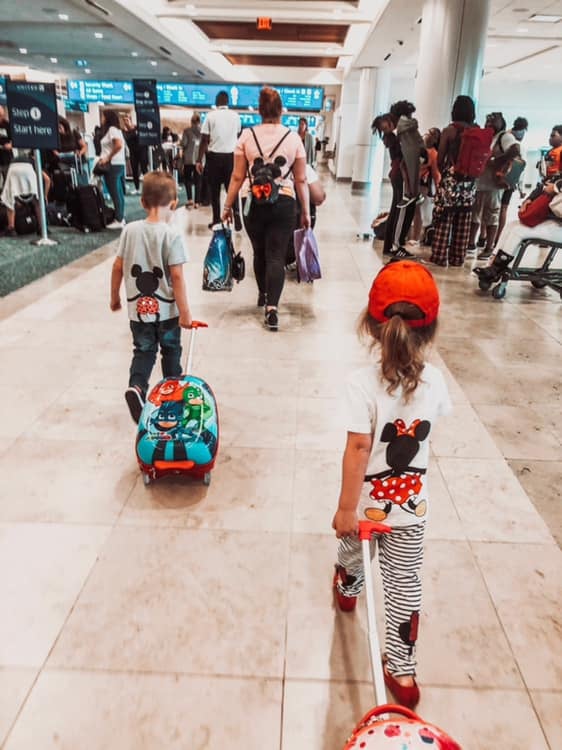 Charlotte Kingston, a woman from Ontario, knows the importance of setting a good example for the kids in her life. And while she's no longer dating her ex-boyfriend, she definitely got along with the mother of his children, Becca, during the time they spent together. In fact, according to a sweet Facebook post, Charlotte and Becca became such good friends that they took a trip to Disney World together — kids and all.
"This is a photo of my ex-boyfriend's kids, Wayne and Aubrey — whom I raised with him 50 percent of the time until we broke up in March — and their mom," she wrote. "You can't see my outfit but we all have matching shirts that Becca planned. I've always had a ton of respect for Becca. From very early on in my relationship with the kids' father, I saw how much love the kids had for her and how hard she worked to do everything she could for them as a mother. She is without a doubt the most important person in their lives."
Although Charlotte looked up to Becca before, their vacation stirred up even more admiration.
"I became genuinely amazed by her and spent the entire two weeks reminding the kids that their mommy is basically Superwoman. She does SO MUCH," she wrote. "She's so patient, organized, constantly putting others before herself, trying to play 10 different roles at once and still keep a smile on to make sure the kids are having fun."
Above all, Charlotte is thrilled that Becca still allows her to be part of the kids' lives despite the fact she's no longer dating their father.
"She had every right to keep the kids from me but she did exactly the opposite."
"What amazes me even more than who she is as a mother, is the FRIEND she became to me after the kids' dad and I broke up. She had every right to keep the kids from me but she did exactly the opposite," she explained. "She's given me a place to stay when I've had nowhere to go, given me her van to drive or lets me take the kids for day outings to give her a break. She even allows my FAMILY to still have a relationship with the kids."
Um, yeah, that seems like a pretty sweet deal. "I still smile thinking about our drive to the airport when we asked Wayne who Aubrey was to him, and he said 'sister.' We asked who Becca was and he said 'mommy'. We asked who Yama was and he said 'grandma.' When it got to me, he said 'ummm another kind of mommy,' and we all laughed."
Charlotte continued, sharing other moments she and Becca felt connected as coparents throughout the trip:
Or when Becca and I were sitting at the edge of the pool in Florida watching the kids go up and down the water slide, and we heard a squeal coming down the tube and simultaneously went "I think that's our kid."

Or how at the end of every 16-hour park day we'd get back to the hotel, get the strollers into the air conditioned rooms, give each other a high five and flop down on the beds because we finally made it... then do it all over again the next day.
While Charlotte doesn't have children of her own yet, she's appreciative of the time she gets to spend with her nontraditional family. "The love I have for these two little kids is the same intense love I can't wait to smother my own children with one day," wrote Charlotte. "That kind of passion doesn't just go away because my romantic relationship with their father didn't work out. It doesn't matter how we became family, that's what we are now and it's the only 'label' we need."