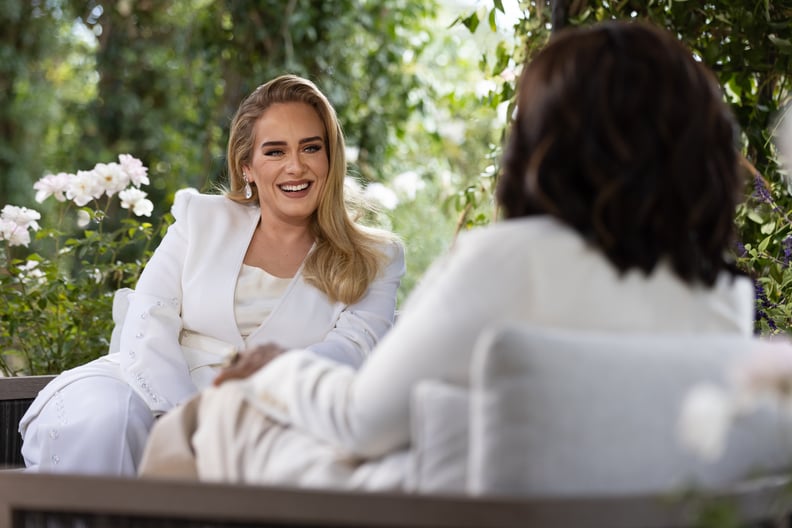 Harpo Productions | Joe Pugliese
Harpo Productions | Joe Pugliese
We didn't necessarily need more proof that Adele descended to Earth straight from heaven above, but she delivered ample verification in her Adele One Night Only TV special. During the two-hour program, which aired on CBS and Paramount+ on Nov. 14, the "Easy on Me" singer looked positively angelic in an all-white ensemble for her sit-down interview with Oprah Winfrey. Seemingly playing into those ongoing engagement rumors, Adele wore a white power suit that said, "Psh, yeah, I heard the goss, and I'm gonna add fuel to the fire with this bridal-ready look — take that!"
Custom-designed by Christopher John Rogers, her suit featured a glam, very Adele-approved touch: shiny Swarovski crystal buttons lining both the jacket and pants. The star really leaned into her defiance of the outdated "no white after Labor Day" rule when choosing her shoes with help from stylist Jamie Mizrahi, opting for pointed-toe slingback pumps that perfectly matched her pantsuit. She finished the look with a cream-colored top under her jacket and teardrop-shaped pendant earrings.
If you're loving Adele's look as much as we are, you're in luck, because according to Christopher John Rogers himself, the two-piece set will soon be available for purchase exclusively at Saks Fifth Avenue. Kindly join us in gawking over the photos of Adele's white power-suit moment ahead, then check out the custom Schiaparelli Haute Couture look she wore for the concert portion of the show.