As POPSUGAR editors, we independently select and write about stuff we love and think you'll like too. If you buy a product we have recommended, we may receive affiliate commission, which in turn supports our work.
In episode three of Making the Cut, the designers are pairing up for collaborations! Each duo must create three looks, melding their two aesthetics together. At first, everyone is excited to work with one another, but they all quickly discover that teamwork isn't as easy as it seems.
Sabato Russo has a hard time cutting out patterns, so his partner Sanders Bos takes the lead on their looks. Meanwhile, Tim Gunn pushes last week's winner, Esther Perbandt, and her partner Will Riddle, to take more risks. Gunn is also concerned with the Frankenstein-like looks by Ji Won Choi and Rinat Brodach.
As soon as Gunn heads over to the work tables of Megan Smith and Jonny Cota, he immediately observes that the designs are fully Smith's point of view. The duo's collaboration definitely hits a bumpy point as they try to compromise and put more of Cota's vibe into the look. Then we get a peek at Troy Hul Arnold and Joshua Hupper's designs, which include questionable color and pattern choices.
Overall, the contestants are struggling to find their footing when it comes to melding their styles together. As time goes on and the pairs talk out their designs, things begin to run more smoothly.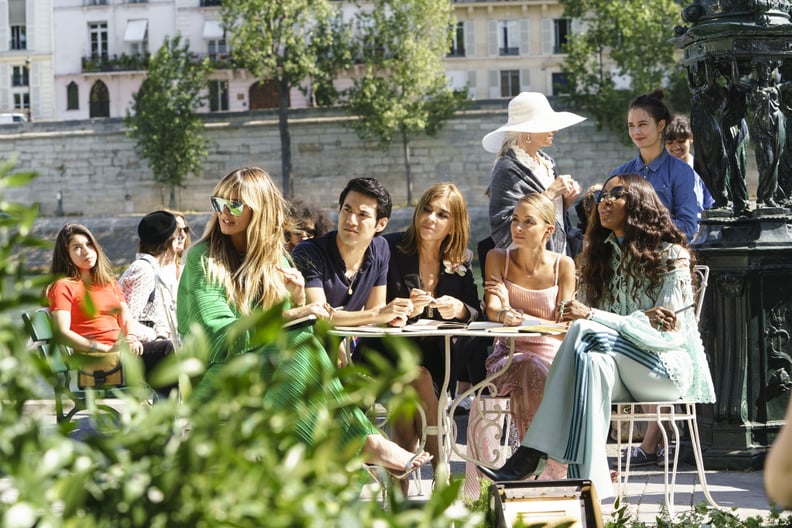 This week, the runway show is held outside by the picturesque River Seine. Once again, judges Naomi Campbell, Nicole Richie, fashion editor Carine Roitfeld, and designer Joseph Altuzarra join Hedi Klum to view the looks.
The Verdict
In the end, Sabato Russo and Sanders Bos win this week's competition with their elegant designs and innovative styling. Troy Hul Arnold and Joshua Hupper are called to the front to discuss their three looks that fell flat. Shockingly enough, Hupper taps out of the competition in hopes that the judges will save Arnold. The episode ends on a cliffhanger, leaving us wondering if Arnold will continue or not.
Where can I watch Making the Cut?
Make sure to catch Making the Cut on Amazon Prime — if you don't have a membership yet, you can get a free 30-day trial today. Two new episodes drop every Friday.