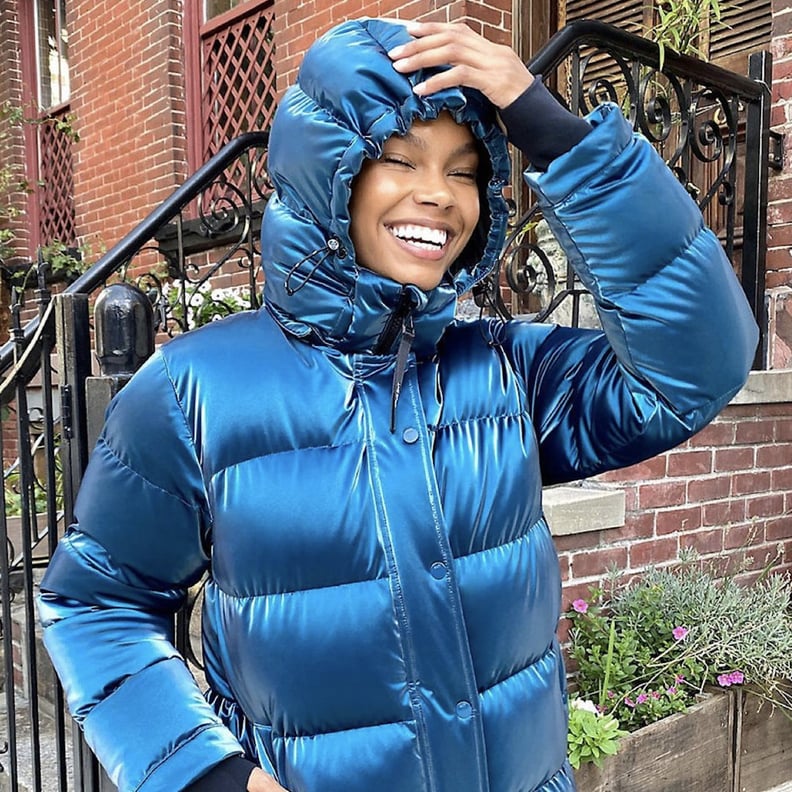 Every editorial product is independently selected by our editors. If you buy something through our links, we may earn commission.
Aritzia — land of the fashionable and home of the best dressed. The much-loved retailer has been doted upon for years by avid shoppers with hype surrounding the chic coats, trendy shoes, and five-star brands that make up the sophisticated boutique. I first heard about the retailer when I moved to New York, and thus lived amongst the chicest of the chic. Aritzia advocates harped on the wonders of the well-made clothing and expressed their gratitude for the cosmopolitan colors and designs, and not to mention, the vast sale section. As I took note of what my fellow fashion-lovers were preaching to me, one product in particular was given the highest praise above all others — the Super Puff. This plush down jacket captured my interest, and before I knew it, my credit card information, too.
I took note of what my fellow fashion-lovers were preaching to me, one product in particular was given the highest praise above all others — the Super Puff.
With a price tag ranging anywhere from $200 to $400, what makes it worth it, you ask? Well, for one, the jacket is hard to miss with its sleek shine and inflated shape. Paired with jeans or leggings, sweatpants or joggers, the Super Puff makes every one of my outfits more modish, even if I'm discretely wearing pajamas or my ex-boyfriend's old sweatshirt underneath. It also comes in a wide array of finishes complete with high gloss, iridescent, corduroy, and liquid shine (my personal favorite), meaning it's exponentially more exciting than the traditional winter puffer. Bright red hues, alluring olive greens, and serene baby blues can be chosen from, meaning you can finally drop off your way-too-old coat at Goodwill and never worry about having seasonal (fashion-induced) depression again.
Aside from the glitz and glamour, this Aritzia find is a bestseller for a reason, and that reason is because it. is. WARM. Made with 100 percent responsibly sourced goose down, each jacket is water-repellent and wind-resistant, meaning you'll stay warm no matter what the thermometer reads. The innovative fabrics can keep you from freezing over even in temperatures as low as -40°F, making the Super Puff a seasonal must have, no matter what kind of winter you're experiencing. Take it from a California native who wears her Super Puff every chance she gets — from crisp evenings in Orange Country ("crisp" referring to any temperature below 55°F, of course) to blustery nights in NYC that leave the cab-covered streets looking as beautiful as a snow globe.
If you've been on the search for the coat of your dreams, look no further than Aritzia's fabled Super Puff. With gorgeous finishes, striking colors, and a fit made for everyone, this jacket will be your one true love for winters to come. Whether you, too, pair it with your finest pajamas or you decide to dress it up with your favorite sweater, the Super Puff will leave you as warm as a hug and as stylish as the brand who made it. Still not sold? Take a look at some of our favorite Super Puff styles ahead, and get ready to be inspired. Being cold never looked so good.
Check Out the Look: The Aritzia Super Puff
Check Out the Look: The Aritzia Super Puff
Check Out the Look: The Aritzia Super Puff
Check Out the Look: The Aritzia Super Puff
Check Out the Look: The Aritzia Super Puff
Check Out the Look: The Aritzia Super Puff
Check Out the Look: The Aritzia Super Puff
Check Out the Look: The Aritzia Super Puff
Check Out the Look: The Aritzia Super Puff
Check Out the Look: The Aritzia Super Puff