This season of The Bachelorette has been a wild ride, with Clare Crawley walking off into the sunset early with Dale Moss just a few episodes into the show and Tayshia Adams taking her place and winning us all over. One thing that hasn't changed this season? The number of gorgeous gowns we've seen Tayshia wear on the reality show. We talked to Cary Fetman, the stylist for The Bachelorette and The Bachelor, ahead of the show's highly anticipated finale to answer some of our burning style questions. And yes, we even got to talk about the gown Tayshia chose for her big moment on the finale! Cary even gave us a little glimpse of what to expect from Matt James's upcoming season of The Bachelor.
"The finale dress was a result of [looking through] so many racks of gowns from so many designers. I truly had wanted to stay away from a lot of glitzy crystal and sequin dresses since we were in the desert. When I first started looking for [a gown for] Tayshia, I truly believed she'd only pick fabric dresses without the glitz, but I was wrong. When Tayshia tried this dress on, we both fell in love with it and knew it was the one. From the baby blue color, the detailing of the accordion tulle that peeks out of the slit, and the satin ribbon across her backside, this was one of my favorites — especially against the dark, dry mountains of a desert," Cary exclusively told POPSUGAR.
Keep scrolling to read more of our interview with Cary and take a look back at some of Tayshia's most memorable style moments from her season as the Bachelorette ahead.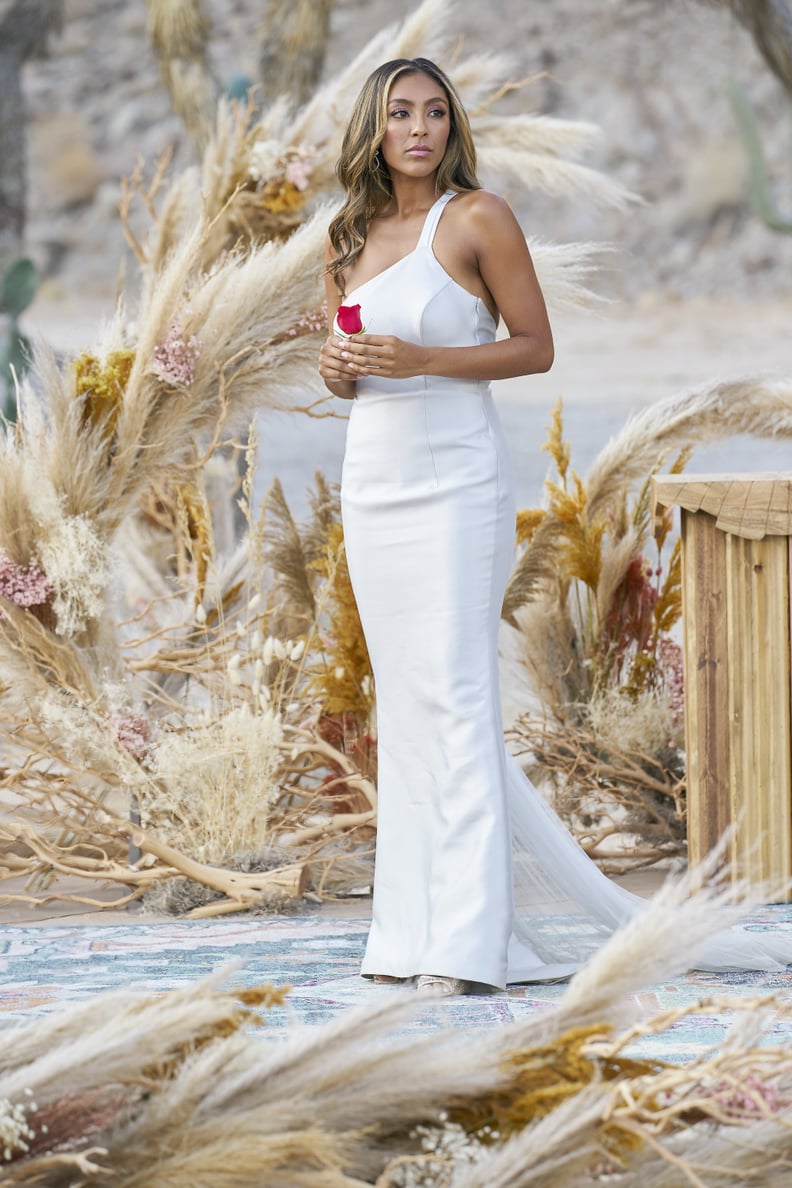 Did Tayshia Get to Keep the Finale Gown?
"Unfortunately, Tayshia can't keep the finale gown as it is a couture gown that has to go back home to designer Randi Rahm. However, I have a feeling she will do just fine with a couple of other pieces from this season."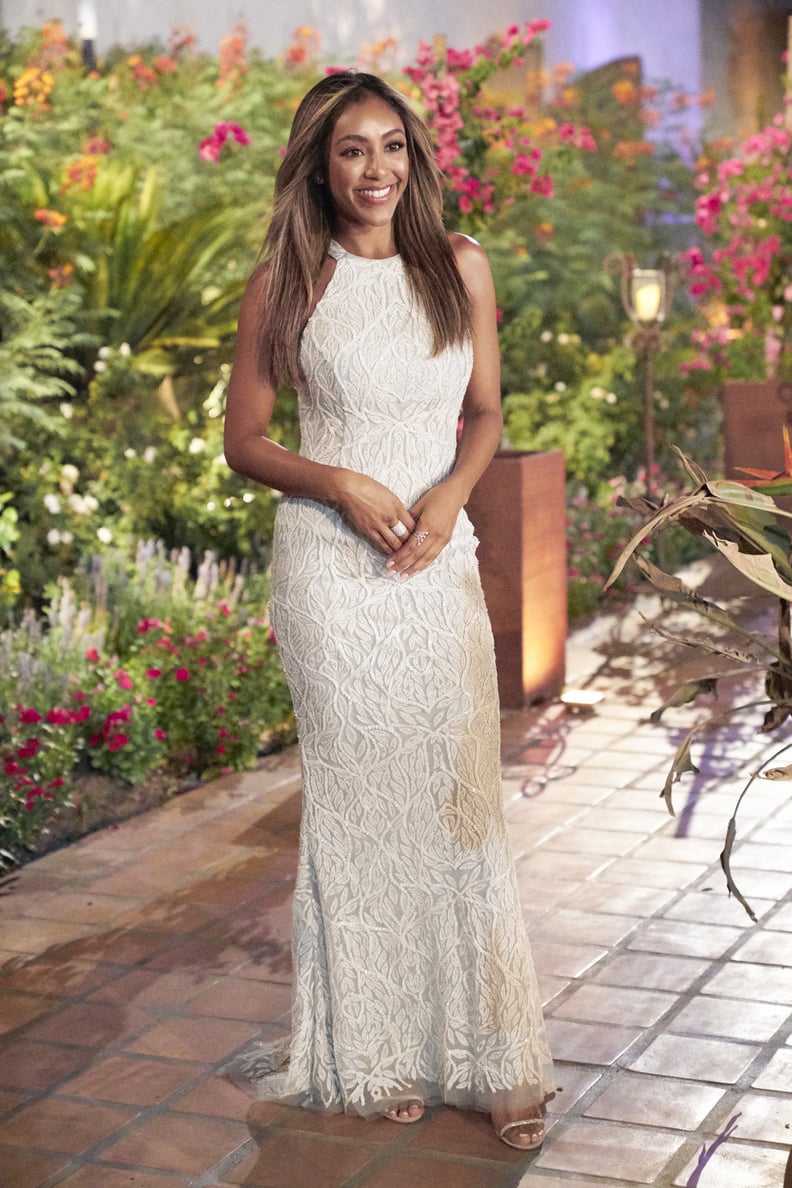 Were There Customizations on the Pieces Tayshia Wore on the Show?
"Did we change or alter anything on the dresses? More like, is there anything we didn't alter or completely tear apart? Once Tayshia saw some of the customizations I was going to make to a couple of the dresses, I realized I had created a monster! We took a trumpet skirt and made it a straight tight with a slit, or cutting a gown and making it into a mini. The two of us were just egging the other on with [her asking] 'Can this be done?' followed by me actually doing it. Thank goodness we didn't have that much time; otherwise, we probably would have been redesigning her underwear as well! It was just so much fun being able to reimagine everything."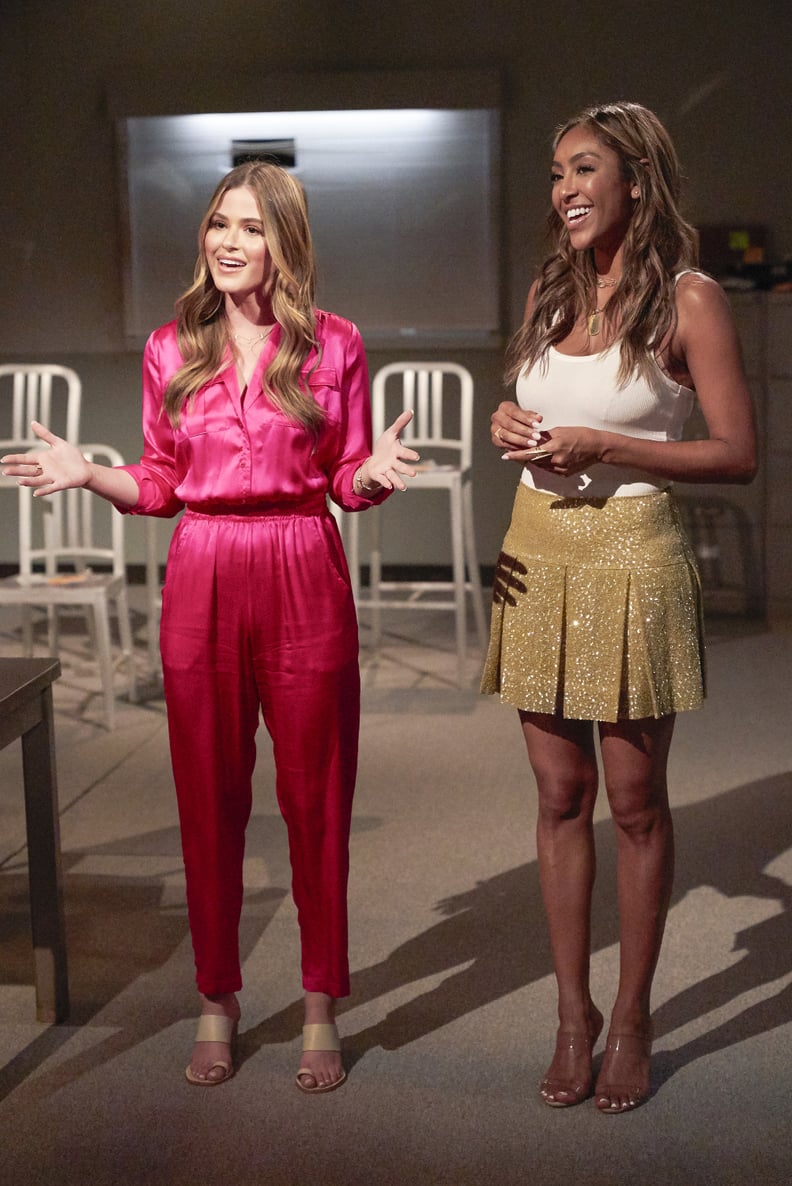 How Would You Describe Tayshia's Style on The Bachelorette Versus Her Personal Style?
"Tayshia's style is amazing, but in her everyday life, she doesn't necessarily have the places to wear what she'd like. She is a jeans, great top, and heels type of woman. But for this season, she wanted the full Bachelorette experience, and she had every right to do so! We had so much fun together, and that girl certainly knows how to wear her clothes . . . not to mention that body and her legs are about seven feet tall. The top of her legs come up to my chin! She honestly could have thrown on a Hefty bag and worked it, but Tayshia loves to dress up and it certainly showed throughout the show."
How Do You Deal With the Heat When Planning Outfits?
"It's funny because I got major heat from fans on Instagram for putting Tayshia in a leather dress in the desert, but I must say, both she and Chris Harrison are freaks of nature. Tayshia loves the heat and Chris can will himself not to sweat. The hotter it was for Tayshia, the more she liked it, and Chris is the only man I know that can say, 'I will not sweat,' and doesn't. But truthfully, Tayshia lived by the old adage: if it looks good on me, I'm going to wear it . . . and that she truly did!"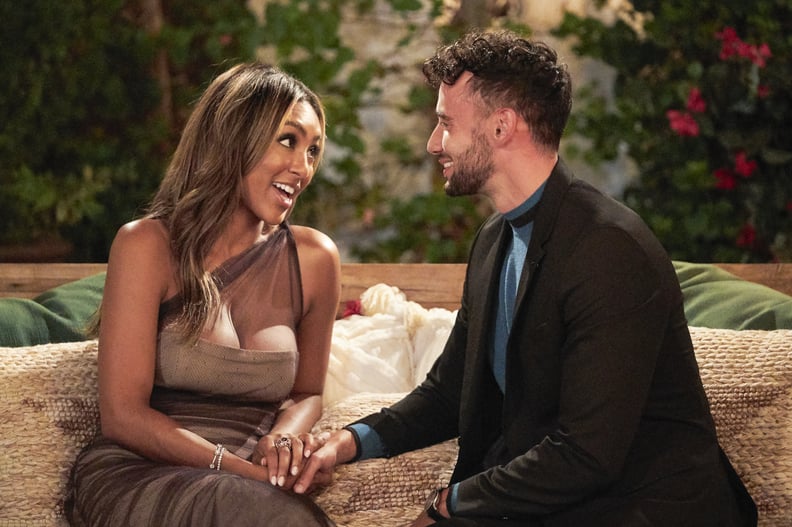 How Do You Feel About the Men's Outfits This Season?
"For the most part, I thought the men this season really looked great. I'll be glad when short pants go out [of style] again, but I have no right to talk as you'll be able to see on the next season of The Bachelor with Matt James. All of his pants are very short and beyond tight, and he wears a lot of turtlenecks, which I'm sure Bachelor Nation will come at me for, but I love them. I think that's why I thought Brendan's turtleneck was amazing. It was fun, different, and took a lot of commitment to sit in a turtleneck all night in 110-degree weather — you better be a slave to fashion! But honestly, I loved it because it set him apart from the rest of the pack."