Chrissy Teigen and Her Kids Dressed With American Pride on Inauguration Day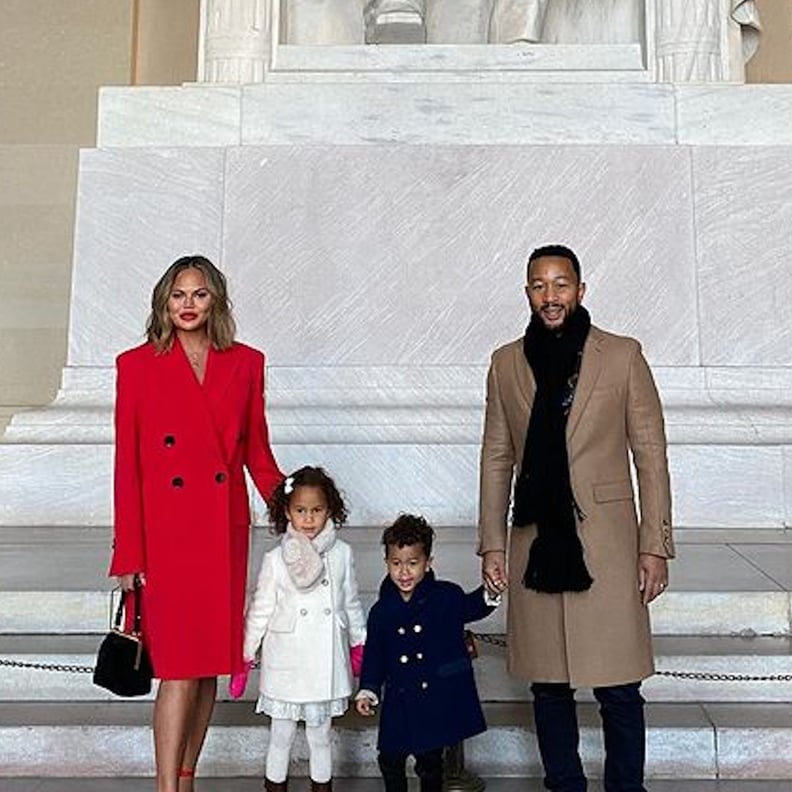 Chrissy Teigen expressed her extreme gratitude for being able to attend the 2021 presidential inauguration with her family: "I must have been gooooood in a past life," she wrote on Instagram, posting a snapshot in front of the Lincoln Memorial. John Legend was about to perform alongside Demi Lovato, Bruce Springsteen, and more as part of the Celebrating America broadcast, and Chrissy, Luna, and Miles accompanied him to Washington DC to cheer him on and be part of the historical day.
As far as outfits go, Chrissy and the kids stuck to a patriotic palette for Inauguration Day, with Chrissy in a red double-breasted tuxedo coat and strappy heels (a look curated by her longtime stylist Monica Rose), Luna in a white peacoat and tights, and Miles in a blue jacket with high-top sneakers, because he's cool like that. John Legend stood by as the neutral finish in a camel coat, completing the color story by also matching his black scarf to Chrissy's purse, because this awesome American family starts and ends with the two of them — are we right!?
Even though Chrissy's very Chrissy-esque sendoff to Donald Trump, posted the night before, is one that will stick with us, it's obvious that her family's coordinated outfits on this important day will too. Chrissy and the fam just proved that a return to tradition by channeling the American flag was their clear way to look forward to a new administration. Onward and upward!