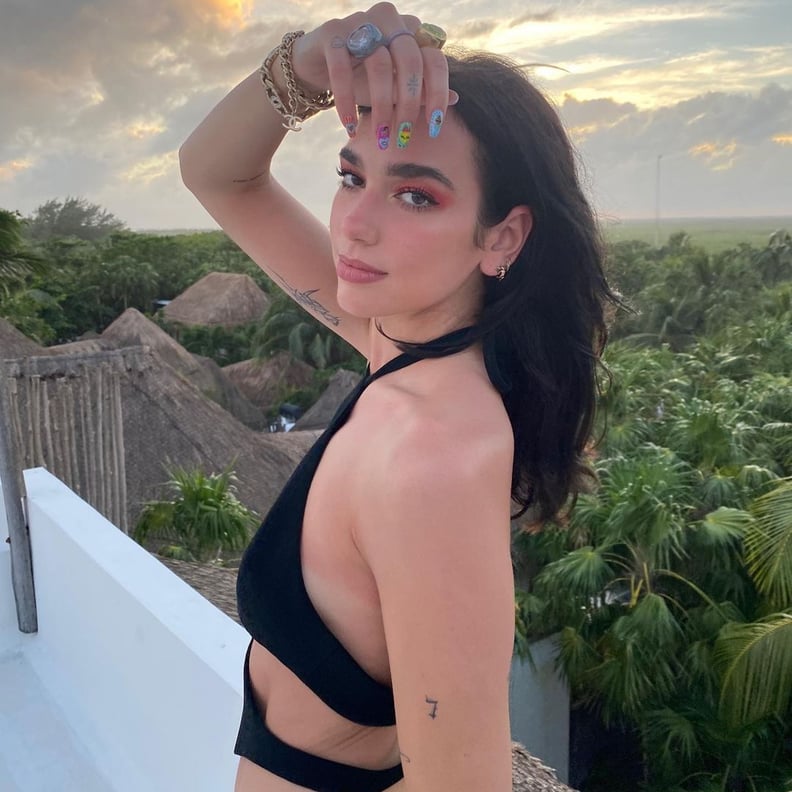 Feathered loofah dress one day, thong dress the next, Dua Lipa can, as always, surprise us with every fashion move she makes. While spending time with friends and her boyfriend Anwar Hadid in Tulum, Mexico, the "Levitating" singer sported the latest trend we're seeing take hold in the gowns section (at least for celebrities): the G-string reveal. From behind, Lipa's sleek, black cutout Mônot number dipped low, giving her Savage x Fenty string thong the spotlight.
This is a look you'll immediately recall seeing on the 2019 Met Gala pink carpet à la Hailey Bieber, whose delicate underwear was made of satin, and before that, on Gillian Anderson at the 2001 Vanity Fair Oscars party and Halle Berry at the 2000 MTV Movie Awards. Jennifer Lopez even famously gave the style a spin with her low-rise Natasha Zinko trousers for a music video.
While the risqué trend certainly allows for maximum exposure, Lipa's ensemble was complete with chain-link Chanel bracelets, chunky rings, and elegant drop earrings, making it just as eye-catching from the front as it was from the back. Her stylist, Lorenzo Posocco, must have helped her with this outfit, as he proudly uploaded a photo to his own account with the caption "#2021." Is that a sign we'll be seeing more of the thong dress this year? We have a feeling that's exactly what Posocco's post is foreshadowing. Our advice? If you're going to give it a whirl, make like Lipa, and invest in lingerie from Rihanna to pull it off.