Our Reaction to Gwen Stefani's ACM Awards Denim Jacket: "That Fringe Though!"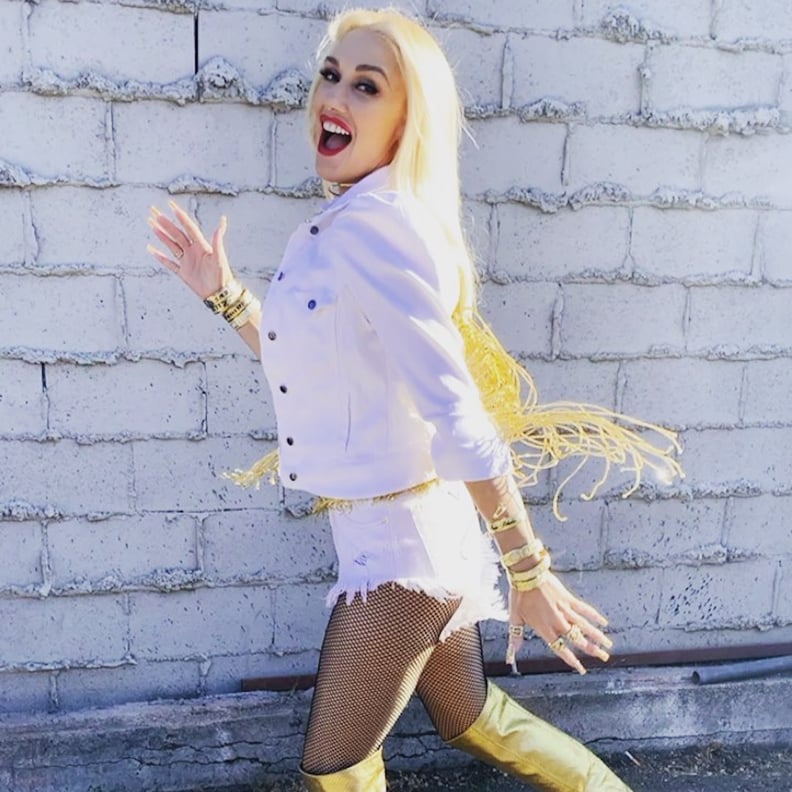 Leave it to Gwen Stefani to pull out all the stops for her ACM Awards performance with Blake Shelton. It was a big deal, after all. Since releasing their single "Happy Anywhere" back in July, the couple hadn't performed the song live, so a full-on glam look was necessary. Gwen chose an all-white denim-on-denim Retroféte outfit, consisting of the Ada jean jacket and Tessa cutoffs, which looked pretty basic at first.
But when Gwen turned around, we got to see the not-so-basic details that came with this ensemble. The back of her jacket was lined with gold fringe by her stylist Sonja Christensen. The fringe blew back and forth in the wind as she walked, highlighting her metallic knee-high stiletto Giuseppe Zanotti boots, which she wore pulled up over fishnet tights. (We all know fishnets are one of Gwen's essentials.)
Gwen also wore some layered gold necklaces and two stacks of bangles to really play up the glitz and glam, revealing some BTS shots on Instagram as the duo prepared to sing in front of a green screen so they could be virtually transported to Bluebird Cafe in Nashville. We'd say that Gwen's look was perfect for the event, but really, it was perfect for any event she could possibly attend — classic Gwen with a tough touch of denim and a little bit of her newfound country influence, too.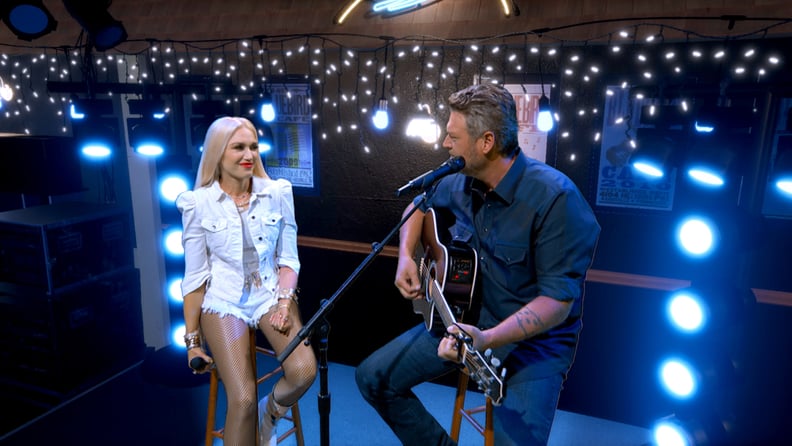 Gwen Stefani and Blake Shelton Performing "Happy Anywhere" at the ACM Awards
Gwen Stefani's ACM Awards Performance Look