Harry Styles might be a one-in-a-million star, but we can't help but see similarities between his style and that of Rolling Stones frontman and 1970s icon Mick Jagger. There have been a number of occasions where Harry's love of statement suits, androgynous outfits, and sensual, on-stage swagger have been compared to Mick's — and we found some of the best photos of their matching style moments.
We aren't the only ones who think Harry and Mick are doppelgängers separated by half a century. Rumors of the One Direction singer being tapped to play the Rolling Stones rocker in a biopic were swirling online for years, until Harry set the record straight by confirming he had "never heard anything about the film." Even so, it's pretty clear to see why he would be an ideal pick. Besides the comparable passion that he brings to the stage, Harry loves a statement, slim-fit suit like Mick. He also isn't shy about elevating his looks with traditional womenswear accessories like pearl necklaces, diamanté pieces, and printed, wide-leg trousers. Equally, these style stars look quite similar, which takes their twinning moments to a whole new level.
Keep reading for seven times Harry took a few notes from Mick's '70s style book.
01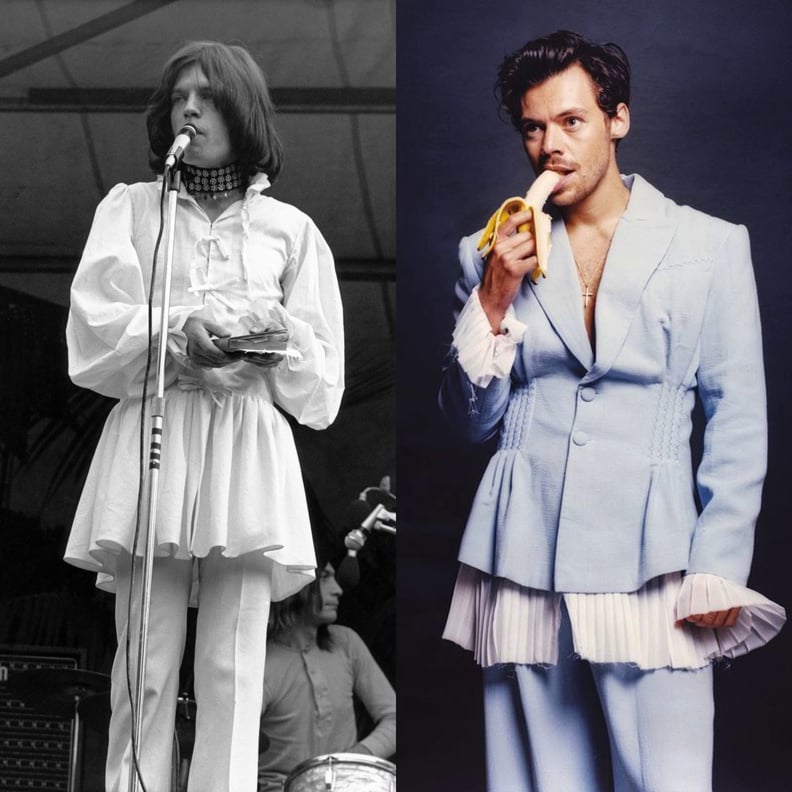 Embracing Androgynous Ruffled Outfits
Mick Jagger wore a ruffled peplum blouse to perform at Hyde Park in 1969, and Harry Styles wore a baby-blue-and-white ruffled peplum blazer for a 2020 Variety magazine cover shot by Parker Woods.
02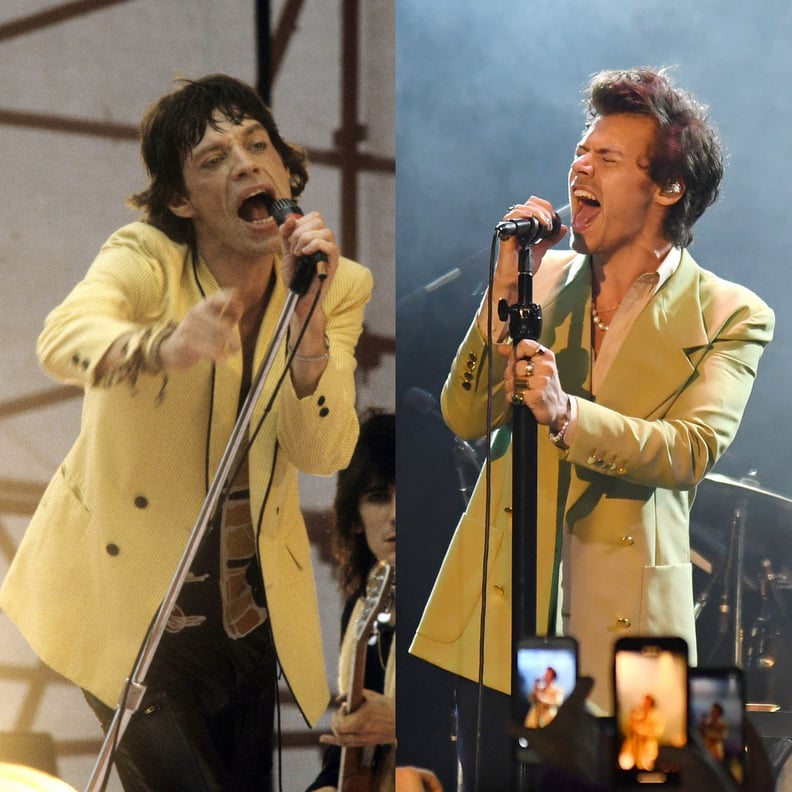 Rocking Out in a Statement Citrus Blazer
Mick Jagger wore a yellow blazer while performing on tour in 1978, and Harry Styles wore a chartreuse blazer while performing at the Bowery Ballroom in New York in February 2020.
03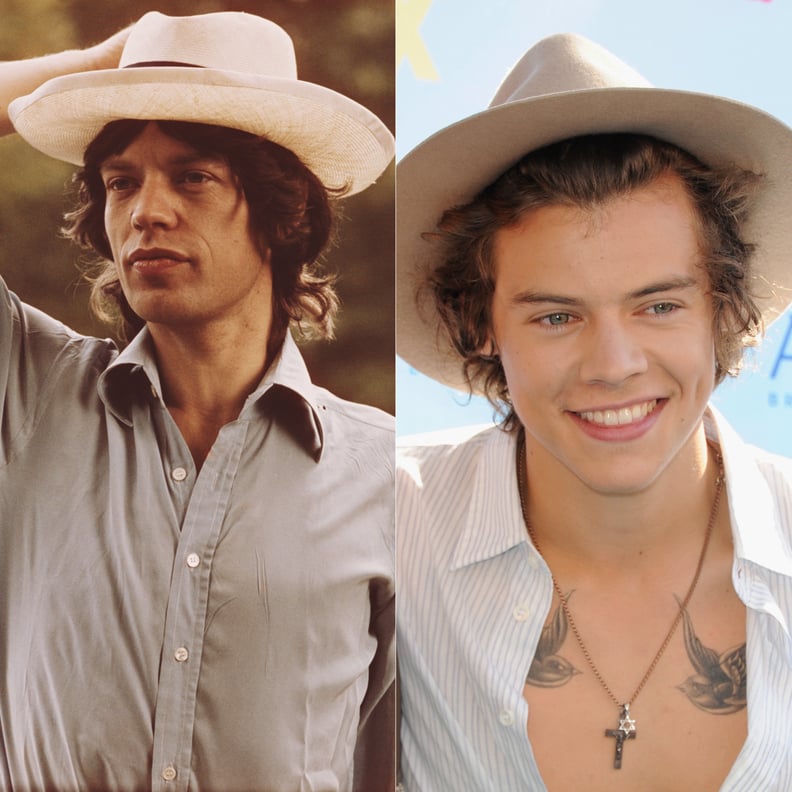 Pairing an Ecru Hat With a Classic Oxford
Mick Jagger posed in Vienna wearing a light-gray shirt and ecru hat ahead of the Rolling Stones' 1973 European tour, and Harry Styles wore a white-and-blue pinstripe shirt and ecru hat at the 2013 Teen Choice Awards.
04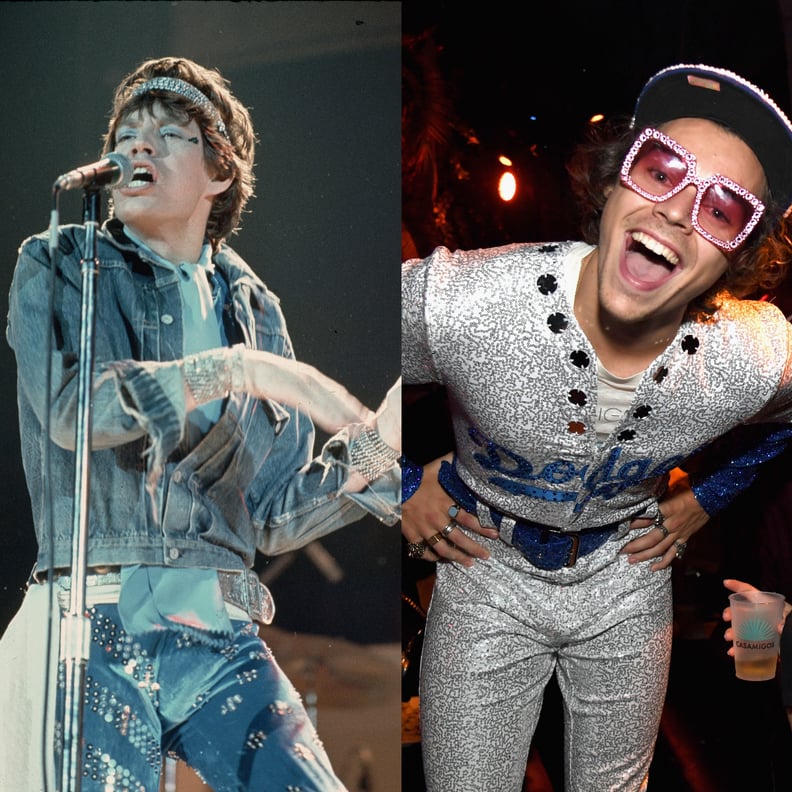 Having Fun With Sparkling Accessories
Mick Jagger accessorized his denim performance outfit in 1973 with sequined jeans, a sparkling headband, frosty blue eyeshadow, and diamanté bracelets. Similarly, Harry Styles had a blast in a head-to-toe sequined and sparkling look while channeling Elton John at a Halloween party in 2018.
05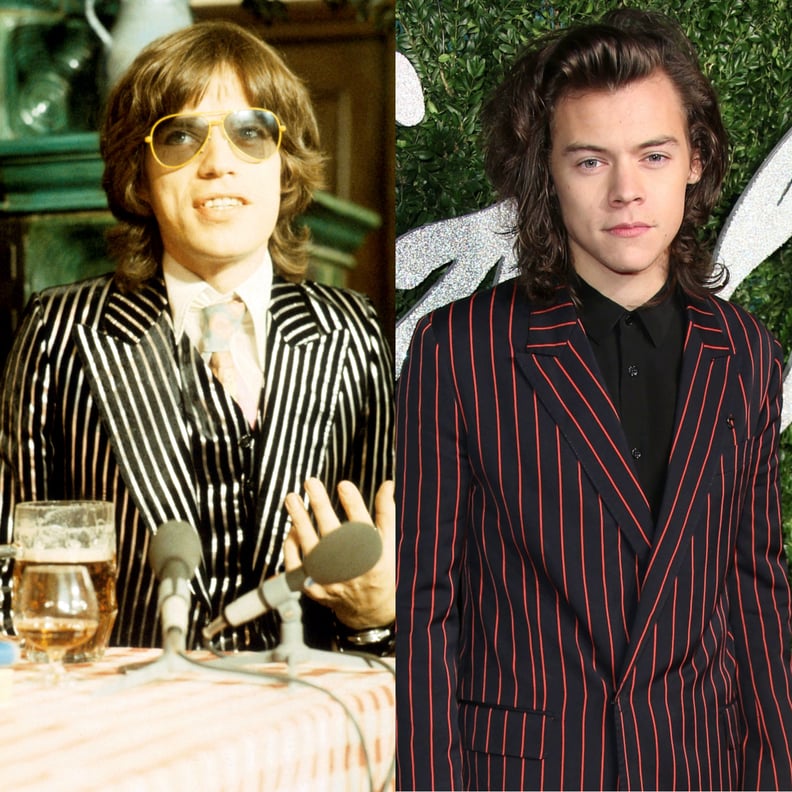 Looking Polished in Pinstripes
Mick Jagger wore a striped suit in 1973, and Harry Styles wore a similar striped suit at the 2014 British Fashion Awards.
06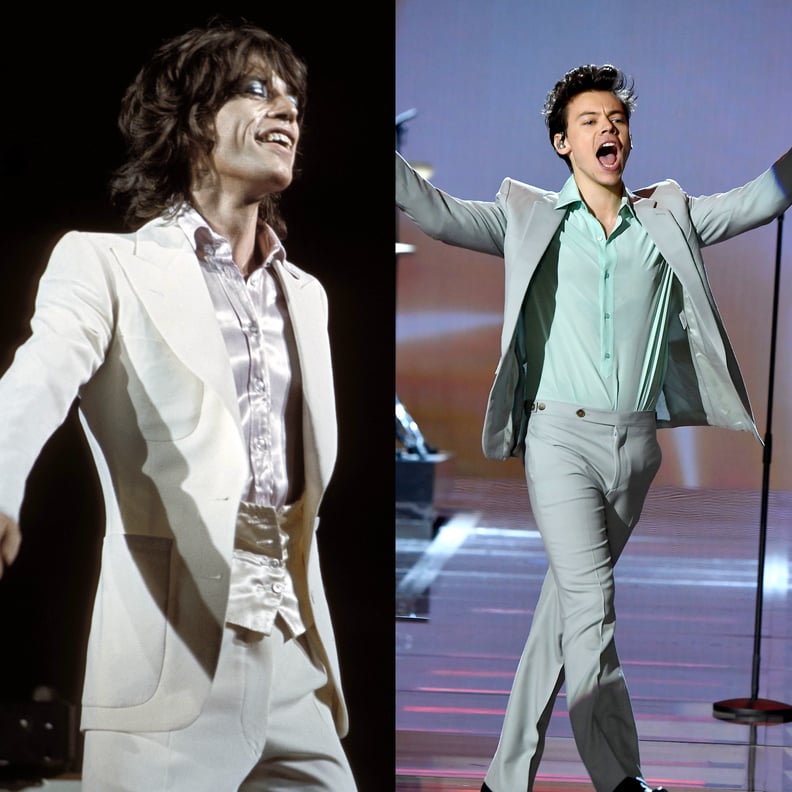 Performing in a Monochrome Slim-Fit Suit
Mick Jagger and Harry Styles share a deep appreciation for a slim-fit suit with a statement approach to styling. In the photos above, the two wore similar light-wash skinny suits in 1970 and at the 2017 Victoria's Secret Fashion Show, respectively.
07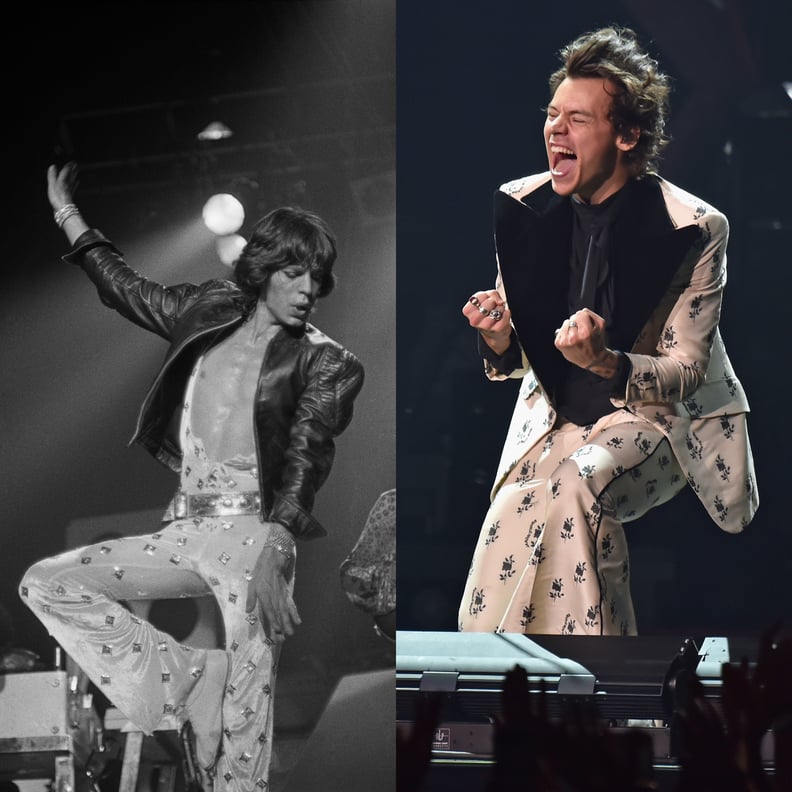 Taking the Stage in Printed, Wide-Leg Trousers
The '70s wide-leg trouser is a classic wardrobe item that just keeps coming back into style. Mick Jagger and Harry Styles had similar interpretations of this trend, with Mick wearing a silver, embellished jumpsuit and black leather jacket for a performance in 1973 and Harry wearing a wide-leg suit with floral prints and an exaggerated black-velvet-lapel blazer for a New York performance in 2018.