Viewers of "The Sex Lives of College Girls" have grown to love each member of the quad since the series debuted in 2021, but Leighton (Reneé Rapp) has quickly become a fan favorite. While it's beautiful to watch her emotional growth throughout season two — as she becomes confident in her sexuality and matures into a more empathetic, vulnerable character — her evolving wardrobe is also a delight to the eyes. Her clothes often reflect her background as a preppy, wealthy student from a New York City private school: she's regularly seen wearing structured silhouettes, power blazers, and lots of plaid.
While her affluent, classy style continues into season two, Leighton's outfits are noticeably bolder and edgier than before. She's ditched the turtlenecks and buttoned-up pieces for more relaxed, youthful pieces like shorter skirts, leather jackets, and cardigans with nothing underneath. Costume designer Phoenix Mellow, who was responsible for season two's costumes, explains the Manhattanite's style evolution was purposeful. "We wanted to show that shift, showing her progression in getting to know herself and her confidence in her sexuality, though I've kept her rich fabrics, colors, and designer brands," Mellow says.
Inspired by real-life, wealthy It girls — including celebrities like Karlie Kloss, Gigi Hadid, and Blake Lively, as well as influencers such as Leonie Hanne, Anna Rosa Vitiello, and Bettina Looney — Mellow and Rapp worked together to create Leighton's tasteful, trendy style. In fact, the stacked gold necklaces the character wears every day are actually Rapp's own. As for other accessories, Mellow says she tried to include at least one designer item in all of Leighton's ensembles, like a Tory Burch purse or a Sandro jacket.
Mellow curated looks that mixed in pieces from expensive luxury brands like Veronica Beard, Rag & Bone, and Alexander McQueen with more affordable stores, including Zara, Free People, and Karen Millen. Though the character's outfits are indeed more sophisticated than an average college student's, they feel authentic to Leighton's background and personality. Mellow explains that she shopped at stores she imagined Leighton might herself.
Throughout season two, Leighton's standout looks include the statement bright blue blazer dress she wears to a Kappa rush event and the chic tennis outfit she sports for her first attempt at courting Tatum, her main love interest this season. But Leighton's wardrobe isn't just preppy — she's definitely embraced a sexier side of her style this season. In one memorable moment, she wears a blazer over a Vivienne Westwood corset as she helps organize Theta's fundraiser.
Ahead, take a closer look at Leighton's best looks from season two and get all the outfit details, with help from Mellow and the @sexlivesofcollegegirlsfashion Instagram account.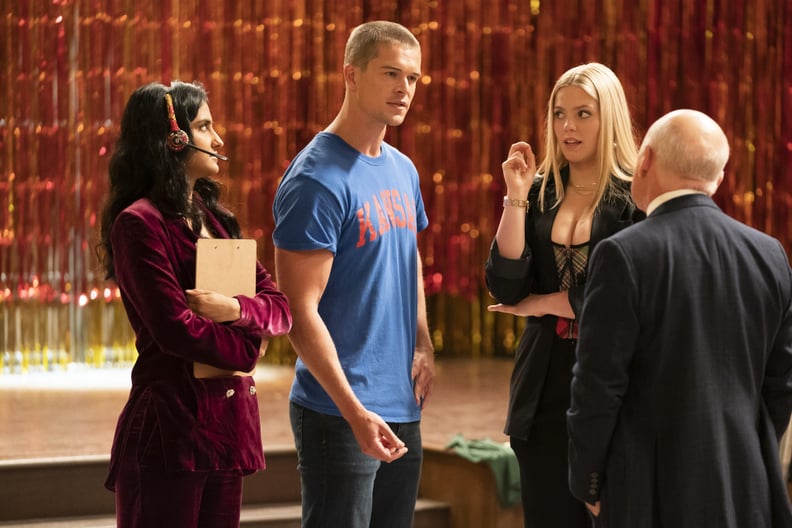 Leighton's Corset and Blazer at the Theta Fundraiser
At a Theta fundraising event alongside Bela and Jackson, Leighton wears a Danielle Guizio corset blazer layered over a tartan-print corset top from Vivienne Westwood.
Leighton's Blazer Dress at Kappa Rush
For a Kappa rush event, Leighton wears a blue Alexander McQueen double-breasted wool jacket as a blazer dress and pairs it with layered chain necklaces.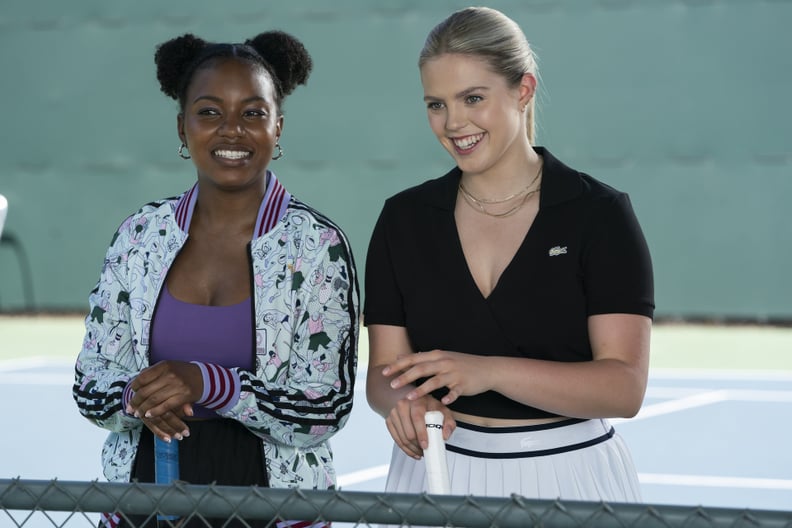 Leighton's Lacoste Tennis Outfit
Leighton wears a wraparound polo and pleated tennis skirt, both from Lacoste, as Willow introduces her to Tatum.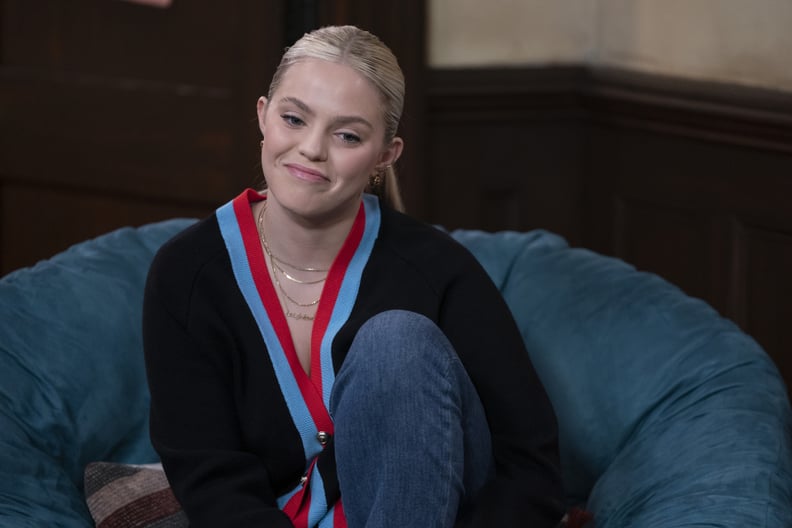 Leighton's Collegiate Cardigan
Leighton wears a striped knitted cardigan by Maje in her dorm room.
Leighton's Cropped Plaid Jacket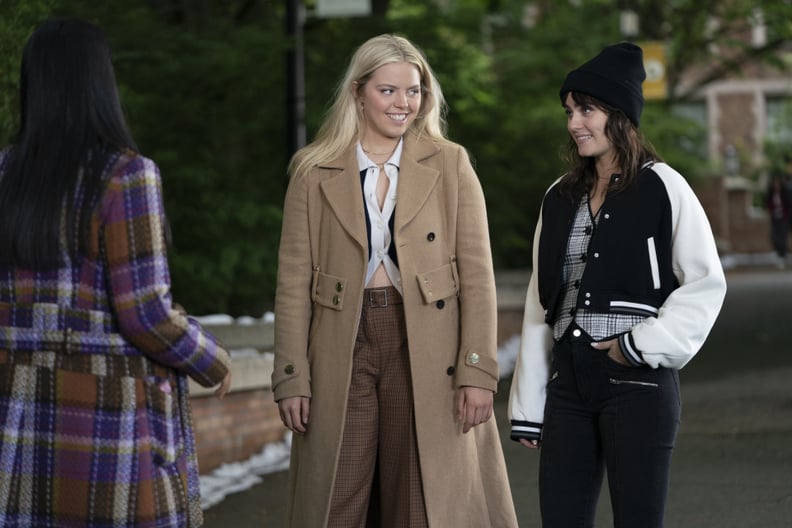 Leighton's Camel Coat
Leighton wears a camel coat from Karen Millen over a ribbed Rag & Bone cardigan and twill trousers from Wood Wood.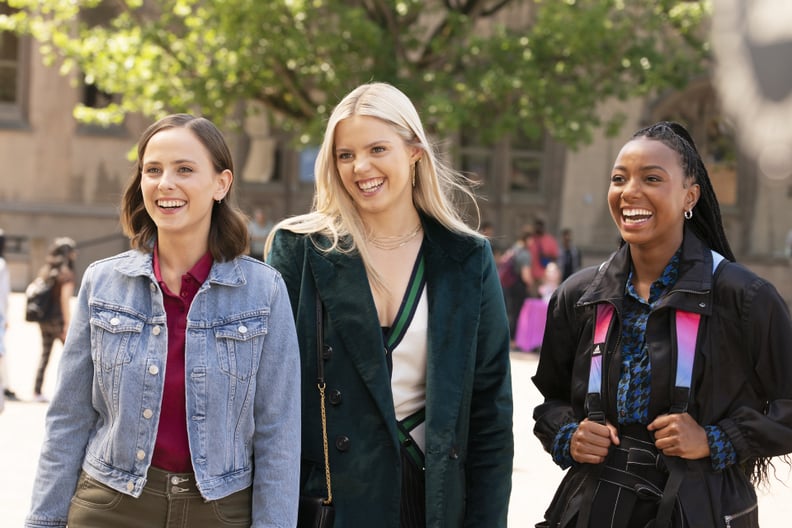 Leighton's Cardigan and Velvet Blazer
While walking around campus with Whitney and Kimberly, Leighton wears another striped-trim cardigan, this one from Alexia Admor, and pairs it with a Free People blazer.