We Tried Lizzo's Viral Yitty Shapewear, and It's Worth the Hype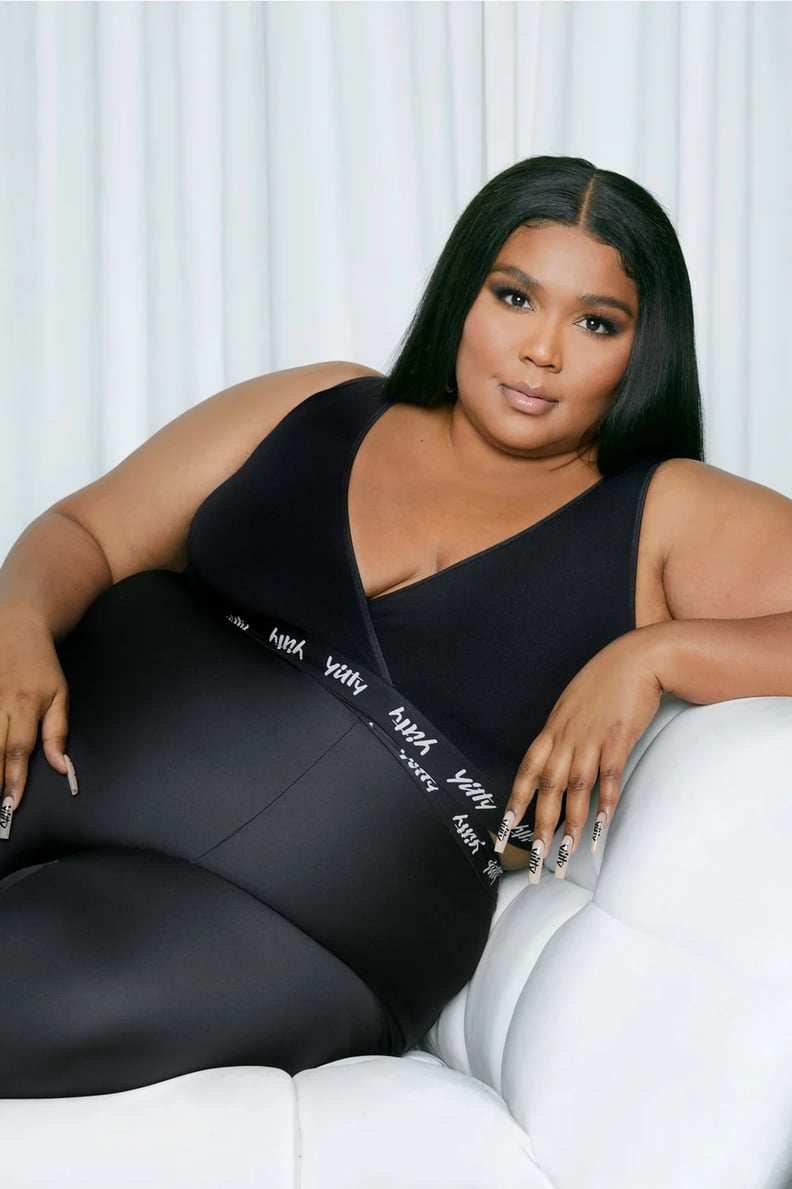 Yitty
Yitty
As POPSUGAR editors, we independently select and write about stuff we love and think you'll like too. If you buy a product we have recommended, we may receive affiliate commission, which in turn supports our work.
Lizzo announced her shapewear line on March 30, and already it's been well-received by fans and shoppers alike. Aiming to cater to all body types, the award-winning singer partnered with Fabletics on Yitty, a size-inclusive line of second-skin apparel that's functional while feeling less restrictive than shapewear. The brand offers a wide array of separates designed to move, dance, and live in. Body positivity is top of mind in both the campaign and the design.
Following the Yitty announcement, fans awaiting its release had a slew of questions. How does it fit? Is it really as functional as the marketing promos claim? How does it compare to other shapewear lines on the market? Our team sought out those answers with an editor review of nine in-demand pieces. Fabletics sent mesh body suits, logo-embossed bras, and biker shorts in a range of sizes (from small to 2X) to three POPSUGAR editors, who put them to the test. The results surprised us — we were delighted to discover that the functionality is indeed top of the line and that the pieces are even more wearable than expected.
To be fair, Lizzo is a pretty convincing muse. Leading up to the release date, the multihyphenate modeled her creations on Instagram, including black leggings with butt cutouts, a stretchy red bodysuit, and a butterfly-print leggings-and-bra set. But would those pieces look as stylish and comfortable on us?
Ahead, three POPSUGAR editors try on Yitty and share their thoughts on each piece. Keep scrolling for an honest assessment, along with photos of each Yitty shapewear item we reviewed.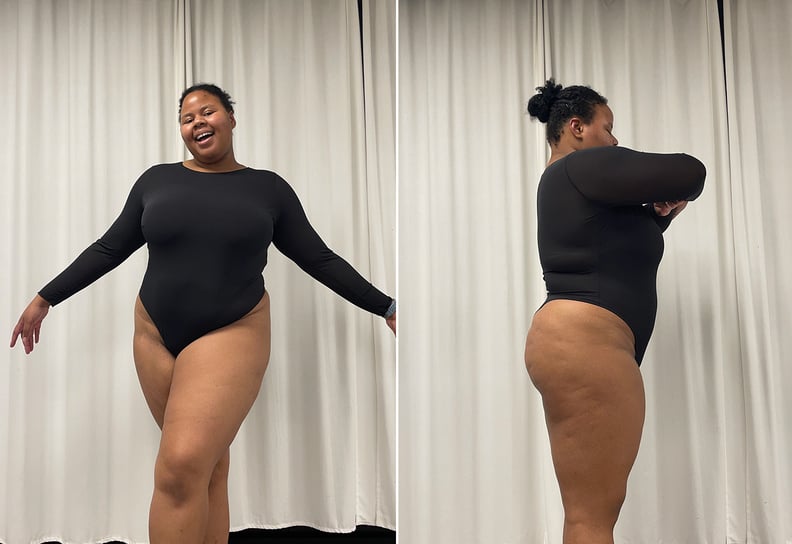 Mesh Me Smoothing Sleeved Thong Bodysuit
"Pulling this iconic piece out of the box, my eyes went directly to the snap-crotch closure. I was worried that I would feel uncomfortable with the snaps between my thighs, but after throwing the 1X/2X- size bodysuit on, I easily snapped it closed and didn't feel any discomfort. The Mesh Me Smoothing Sleeved Thong Bodysuit ($31) is made of a smooth material that is not itchy at all. While there's no built-in bra, it features a sweetheart neckline stitched at the top that flatters the bust." — Angelica Wilson, associate editor, Fitness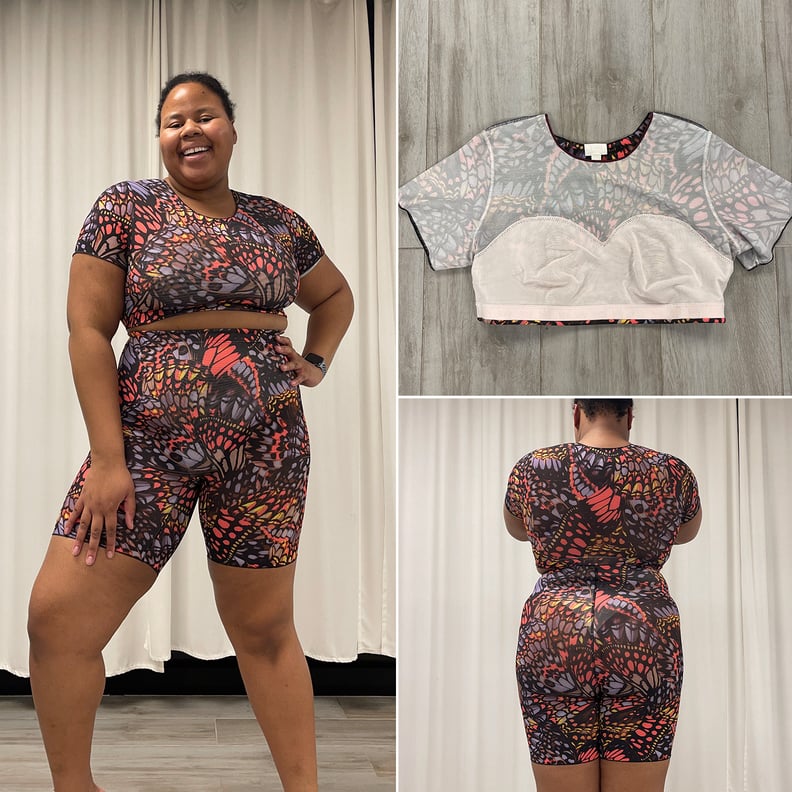 Mesh Me Smoothing Midi Top
"This Mesh Me Smoothing Midi Top ($23) is going to be my go-to top this summer season. The lightweight mesh doesn't make me feel compressed. There's a light-beige smoothing panel with a sweetheart stitch on the inside to cover the chest, and the top has a silicone band at the bottom hem to keep my size 42G bust from slipping out of this crop top. It feels like a lightweight sports bra, but in the shape of a top. My favorite thing about this top is the print. As someone who frequents summer concerts, these bright colors will fit right in with the festival vibes." — AW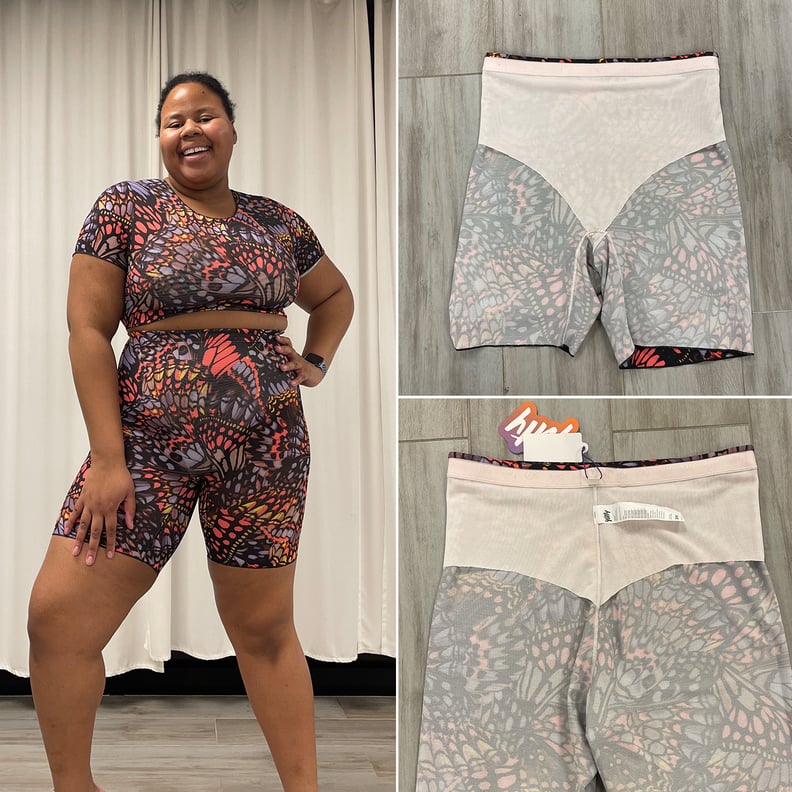 Mesh Me Smoothing High Waist Shorts
"The Mesh Me Smoothing High Waist Shorts ($65) have two light-beige smoothing panels: one at the front of the shorts that mirrors a high-waist brief (pictured on the top right), and one at the top half of the back of the shorts (pictured on the bottom right). The panels truly felt smoothing, not compressive which made this short so comfortable to wear. The Mesh Me Smoothing High Waist Short also has a silicone band around the waist but no silicone around the thighs, so my thighs never felt chopped in half. Best of all, when I bend over, you can't see my butt through the print." — AW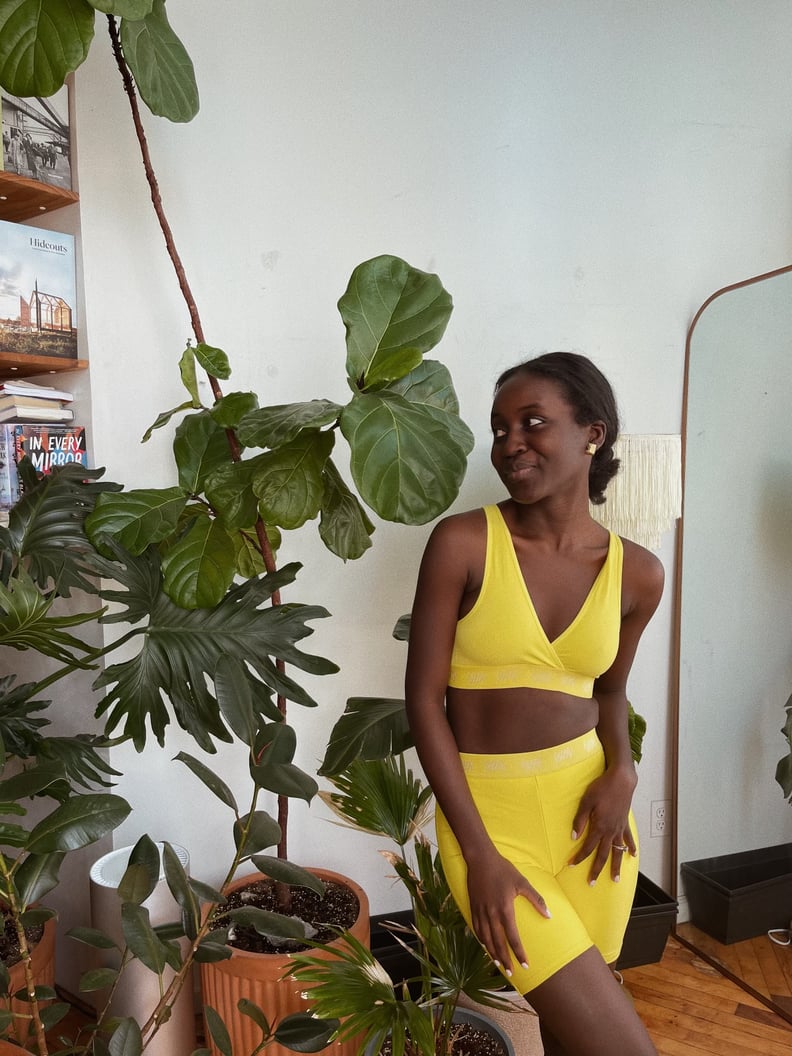 Major Label Smoothing Cross-Front Bralette & High-Waist Shorts
"I love a pop of color, and this Major Label Smoothing Cross-Front Bralette ($18) delivers on optimism — but the best part is that it's wearable in many different ways. You can go biking in the Major Label High Waist Shorts ($60), and they'll stretch to your liking — or you can style them with a sweatshirt for a casual beach day. You can get a good workout in the top or wear it with denim jeans for a relaxed summer day. The fabric is comfortable and designed for all-day wear." — Shelcy Joseph, associate editor, Fashion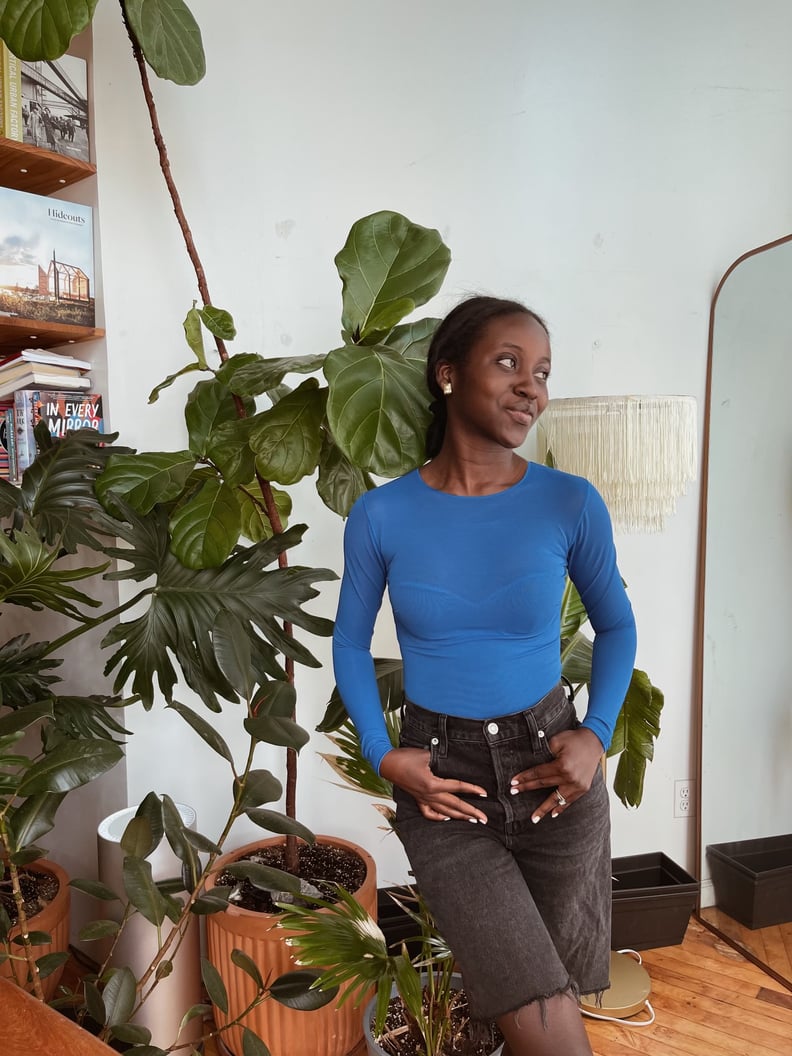 Mesh Me Smoothing Sleeved Thong Bodysuit
"This Mesh Me Smoothing Sleeved Thong Bodysuit ($31) features a formfitting silhouette with a mesh top and a solid bottom, making it a fun going-out top. The sweetheart neckline adds a touch of femininity, and it lines a built-in bra that can allow you to free the nipples if you'd like." — SJ
Major Label Smoothing Cross-Front Bralette & High Waist Shorts
"I love the black Major Label Smoothing Cross-Front Bralette ($18) and Major Label High Waist Shorts ($60) because they're so versatile — I can wear them to the gym or to just lounge around on the couch. The V-neck sports bra is flattering (and I like that I can wear it under a lower-cut T-shirt if I want to). I'm a D cup, and the size large supports me well. Plus, who doesn't love a little branding moment? The Yitty waistband is so cute." — Macy Cate Williams, senior editor, Commerce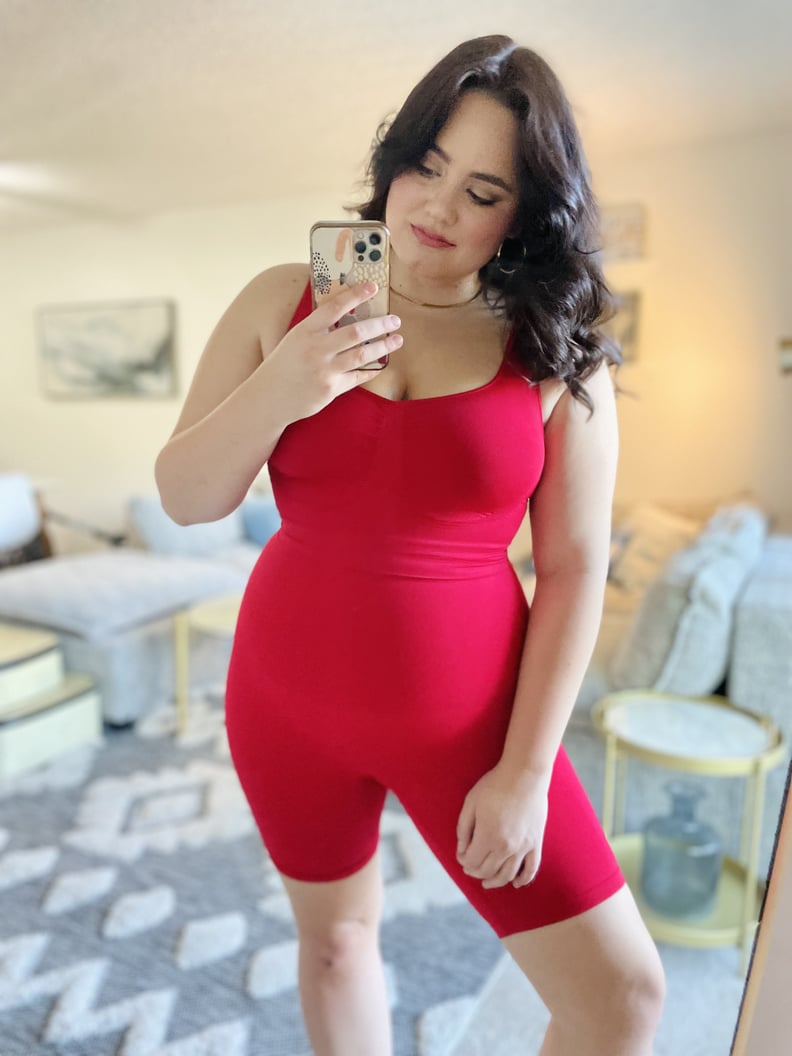 Nearly Naked Shaping Midi Bra & High Waist Shorts
"If you want some shapewear that majorly compresses, these shorts are it. I feel so supported in both the top and bottom; I love how the fabric smooths me out without making me feel like I'm packed into a sausage casing. Plus, how rare is it to see red shapewear? It makes me feel sexy while still getting the functionality I need." — MW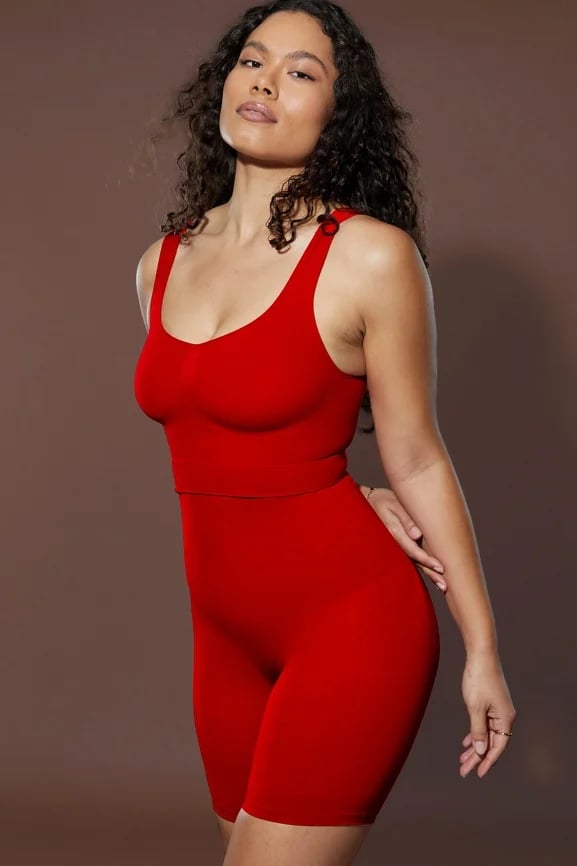 Nearly Naked Shaping Midi Bra & High Waist Shorts