As POPSUGAR editors, we independently select and write about stuff we love and think you'll like too. If you buy a product we have recommended, we may receive affiliate commission, which in turn supports our work.
In pandemic-era fashion, it was only a matter of time before someone gave us bedding-inspired clothing (remember that pillow challenge?!). Putting together the comfort we've been living with at home with the practicality of real winter outerwear, Madewell's mind-meld with "fluffier than a marshmallow" Buffy comforters is, in a word, genius. Turns out when Madewell's head of design, Joyce Lee, began some outfit experimentation, turning her comforter into a coat, she was onto something. Her early inclination evolved into a stylish outerwear collaboration that puts Buffy's sustainable and cloud-like comforter designs front and center. Featuring a jacket, muffler, mittens, and eye mask, each in three cool colorways, Madewell put its wearable spin on one of the most innovative winter collections of the year.
We went straight to the source to get Joyce's take on designing the collaboration, how to style it, and what it says about style in 2020. Read on for our full interview with Joyce right here, then shop the one-of-a-kind collection ahead.
POPSUGAR: We spoke earlier in the summer as staying home had inspired much of the practical fashion in the fall lookbook. How did that mindset evolve and maybe start to influence this collaboration?
Joyce Lee: The fall lookbook was rooted in practicality to best reflect everyone's day-to-day experience, and this collection is a fun extension of that, bringing the comfort of bedding to everyday apparel. That said, the concept for this collection came about over a year ago in one of our design meetings — we came up with the fun idea of using a duvet as a coat, thinking about how being wrapped in a comforter is the best, coziest experience. What started as a playful, out-of-the-box thought ultimately became the framework of this collection! We worked with Buffy to evolve the initial idea and create a collection that was not only functional and stylish but supremely comfortable, knowing that's a priority for so many right now.
As we got closer to this collab launch, I had become notorious for styling my comforter as a jacket during Zoom calls to get everyone excited. Working with the Buffy team — who are best known for their cloud-like bedding made from earth-friendly materials — on this cozy collection was a dream!
PS: What's your favorite piece from the collection, and how are you styling it at home and beyond?
JL: The puffer jacket is definitely a standout piece that I love to wear around the house or when I'm taking the kids out for some fresh air around the neighborhood. You can easily feel like you never got out of bed while wearing it, which is a bonus.
"Casual comfort has always been a focus for us when it comes to design, but this year with the COVID-19 pandemic, comfort has become an even higher priority that we expect is here to stay in 2021."
With some milder weather in New York more recently, the Quilted Muffler has been another favorite from the collection for those cooler but not too cold days! I love to pair it with one of our sweatshirt sets from the MWL athleisure collection and a denim jacket for a relaxed and comfy vibe. The muffler is the perfect statement piece — it's oversize, voluminous, and great for layering.
PS: How does this collection capture the 2020 style narrative and also look forward to 2021?
JL: Casual comfort has always been a focus for us when it comes to design, but this year with the COVID-19 pandemic, comfort has become an even higher priority that we expect is here to stay in 2021. That said, we anticipate that comfortable apparel and styling will evolve as we start to incorporate pieces that are more functional and provide versatility for daily wear outside of home (when it's safe to do so).
For this collection, it was important to create styles that are classic and versatile, knowing that this will remain a top of mind for most. Fusing that with Buffy's expertise in creating the comfiest products, we created elevated, cozy essentials that can take customers from their desks to a socially distant gathering with friends.
PS: Who do you envision wearing this collection?
JL: This collection is for someone who likes to have fun with their accessories! The playfulness and exaggeration of the pieces add flair to any outfit without compromising on comfort. In the winter, it's easy to make a sacrifice for style when you want to look great on a cold night, but with this collection, it's sure to provide both comfort and style for the season ahead.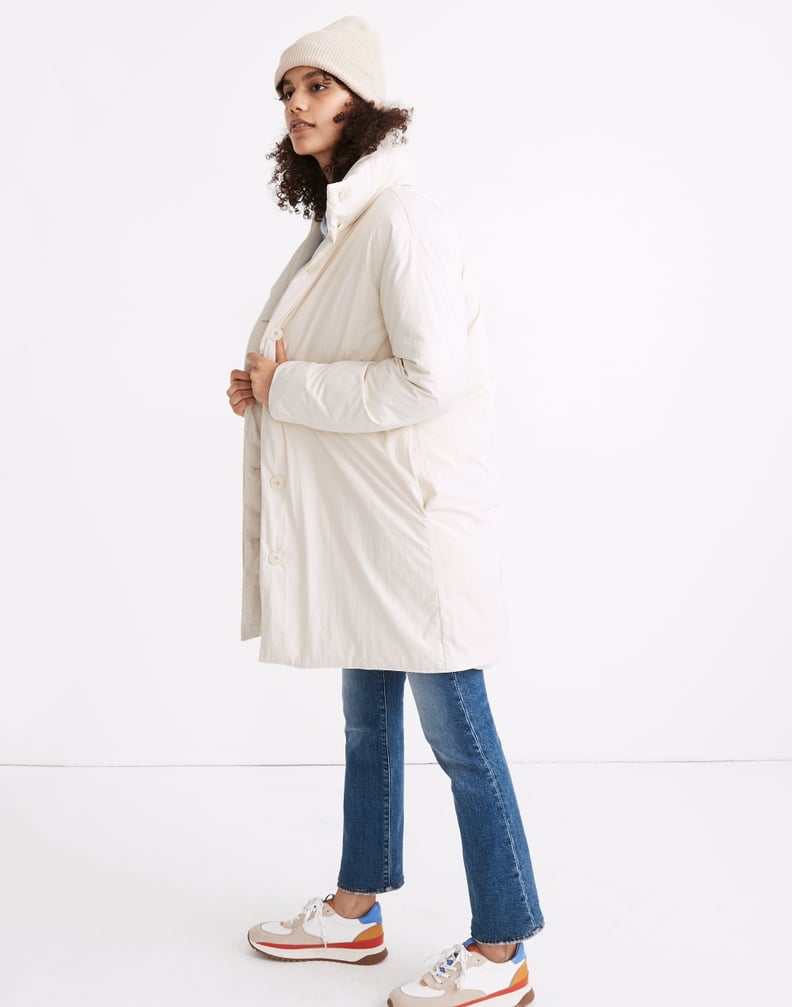 Madewell x Buffy Puffer Coat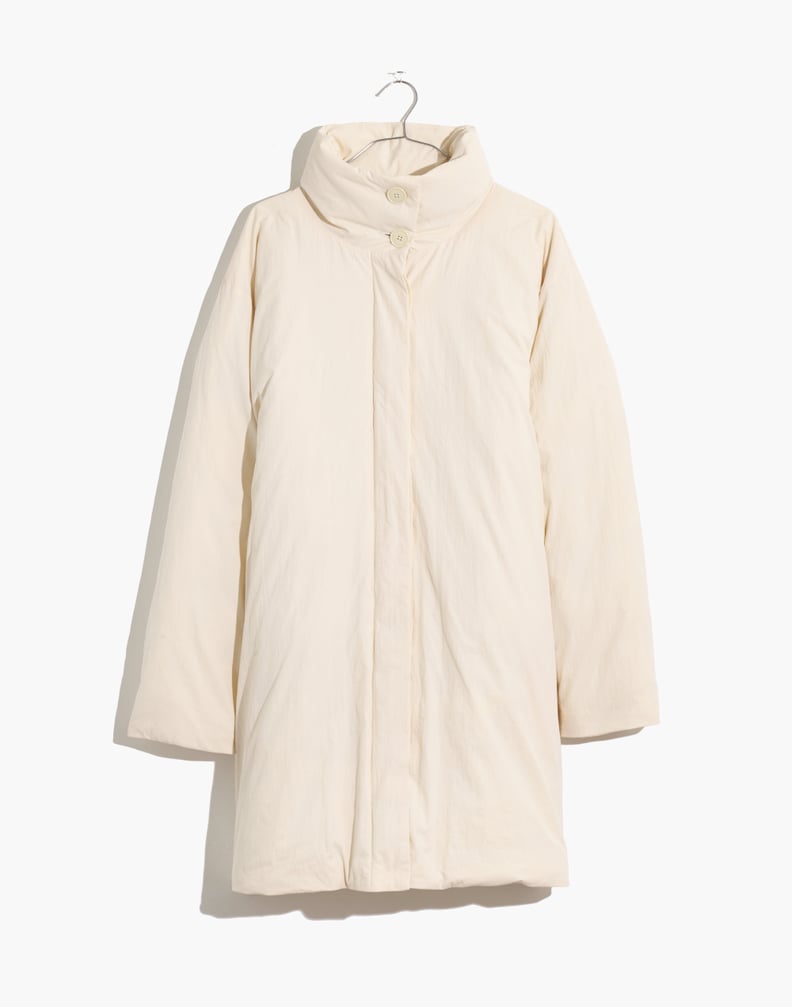 Madewell x Buffy Puffer Coat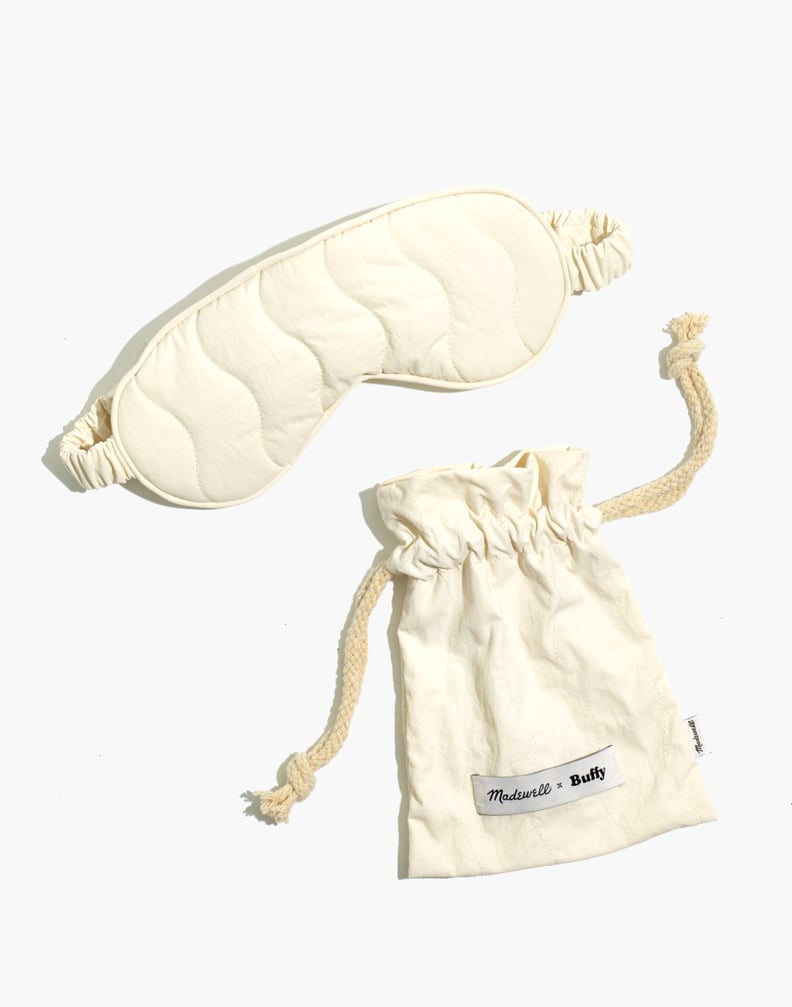 Madewell x Buffy Eye Mask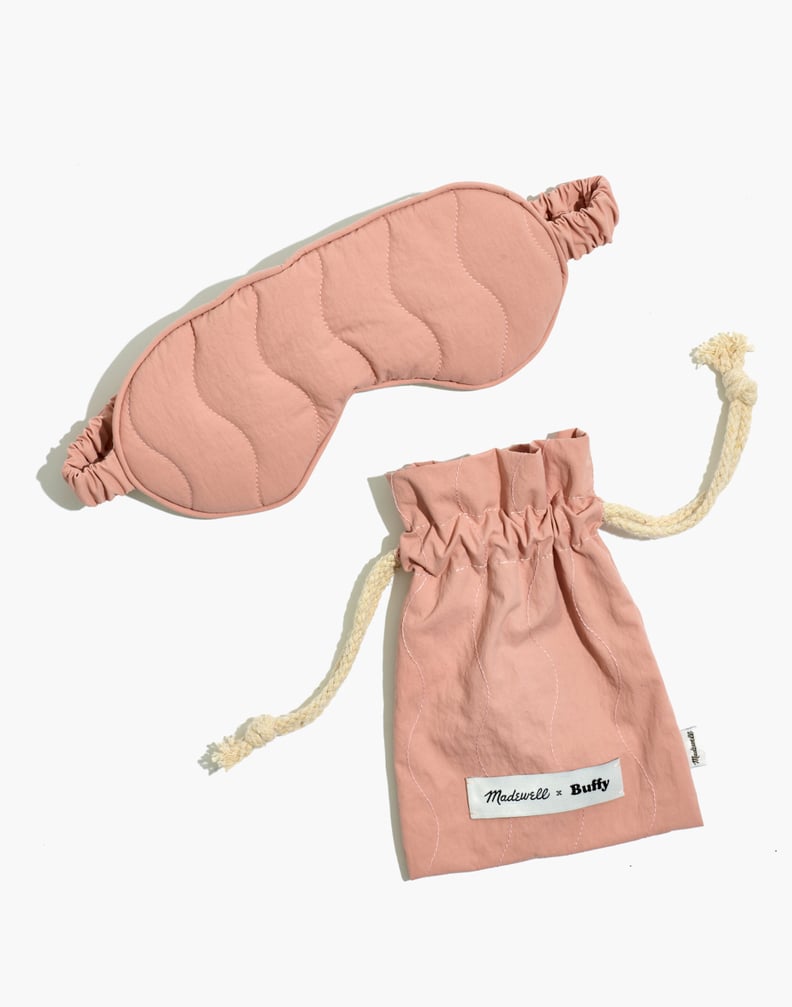 Madewell x Buffy Eye Mask