1 of Michelle Obama's Favorite Designers Dishes on How She Chose Her Most Iconic Dresses
Michelle Obama wore Naeem Khan to an event for the Congressional Black Caucus in September 2016.
Dressing the first lady of the United States was a dream come true for Indian-American designer Naeem Khan. Growing up in India, the now-58-year-old designer recalls flipping through his parents' issues of Life magazine and being captivated by photographs of First Lady Jacqueline Kennedy. "I thought, 'When I grow up I want to design like my father, and it would be amazing to design for the first lady,'" says Khan. "I didn't even know I would be in America. It was just a dream."
Michelle Obama made that dream come true. For the past eight years, Khan has been a favorite of hers, and she chose one of his creations for her first state dinner in 2009. "I was actually super shocked," he recalls. "The whole thing went viral."
After eight years, how does Khan think Michelle O stacks up to Jackie O, the fashion icon of his childhood? Read our interview below for his answer — and find out how he thinks the American fashion industry will approach the Trump administration.
POPSUGAR: How does Michelle Obama's style legacy compare to other iconic first ladies?
"The impressions she's made with fashion are far more impactful."
Naeem Khan: Michelle Obama is up there. She is more than Jackie Kennedy. I feel that Mrs. Obama had so many more resources than Jackie did. Jackie was wearing two designers, three designers. Mrs. Obama has access to the internet and more. The global power that she has and the impressions she's made with fashion are far more impactful than Jackie O. Jackie was confined to America, but what Michelle Obama did had a global impact. I just came back from Singapore, from Qatar, and I see how they react to her and her style. They love it.
PS: What is the process like when you're asked to design for the first lady?
NK: I interact with a stylist. I don't directly interact with her. You get a briefing as to what she wants. And she picks examples from the collection, but she leaves a lot up to you. She's not telling you how to design or what to design. She'll just tell you that it's tropical, not too many sleeves, long gown. But very general. She's not designing the dress.
You're not told where she's going or if she's going to wear it 100 percent. I've designed pieces that she has not worn.
PS: What impact did Michelle Obama have on the fashion industry?
She goes not for the name itself. She goes for what she likes. And that was so important. Look at some of the brands she wore. Like my brand. Not a lot of people had heard of me before. For her to chose my brand and to put me on this world stage and today what has happened to the brand is just crazy. And that is because of her. It's important how she has actually cultivated and put the designers in front.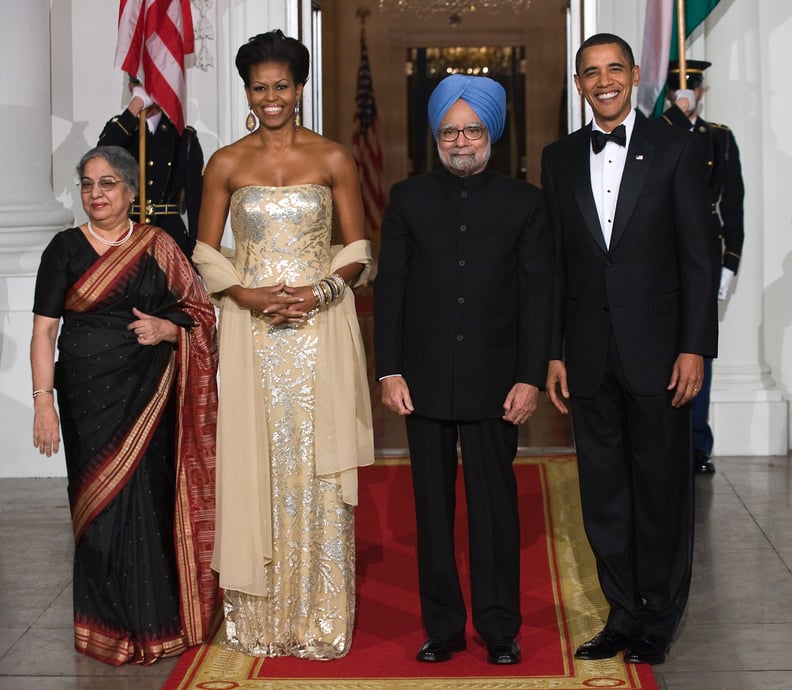 Michelle Obama chose Naeem Khan's creation for her first state dinner in November 2009.
PS: Of all your designs she wore these last eight years, which was your favorite?
NK: Definitely the state dinner dress. It left such a great impact on my mind, as did the joy it brought me. It was so perfect for the moment. The gold, the bangles, the scarf. It was just so impactful.
I also recall when she announced the top movie at the Oscars in 2013. It was such a huge surprise to people and she was wearing my dress.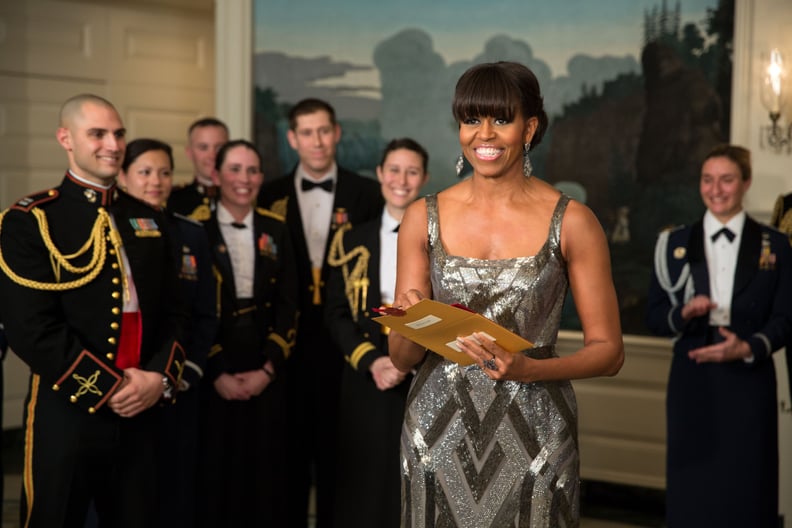 PS: What will you miss when Michelle Obama leaves the White House?
NK: I will miss dressing her. I will miss her kindness. I will miss her genuineness. I will miss how, when meeting her, she's so normal and not pretentious. She's a kind human being and a smart human being. I will miss her love of American fashion and how passionate she is about it. It's going to be different.
PS: How will the fashion industry react to America's next first lady, Melania Trump?
"My loyalty lies to the first lady, Mrs. Obama."
NK: It's going to be a very conflicted, torn process. People are going to watch. People are going to see where they are going and how the world is reacting to them, because it's too early to tell what it's going to be. Right now we see how they are and the level of values is very different than the Obamas'. The fashion industry is super cautious at this point. Some people are taking very strong positions.
To me, I will wait and watch to see what happens. But I must say that my loyalty lies to the first lady, Mrs. Obama.
Designer Naeem Khan, one of Michelle Obama's favorites, backstage at his show in February 2016.