The Best Items POPSUGAR Editors Have Found While Thrift Shopping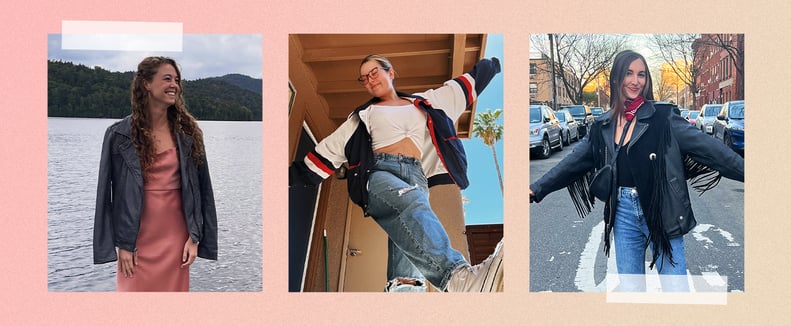 There's nothing quite as gratifying as finding the perfect item while you're out thrift shopping. Whether it's a vintage designer jacket, worn-in blue jeans, or a statement jewelry piece, these finds always feel like one in a million.

What's more, thrifting is one of the easiest ways we can all live more sustainably. Instead of taking part in the fast fashion industry — which can be notoriously exploitative of its workers and damaging to the environment — shopping secondhand can help cut down on waste.
Plus, we all know that trends are getting recycled at the speed of light. From Y2K going-out tops to '80s mom jeans, vintage and secondhand items are likely to up your fashion game now and into the future.
With all this in mind, and to celebrate Earth Day, POPSUGAR editors are divulging their most cherished thrifted and secondhand items. Keep scrolling for inspiration ahead.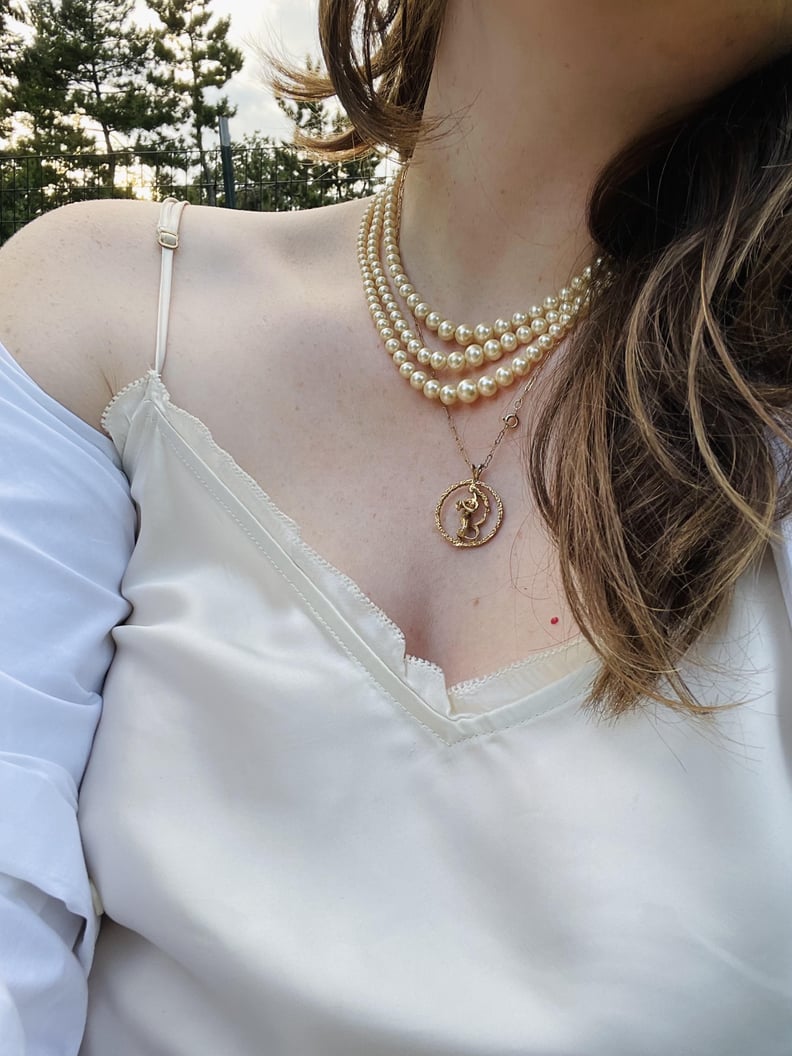 Favorite Thrifted Find: Gold-Chain Mermaid Pendant
"When I was at Chelsea Flea a couple years ago, I found a green velvet jewelry box buried under some antique brooches and other knick knacks. Inside it was the word 'Aquarius' with a gold-chained mermaid pendant. I'm not an Aquarius but I liked that the zodiac sign inspired creativity. It's also cute when stacked with other thrifted finds like these pearls I found during another thrifting adventure." — Melanie Whyte, Contributing Staff Writer, Wellness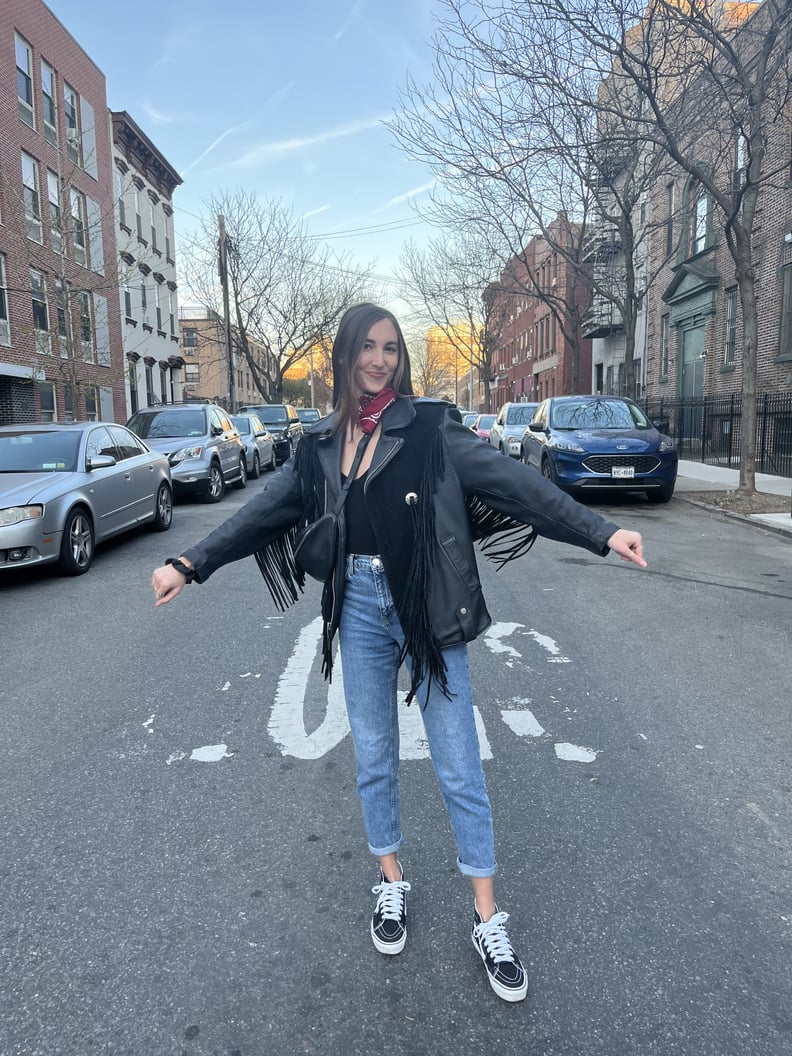 Favorite Thrifted Find: Fringe Suede and Leather Jacket
"Sometimes the best vintage gems find their way to you when you least expect it, and that's exactly what happened with this motorcycle jacket. During a walk through my neighborhood park a few months back, I stumbled upon a pop-up shop of local vintage vendors, including Brooklyn-based Granru Market. Their rack was filled with incredible thrifted finds, but I was immediately drawn to this fringe-lined leather and suede jacket. Is it technically a few sizes too big? Sure. But it makes me feel like a badass, and the thick, sturdy material makes it the perfect transitional piece to layer over tank tops and graphic tees in the fall and spring." — Victoria Messina, Editor, Breaking News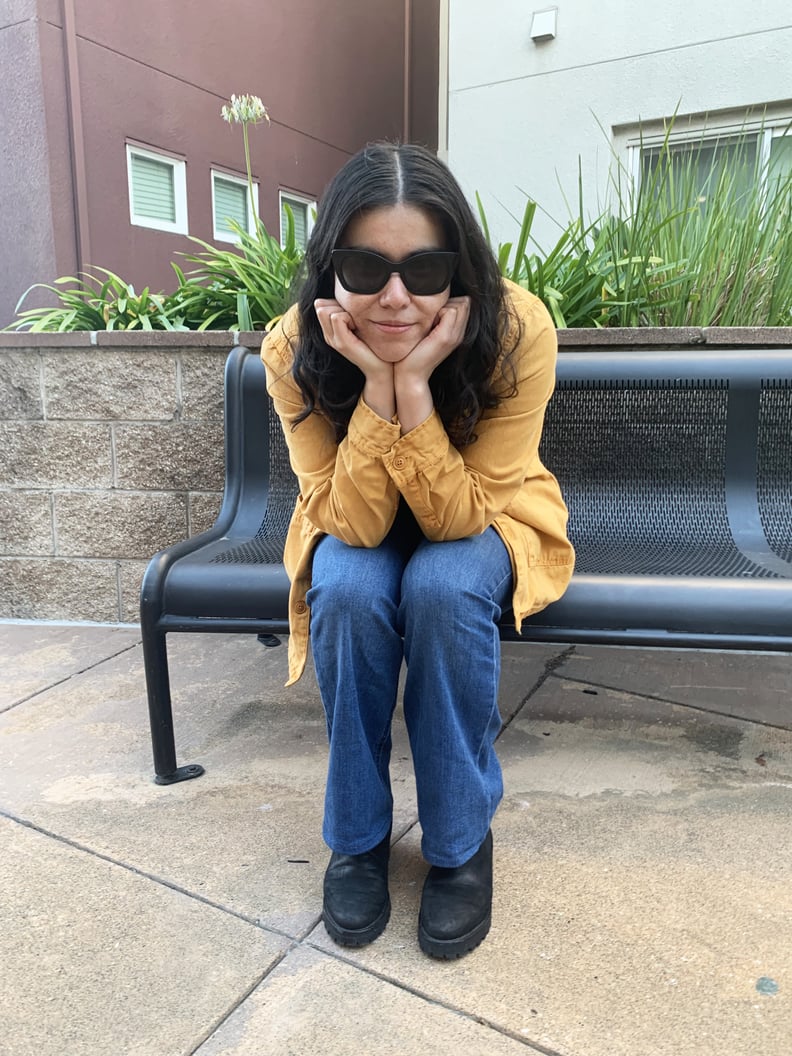 Favorite Thrifted Find: Leather Chelsea Boots
"I'm convinced thrift stores are a little bit magical. In the same way that two characters in a rom-com might unexpectedly bump into each other, flustered and blushing during the pivotal meet-cute, there are pieces in thrift stores that find their way to me whether I'm searching for them or not.
One such find was this pair of black matte leather Chelsea boots from Thursday Boot Co. After combing through the racks at Crossroads one afternoon, nothing was speaking to me. Just before I slipped away empty-handed, though, my sister and thrifting buddy spotted them: the only pair, in my exact size, broken in, and marked down to one-quarter of the original price. It was love at first sight. Now, they're my go-to for nights out, concerts, and the occasional impromptu photo shoot." — Chanel Vargas, Assistant Editor, Breaking News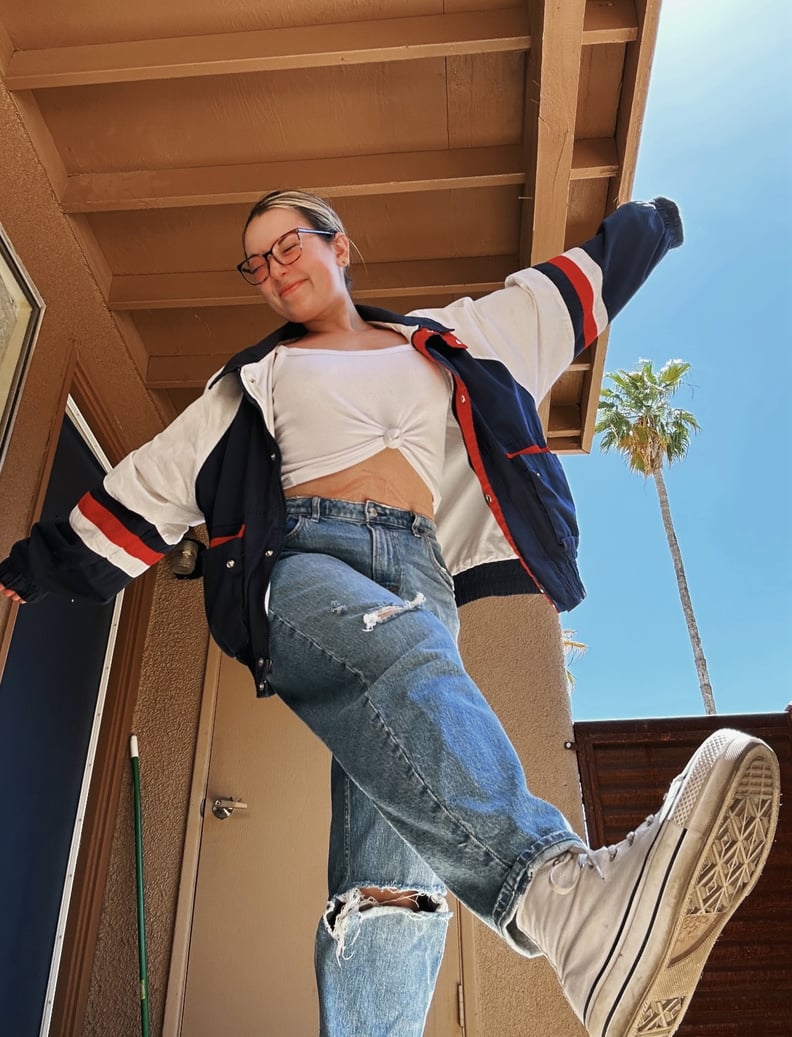 Favorite Thrifted Find: Sports Jacket
"I am a notoriously bad thrifter. But this jacket, which I freed from an unsuspecting heap the first time I ever went to the Goodwill bins, is a reminder that anyone can find cool stuff. No trendy resellers tried to fight me for it, but it's mine and it's rad, and that's what counts." — Chandler Plante, Assistant Editor, Breaking News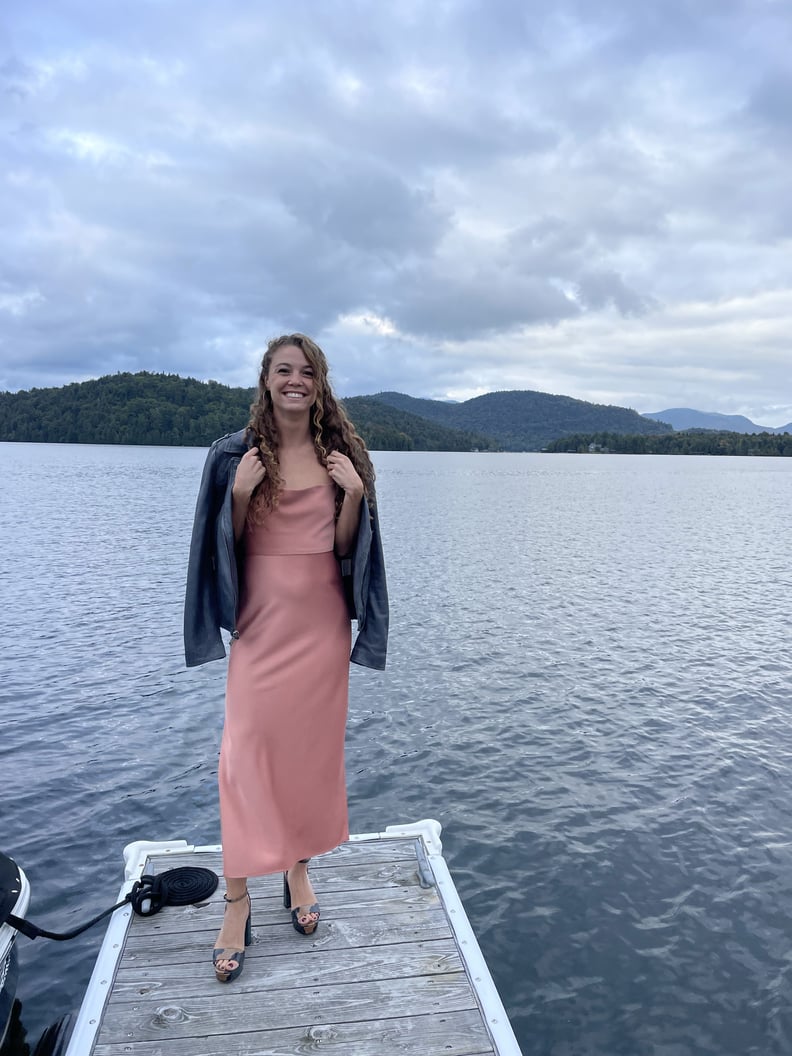 Favorite Thrifted Find: Wedding Guest Dress
"I know outfit repeating is cool, but I typically get too excited about weddings to wear the same guest dress twice. That said, I hate the idea of buying a new dress and fueling the fast fashion nightmare just to wear it once. So I typically head to Rent the Runway to rent or Poshmark to find something secondhand. I thrifted and tailored this Anthropologie BHLDN Cali Satin Cowl-Neck Midi Slip Dress off the app for a friend's fall wedding in Lake Placid, NY, and it was beyond perfect. And it wasn't intentional, but since it's such a classic style and color, I know I'll be able to wear it again soon." — Lauren Mazzo, Senior Editor, Fitness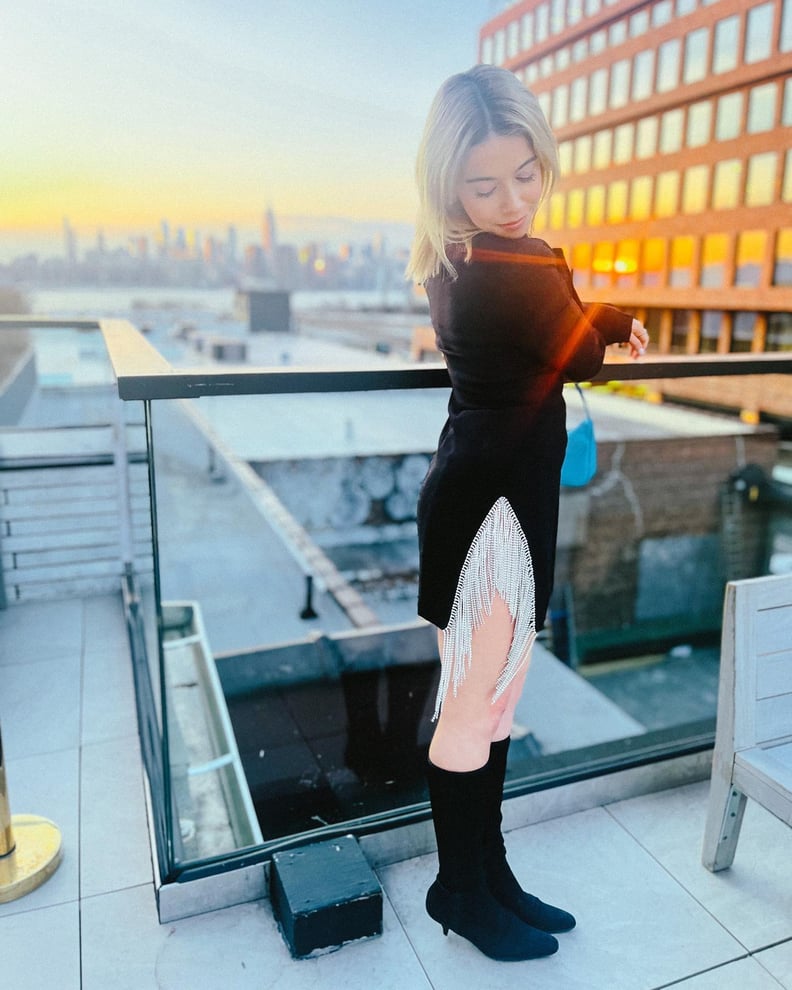 Favorite Thrifted Find: Neoprene Prada Boots
"My favorite thrifted find will forever be these vintage neoprene Prada boots with the perfect kitten heel and just enough stretch throughout the knee-high rise. I scored them at Farfetch ahead of Fashion Week five years ago, and they've been my go-to black boot ever since. They look great with minidresses and denim alike, and, because they're fitted, I can even wear them with a straight-leg or skinny jean. The material also makes them incredibly easy to clean, which is a bonus and adds to their durability." — Sarah Wasilak, Senior Editor, Fashion