"The Sex Lives of College Girls"'s Costume Designer Breaks Down Each Character's Look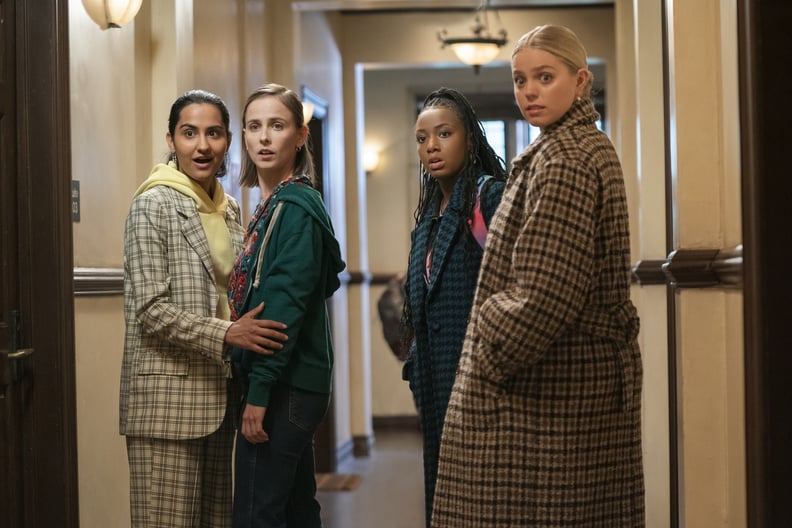 One key theme of season two of "The Sex Lives of College Girls" is exploration. The new season dives into how Bela, Leighton, Whitney, and Kimberly take on their friendships, love lives, and insecurities. Fashion helps bring their distinct personalities to life, just like their fun hair and makeup looks. Costume designer Salvador Pérez Jr. crafted the looks in season one, with Phoenix Mellow taking the reins for season two. Mellow was already a fan of how the show had established their personal styles and loved that each girl had her distinct aesthetic. This time around, though, she wanted to dig even deeper.
"It's definitely a collaboration between me and the actor."
With a fast-moving script and four core characters — not to mention several supporting ones — the HBO Max series has an ample costume closet. What's more, Mellow explains, there isn't much overlap when it comes to the four girls' styles. Inspired by influencers and stylish stars on TikTok and Instagram, she created mood boards for each character. For Bela, she looked to those with quirky, bold style, like Ella Emhoff, Annie Lee Larson, and Olivia Rodrigo. Leighton's ensembles, meanwhile, were heavily influenced by real-life, wealthy It girls, including Gigi Hadid and Bettina Looney. For Whitney's outfits, she took inspiration from Aleali May and Chloe x Halle.
To assemble the girls' wardrobes, Mellow shopped from each character's perspective. For instance, Leighton would likely shop in New York City at stores like Saks Fifth Avenue and Bloomingdale's, while Kimberly would go to Target or Madewell for something a little nicer.
Though Mellow's team researched and sourced tirelessly, the costume designer says the actors' personal styles in real life influenced their curations. "Each actor brings a lot to the table," she tells POPSUGAR. "They're super involved in their characters." For the four actors, Mellow brings options to fittings based on their body types and preferences and will never move forward with something they don't like. "It's definitely a collaboration between me and the actor to even get to the next level of approvals," she says.
In season two, all the plots thicken: Bela goes through ups and downs in her relationship with Eric as she pursues a comedy career; Leighton embraces her sexuality and confidence; Whitney finds her identity outside of soccer while entertaining a new suitor; and Kimberly deals with grueling personal and financial decisions. All these character journeys are reflected in their clothing choices in subtle ways.
Ahead, Mellow breaks down Bela, Leighton, Whitney, and Kimberly's personal styles. Keep scrolling for more details about their outfits, the brands they primarily wear, and how their character arcs influence their looks.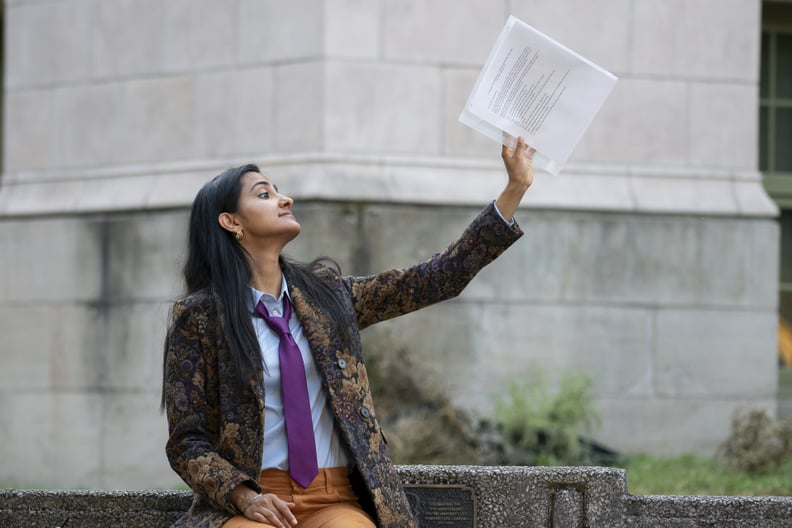 Bela's Style in "The Sex Lives of College Girls"
As a result of her dorky high school years, Bela has "really exploded in her personality" at Essex College, which is shown through her funky, bold wardrobe. Though the aspiring comic continues to wear her toddler tops and mashup of prints, she's "a little more business" as she launches her own magazine on campus this season. She's often seen in her signature ties and groovy blazers.
Bela's over-the-top outfits include patterned prints from brands like Rachel Comey, Ganni, Staud, and ASOS, in addition to playful accessories from Susan Alexandra. "She's an attention seeker, so I tried to have that in her costumes," Mellow says.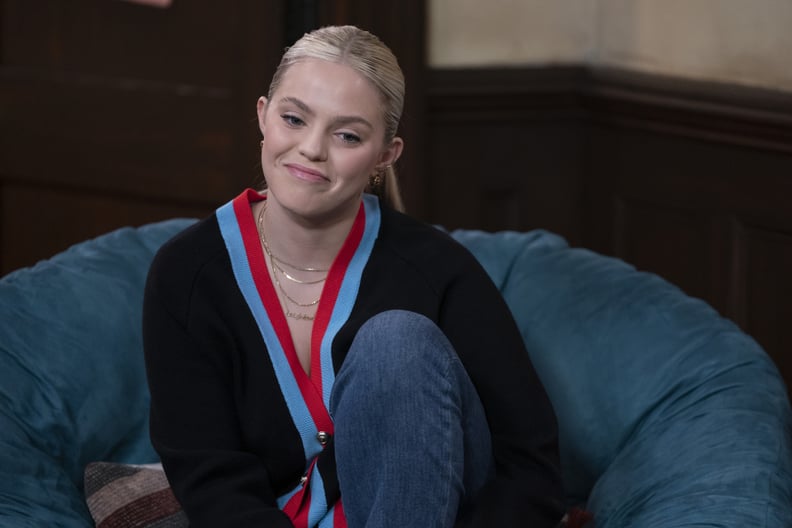 Leighton's Style in "The Sex Lives of College Girls"
As Leighton comes out of her shell, her style reflects that growth. She starts sporting pieces with a little more edge and color, though her wardrobe still stays true to her sophisticated, New York City private-school-girl roots, with silky, expensive fabrics and designer pieces. "She's definitely a little less buttoned up this season," Mellow says.
Ranging from Gucci and Veronica Beard to Lacoste and Zara, Leighton's outfits mix both high-end and affordable items. She may not wear turtlenecks to frat parties anymore, but she loves a structured blazer and striped cardigan.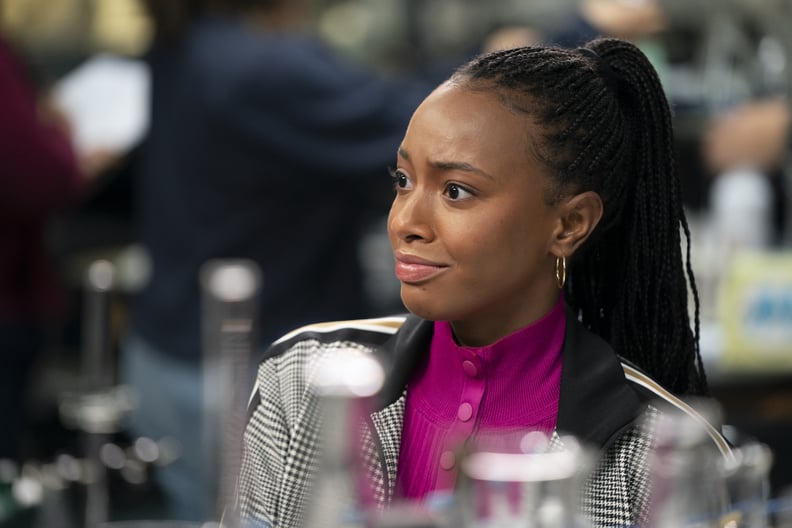 Whitney's Style in "The Sex Lives of College Girls"
While Whitney's life previously revolved around soccer, she's now getting the chance to explore her academic and romantic interests. That preppy playfulness shows in her looks this season, though she hasn't ditched her relaxed athleisure. "There's a smoothness to her style," Mellow says.
As Whitney becomes passionate about her biochemistry class (and bio bro), she adds more collegiate sweaters and structured silhouettes to her closet. The soccer star's clothes come from stores like Aritzia, Nike, House of CB, and Urban Outfitters.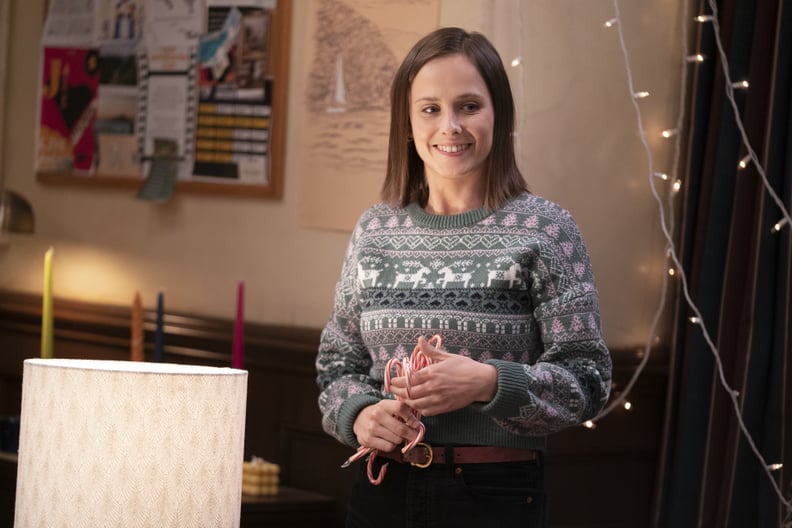 Kimberly's Style in "The Sex Lives of College Girls"
Unlike the other girls, Kimberly never wears flashy or extravagant pieces. She has an all-American style to showcase her small-town background, so Mellow incorporates workwear, denim, natural fabrics, and neutral colors for the student's clothes. "When I use pops of color [for Kimberly], it's because she wants to be bold or she's trying to make a statement," she explains.
Kimberly's wardrobe consists of classic wrap dresses, plunging necklines, and fitted jeans from stores like BDG, Madewell, and Levi's, all of which reflect her flirtier personality this season. "We mix it up, because Kimberly's not perfect and she's more simple than the other girls," Mellow says.