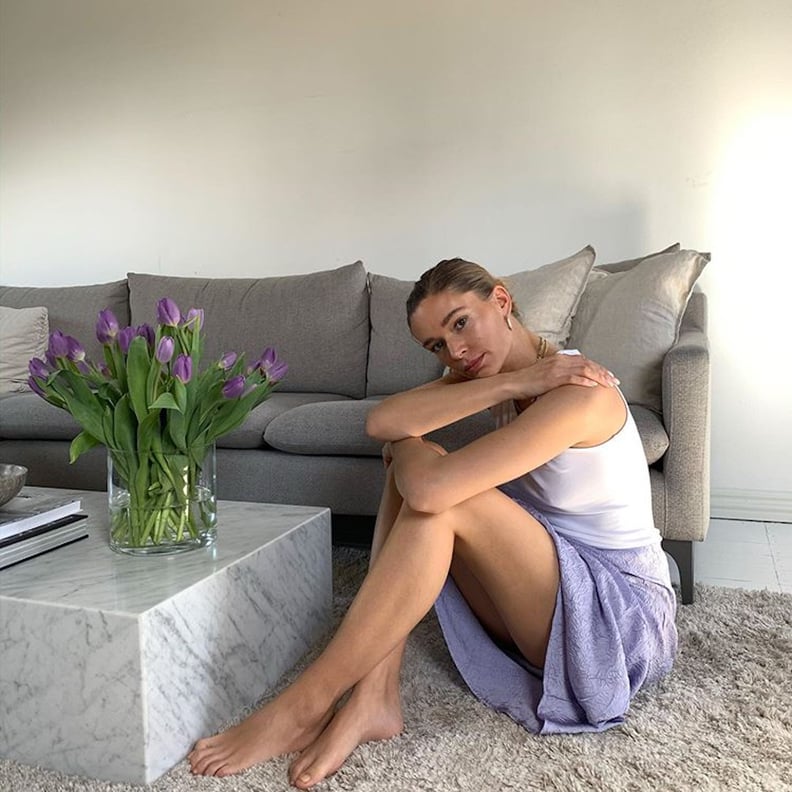 I have tried to think of so many ways to better inspire myself to get dressed in the morning during the lockdown. But after date night came and went and I posted my ode to a cargo ribbed sweat set, I had nothing left to turn to — nothing besides Disney, of course. I am, after all, one of the Disney devotees who relies on a smile from the Mouse when all else fails. I knew I could find a way to reinvigorate my wardrobe with some magic from the Disney princesses, and with that, came my search for the perfect #StayAtHome 'fits, each one based on a different character.
It's important to remember that I'm not taking direct influence here, so try to wipe your mind of Belle's signature yellow ballgown and Ariel's tail — I hardly doubt a seashell bra would be appropriate, never mind comfortable, when you're hopping on that Zoom call. Instead, read up on the reasons each of the outfits below cater to a specific princess's personality. If Tiana is your favorite princess, would you want to be wearing that fabulous green coat with green socks and slides? Don't worry, by the way, I did make sure that Belle's look comes accessorized with books.
Stay-at-Home Style: Sleeping Beauty
You like a clean and simple look. You love dresses and romantic slip skirts, but they better be comfortable enough to doze off in, and you also like to make sure you match with your surroundings. It's all about the wardrobe-meets-apartment-decor aesthetic. Girly colors like lavender and light pink are your jam.
Stay-at-Home Style: Tiana
You don't mind getting a little quirky with your look. You love bright shades like neon orange and lime green, and you're constantly dressing up because you never know what the day may hold. Sure, there are no big plans on the calendar, but a girl can dream in color.
Stay-at-Home Style: Pocahontas
You love natural colors and textured fabrics, so a beautiful top or shorts set in eyelet is right up your alley. You like to be able to move briskly from one room to the other, and you enjoying stepping outside with your pals when the weather's nice, so something functional that doesn't feel too much like pajamas is your best bet.
Stay-at-Home Style: Jasmine
Matching sets? Psh, you basically started the trend. You have so many different looks — from crop tops and trousers to miniskirt suits — you might as well just wear a different one each day of the week. Of course, a mint green feels most appealing and comfortable to you, especially in the form of cozy woven knits.
Stay-at-Home Style: Cinderella
You miss getting dressed up more than ever right now, but having to stay home does not mean abandoning your beautiful blue power color. You love pouf sleeves, so even your work blouses have that added romantic detail. You can coordinate them with jeans at your leisure.
Stay-at-Home Style: Rapunzel
Your personality is bold and so is your wardrobe. Even when you're cooped up inside, you're always ready to step out the first chance you get, so you might as well spend the day in your purple dress in full anticipation of what lies ahead — even if it's just a walk around the block. Why not be prepared?
Stay-at-Home Style: Ariel
You love that unmistakable seafoam shade that reminds you of the ocean and long, beautiful silhouettes are what you often reach for. You're adventurous at heart, but still prefer to look natural, so stepping out of the shower with slick, wet hair and throwing on a maxi just feels like you.
Stay-at-Home Style: Mulan
You're tough and always ready for action. You're definitely more of a tomboy than a girly girl. You love a colorblock moment, and you're also the type of gal who keeps her favorite go-to jewelry on every single day — it's like your armor.
Stay-at-Home Style: Snow White
You love a classic prairie look — think Peter Pan collars and gingham or tartan prints — and you definitely dress to fit your mood. You don't need something that feels too extra, but you always appreciate an unexpected red bow or a quirky trim.
Stay-at-Home Style: Belle
Your everyday look falls somewhere in between glamorous and easy. Forget heels or any dress-up shoe, though — you live for flats! Imaginative prints are definitely a go-to for you. You can hardly stand a lackluster wardrobe when you're always reading the most interesting stories in books.
Stay-at-Home Style: Princess Anna
You love uplifting flower prints that remind you of nature and you're playful, so definitely don't rule out the cozy knit sets that are popular right now. You're the type of person who can dream up activities to do from the comfort of your home, so wear an adorable outfit and try to have some fun.
Stay-at-Home Style: Merida
You're always itching for a thrill, so staying cooped up in the house isn't exactly easy. But maybe adding on some outerwear essentials like a sweater tied over the shoulders, silk print bandana, and awesome kicks will fire you up just enough.
Stay-at-Home Style: Queen Elsa
Any bohemian style print that reminds you of snowflakes = yes, please! When you're at home, you wear the pants. You feel comfortable and in charge in your house, and you always look polished, even in denim. Naturally, ice blue is a favorite shade of yours and you're the queen of the mirror selfie.