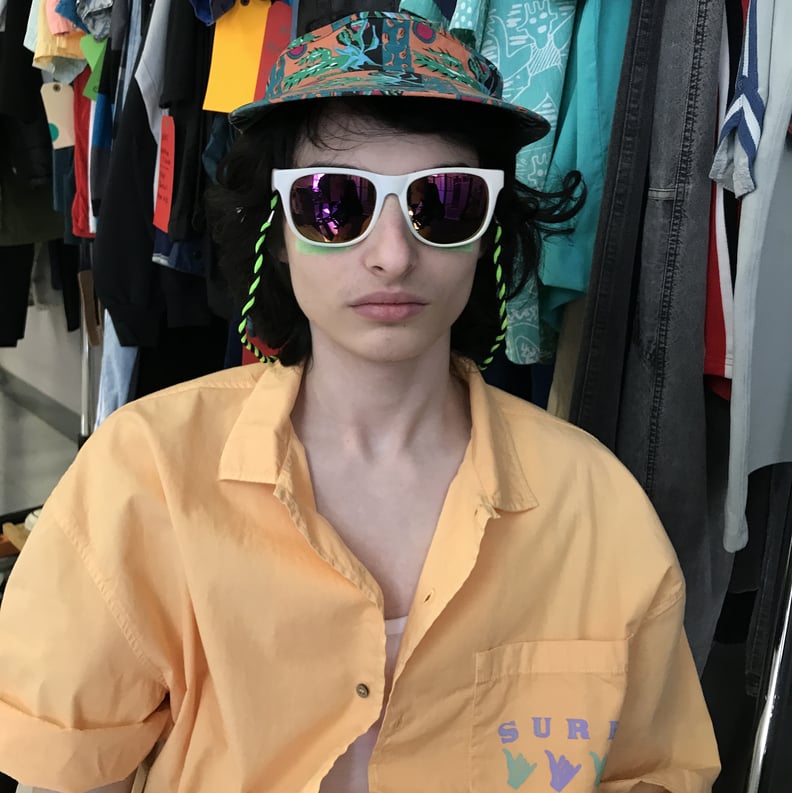 Courtesy of Amy Parris
Courtesy of Amy Parris
"Stranger Things" season four will premiere on Netflix in two volumes, and costume designer Amy Parris has filled us in on all the wardrobe details that these new episodes will bring. As the aesthetic shift from fictional town Hawkins, IN, to California takes place, it was important to differentiate between settings by color palette, Parris explained to POPSUGAR.
Characters Eleven (Millie Bobby Brown), Mike (Finn Wolfhard), Dustin (Gaten Matarazzo), Lucas (Caleb McLaughlin), Will (Noah Schnapp), Max (Sadie Sink), Nancy (Natalia Dyer), Jonathan (Charlie Heaton), and Robin (Maya Hawke) meet newcomers Argyle (Eduardo Franco), Jason Carver (Mason Dye), and Eddie Munson (Joseph Quinn) in the '80s, so there are plenty of bold fashion choices. Jason and Lucas embrace jock culture in varsity jackets and streamlined polos; meanwhile, Mike, Jonathan, and Argyle tend toward skater style, with Parris pulling from classic California surf brands like Bones Brigade, Santa Cruz, Gecko Hawaii, Maui and Sons, Hobie, Hang Ten, and Vans.
Parris's team thrifts for a large portion of the "Stranger Things" wardrobe. Some of their go-to vintage stores include Meow in Long Beach, CA; The Stash on York in Los Angeles; Recursive Vintage in Delaware; and Rue St. Denis in New York. Since the series is filmed in Atlanta, Parris maintains relationships with local vintage vendors who send clothing directly to the set. "We take a look and keep what we like or need, and send back what we do not anticipate using," she says. "This saves us a lot of time when we can't leave Atlanta to shop in Philadelphia, Florida, or any of the other hot spots we get some of our vintage from."
The popular Netflix series has inspired countless '80s-themed collections, from cosmetic lines with MAC and Merci Handy to apparel like Champion sweats and Jansport bags. Parris shared that some of her design inspiration stems from true icons of the decade, like James Hetfield of Metallica and Sarah Jessica Parker's character Patty Greene from "Square Pegs."
Ahead, scroll through first-look images from "Stranger Things" season four, and take a peek at a few behind-the-scenes fitting photos Parris shared exclusively with POPSUGAR.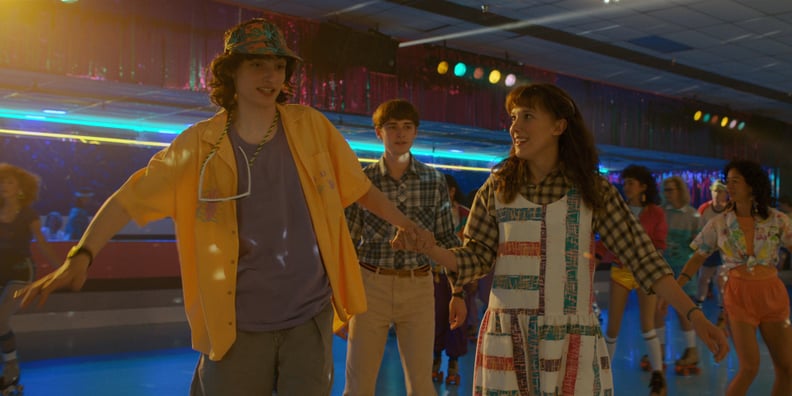 Eleven's Outfits in "Stranger Things" Season 4
Eleven pulls from a mix of clothing in season four, including hand-me-downs from Joyce, Jonathan, and Will. Parris says her school clothes are loosely based on Sarah Jessica Parker's character Patty Greene from early-'80s sitcom "Square Pegs," in part because she no longer has Max to assist her with contemporary fashion. "She's a bit clueless and confused by her new style," Parris says. "She's very much having trouble fitting in at high school. She's trying to figure out which clique she should belong to and what her style should say about herself."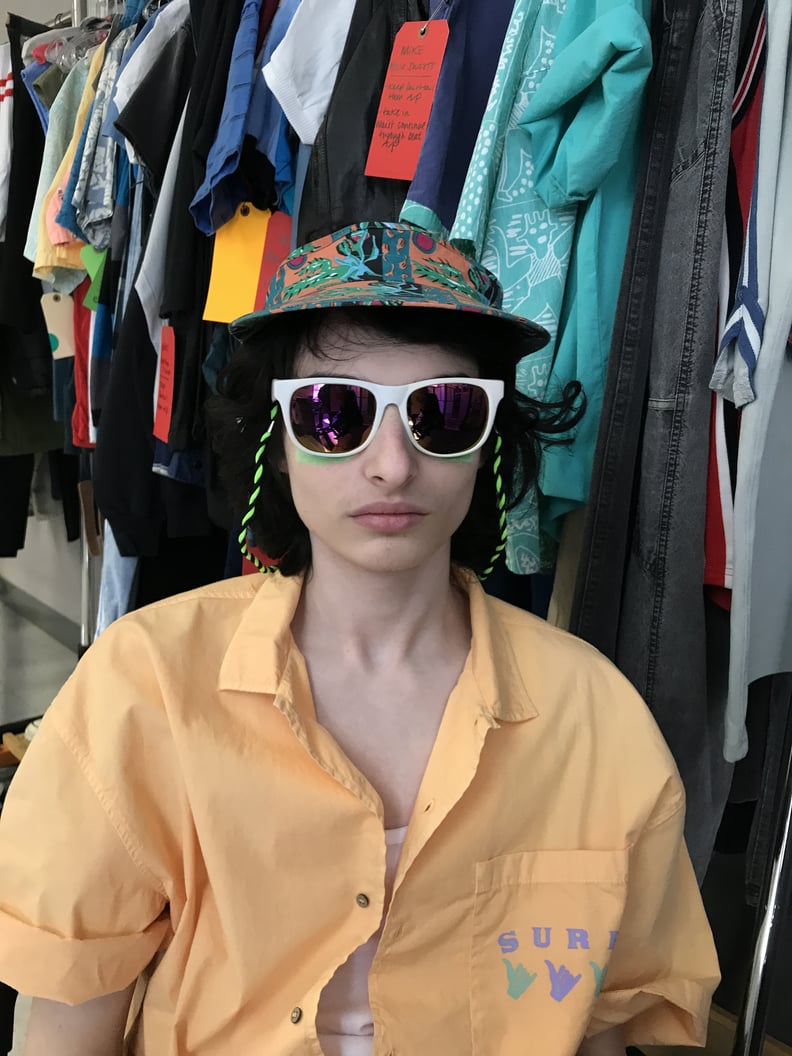 Mike Wheeler's Outfits in "Stranger Things" Season 4
Mike — who makes a new friend, Eddie Munson, with his own unique sense of style — is likely influenced by that boldness. He's ready to fine-tune his own aesthetic, and, as Parris imagines, "He is probably picking out his clothing and Mrs. Wheeler isn't choosing his outfits for school anymore."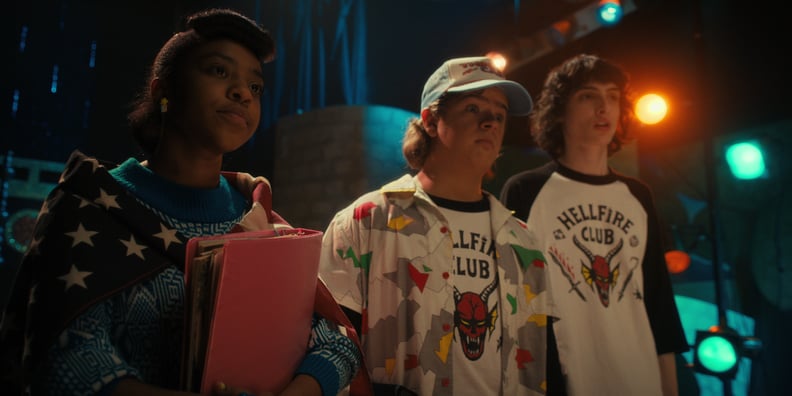 Dustin Henderson's Outfits in "Stranger Things" Season 4
"Dusty is still in his classic, whimsical flair with fun patterns and functional style," Parris says, explaining that actor Gaten Matarazzo was excited to wear the Scantron T-shirt you'll see this season. "The idea is that Dustin was coloring in the pattern of the Scantron bubbles on his shirt when he was bored in class."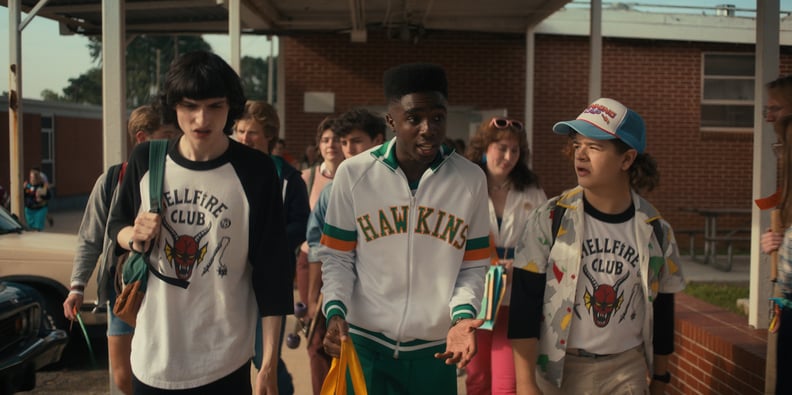 Lucas Sinclair's Outfits in "Stranger Things" Season 4
You'll see Lucas embrace his sportier side this season in an effort to fit in with the jocks, so he'll mostly stick to his basketball uniform. Parris describes his looks as a bit more stylish without trying too hard.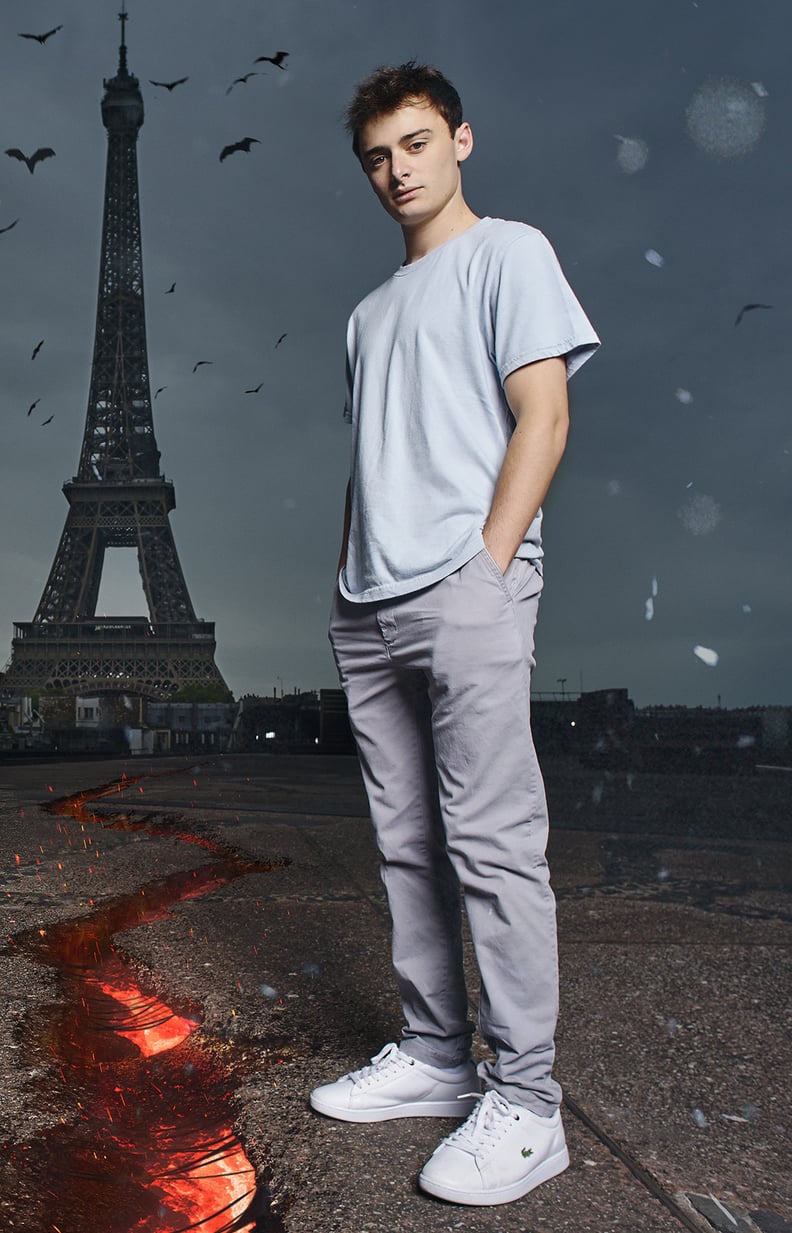 Will Byers's Outfits in "Stranger Things" Season 4
"Will is still in youthful stripes and the classic plaids, button-ups, and Wrangler jeans from his Hawkins closet," Parris says. "The Byers do not have a lot of money, so his style is still juvenile and old-fashioned compared to his classmates in California."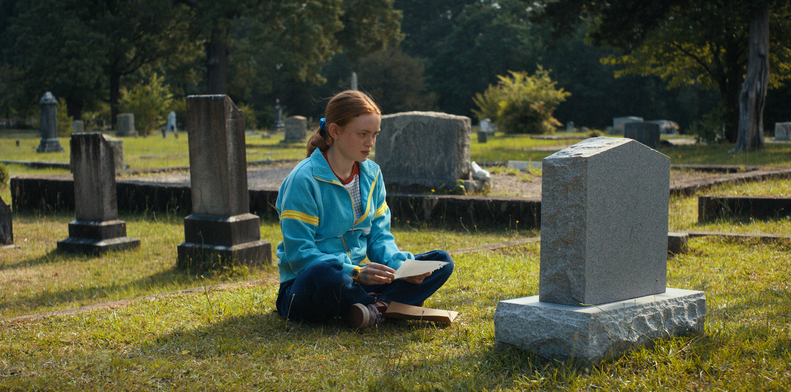 Max Mayfield's Outfits in "Stranger Things" Season 4
"Max is still mourning the death of her brother, Billy, so her style is less fashion and more function this season," Parris says. "Her colors are less bright and cheery from what we have seen in previous seasons."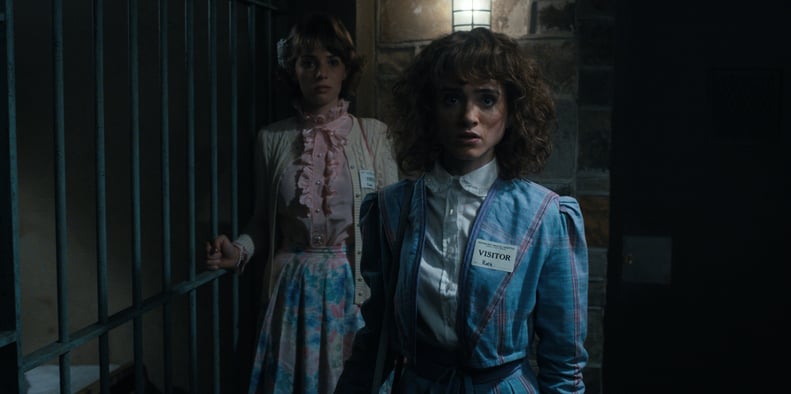 Nancy Wheeler's Outfits in "Stranger Things" Season 4
"Nancy is focusing on herself and her education," Parris says. "She is dressing more maturely and looks effortlessly cool while taking care of business." This season, you'll see her in plenty of collared shirts, denim, co-ord sets, or high-waisted pants cinched and defined at the waist.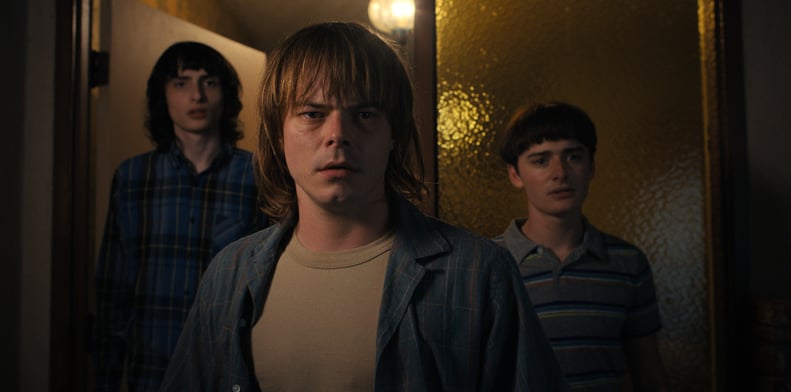 Jonathan Byers's Outfits in "Stranger Things" Season 4
"Jonathan is embracing the California lifestyle by wearing more relaxed shirts and clothing with psychedelic patterns," Parris says. "He's been influenced by his new friend Argyle and his 420 lifestyle and enjoys wearing more color this season."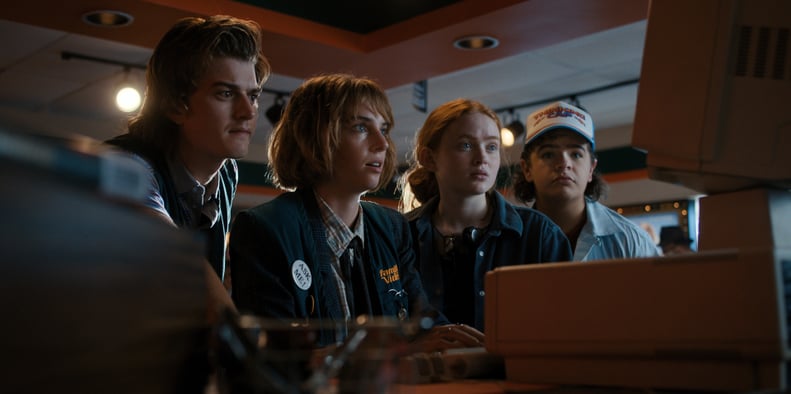 Robin Buckley's Outfits in "Stranger Things" Season 4
Robin, who Parris says is loosely inspired by "Annie Hall," gets to come into her own style after we saw her in the Scoops Ahoy uniform in season three. Her unique look is a mixed bag of vintage and DIY-style pieces.
Argyle's Outfits in "Stranger Things" Season 4
Argyle, played by actor Eduardo Franco — who posed here for a fitting photo in a painted button-down, tapered trousers, rainbow tie-dye socks, and mismatched Vans — has a look inspired by '80s surf culture.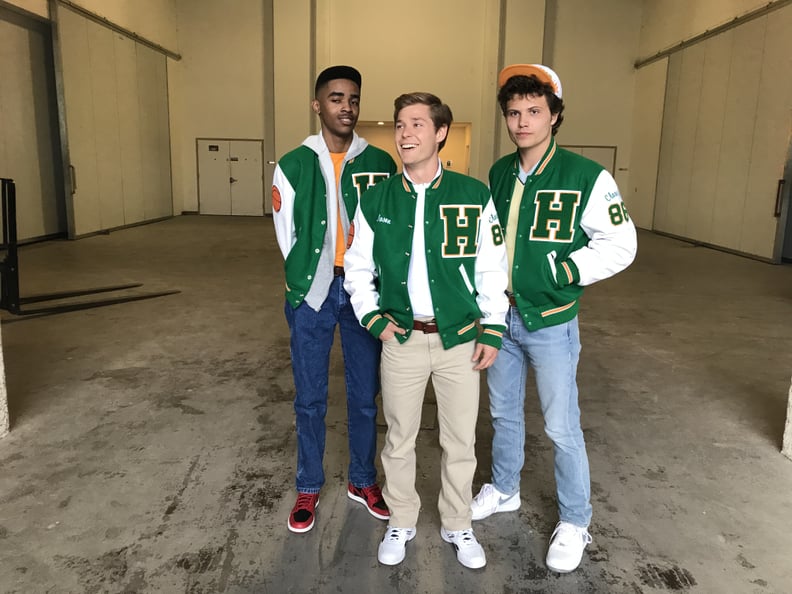 Jason Carver's Outfits in "Stranger Things" Season 4
Jason — who we generally see in polo shirts, khakis, his varsity jacket, and sneakers — has the typical high school '80s look about him. "He's an iconic jock, making him the perfect villain," Parris says.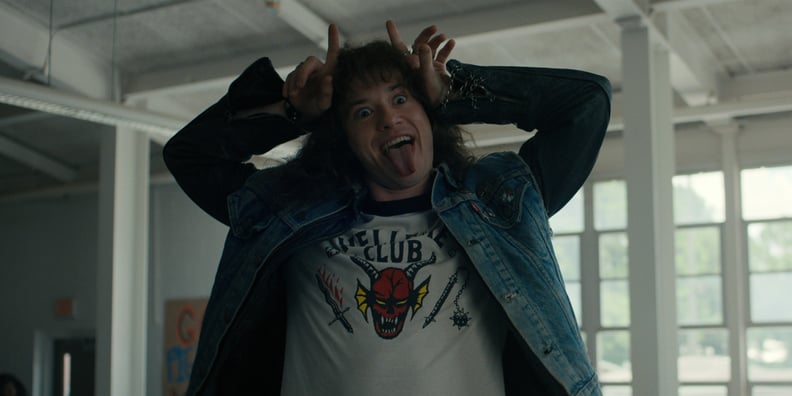 Eddie Munson's Outfits in "Stranger Things" Season 4
Eddie, who becomes a good friend of Mike's, has a look inspired by a young James Hetfield of Metallica. "He's very much a fan of Wizard metal music, like the bands Dio and Iron Maiden," Parris says.