In the name of nostalgia, and obviously because Taylor Swift is rerecording her Fearless album, I couldn't help but fall into the rabbit hole of all the sparkly minidresses she used to wear with cowboy boots. This is partly because she dedicated her hit "Love Story" (Taylor's Version) to her fans and released a montage video with her favorite photos from that time period.
Right around then, I was attending Sweet 16s and trying to collect as many sparkly dresses for these parties as I could. I would have given anything for just one of Taylor Swift's red carpet numbers, which were by the likes of Collette Dinnigan and Naeem Khan, and always, always paired with Christian Louboutin peep-toe shoes, when they weren't cowboy boots. Taylor had all the essentials, from embellished Jimmy Choo clutches (perfect for holding Juicy Tubes lip gloss) to sparkly guitars that matched with her metallic shifts. What would I have done with the guitar? IDK, probably nothing, but I would have definitely made use of those clutches.
All of this is to say that Taylor's red carpet outfits from 2008-2009 are worth looking back on if you, too, wish you could turn back time and look just a little bit cooler; a little bit more fearless at any event you attended back then. Ahead, see my top 10 favorite minidresses Taylor Swift wore during her Fearless era.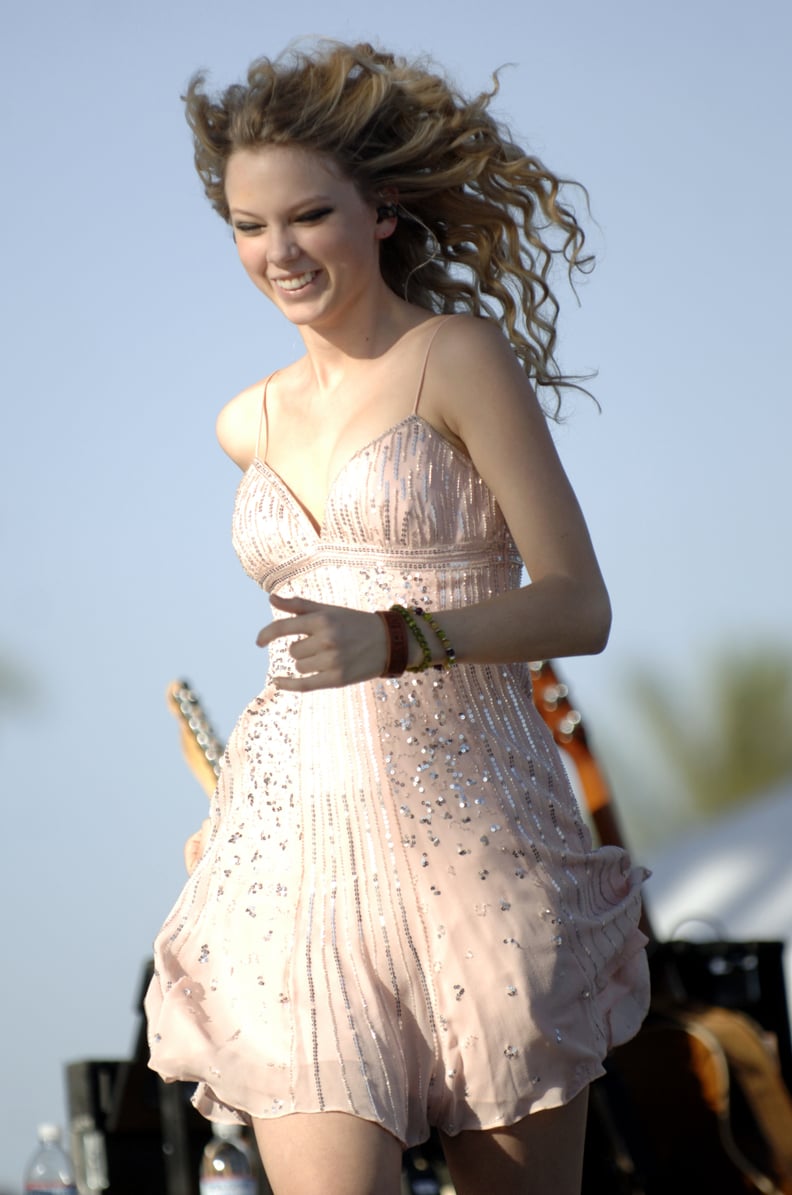 Taylor's Sequin Embellished Dress
Taylor hadn't yet released Fearless when she performed at Stagecoach in Indio, CA in May 2008, but she wore this delicate sequin-embellished look again throughout her promo of her second studio album. It's got such a soft blush back-color to it. It makes me feel innocent and free just looking at it.
Taylor's Teal Sequin Shift
Taylor styled this mini with tough cowboy boots — fearless and fierce she was for the 2008 CMA Music Festival in Nashville.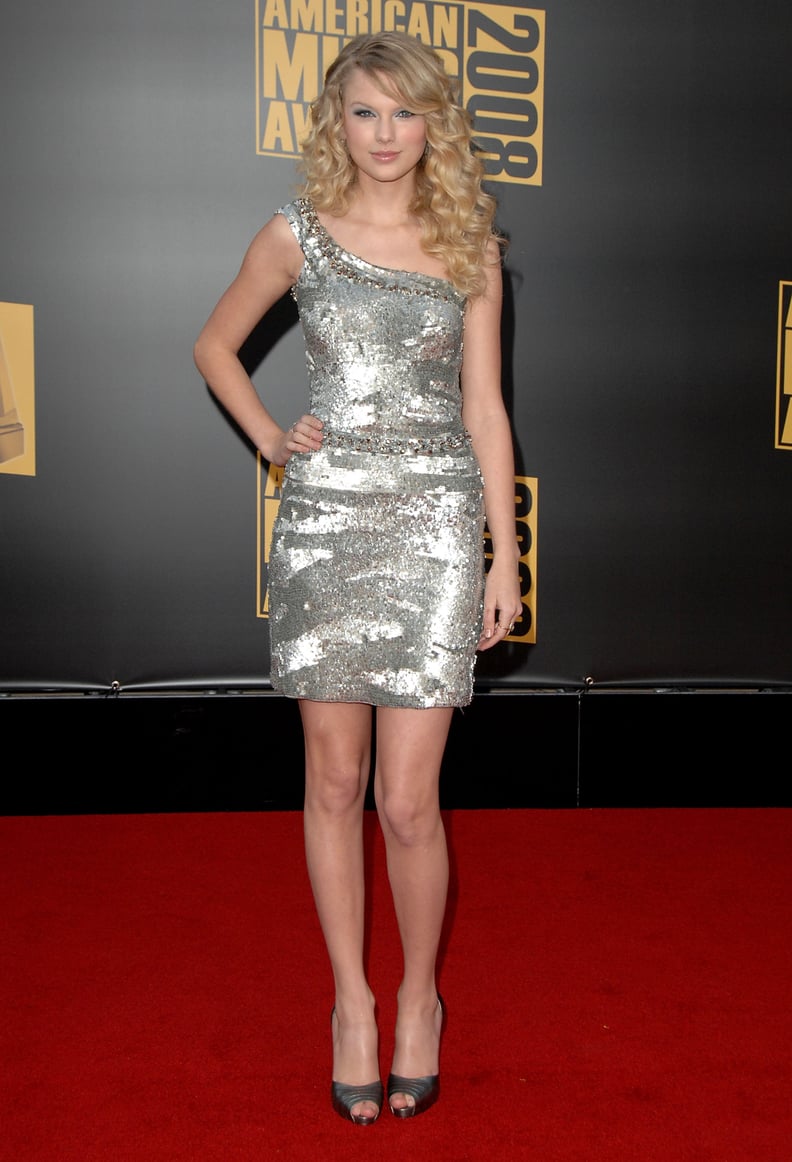 Taylor's Metallic Silver One-Shoulder Dress
This one was special. Taylor wore her silver Collette Dinnigan dress with Christian Louboutin heels and Neil Lane jewels at the 2008 American Music Awards in LA.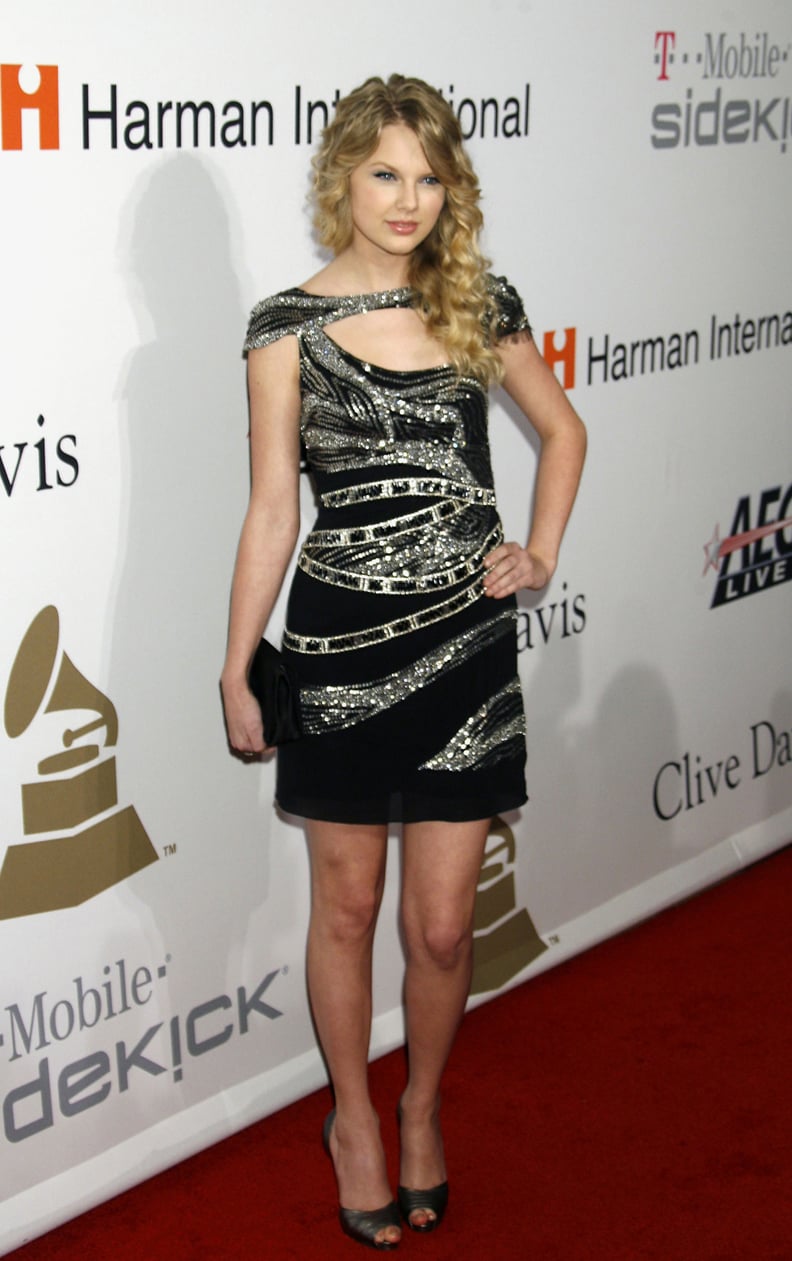 Taylor's Edgy Cap Sleeve Minidress
Tay wore Collette Dinnigan yet again for the 2009 Clive Davis annual Pre-Grammy Gala in Beverley Hills. This straight-off-the-runway number came with swirls of sequins, cap sleeves, and an edgy cutout at the neckline. She styled it with the essentials — Christian Louboutin pumps and a Jimmy Choo clutch. I would have kept my lip gloss in there.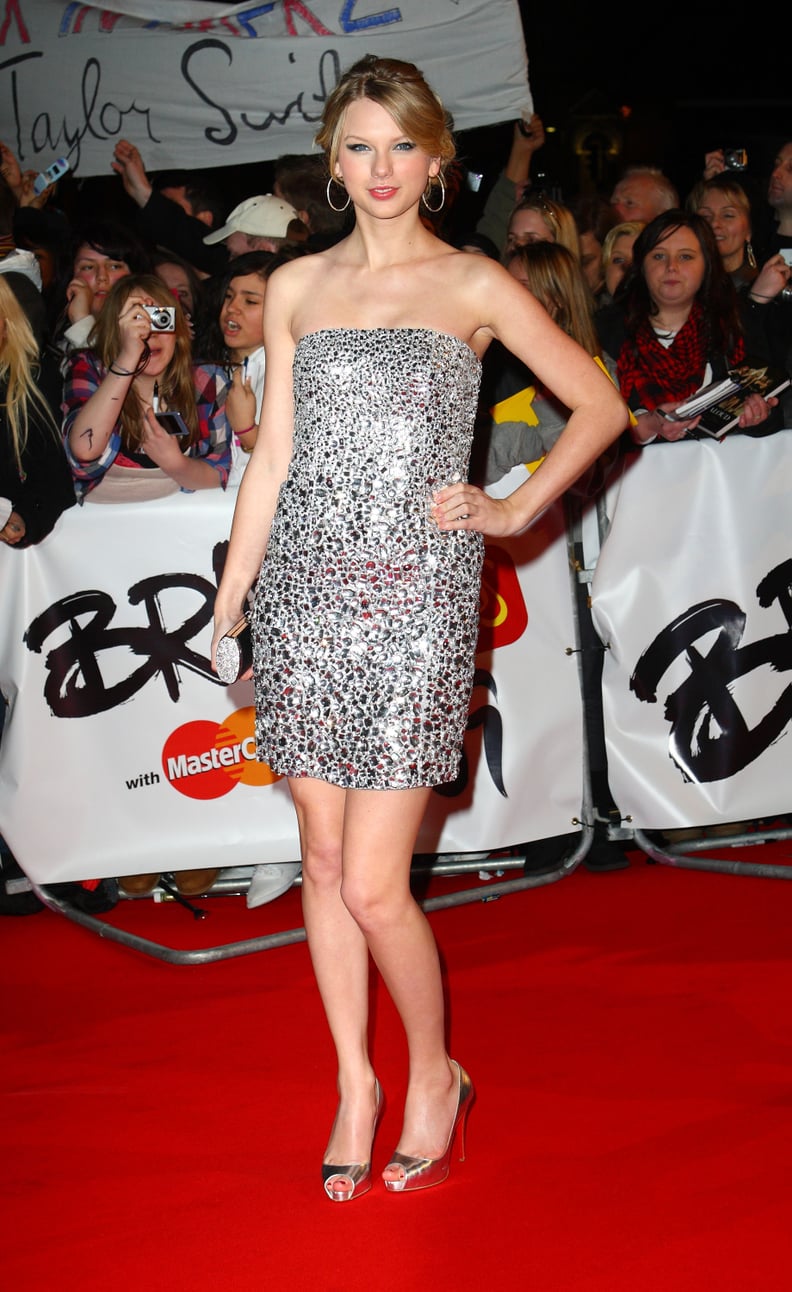 Taylor's Strapless Mosaic Silver Dress
This KaufmanFranco dress turned heads at the 2009 Brit Awards. All metallic, all shine — and with oversize hoop earrings too, which I'd have loved, but would have unfortunately gotten stuck in my long, knotty hair.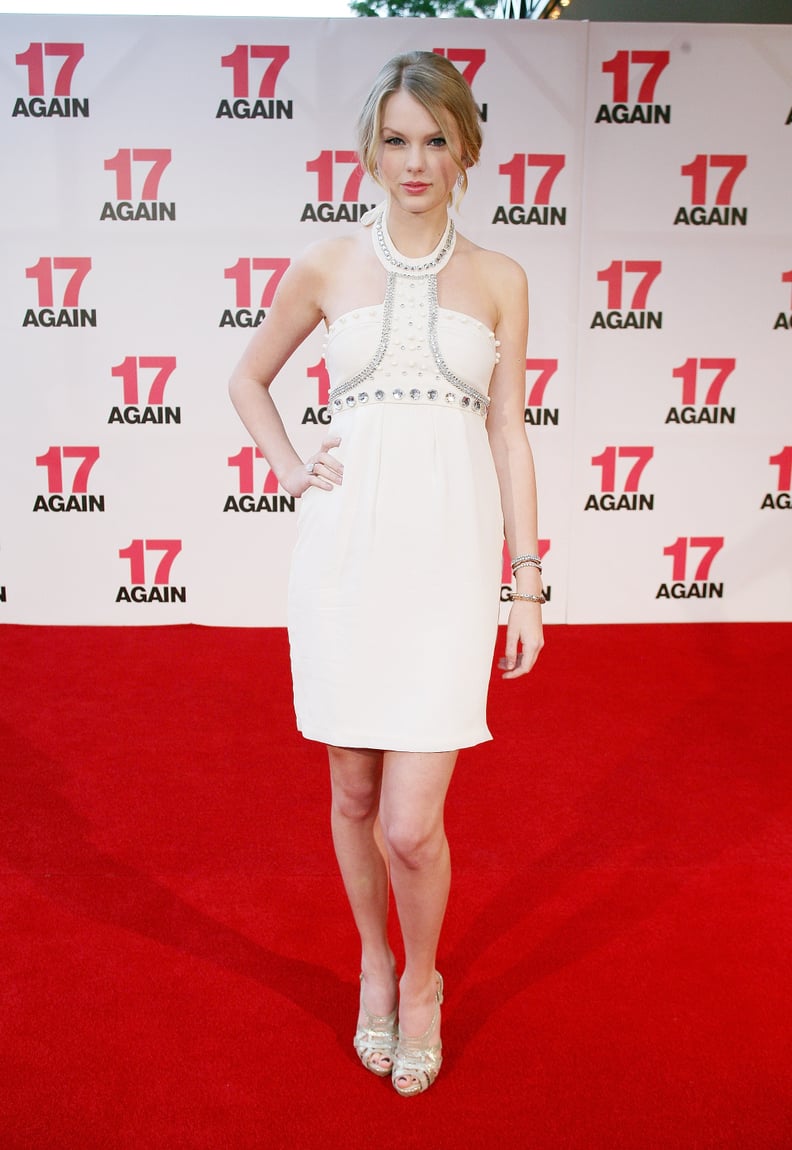 Taylor's 17 Again Halter Dress
K, so if I was "17 again" and got to attend a movie premiere with Zac Efron in 2009, I also would have settled for this Rachel Gilbert dress and Fendi sandals. Especially the glitter caged Fendi sandals.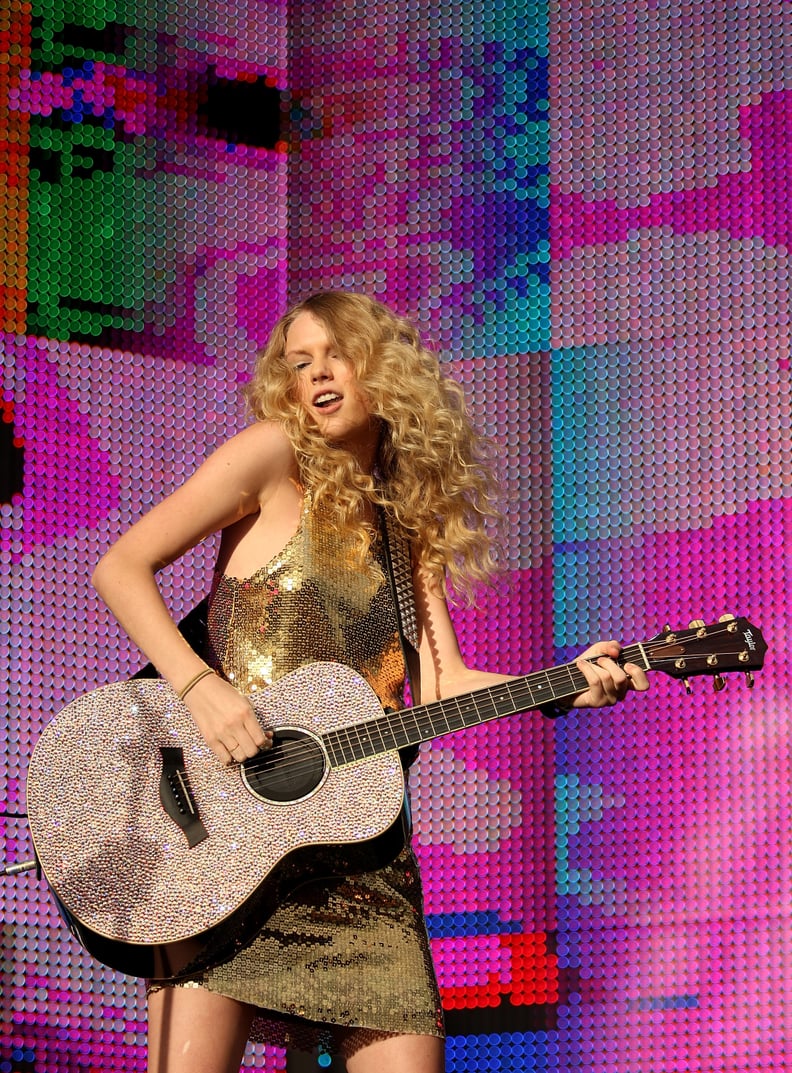 Taylor's Shiny Gold Sequin Dress
The way the sun reflected off the sequins on this dress, along with Taylor's guitar, is really quite mesmerizing. She wore it to play at the Sound Relief concert in Sydney, Australia in March 2009.
Taylor's Black Beaded Hannah Montana Dress
This would have been the sort of dress I kept as my secret weapon. "You're wearing all black?" My friends would have said. But I would have smirked knowing this Naeem Khan masterpiece was about to land me on best dressed lists. Taylor styled it wonderfully with Christian Louboutin bow heels and a Mary Norton clutch at the 2009 Hollywood premiere of Hannah Montana: The Movie.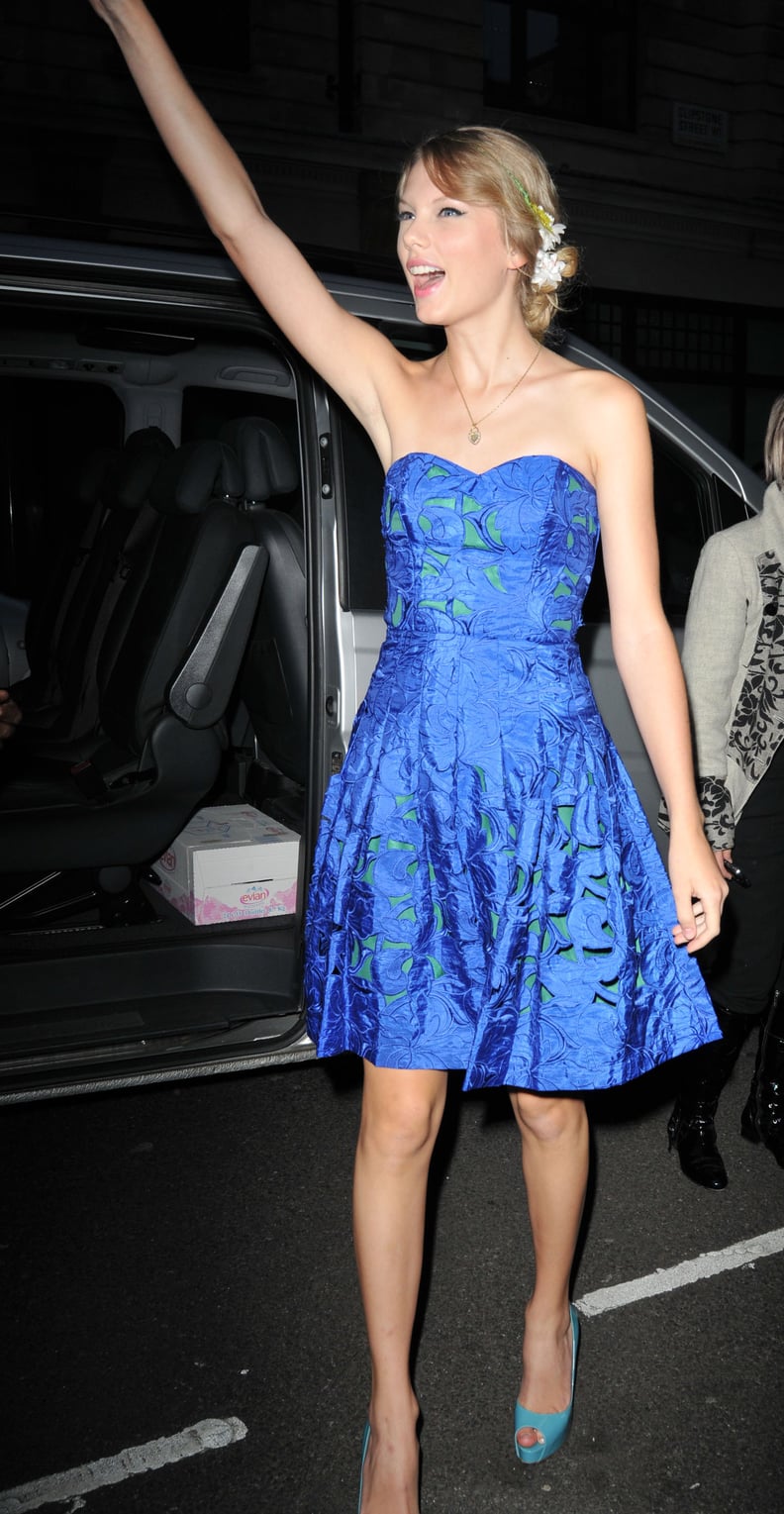 Taylor's Jacquard Indigo Dress
Taylor, who has always famously been a fan of the color blue, wore this dress with flowers in her hair and peep-toe platforms that played up the underlay of the design in London on a night out in 2009.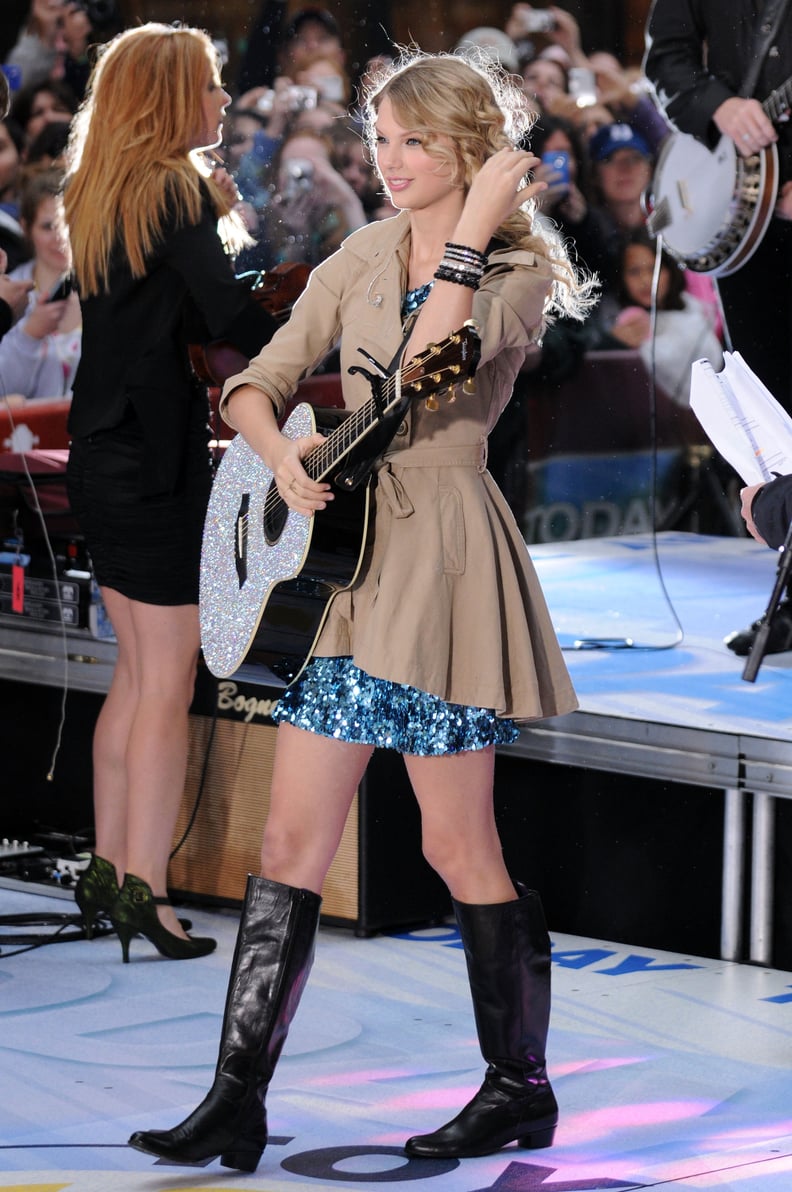 Taylor's "Big Reveal" Blue Sequin Dress
And finally, this is the type of dress you're so excited about, you wear your jacket a little longer, just to keep them all guessing. And when you do take it off . . .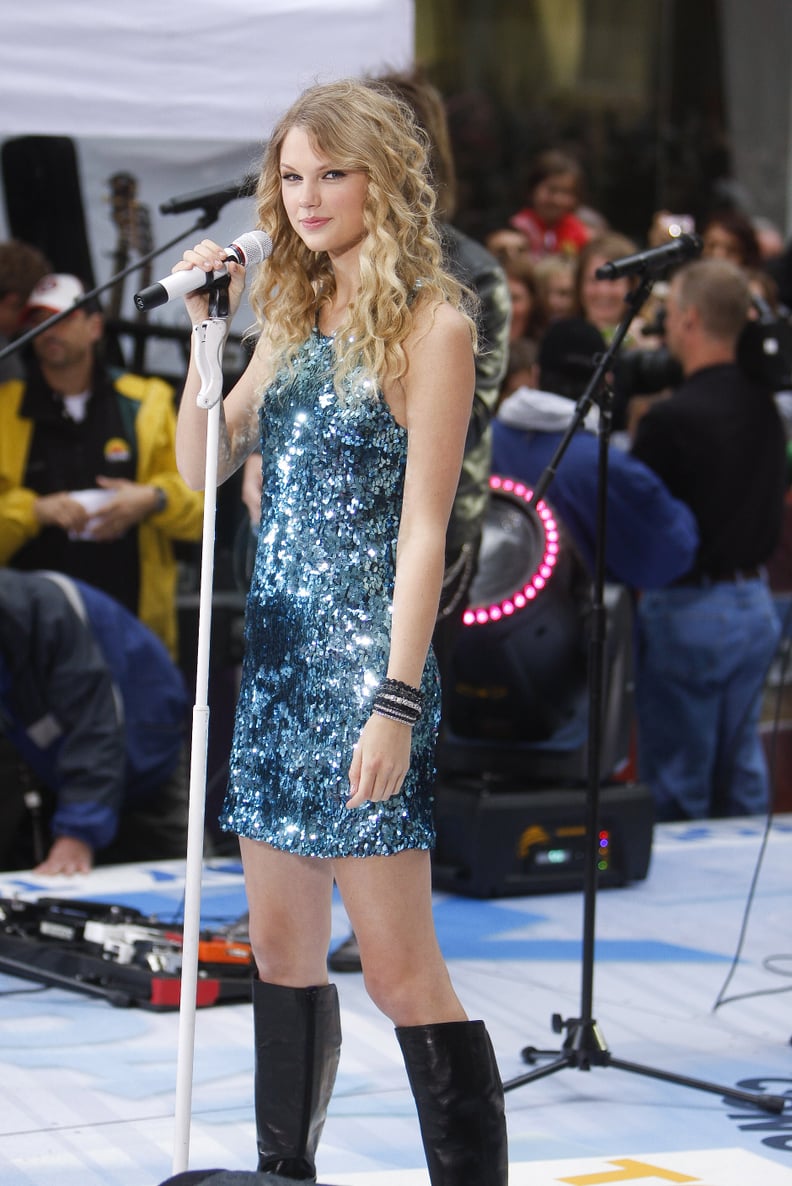 The crowd goes wild. Taylor performed on NBC's Today at Rockefeller Center in New York City in this dazzling blue dress. Later, she posted on MySpace that she went shopping at Topshop and got purple shoes. That would have simply put me over the edge.