I'm a Fashion Editor, and This Is Why I'm Over Dressing Up For Fashion Week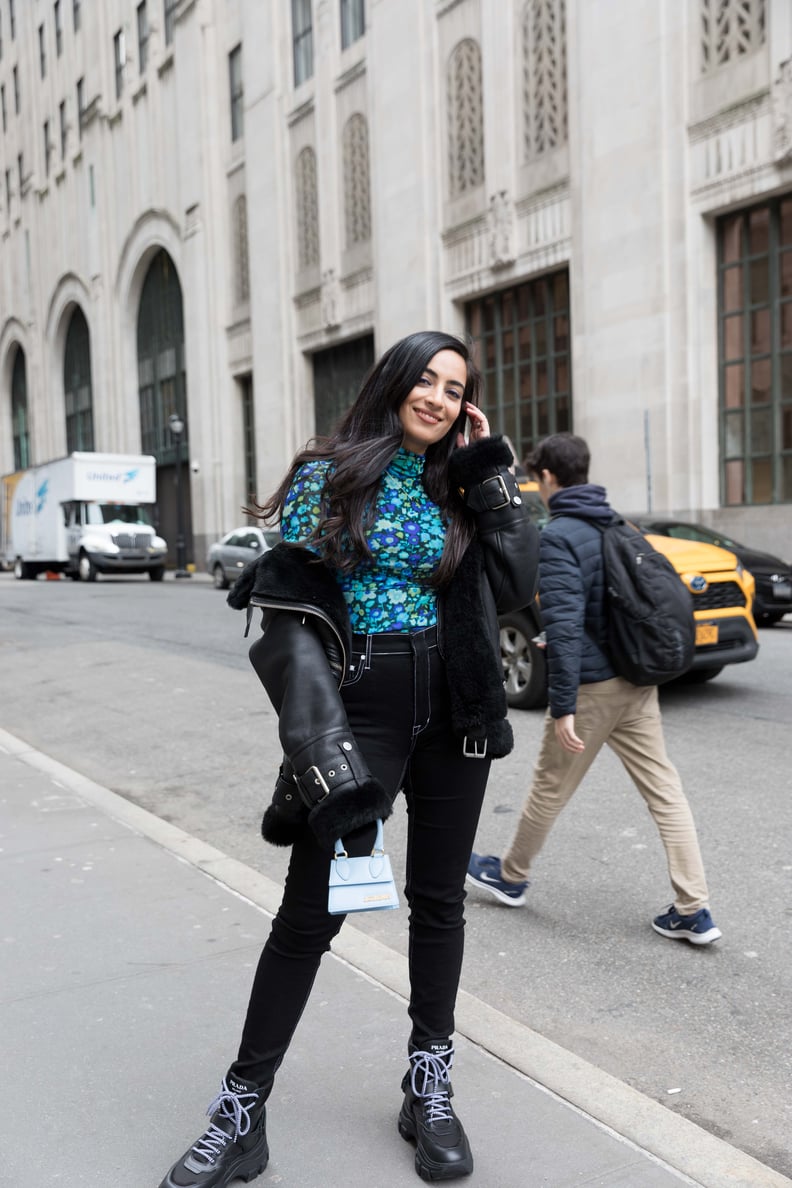 POPSUGAR Photography | Kelsey Cherry
POPSUGAR Photography | Kelsey Cherry
There were a lot of things I didn't learn about fashion until joining the editorial world in college. During my first New York Fashion Week, I remember seeing one influencer standing in front of me in a look straight off the runway (from the show we were just about to watch!) only to see her in a whole new outfit at the next show. Bear in mind, there was a 15-minute buffer between both shows and I stood there wondering if she just changed in the backseat of her cab. (I later learned she did, thanks to her IGS.) It was just one of the many fascinating things I learned about this crazy, wonderful world called Fashion Week.
A lot of people outside of the industry don't realize that not only do celebrities get dressed by designers for fashion shows, but editors often request pieces from brands to wear during the week as well. All we end up seeing is a group of impeccably-dressed people casually looking at their phones while getting photographed at shows. While I have borrowed some pieces over the seasons since it's a fun way to try out new trends, this year just felt different. Last year was full of highs like getting married to the love of my life, but there were plenty of lows too because I had lost people who were very close to me. These situations really put everything in perspective and I found myself wanting to stop spending time on the little things that irk me and just focus on being happy with what I have.
While I've tried to never give much thought to dressing for others, there is a certain pressure to wear your "best outfits" during Fashion Week. But every time I'd return samples after the shows were over, I would look at my closet and feel severely underwhelmed. I hated that feeling because I knew there were so many pieces that I loved, it's just hard to remember that when you've been surrounded by hundreds of showgoers all wearing the newest designs. With these thoughts lingering in my mind, I decided it was time to take a step back and remember why I loved fashion and bought certain pieces in the first place. I had been trying to be more sustainable and mindful of the purchases I had been making and shopping my own closet seemed like the perfect place to start.
I started by pulling out pieces from my closet that I felt most confident in and dreaming up different ways to style them. I reached for my favorite pair of jeans that hugged my curves just right, a pair of black ankle boots that had a cool heel, and of course, I also took out some of my favorite "fashun" pieces like my little Jacquemus bag that I'm madly in love with. Instead of planning out outfits weeks in advance as I'd done in the past, I put them together the night before, which took the pressure off the situation. Rather than finding myself standing in a pile of clothes feeling crazed, I took it one day at a time and focused on what made me feel most comfortable.
In a world where Instagram churns out new trends 24/7, it's easy to forget about what you have when it's right in front of you. This experience made me fall back in love with what I have already, rather than chasing what's next. I felt liberated. As a bonus, the process also helped me clean out my closet and weed out the pieces I hadn't worn in years and clothes that I'd been "waiting for the perfect moment" to wear. At shows, I found myself feeling lighter because I was just being myself and felt more confident than I had in a while. Who knew that all I had to realize was that the best store in town was right in my own apartment?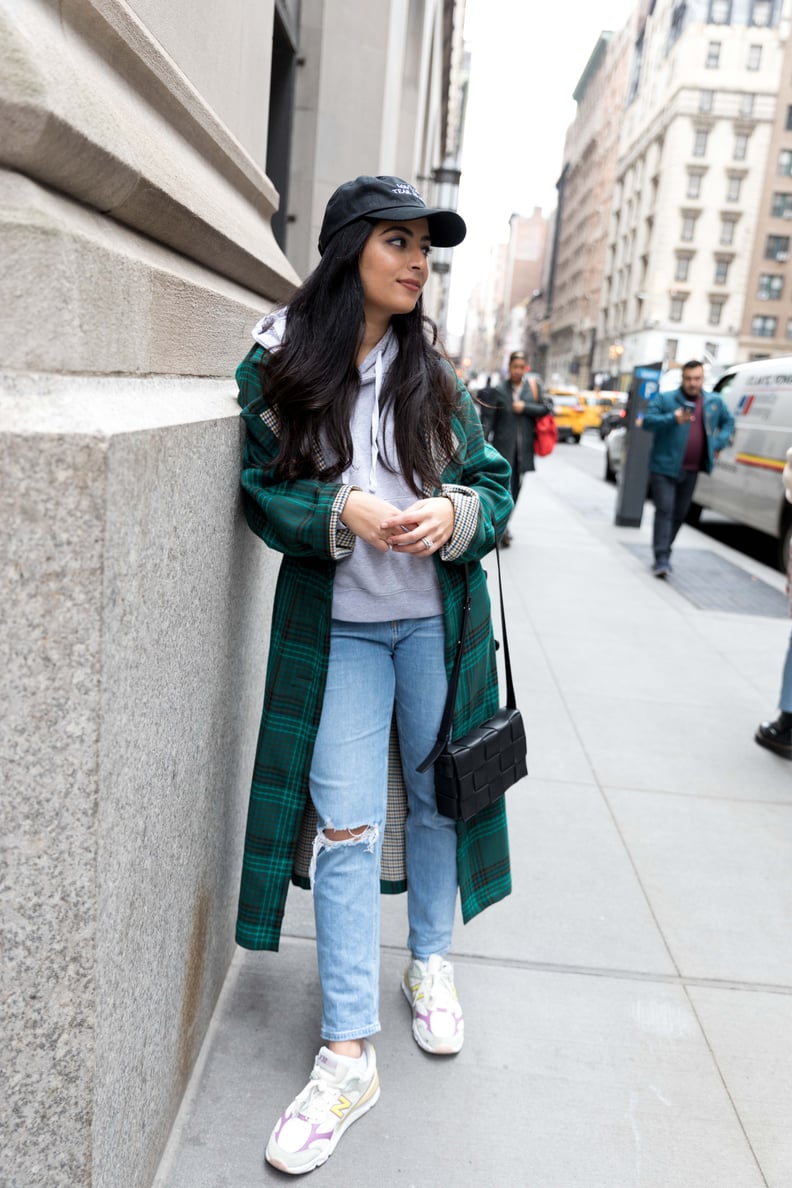 Look 1: Sporty Casual
To dress up my every day outfit of a hoodie, jeans, and sneakers, I threw a sleek green Chloe coat I bought last year. The two-toned plaid coat was an easy way to elevate the look. I styled it with a Pleasure x Joy Division baseball hat for a '90s feel.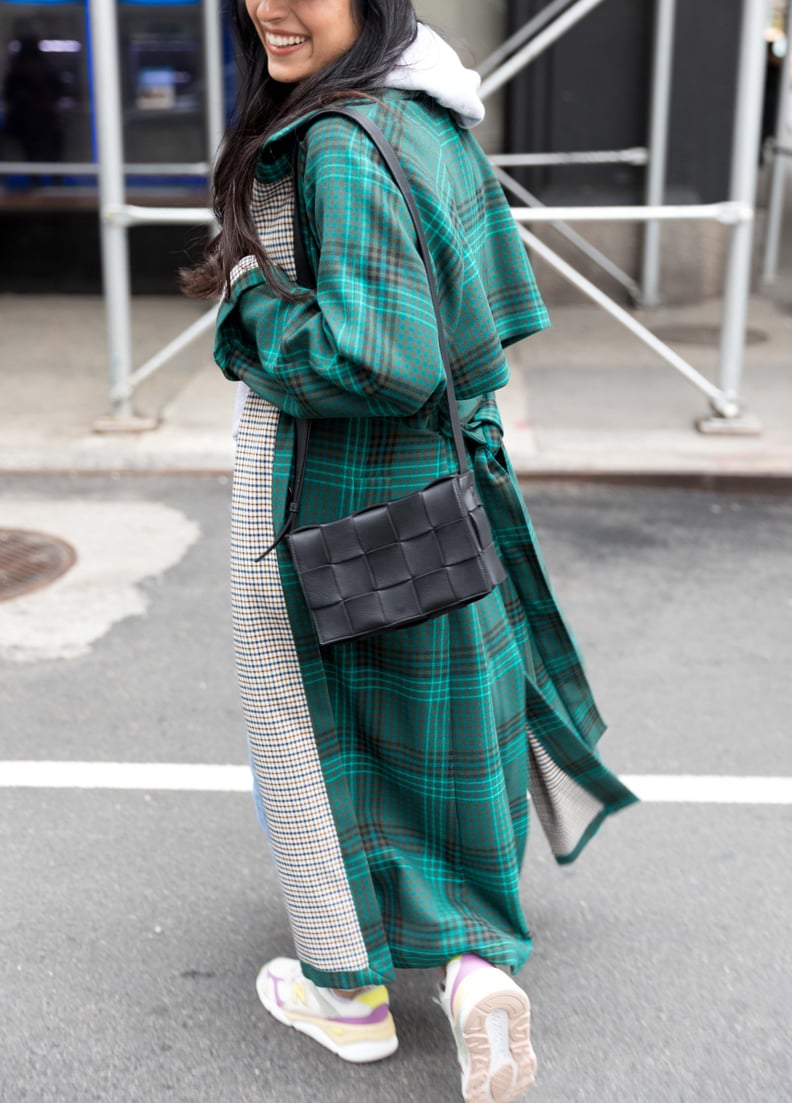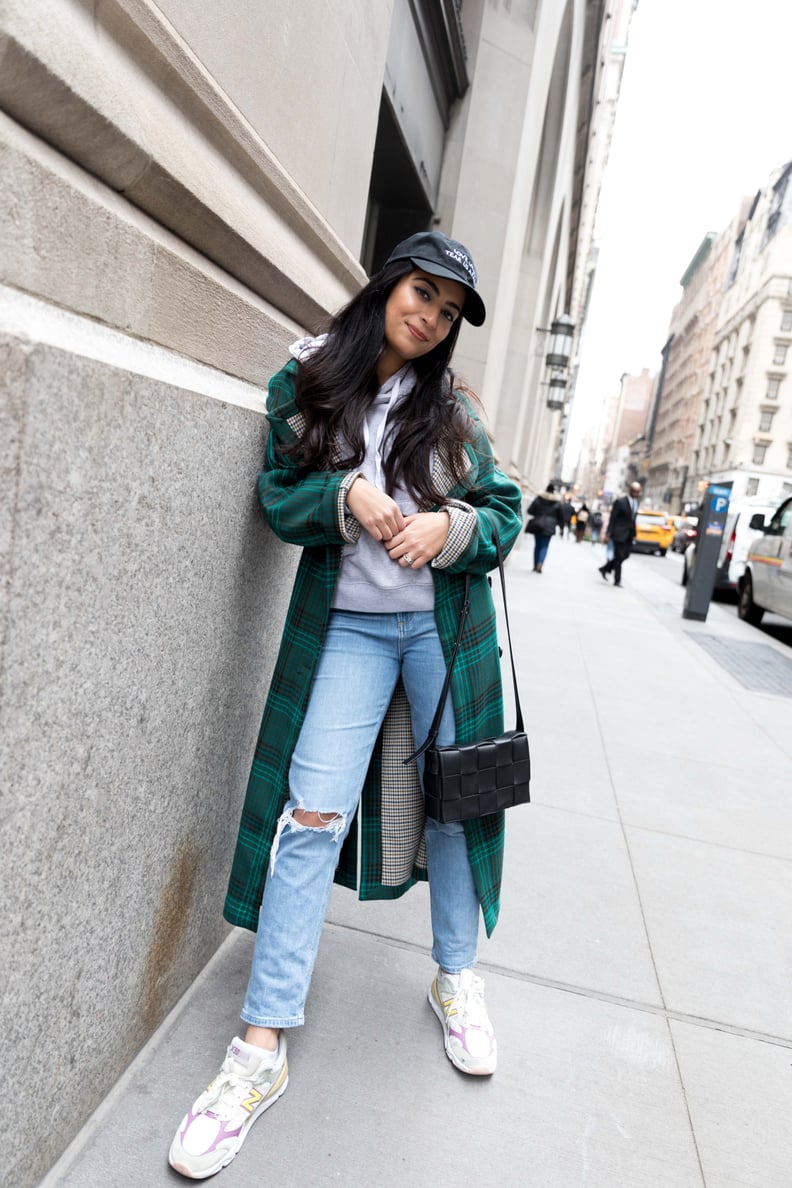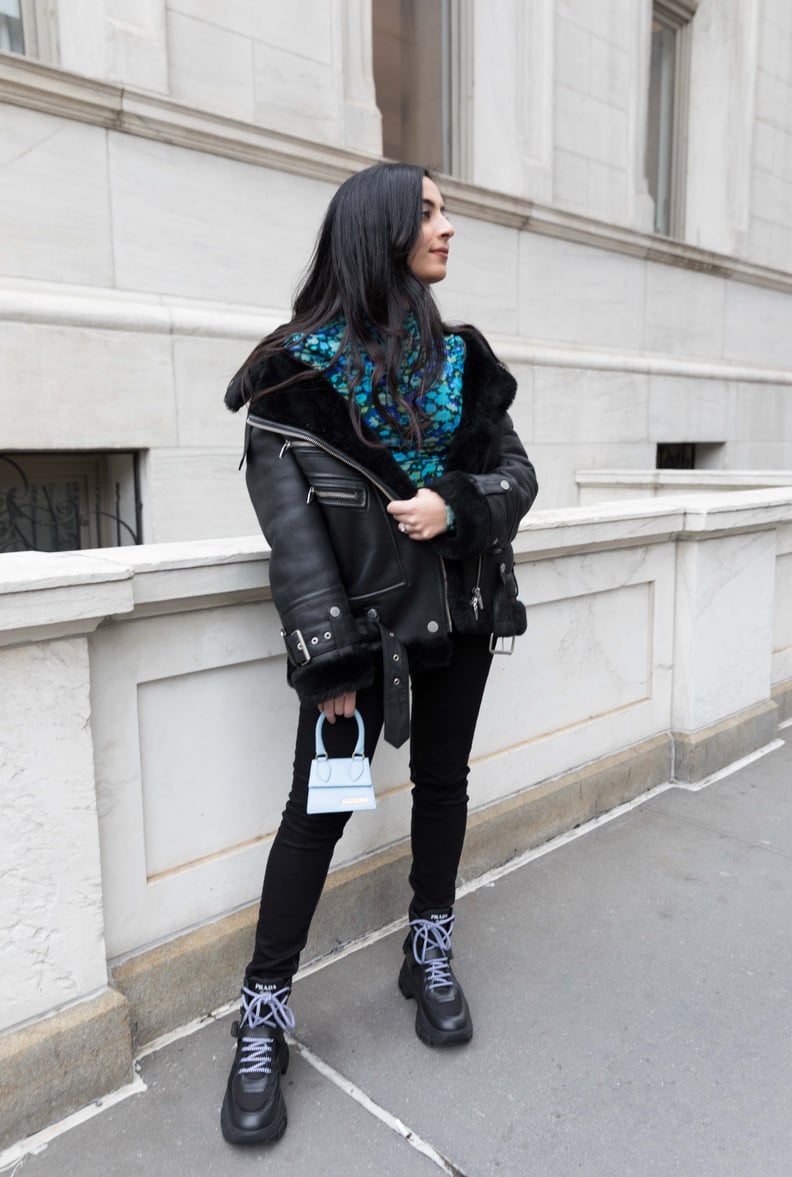 Look 2: "Fashun" Girl
For my most extreme fashion girl look, I styled my favorite Ganni printed turtleneck top with Cotton Citizen jeans and a leather jacket by the Arrivals. I bought a pair of Prada boots as a Christmas present to myself last year and styled it with a tiny Jacquemus bag.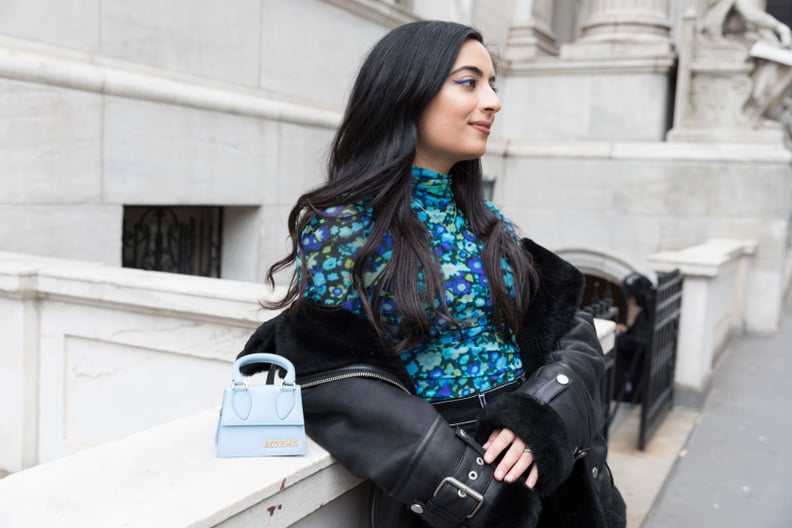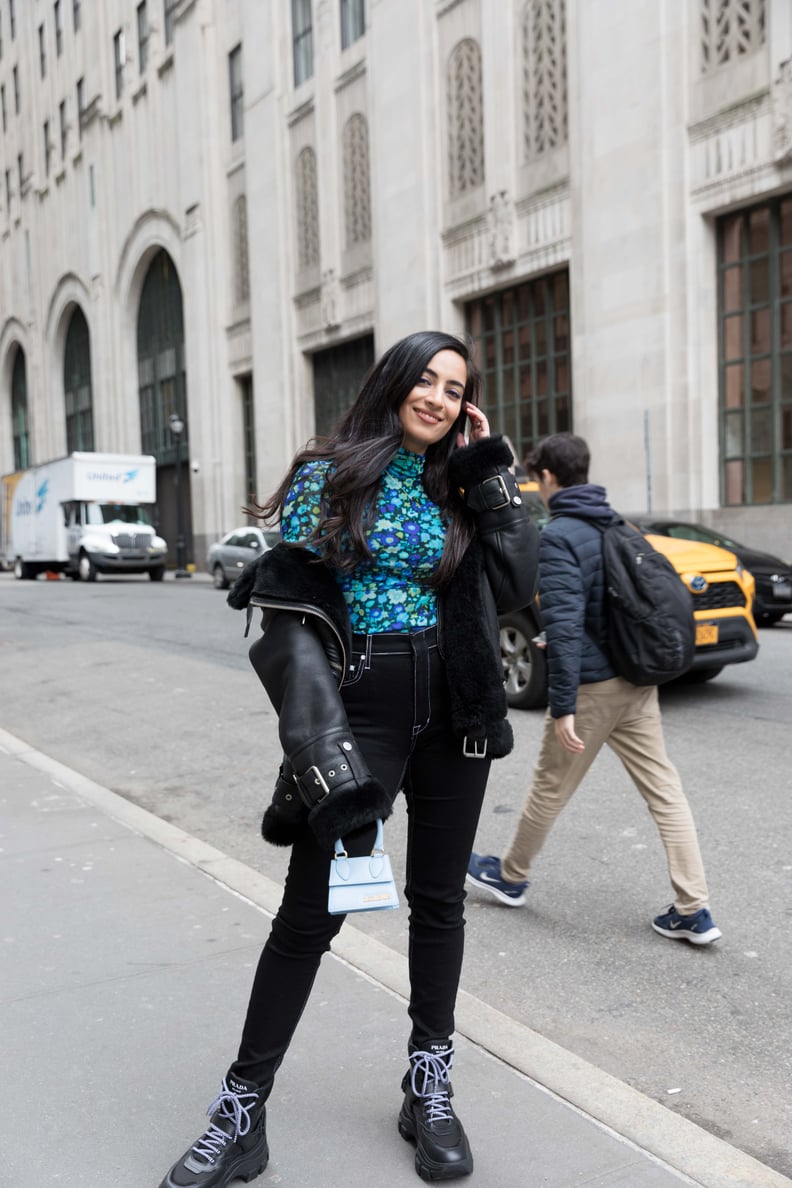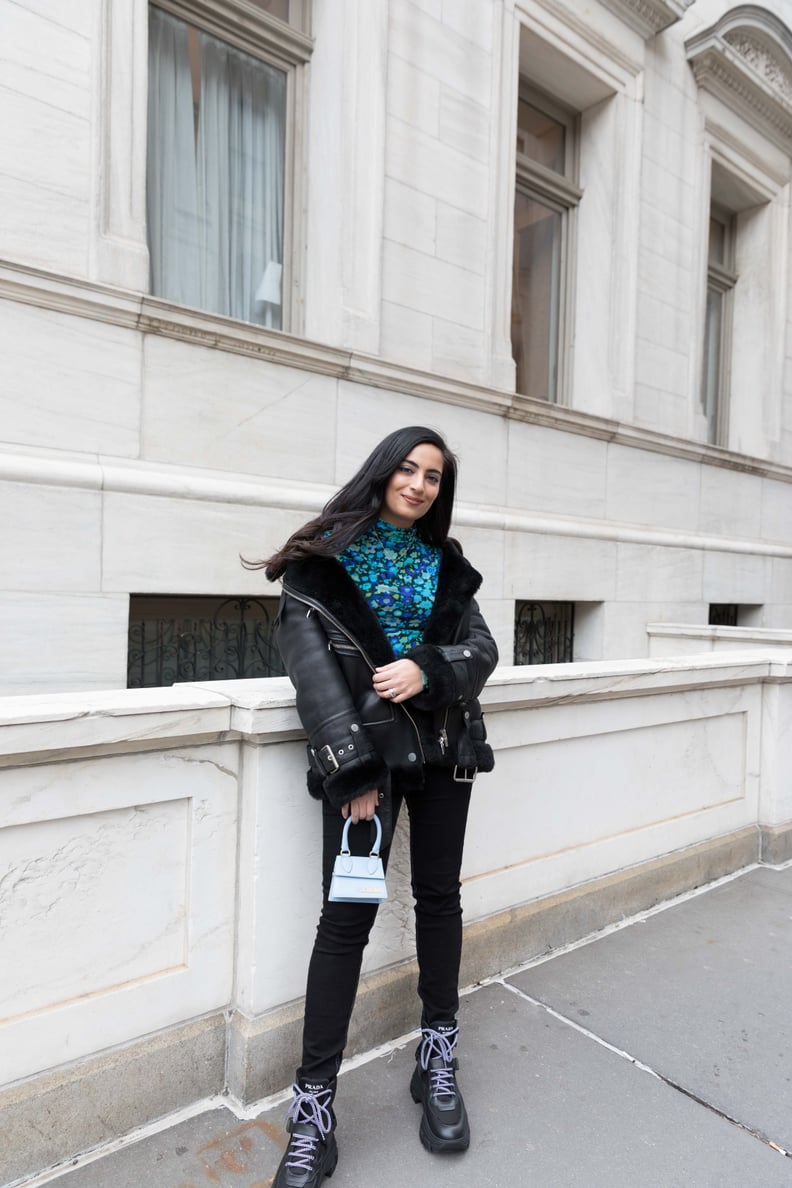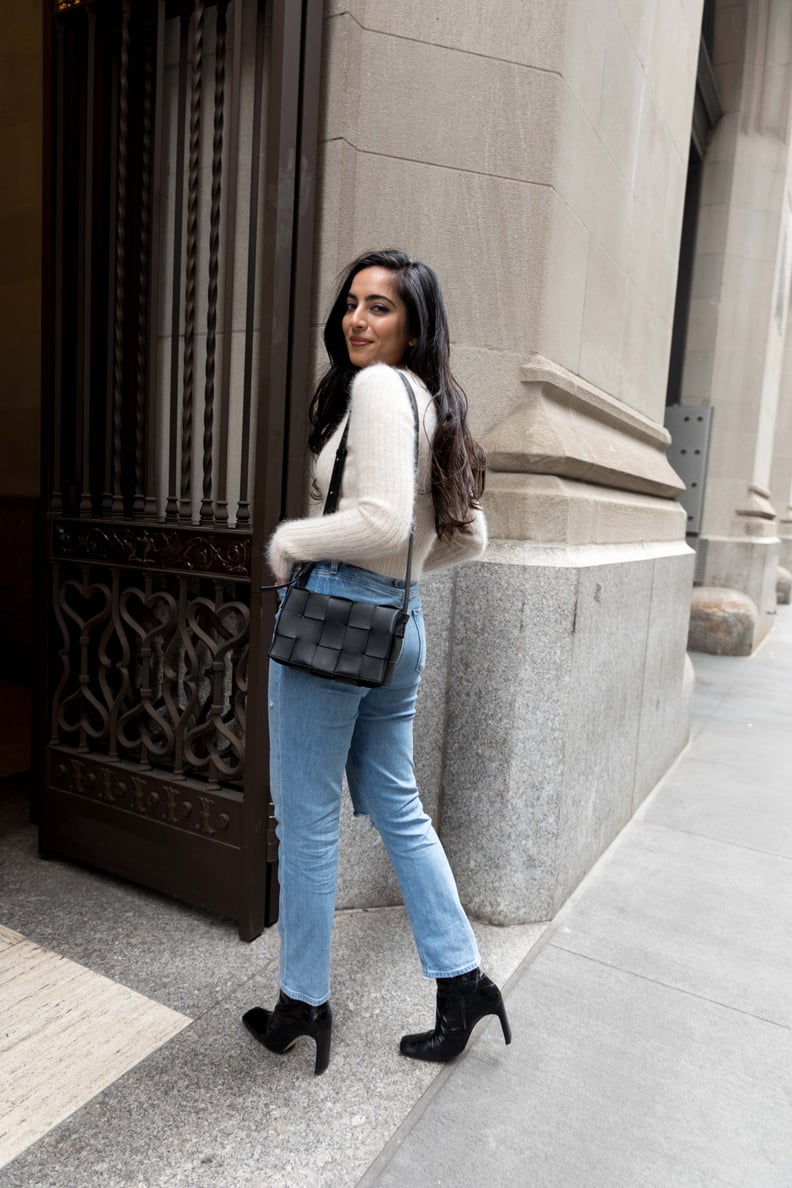 Look 3: Sweater Weather
Since the weather this Fashion Week was abnormally warm, I broke out my cozy Opening Ceremony sweater and styled it with my favorite Paige jeans. To make the look more elevated, I styled it with a pair of croc-embossed Miista boots and a black Bottega Veneta bag I borrowed from my colleague Laura.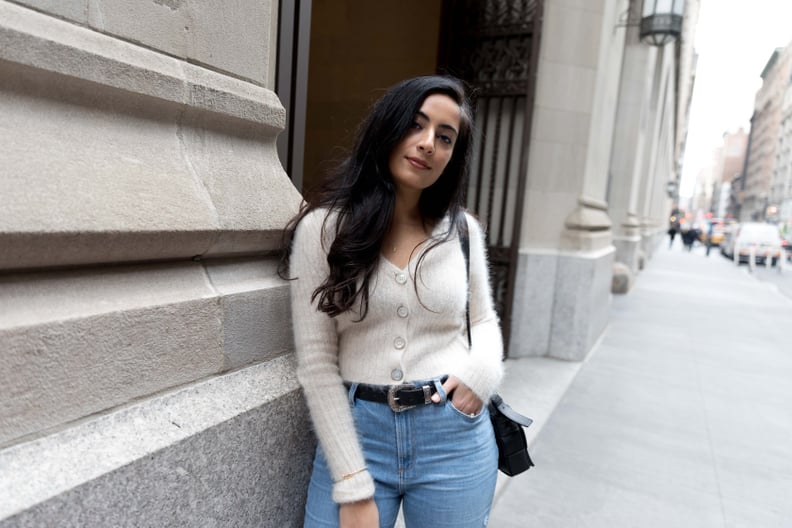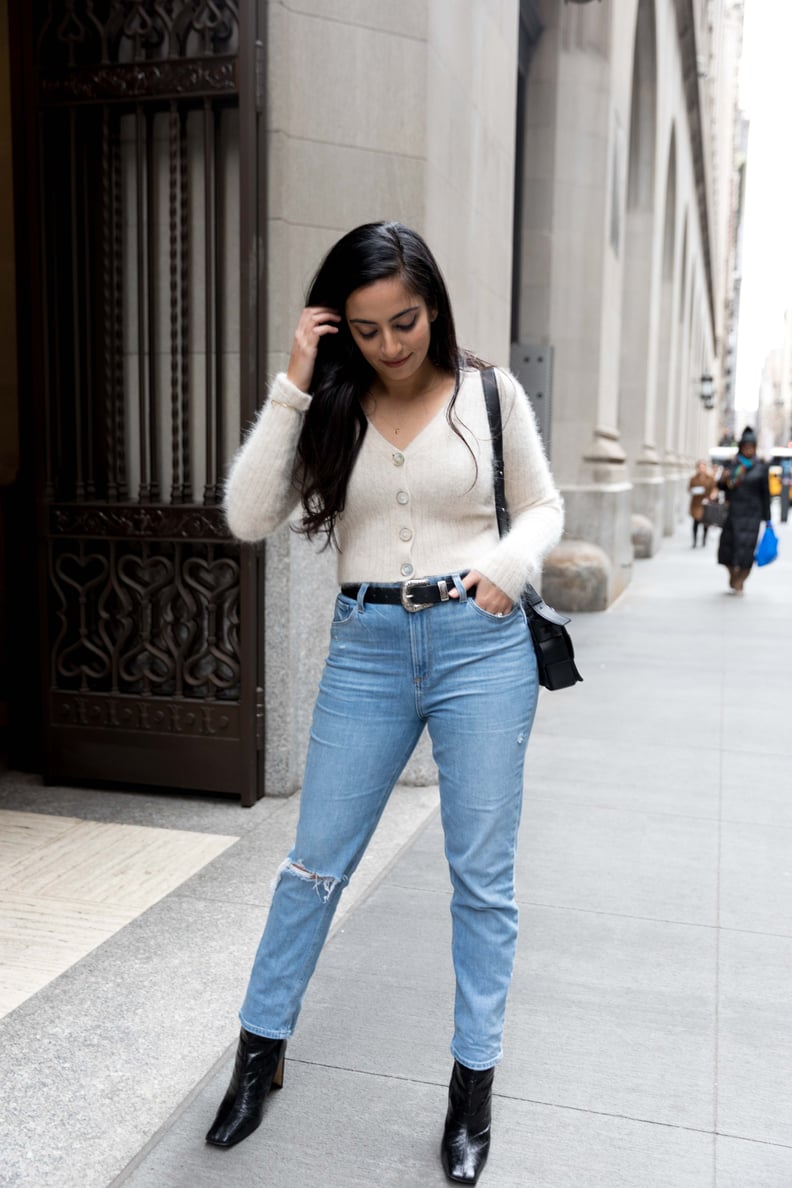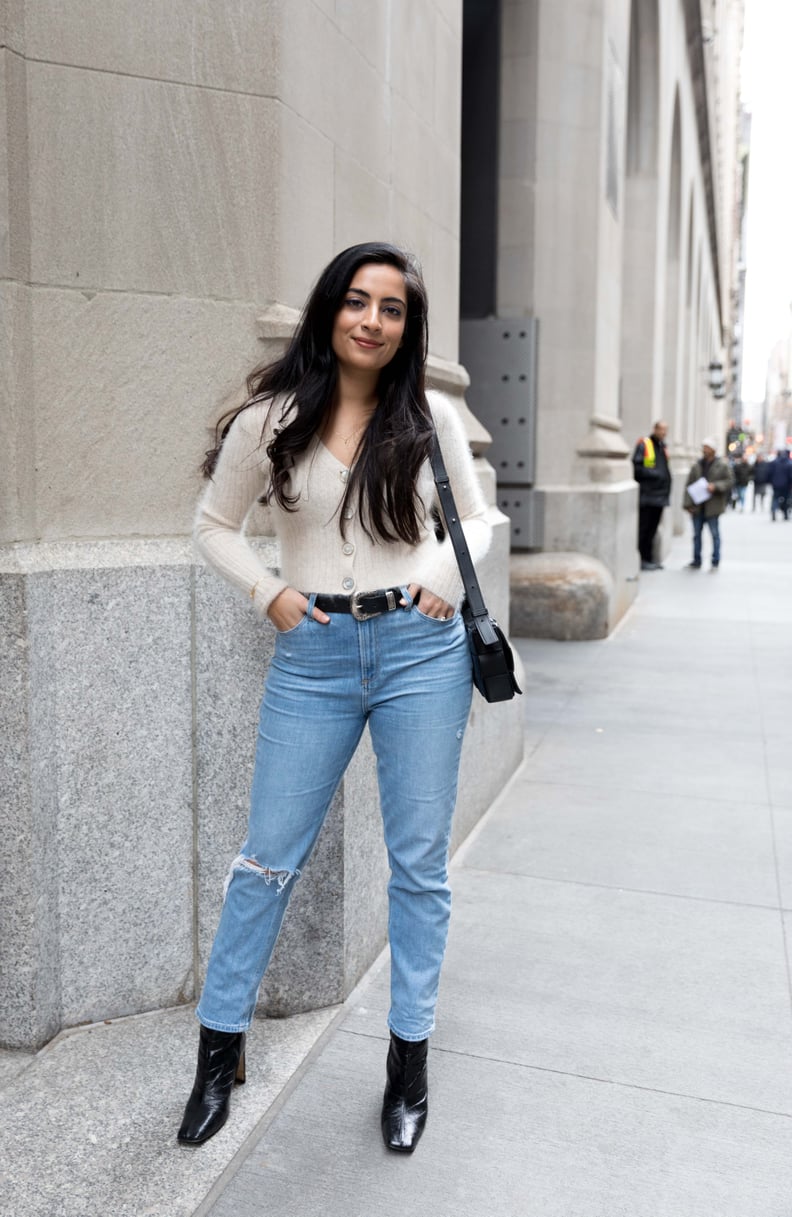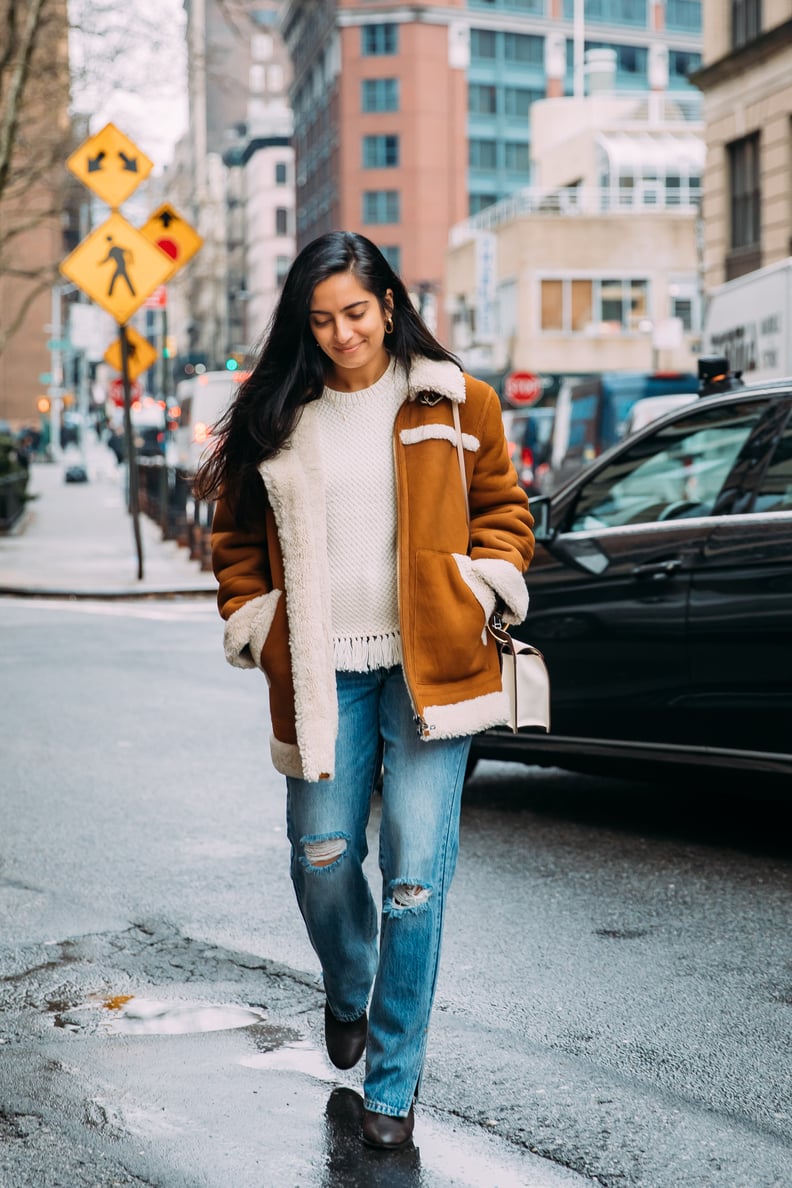 Look 4: '70s Chic
Since I had been religiously wearing my Good American kick-flared jeans, I decided on styling it with a couple of other '70s-inspired pieces I owned. I styled it with a knit Theory sweater, shearling Madewell jacket, and a pair of heeled Kenneth Cole boots. I accessorized with a colorblock Danse Lente bag.