Your Class Fitsugar 2023 Fitness Challenge Is Here to Help You Reach Your Goals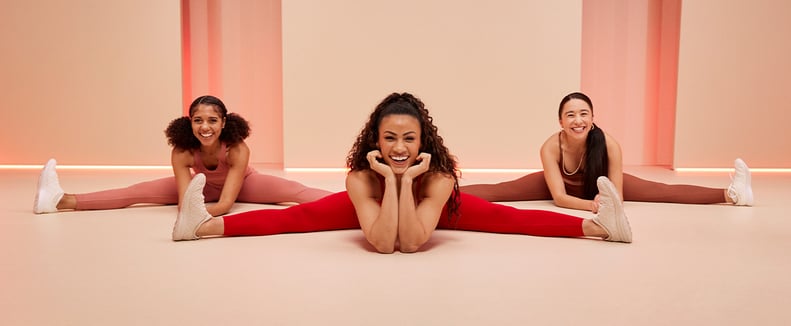 POPSUGAR Video | Liz Ehlers
POPSUGAR Video | Liz Ehlers
Let's accept it: we love to dream big. Never is that more evident than on Jan. 2, when gyms and parks across the nation are full of people committing and recommitting to their fitness goals. We've all done it, telling ourselves that this will be the year that we finally learn how to do a pull-up, or complete a marathon, or get into our best shape ever. And, frankly, we love to see it. There's nothing like a new year to provide the motivation we need to go after our goals again.
Motivation, though, is only half the battle. And after repeating the same cycle over and over, the fitness pros at Class Fitsugar have finally figured out why we all fall victim to the resolution Groundhog Day of all-in on Jan. 2 to off the wagon by Feb. 28. It's simple: we're getting ahead of ourselves.
The fact is, most of us don't take the time to figure out where we're at before we dive into a new fitness plan. As a result, we either start too slow and get bored or start too ambitiously and get discouraged, both of which cause us to quit.
Enter: Class Fitsugar's first-ever Fitness Assessment Series. We created five workouts, each one for a key pillar of fitness: strength, speed, flexibility, endurance, and balance. The workouts are meant to help you assess your baseline fitness level and identify the areas you excel in and where you can improve. (Don't worry; the workouts will still make you break a sweat.) The idea is that once you know where you're at, you can create a better plan for reaching your goals. You can even create better goals in the first place — ones that build on your strengths to make you feel stronger, happier, and excited about what's next. You're operating from a place of knowledge, rather than jumping into the deep end with your eyes closed.
If your endurance is at an advanced level, for instance, but you've got the flexibility of a beginner, it's a sign to supplement the cardio workouts you love with plenty of yoga and Pilates to avoid injury and help you sustainably build off your base. If you fall into the intermediate zone for strength, you might feel empowered to try tacking on some extra weight at the gym instead of playing it quite so safe.
One of the best parts about this series is that you can return to it every month or so to see how your fitness is changing. Another reason people fall off their goals is because it can be so hard to notice results; reassessing your baseline is an easy and encouraging way to gauge progress.

The workouts in Class Fitsugar's five-day Fitness Assessment Series are led by masters in their fields: Raneir Pollard for strength; Jasmine Blocker for speed; Danielle Grey for flexibility, Natalie White for endurance, and Christa Janine for balance.
Whether you are committing to a fitness goal for the first time, getting back in the saddle after a break, or just using 2023 as an excuse to level up, this series is your key to turning that new-year motivation into a steady and sustainable action plan that'll last you through next December.
(And be sure to head to The Soft Launch for even more tips for ushering in your happiest era yet.)
Day 1: Get in Touch With Your Inner Strength During This Challenging 30-Minute Circuit
Let's start off 2023 strong! This strength workout is led by our reigning sweat king, Supernatural coach Raneir Pollard, who's joined by class members Kinsey Diment and Mikayla Campbell. To make the most of it, take note of which intensity level feels best for you. That'll become your strength baseline that you'll work to build off of during the rest of the year.
Day 2: Assess Your Speed With This 30-Minute Workout
This workout is all about improving your speed and agility. It's led by fitness trainer and world-champion track athlete Jasmine Blocker, who knows a thing or two about speed. She's joined by class members Poofy Moffitino and Paulyn Baens. Tip: keep tabs on how many reps you can get through in each set to find your baseline.
Day 3: Assess Your Flexibility With This 15-Minute Workout
You're halfway through the series, so it's time to check in with your flexibility with Train Like a Gymnast founder Danielle Gray, who's joined by class members Ellie Aviles and Paris Nicole. Pay attention to your comfort level with each stretch, making sure not to push yourself too hard or too far. Building flexibility takes patience and time, after all.
Day 4: Assess Your Endurance With This 40-Minute Workout
This workout will put your endurance to the test. Fitness trainer Natalie White is here with 40 minutes of high-intensity moves, and she's joined by class members Madisyn Maniff and Tarra Green. To make the most of day four, take note of which intensity level feels best for you — challenging, but not so exhausting that you're unable to finish while keeping good form.
Day 5: Assess Your Balance With This 30-Minute Yoga Flow
You're at the end of our series, which is the perfect time to slow down. Yoga instructor Christa Janine will lead you through a balance-focused yoga flow joined by class members A.J. Morales and Luisa Fonseca. Pat yourself on the back — you made it!