Celebrity Trainer on How to Create Sustainable Fitness Goals
How This Celebrity Trainer Makes Fitness Goals Achievable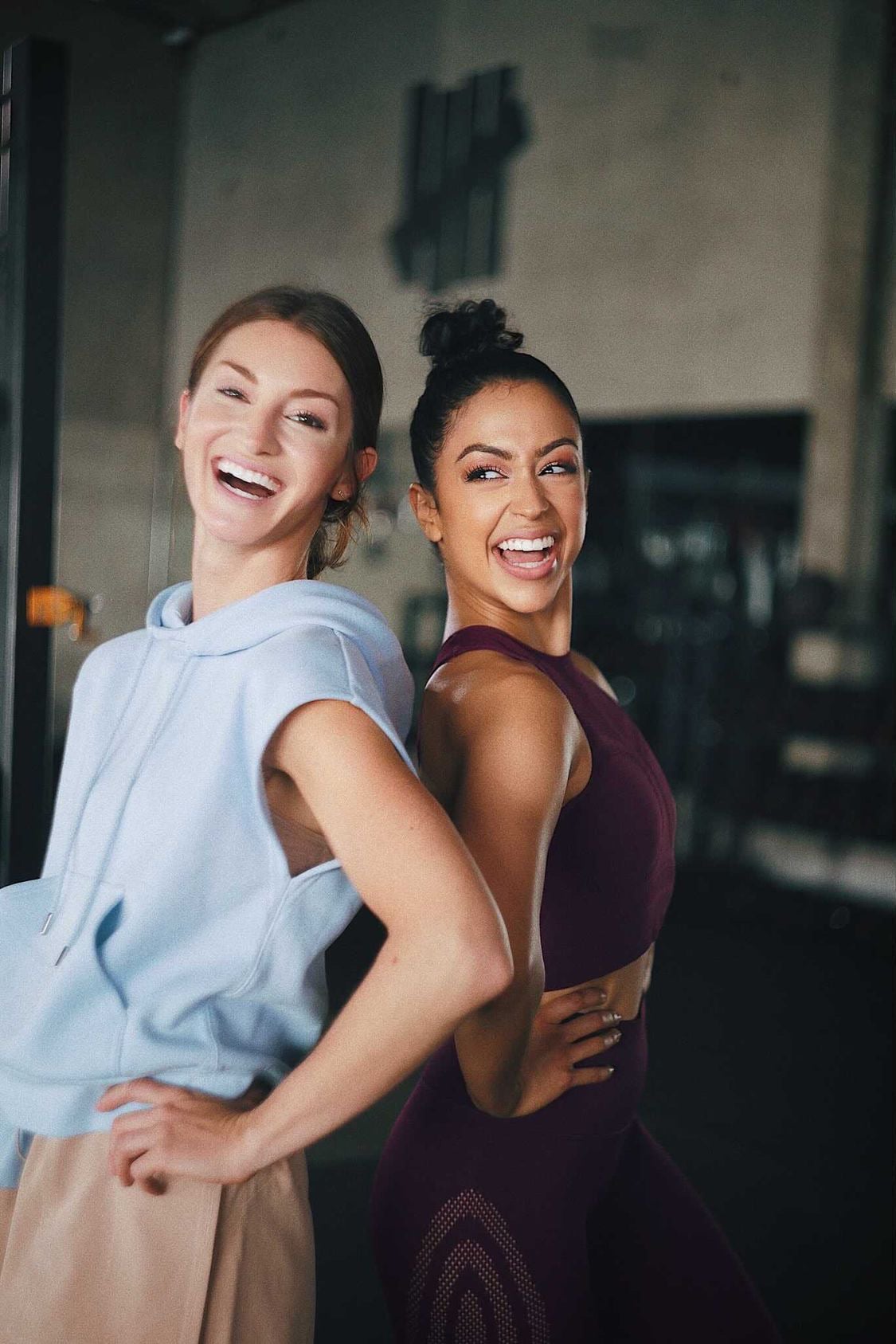 Each year, we set a new list of fitness goals to tackle for the rest of the year, but rarely do we maintain them past January. In an effort to create sustainable fitness (and wellness) goals that we can incorporate throughout the year, we asked celebrity trainer Jenna Willis for advice. Willis says a sustainable fitness goal is "a long-term goal that is attainable and something specific you can build on over time." With a client list that includes singer Camila Cabello and YouTuber and entrepreneur Liza Koshy, Willis is passionate about creating goals that work well with her client's busy lives.
"My client Liza Koshy is always traveling for work. . . . Whether it's a hotel gym while I'm traveling with her for work, biking around the city in between her meetings, a band workout to warm up in freezing-cold snow (thank you, Utah!), or using her mom's bleach bottles as weights for our virtual sessions while she stayed home with family in 2020 . . . we get it in however we can!"
Creating a Sustainable Fitness Goal
"Most people dive into the new year with a massive list of things they want to accomplish (which is great), but it leaves them feeling overwhelmed and in full-blown panic when the 10 thousand goals they set have not been hit," she says. Instead of panicking, Willis advices that you make your fitness goals simple, attainable, and something you can keep track of. "A lot of the time, we feel plagued by the journey ahead. I recommend breaking the journey down into steps and finding joy in each step along the way. Once we are able to focus on one task at a time, it feels more simple and more beautiful."
"I recommend breaking the journey down into steps and finding joy in each step along the way."
For example, here's how she plans to set and maintain her goals for this year. "I wanted to set a mental and physical goal," she explains. "Since it's really easy to get overwhelmed, I am practicing patience with myself. . . . When things feel like they're too much, I will take a deep breath . . . reevaluate, and find the positive in the moment." Willis continues, "Due to all of the hard work I put on my body, this year, I'm focusing energy on mobility and recovery days. This means stretching, taking an epsom-salt bath, or foam rolling while watching my favorite TV show."
When it comes to your goals, Willis says to take it one step at a time. "I notice a lot of people get caught up in their to-do lists and feel like they have to get things done BEFORE they can exercise. Make fitness part of your daily routine and add it to your to-do list," she explains. If you find it hard to keep track of your goals, Willis advises to find friends and family members to talk to about your goals and get creative with your approach.
Examples of Sustainable Goals
Looking for goal inspiration? Here are a few Willis incorporates into her daily life:
Positive Thinking: Willis says, "It's really easy to focus on what we don't have, instead of focusing our energy on the things we do have. . . . I have found that mindset practice first thing in the morning works best for me. While I'm still lying in bed before I grab my phone or make that coffee, I list five things I am grateful for. It's amazing what setting the tone of your day can do!"
Move Throughout Your Day: "Getting up and moving for 10 minutes throughout your day is less challenging than you think. A few of my quick go-tos are taking the stairs, stretching (literally anywhere, anytime!), riding a bike or walking instead of driving, and walking the dog . . . just 10 minutes of movement a day increases mood, keeps the energy up, and minimizes body ailments," she says.
Eat Nourishing Foods: If your goals include a shift in your eating habits, Willis advises incorporating satisfying snacks into your meal plan. "Eating foods with real, simple ingredients can nourish your mind and body. That's why it's so important to carry the right snack with you while on the go! A current go-to of mine is CaPao, a delicious, plant-based snack made from upcycled cacao fruit."
Do Activities You Enjoy: Willis says, "Any activity you enjoy doing will be easier to stick to. Fitness can be fun! Join a cardio dance class with a friend, play tennis, go for a hike in nature, ride your bike, or power walk with a friend. Working out won't feel like a task if you are enjoying what you are doing!"
Image Source: Courtesy of Jenna Willis