Avocado Mint Chocolate Chip Ice Cream
Refreshing Mint Chocolate Chip Ice Cream Made With Avocados
Here's a dairy-free variation on the classic mint chip ice cream that you have to try — even if just out of curiosity. You see, the green color isn't just due to the addition of fresh mint; it also comes from avocado added to the recipe to create a creamy texture. Watch the video to see just how easy this is to make, then check out the recipe below.

Avocado Mint Chocolate Chip Ice Cream
Kevin Smith, For Glow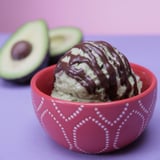 Ingredients
Ice Cream
1 can (5 ounces) lite coconut milk, chilled
1 1/2 avocados
1/3 cup agave syrup
3 tablespoons mint, chopped and firmly packed
1/2 cup dark chocolate chips
Chocolate Syrup
1/2 cup coconut water (separated from same can used for ice cream)
1/2 cup cocoa powder
3 tablespoons agave syrup
2 tablespoons dark chocolate chips
1/8 teaspoon salt
Directions
Day before: Place the can of coconut milk into the fridge to chill overnight.
The coconut milk will separate out into liquid coconut water and a solid chunk of coconut cream. Reserve the coconut water for use in the syrup, and place the chunk of coconut cream into a food processor.
Add the avocados, agave, and mint to the food processor bowl. Process until smooth, scraping down the sides as necessary.
Mix in chocolate chips.
Pour into a dish, cover with plastic wrap, and freeze for at least 5 hours.
For the chocolate syrup, combine all ingredients into a saucepan. Bring to a boil on medium-high heat, stirring frequently.
Once boiling, reduce heat to low and simmer for 3-5 minutes, stirring frequently. If too thick to drizzle, stir in more coconut milk.