Comparing Brussels Sprouts and Broccoli
Broccoli vs. Brussels Sprouts
As kids we're almost expected to hate our green veggies. But somewhere along the road in life, our taste buds mature and we hopefully develop a love for the garden goodness.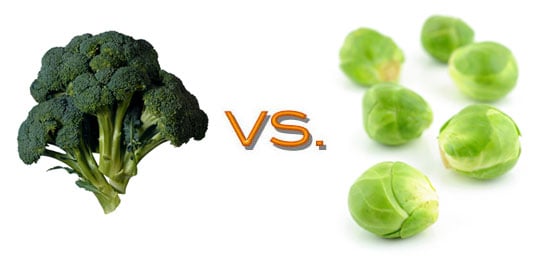 Now featured on many a hip menu, Brussels sprouts and broccoli are popular dishes that have many diners licking their lips. But, between the two, there are some differences. So before you choose one for your sumptuous side dish, take a look at the comparison.
Both superfoods are low in saturated fat and cholesterol-free; they are also both high in dietary fiber, manganese, magnesium, phosphorus, riboflavin, thiamin, and vitamins A, B6, and C (wow). While broccoli may have a higher count of calories, fat, and carbs, it is richer in calcium, iron, and pantothenic acid (a B vitamin that does wonders for healthy hair), and has a bit more potassium. Brussels sprouts, on the other hand, are lower in sodium. All in all, they're both good for the body, and it's hard to go wrong with either.
If you're still weary on the two green giants, come check out some easy and tasty ways to
prepare Brussels sprouts and broccoli. They'll make you a believer.