DIY Caramel Lip Scrub
A DIY Caramel Lip Scrub For Sweet, Smooth Lips
If you're suffering from dry lips, we have a simple solution: a moisturizing lip scrub. And if the scrub tastes like dessert, so much the better. Our caramel lip scrub gently exfoliates while repairing dry lips. Check out the recipe below. Your lips are going to love you.
Caramel Lip Scrub
By Mona Zavosh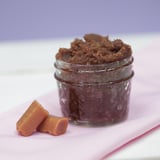 Ingredients
3 tablespoons brown sugar
3 tablespoons organic coconut sugar
1 tablespoon Himalayan salt
1/4 teaspoon caramel extract
5 tablespoons pure jojoba oil
Directions
Wash and dry a 4-ounce mason jar.
Mix the sugars and salt together in a small bowl.
Add the caramel extract and jojoba oil and mix together until you have the consistency of wet sand. Transfer to your mason jar.
Apply and scrub into dry and chapped lips and allow to set for 5 minutes. Rinse off with cold water. Enjoy this healing scrub.