Easy Nicoise Salad Recipe
Use Up a Can of Tuna With This Simple Nicoise Salad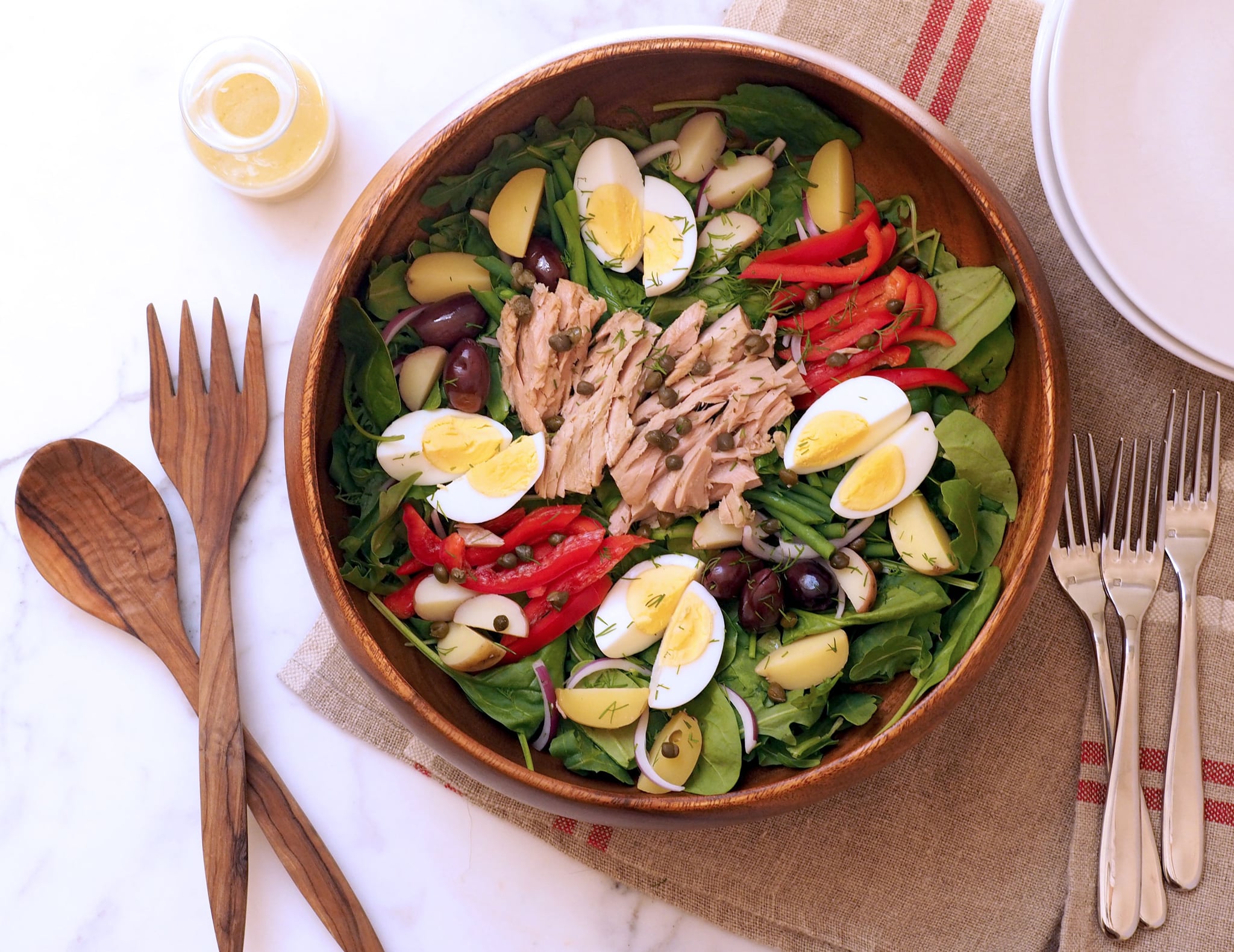 A homemade version of a restaurant favorite always feels like a win, between executing the dish, saving some coin, and enjoying your own awesome version of a new recipe. The beauty of this particular Nicoise salad is that it can be mostly made ahead, thereby coming together at a moment's notice after a long day or in the morning while packing lunch for work.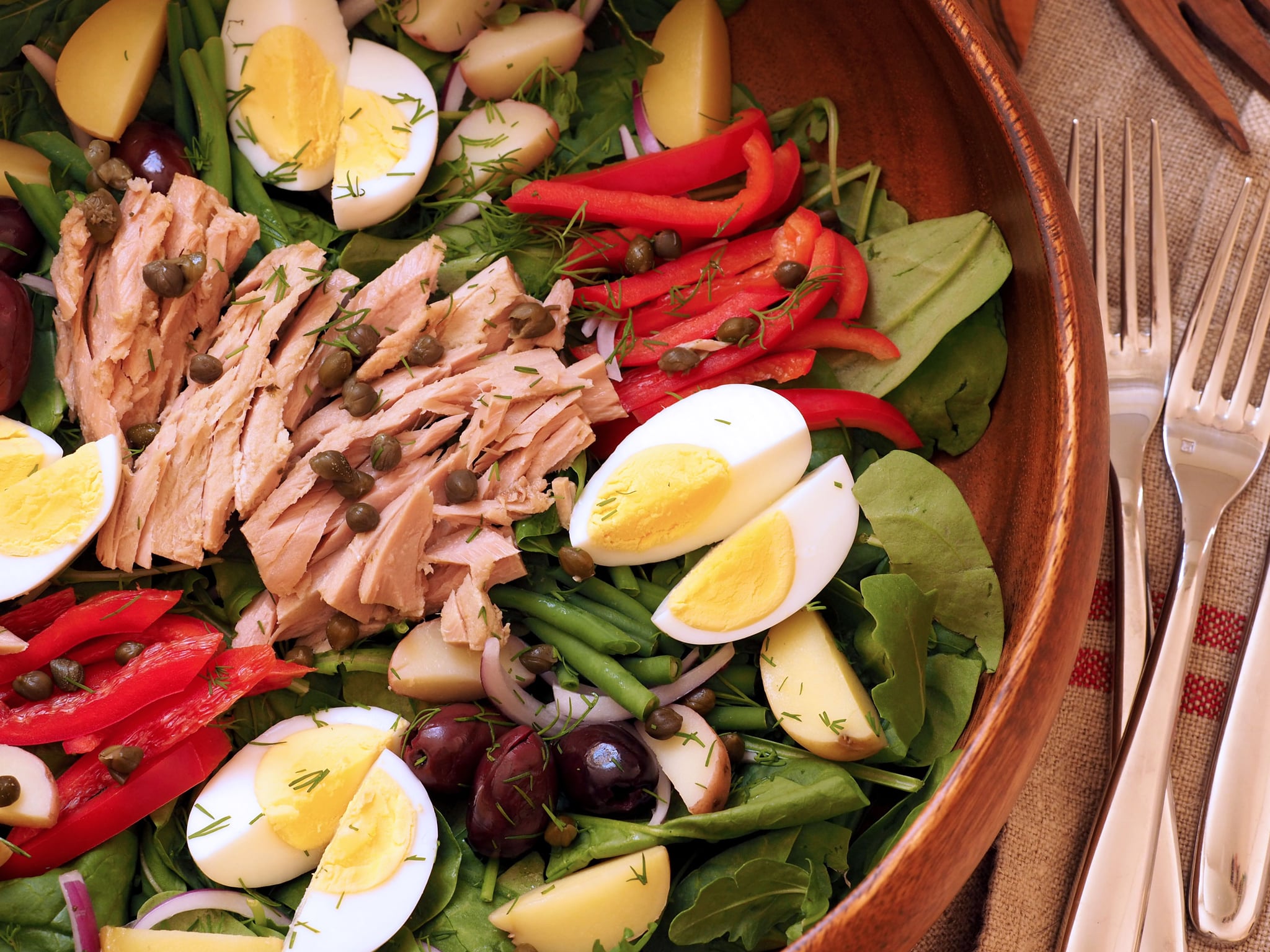 Nicoise salads pack protein, fiber, healthy fats, vitamins, minerals, and delicious flavor into one easy meal!
Make-Ahead Nicoise Salad
From Allison Hudson Stockamore, POPSUGAR Fitness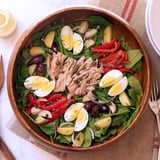 Ingredients
For the salad:
2 large eggs
10 to 12 small string beans
Handful of new or fingerling potatoes
1/2 red bell pepper
8 kalamata olives
1/8 red onion
1 tablespoon capers
1 tablespoon fresh dill
1 jar (6 to 7 ounces) tuna in olive oil
1 package spinach/arugula mix
For the dressing:
1/4 cup extra-virgin olive oil
1/8 cup white wine vinegar
2 teaspoons dijon mustard
1 teaspoon anchovy paste (found in most/all grocery stores)
1/2 shallot, finely diced
Salt and pepper
Directions
For the salad:
Set water to boil in a medium pot and gather eggs, string beans, and potatoes.
Using a spoon or tongs, place eggs in boiling water for 10 minutes. Remove eggs and set in ice-water bath to prevent further cooking. Keep water boiling.
Place potatoes in boiling water for 15 minutes. Remove and set aside to cool. Keep water boiling.
Place string beans in boiling water for 2 to 3 minutes. Remove and set aside to cool. Discard water (cooked ingredients may be stored in the fridge for 24 hours).
As above ingredients cook, assemble remaining items: remove seeds and core from bell pepper, cut 1/2 the pepper into thin strips, and cut strips in half. Thinly slice 1/8 red onion. Gather capers, dill, olives, tuna, and lettuce mix.
Peel eggs and cut vertically (from pole to pole) into quarters.
Place spinach/arugula mix into salad bowl, then layer in all ingredients. If making ahead, store covered and add dressing when ready to eat.
For the dressing:
Combine all ingredients in a resealable food storage container. Add lid and shake vigorously to emulsify/thoroughly incorporate all ingredients. Then, simply store dressing in container until salad is ready to eat.
Information
Category

Salads, Main Dishes

Cuisine

French

Yield

2 to 3 servings

Total Time

24 minutes, 59 seconds
Image Source: POPSUGAR Photography / Allison Hudson Stockamore